Since its soft launch in January this year, Malaysian digital cash management platform Versa has managed to secure over RM10 million in deposits. The platform has also amassed about 4,000 registered accounts so far, with an average deposit amount of RM2,700 per user.
For the unacquainted, Versa is a user-friendly digital platform that aims to educate Malaysians on better ways to manage their finances by unlocking the potential of their idle cash. Accessible via a mobile application, it allows users to earn an interest that is on-par with Fixed Deposit (FD) while providing the option to withdraw funds at anytime without penalties.
"With Versa, we want to encourage the general Malaysian public to understand the benefit of money market funds in our current situation be it the stability, liquidity or security that it offers, they will be able to rest assured knowing that they will be well taken care of with Versa," said chief executive officer Teoh Wei-Xiang.
He added, "Our partnership with Affin Hwang Asset Management, which has a longstanding history of asset management will help us to help Malaysians to invest smart, and do it well."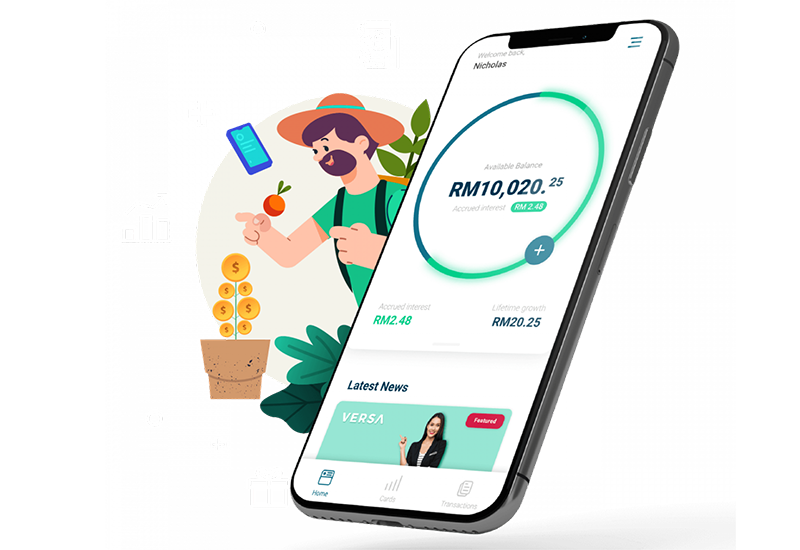 Starting at the bare minimum of RM1 deposit, Versa offers investors a daily interest of up to 2.4 percent per annum. The deposits will go towards investment in the RM2 billion-sized MMF Affin Hwang Enhanced Deposit Fund, which has achieved 66% in returns since April 2005.
On top of enjoying low-risk and higher returns with their idle cash, users can rest assured knowing that their funds can be withdrawn at a day's notice for emergencies.
The platform is connected to every bank in Malaysia through the convenient and secure online payment solution FPX, allowing users to transfer a deposit easily and seamlessly from an external savings account to initiate their cash management journey with Versa. In addition, Versa's model excludes any sales, transfer and exit fees.
The Versa mobile application is currently available for download on the App Store and Google Play. Learn more at the official website here.