The latest artist to get in on the NFT craze is Damien Hirst, who recently announced an innovative exhibition with electronics giant LG.
Titled LG x Damien Hirst: A History of Painting, the exhibition taking place as part of this year's Frieze London Art Fair will feature major works by Hirst, alongside their digital reproductions and NFTs, displayed on LG OLED televisions. This includes works from Hirst's Kaleidoscope and Spin series.

Complementing these works is Hirst's first NFT series The Currency, launched in July this year. It comprises 10,000 digital artworks, each with their own physical artworks. These NFTs will also be brought into the real world through LG TVs.
Here's where things get interesting. Beginning the first public entry day of Frieze London – 14 October 2021 – The Currency Exchange Period will begin for 10 months, marking one of the most thought-provoking introduction into NFTs by any artist.
Damien Hirst and The Currency Exchange Period
Reimagining the way NFTs are used, The Currency is a collection of 10,000 NFTs which correspond to 10,000 unique physical artworks which are stored in a secure vault in the UK. The works are now brought to life through their launch on the blockchain.
Starting with the creation of the physical artworks in 2016, The Currency explores the boundaries of art and currency—when art changes and becomes a currency, and when currency becomes art.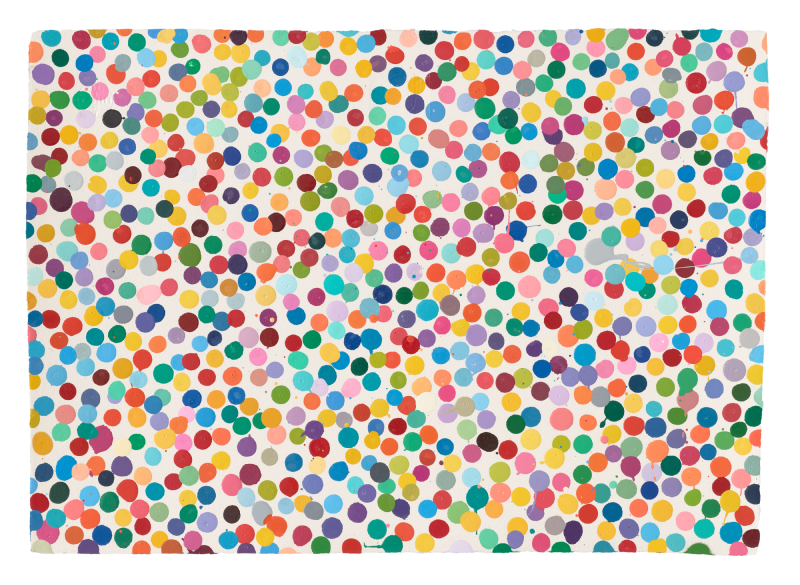 The collection is on the Palm blockchain, which is a new token-powered ecosystem for NFTs connected to Ethereum. It is 99% more energy efficient than proof of work systems such as Ethereum or Bitcoin. It also has low gas costs and fast transaction finality.
Each of the 10,000 NFTs of The Currency is only proced at $2,000, a low price by any NFT or Hirst production standards. However, it comes with a very particular condition.
Buyers have one year to decide if they rather keep the NFT, in which case the physical artwork would be burned. Alternatively, they can opt to keep the physical work and relinquish rights to the digital artwork.
This is Hirst's way of asking his audience which was more valuable – the new digital art or old school form.
Two months into the debut of the project, Hirst announced on social media that it has generated sales of about $25 million already.
Keep up with the progess of the exchange at the official website here.
(Source: HENI)