For Eunice Teo, the power of flowers extends beyond their physical appeal – it rouses a passion that translates unspoken words into emotions, ultimately giving her recognition.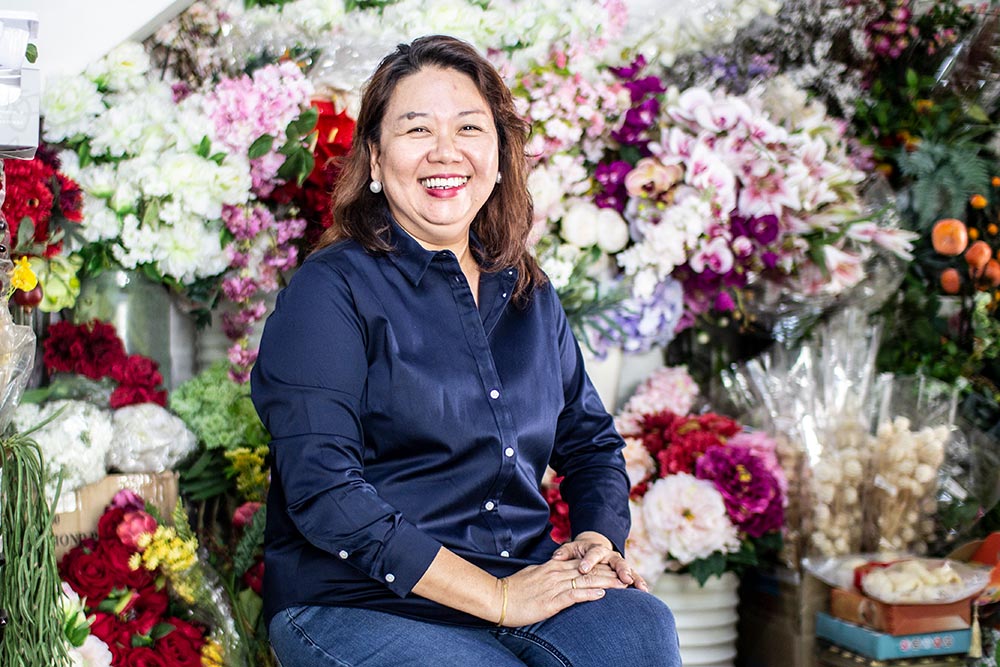 Behind every famous scene you can recall from Crazy Rich Asians – remember Princess Intan's wedding or the 'tan hua' viewing? – is one florist working tirelessly to create the floral arrangements that so significantly embodied the essence of the show on set. That's Eunice Teo for you.
"At first, I didn't realise the scale of the project," she recalls of when she initially signed the contract. "When the production designer, Nelson Coates, found out that it was the first movie I had ever done, he couldn't believe it."
In fact, Coates dubbed her "the best florist he has worked with" throughout his entire career. To call that a compliment would be an understatement if you're familiar with his previous work, including the likes of The Proposal, Flight and The Last Song.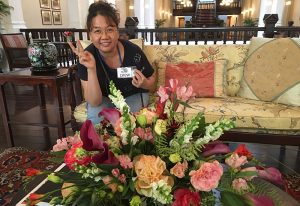 As glamourous as it may seem to be a 'star' of the show in her own right, it was no easy road getting there. Nor is her 30-year career a rudimentary one that some may undermine it to be. And it's not just because of the many hours it may take her to create an elaborate floral piece, though that itself is a worthy mention; her journey as a florist has been marked with many thorns and thistles unseen by the public eye.
What made her choose this path then? For her, the power of flowers extends beyond their physical appeal – it rouses a passion that translates unspoken words into emotions, ultimately giving her recognition.
Rooted in passion
It all started when she was four. Having attended kindergarten in church, she would observe how floral arrangements were prepared for Sunday service.
"I often wondered how the petals actually stuck together to the centre of the heart," she reminisces fondly. "From there, I looked into the details of all the blooms. I even used to point out to the adults what to put here and there."
The seed of interest had been sown then, but it only took root many years later. At 15, she went to Singapore to learn from her aunt's in-law, who runs a home florist business like she does now.
"She let me play with her flowers and try my own arrangements. It was then that I thought to myself, this was something I really want to do," she tells as-a-matter-of-factly.
It wasn't mere interest that watered the seed though. The decision to start a flower corner in her father's book and stationery shop was also spurred by the fact that the family business was not doing well at the time.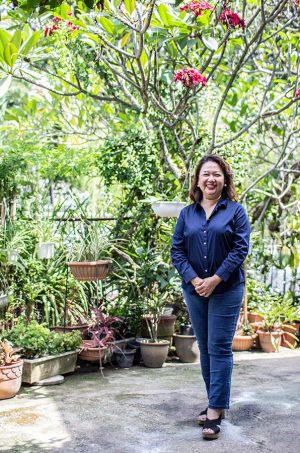 As she was still attending secondary school then (and 'then' was before the dawn of the Internet), her main source of inspiration were the books on floral design her aunt would gift her from Japan. Mind you, these were in Japanese.
"I couldn't even understand them," she professes, "But I just looked at the pictures and tried to figure out how the colours (of the flowers) match and what makes them so beautiful. It kind of spun off from there."
She went on juggling between her studies, a part-time job teaching piano and making flower bouquets to help lessen the financial burden on her family. After completing SPM, she landed her first job as a florist in Ming Court Hotel (now known as Corus Hotel). Several more opportunities and job changes later, she decided to start something on her own.
Colours of emotion
An offer from her aunt – the same aunt who gifted her the flower books – brought her to Japan to study floristry when was 26. It was her first formal course in the field, aside from her on-the-job learning experience.
"The six months I spent for the course in Japan was a very extraordinary journey that I had to encounter with foreign language, tremendous change of weather – there was no summer that year – and living in a different environment," she divulges.
"Looking back right now, with all those circumstances I had gone through, I have become so versatile because I had to think how to survive in situations that are challenging."
Upon completing the course, she returned to start her own business with RM40, borrowed from her husband who was her then-boyfriend. Despite having gained loyal clients from her previous stints, she wanted to build her contacts from scratch again to uphold her principles of integrity.
"If you are not educated with the knowledge of how to create with the things that you have, you cannot meet up to the competition."
She also began to appreciate the importance of education, something she fears may lack in the new generation of 'trending Instagram florists'.
"We express emotions through colours and symbolic things and that's why I always stress on education. You need to have the knowledge to understand how to express an emotion or bring about a message to the person who is looking at your flower piece," she asserts.
"How would people be able to read what is on your mind or what is in your heart by looking at your piece?" she begs for consideration.
She provides examples of how warm colours are typically used for joyful events, whilst cool colours are used for melancholic settings; but having said that, there are exceptions to the rule based on personal preferences. This goes back to the knowledge of flowers and floral design, as well as the ability to rise to different occasions and the challenges they present – two things she has honed since her humble beginnings.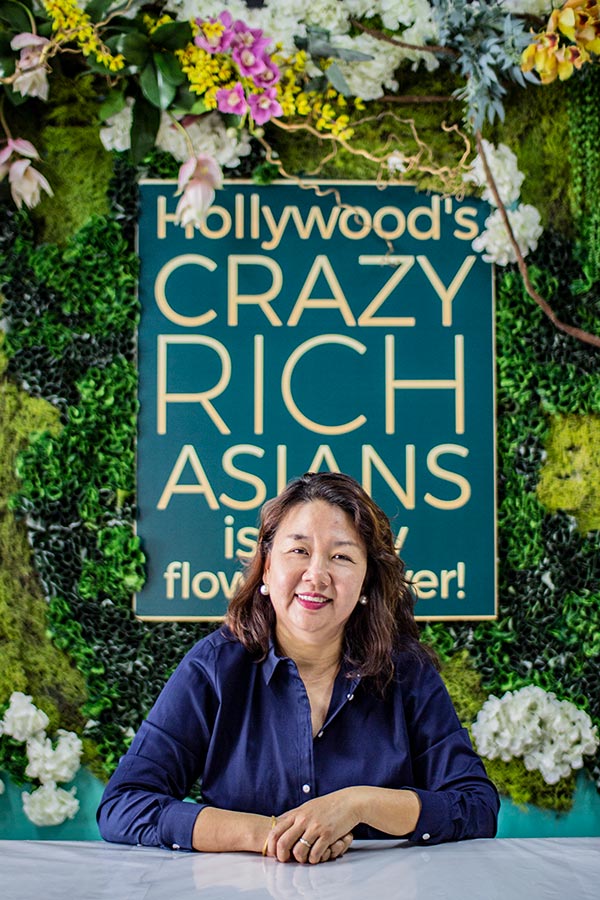 Road to recognition
One specific challenge that paved the way to Crazy Rich Asians was sitting for the American Institute of Floral Design (AIFD) examinations in 2013. She was already an AIFD-certified florist since 2000; this time, it was a test of whether she had what it takes to be a floral evaluator and judge.
Like the former AIFD exam, she passed with flying colours, making her the first Southeast Asian with the certificate. What frustrated her up to that point was how nobody took her seriously until her works proved her worth.
"When people see that you're Malaysian, people don't look at you. You're practically transparent. Over the years, I tell myself that the only way to reverse that effect was to achieve the certification – then no one can deny that I am a certified floral designer," she says.
"That's why I encourage the young people to look at this as a profession and to pursue this certification," she adds, "In the years to come, the competition will get steep. And as it becomes so, you need to innovate. If you are not educated with the knowledge of how to create with the things that you have, you cannot meet up to the competition."
The following year, she was invited by the institute to be the mainstage designer for its 2016 National Symposium – an honour some international peers had appealed for.
It was exactly the platform she needed to showcase her national pride, and she did with a presentation titled "Bourgeoning from My Roots". Seven out of 11 of her showcased arrangements were sold immediately after that.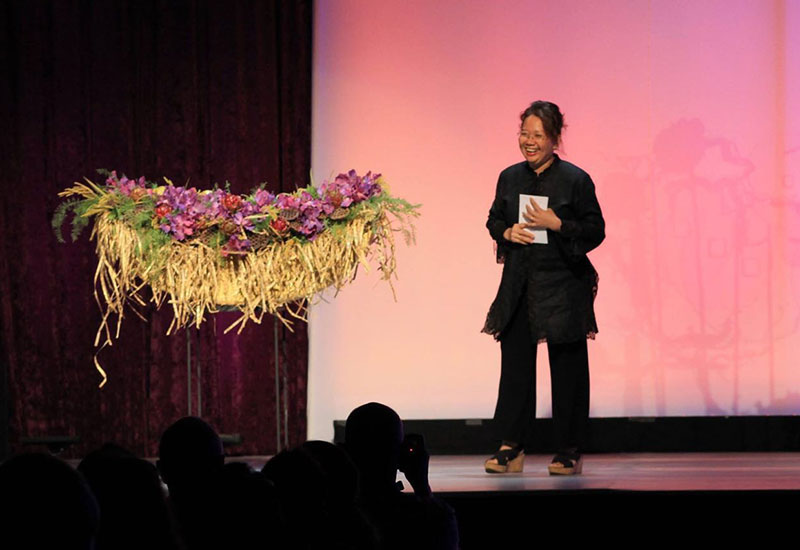 Harvest time / inspired by the 'petani' (farmers)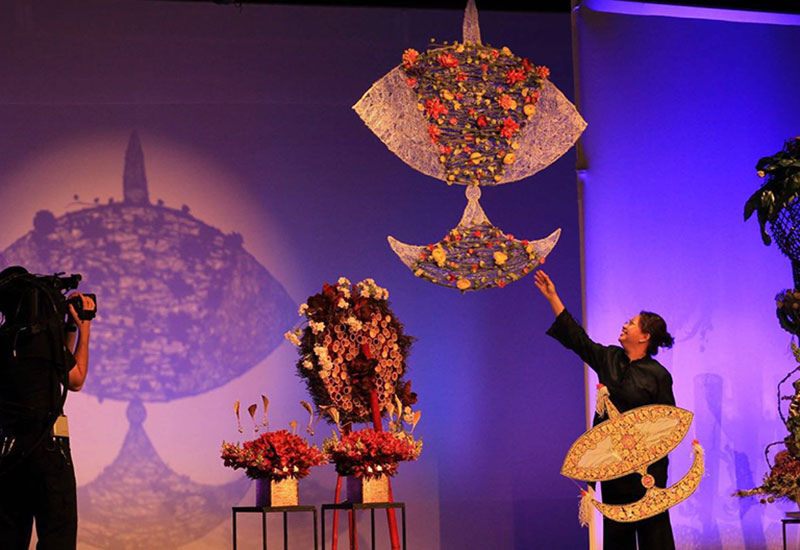 The Wau / inspired by pieces of hot glue web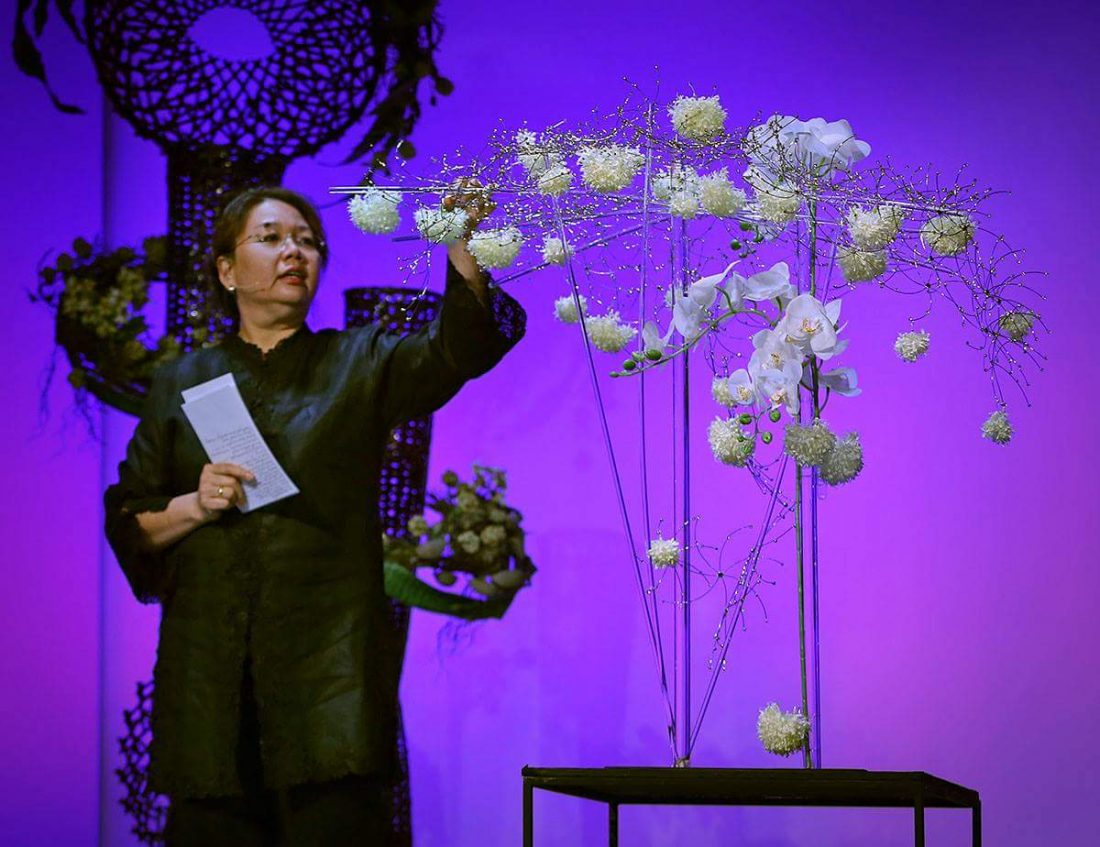 Urban / inspired by acrylic materials
The orient bride / inspired by the peranakan bridal head dress
(swipe left to see some of her "showcased flower pieces)
"I didn't have an easy childhood or teenage years, so I think that prepared me for this," she reflects on all her accomplishments. "It needs a lot of character to hold it together because you work with people and situations that make you think about what is in your hand and what you can do with the things that are in your hand."
The best testimony of that is what lies in her hand now: the pride of working on a top-grossing Hollywood rom com (with another international film in the works); the recognition from a renowned institute for floral design; and a thriving home florist business, Amtrol Flower Design.
This is the power of flowers.
Photography: Gan Yew Chin
AIFD 2016 National Symposium photos courtesy of Eunice Teo