Japan's iconic cherry blossoms shape the torch for the Tokyo 2020 Olympic and Paralympic Games.
The ephemeral cherry blossoms or 'sakura' will be blooming on the iconic torch for the Tokyo 2020 Olympic and Paralympic Games. Designed by Tokujin Yoshioka, it is only fitting the beautiful rose gold beacon is made to resemble Japan's iconic national flower for a few reasons.
Yoshioka said that his design of the torch was based on the drawing of cherry blossoms by kids from the 2011 tsunami-hit areas.
The famed Japanese designer also wove in strands of hope as he used the aluminium recycled from materials used in the temporary housing of the tsunami-hit Iwate, Miyagi and Fukushima prefectures.
The March 2011 tsunami killed around 18,000 people and swamped the Fukushima nuclear plant, sending its reactors into meltdown. It has since been known to be the world's worst nuclear disaster since Chernobyl.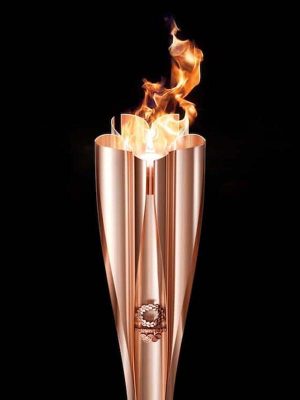 The delicate top part of the torch was done using aluminium extrusion technology, which is also used to manufacture Japanese bullet trains.
Both the torches were made to measure 71 cm in length and weigh 1.2 kg. They sport hues of rose gold, where the Olympic torch is more gold than pink and is called 'sakura gold' and the Paralympic torch is pinker, thus dubbed 'sakura pink'.
The five petals of the torch symbolise the five Olympic rings and each of the petals will cradle its own flame.
The Olympic Torch Relay will begin in Fukushima and journey throughout Japan for 121 days before lighting the Olympic cauldron at the opening ceremony.
Images: Tokyo 2020