Initially popular as a brunch place, the one-of-a-kind dining spot has successively introduced its full-fledged dinner menu with more than 30 handpicked dishes.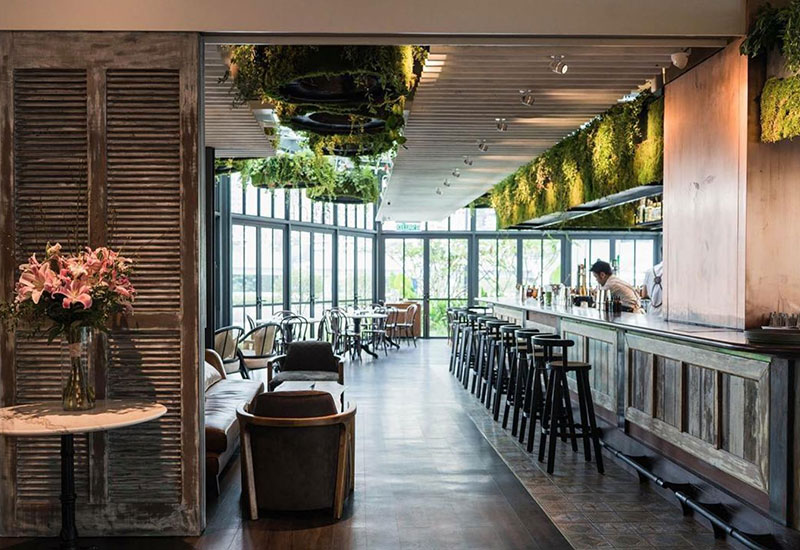 Since opening its doors last July, Birch has become one of the hottest dining venues in Damansara City Mall, drawing adventurous foodies from Kuala Lumpur and afar. Established by the team behind Huckleberry Food & Fare, Mezze and Skullduggery, Birch radiates appeal all the way from its globally inspired Modern American dishes to its rustic greenhouse-like setting.
More sophisticated than a bistro or café yet more laid-back than a typical gourmet restaurant, Birch stands out in nonchalant refinement with its seamless contrast of contemporary floor-to-ceiling windows against vintage-looking exposed bricks and wooden furniture.
Though initially popular for brunch and day-time offerings, the one-of-a-kind dining spot has successively introduced its full-fledged dinner menu with more than 30 handpicked dishes. Just as Americans are known for their bold incorporation of international flavours and techniques, guests can expect a mix of Latin, Nikkei and Neo-Asian influences from Birch's kitchen. Thus, we'd recommend meal-sharing with bigger groups to enjoy the best of what Birch has to offer.
We recently tried a generous selection of dishes from the new dinner menu and these are our favourite picks, including small plates, sharing portions from the Josper, and dessert.
Beef Marmalade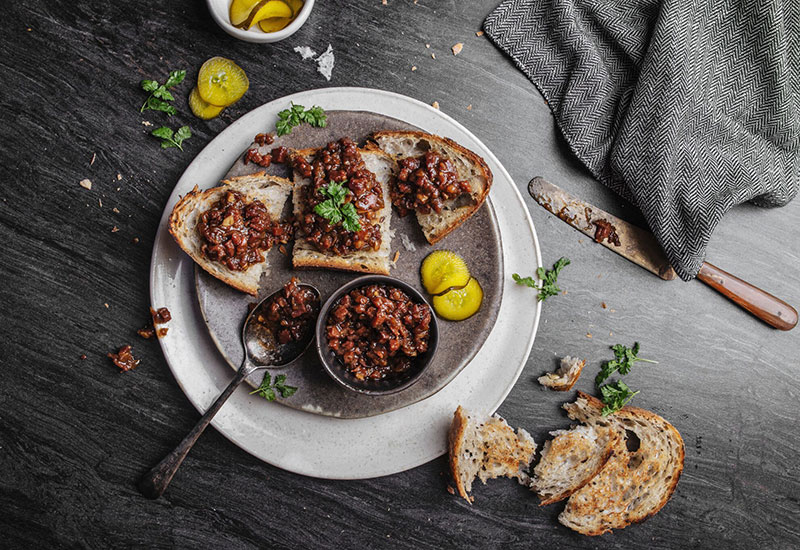 For starters, we'd go with the Beef Marmalade. The portion is just nice as an appetiser and the soft, glazed consistency of the beef combined with the house's signature 7-grain sourdough tastes like comfort food to start a meal. Topped with pickles, it leaves us with an appetite for more.
Stuffed Jalapeno Poppers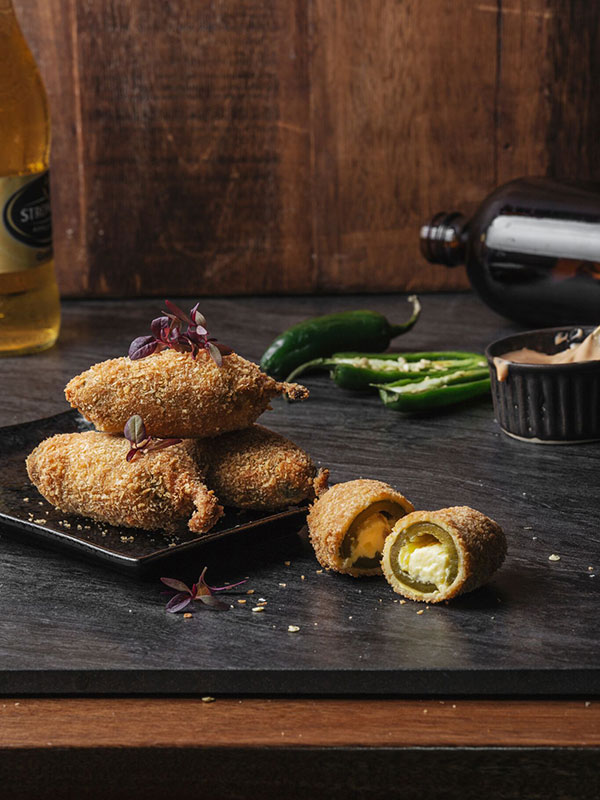 The Latin influence is evident in our next pick, Stuffed Jalapeno Poppers. We like how the jalapenos and saffron spice up our meal – not too much, thanks to the cream cheese. But it's the smoky habanero mayo that takes the dish up a notch with a blend of sweet, piquant and toothsome relishes, hence elevating it to one of our must-try dishes at Birch.
Vermicelli Paella
One of the best things about this dish is the portion – large servings of fresh prawns, clams, squids, and mussels that will definitely please seafood lovers. There's also chicken wings for those who prefer poultry! It may seem awkward, especially served with vermicelli in seafood saffron broth, but then again the overall dish is meant for sharing, so we think the extra meat option may be a good idea for groups.
Mango Quinoa Salad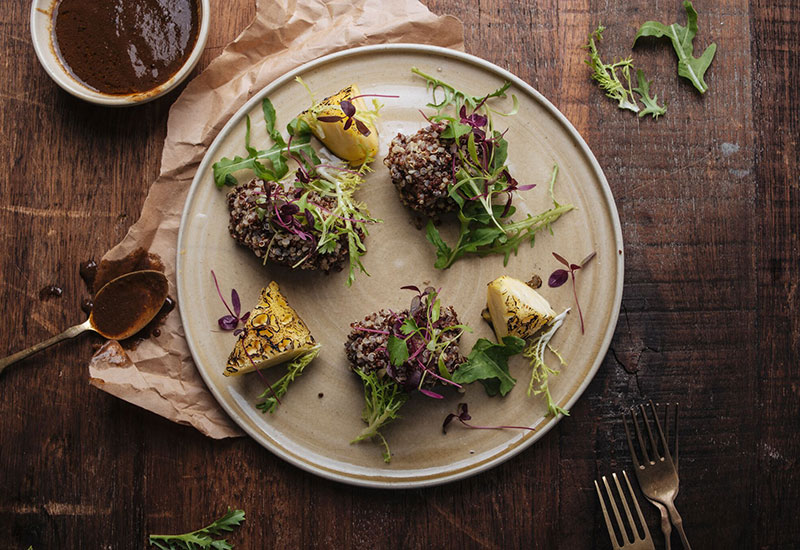 To be honest, we're not the type to order salad during dinner, but we find this a refreshing break from the other savoury and spicy flavours. The mango is sweet and tangy, while the quinoa offers something crunchy to bite on between meat and seafood dishes. We also enjoy the zesty smack from the lemon dressing and creaminess from the avocado, which help to balance the flavours in the dish (and the overall meal).
Corn bread
Seems like it's the unassuming dishes that really surprises us at Birch, as this makes another unexpected addition to this list. Despite its humble appearance, the aroma of corn and truffle honey butter piques our interest the moment it arrives on our table. Just a bite of the soft, warm bread reminds us to never judge a book by its cover. It is the sweet and buttery taste of the bread that impresses us first, before the hint of spice from jalapenos and chillis works its way to the back of our throat for a nice kick. Another great option for sharing!
Burnt Cheesecake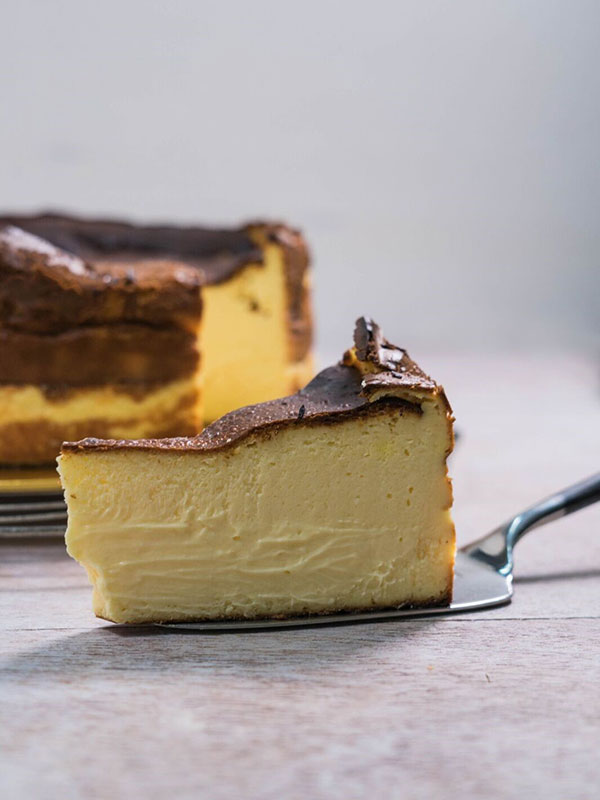 Our favourite dessert here is a no-brainer – the Burnt Cheesecake is simply a must-try for all. (It's baked by Huckleberry Food & Fare, so if you've tasted that, you'll know what we mean.) While burnt on the crust (as its name suggests) and dense in the outer layers, the cheesecake has a creamy and melt-in-your-mouth centre. When taken altogether, it provides a delightful mix of textures and a slight bitterness to offset the sweet taste of honied coating and cheese.
Birch's dinner menu is available 6 days a week, Monday to Saturday, from 6pm onwards.
For more information, visit the official website at birch.com.my or follow them on Instagram @birch_kl.
Images: Courtesy of Birch