On Tuesday, a painting by British street artist Banksy sold for a record-breaking high of £16.7 milllion (RM94 million). Auctioned at Christie's London, the painting significantly beat his previous record auction of £9.9 million in 2019. Initially, the painting carried a presale estimate of £2.5 million to £3.5 million, so it came as unexpected when it sold for over give times the original estimate.
Titled "Game Changer", the painting was created in honour of Britain's National Health Service, and was initially gifted by the artist to University Hospital Southampton back in May 2020, when the first wave of Covid-19 hit. It was also accompanied by a note that read: "Thanks for all you're doing. I hope this brightens the place up a bit, even if it's only black and white."
Following the auction by the hospital (with Banksy's blessing), all proceeds are set to go toward the NHS as well as to UK health charities. A copy of the original now hangs in a corridor at the general hospital, continuing its role as a morale booster.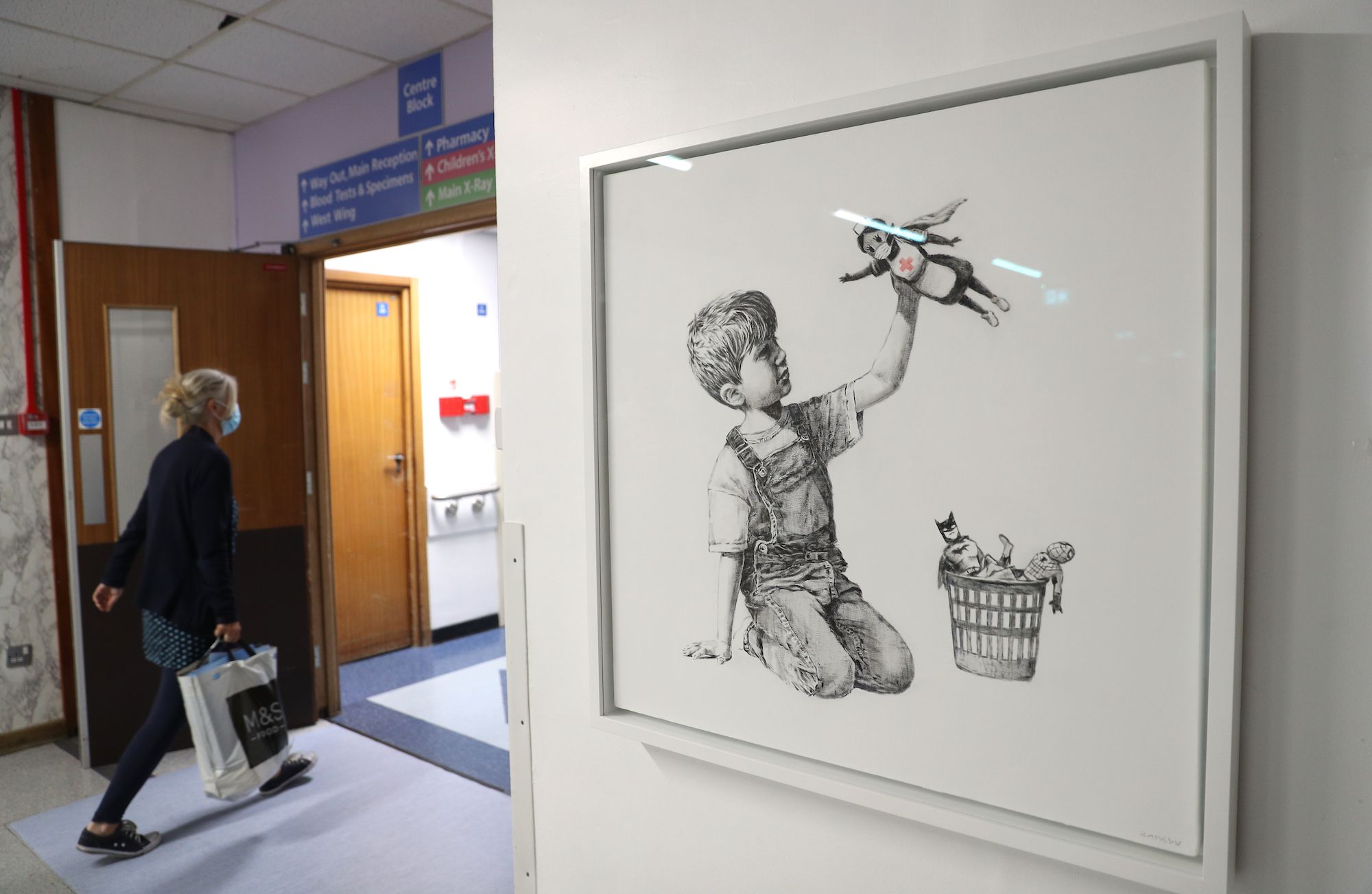 "The work pays tribute to the strength and resilience of those who have demonstrated true leadership throughout the pandemic, the staff of our vital NHS, the nation's true heroes," said Katharine Arnold, Co-Head of Post-War and Contemporary Art, Europe in a statement. "At the same time, our young protagonist engaged in the simple pleasure of playing with his action figures, captures the other side of this pandemic, the focus on family, friends, and loved ones. It is an honour to present the work at auction and to do our best at Christie's to realise the artist's vision for the work."
The poignant oil-on-canvas piece depicts a young boy in overalls, replacing his Batman and Spider-Man action figures with a superhero nurse doll, who is seen donning a face mask and Red Cross uniform. At a time when the world was suffering the most, we did not hope for caped crusaders or masked vigilantes – instead we depended on healthcare and essential workers who worked tirelessly to help care for those afflicted by the Covid-19 virus.