The Giulia Quadrofoglio is built to challenge everything other luxury sedan makers like BMW and Mercedes-Benz hold dear.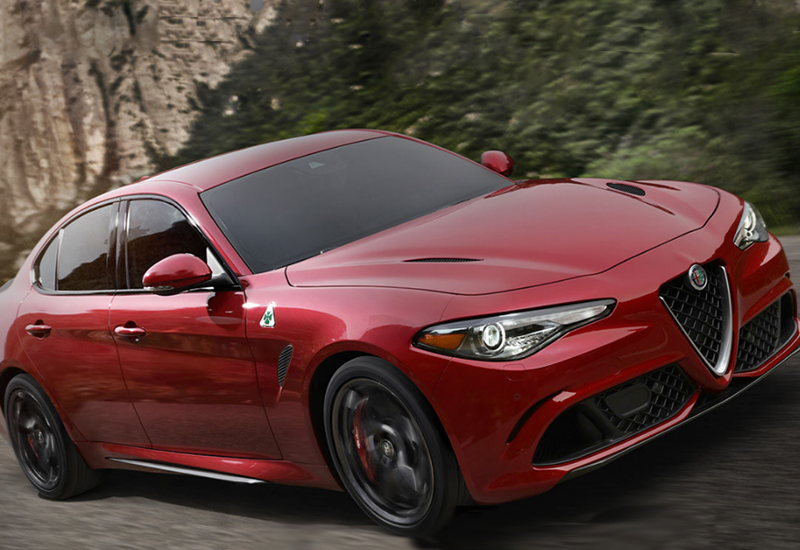 Think Alfa Romeo and you're probably conjuring in your mind race cars with growling engines that easily tear up roads while boasting win after win at race podiums.
Breaking that mould – but certainly not record – is its latest Giulia Quadrifoglio that is the Italian carmaker's dip into the luxury sedan market, built to challenge everything other luxury sedan makers like BMW and Mercedes-Benz hold dear.
Get ready to have your emotions stirred with its rich history and captivating mix of state-of-the-art technology, race-inspired performance and seductive styling.
Powerfully balanced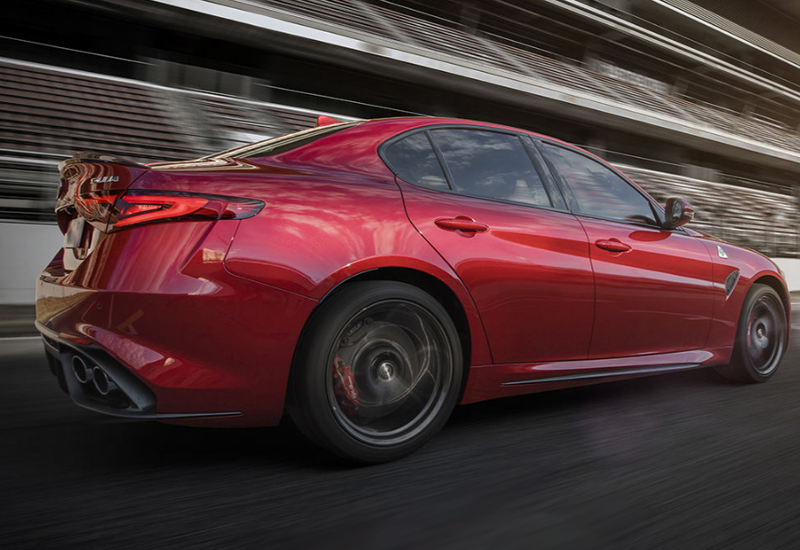 Power-to-weight ratio is important in any car, of course, but the Giulia Quadrifoglio showcases more than that. It presents a detailed study in how to use that power, teetered in perfect balance.  Upfront, it is driven by a front-mounted, all-aluminium Twin Turbo V6 engine; on the other literal end, it is a rear-wheeled drive, presenting a perfect 50/50 weight distribution for optimal balance.
Couple with a high-strength steel body, aluminium fenders and doors, carbon fibre roof and driveshaft and a patented all-aluminium suspension system, it is more than just mindless torque – it is the perfect shift of balance to power.
Intelligent movement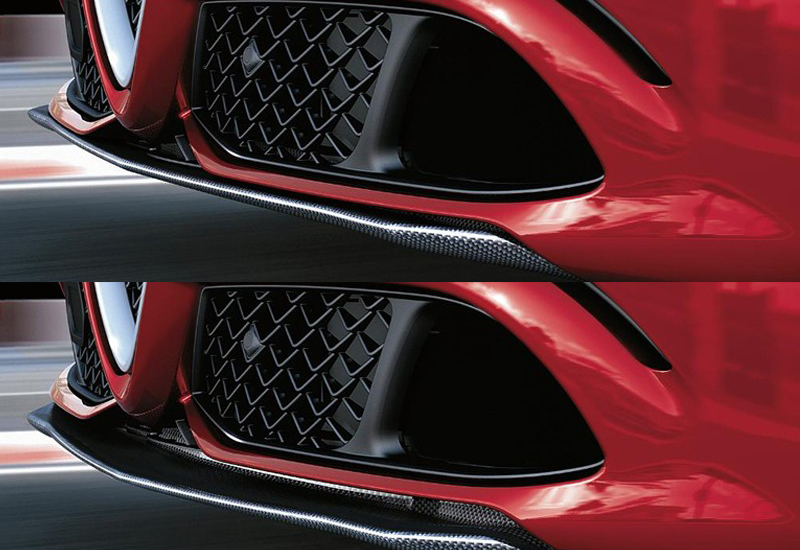 Innovative technologies make for a first-rate dynamic performance and, ultimately, driving pleasure.
The Giulia Quadrifoglio is the only sedan in the world to come with an active aero front splitter made of carbon fibre installed into the front lower fascia to balance and adjust downforce. It helps the sedan take on straight roads by minimising resistance and drag while owning corners and braking by providing up to 220 pounds of downforce for balance.
It also has a superior torque vectoring technology that controls wheel spin by optimising power distribution between wheels in traction so there's no loss of power, just better control.
Alfa DNA Drive Mode Selector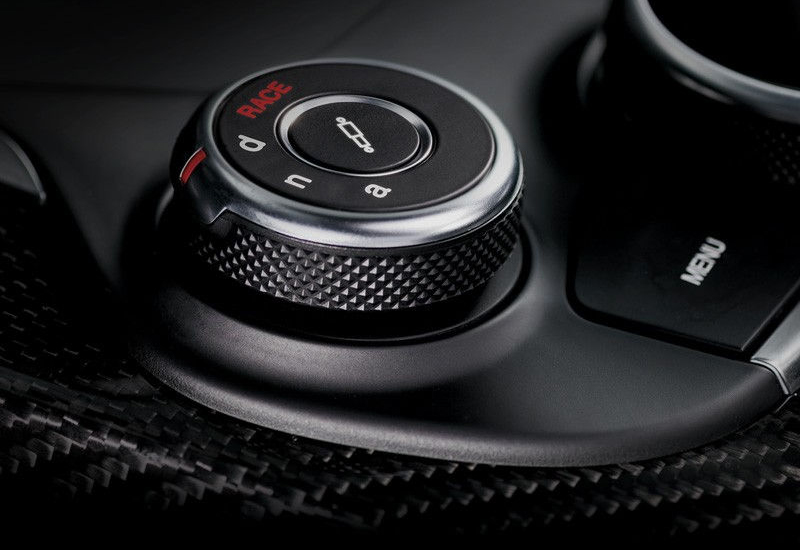 All that style and power mean nothing if it can't be easily accessed and controlled. Thankfully, easy access comes in the form of a knob right in the centre of control console.
Alfa Romeo's DNA Pro Drive Mode Selector lets you choose four modes of driving – Race, Dynamic, Natural and Advanced Efficiency. Thanks to the Chassis Domain Control of the car, everything is instantaneously adaptable for the smoothest drive you'll ever experience.
Under the hood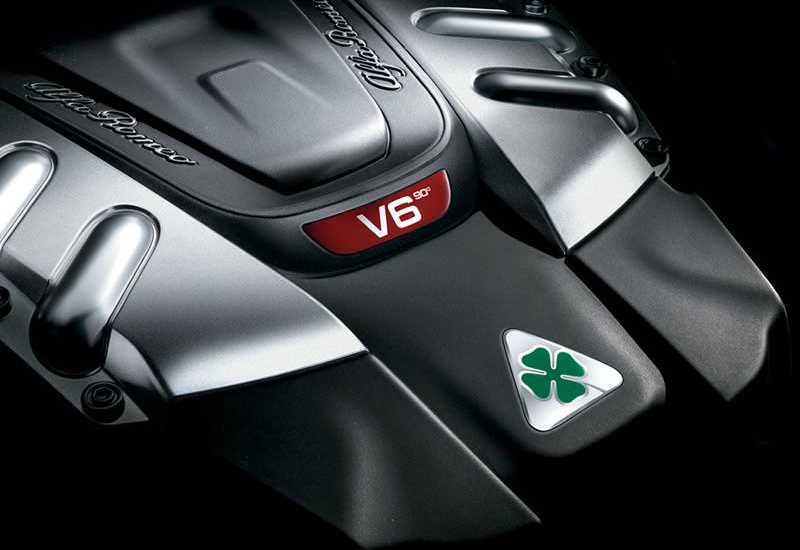 So about that engine – Alfa Romeo continues its tradition with an all-aluminium 90-degree 2.9 litre Twin Turbo V6 engine that delivers a class-leading 505 horsepower and 443lb-ft of torque between 2,500 and 5,500 rpm. That kind of power easily launches the Giulia Quadrifoglio from 0-60 in 3.8 seconds, hitting a top speed of 191 mph.
All that speed and power are also delivered with world-class efficiency. An electronically-controlled cylinder deactivation system reduces fuel consumption by shutting down cylinders when extra power is not needed, while a start/stop system stops fuel flow and shuts down the powertrain when the Giulia is at a full stop.
Iconic Italian design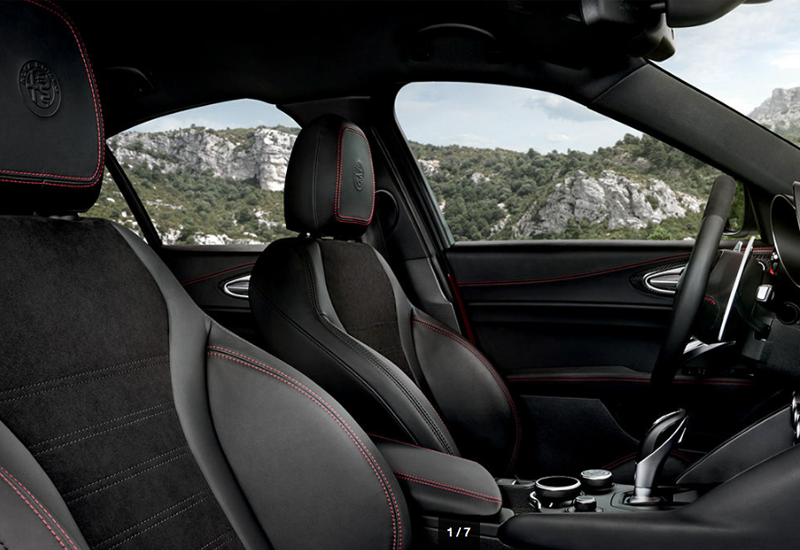 The cherry on top of all that horsepower? It looks as good as it drives, with seductive styling true to Alfa Romeo's Italian birthplace.
Ultra-premium leather dresses the driver-focused cockpit, accented by authentic carbon fibre, aluminium and accent stitching.
All that craftsmanship is accompanied by Harman Kardon surround sound system with 14 speakers, including one subwoofer, 12 channels and high-speed amplifiers.
Here's a comparison of how it lives up to Mercedes-Benz and BMW's sedans of its class (swipe left):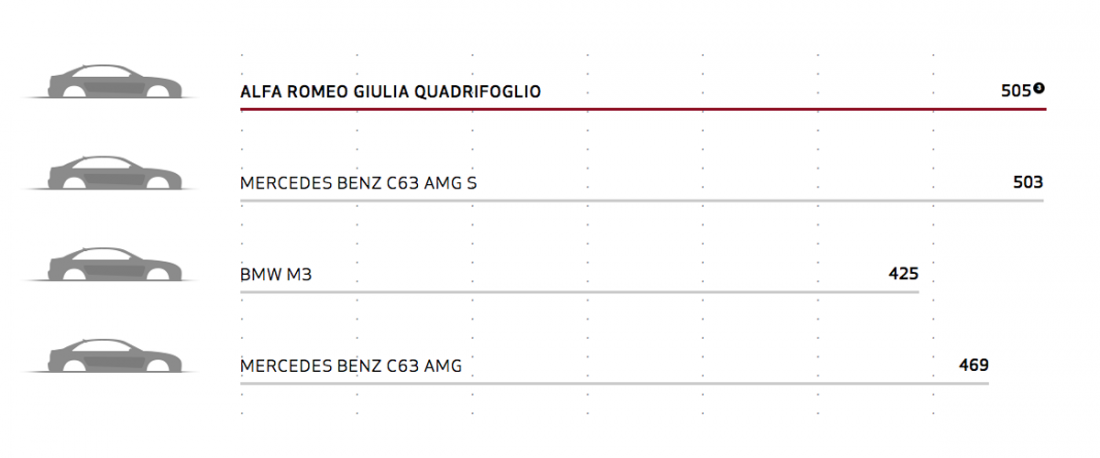 Horsepower
Horsepower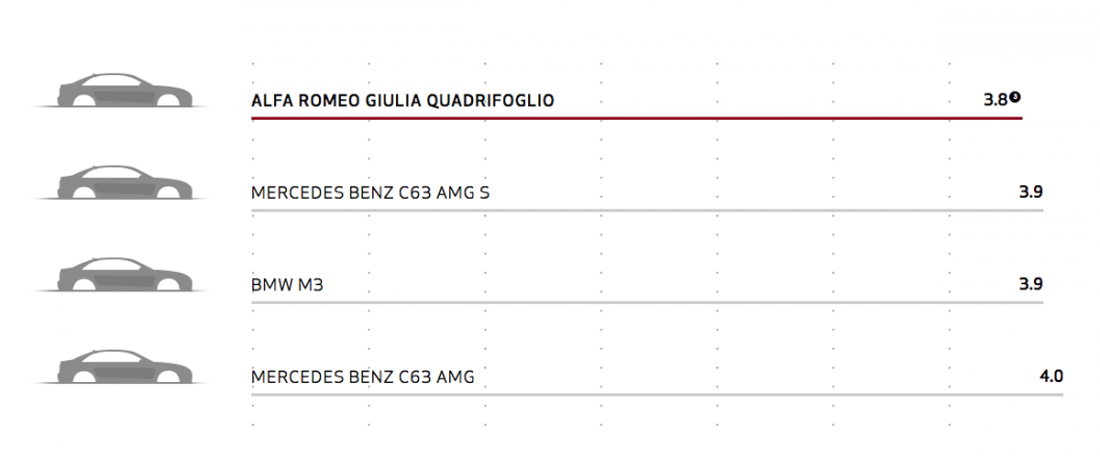 0-60
0-60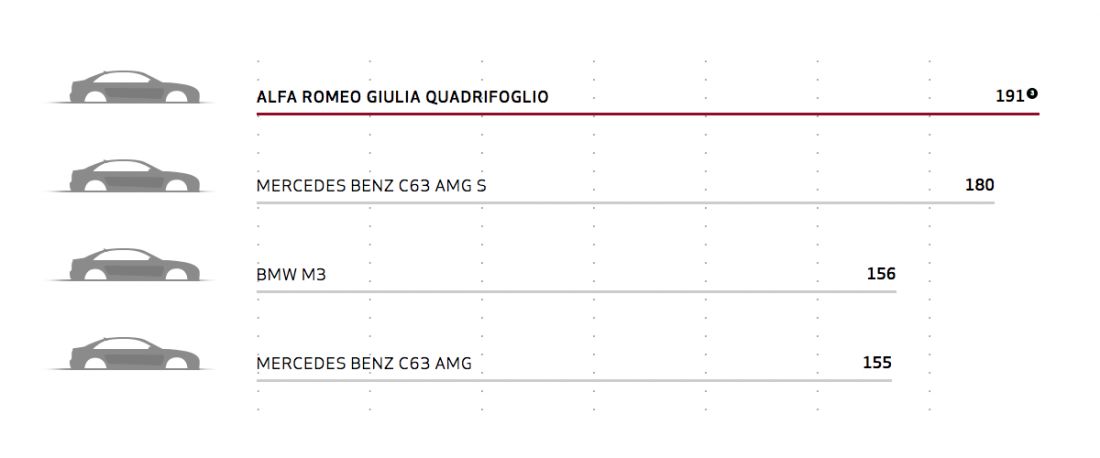 Top speed
Top speed
Can't get enough? Log on to the official website here for more information.