As we enter the last legs of 2020, a thought comes to mind: This year has truly made us all realise the importance of clean air and easy breathing.
From being stuck indoors for months to needing to wear face masks every single time we're outdoors, we've become stifled in more ways than one, which makes us welcome any semblance of the MCO loosening so that we may break out from a mundane routine.
While the FirstClasse Malaysia team has been practicing the WFH routine, there'll be days when we have to make it to the office to regroup and have meetings that don't get translated well enough through laggy Zoom calls. And as if wearing face masks wasn't bad enough, being the first one to open the doors to an office that has been dormant for several months is akin to discovering the century-old attic in a decrepit mansion.
The air is bordering on musty, the closed windows allow zero air circulation, and all the heat that's been trapped inside is finally able to escape. Opening the windows do help in aerating the office, but keeping them opened all day means no air conditioning – which can make work truly insufferable since there are no fans installed.
This is where the LG PuriCare™ 360° Air Purifier comes as a saviour to bring fresh and clean air back into our office – even if it's only opened 1-2 times a week.
Pure air from every corner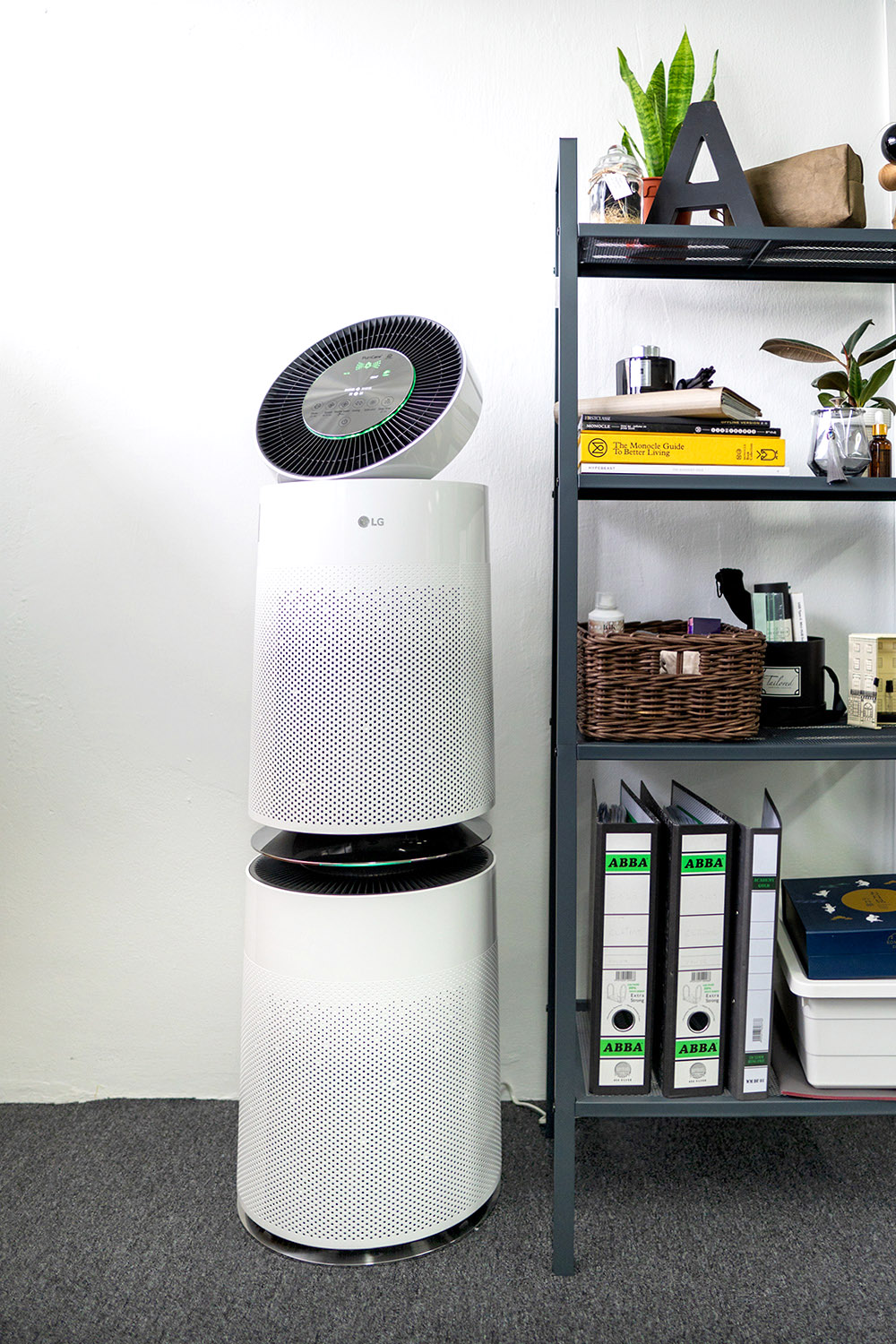 The LG PuriCare™ comes in a unique cylindrical shape that looks stylish and modern while showcasing its one-of-a-kind 360° design, which also allows it to be placed in any corner of the office without looking bulky.
The air purifier features LG's Axial-Centrifugal Fan and Guide Vane with Chevron Nozzle, which makes the new model 20% more effective compared to conventional air purifiers when it comes to delivering freshness up to 100 square meters, providing maximum coverage for cleaner air in very little time.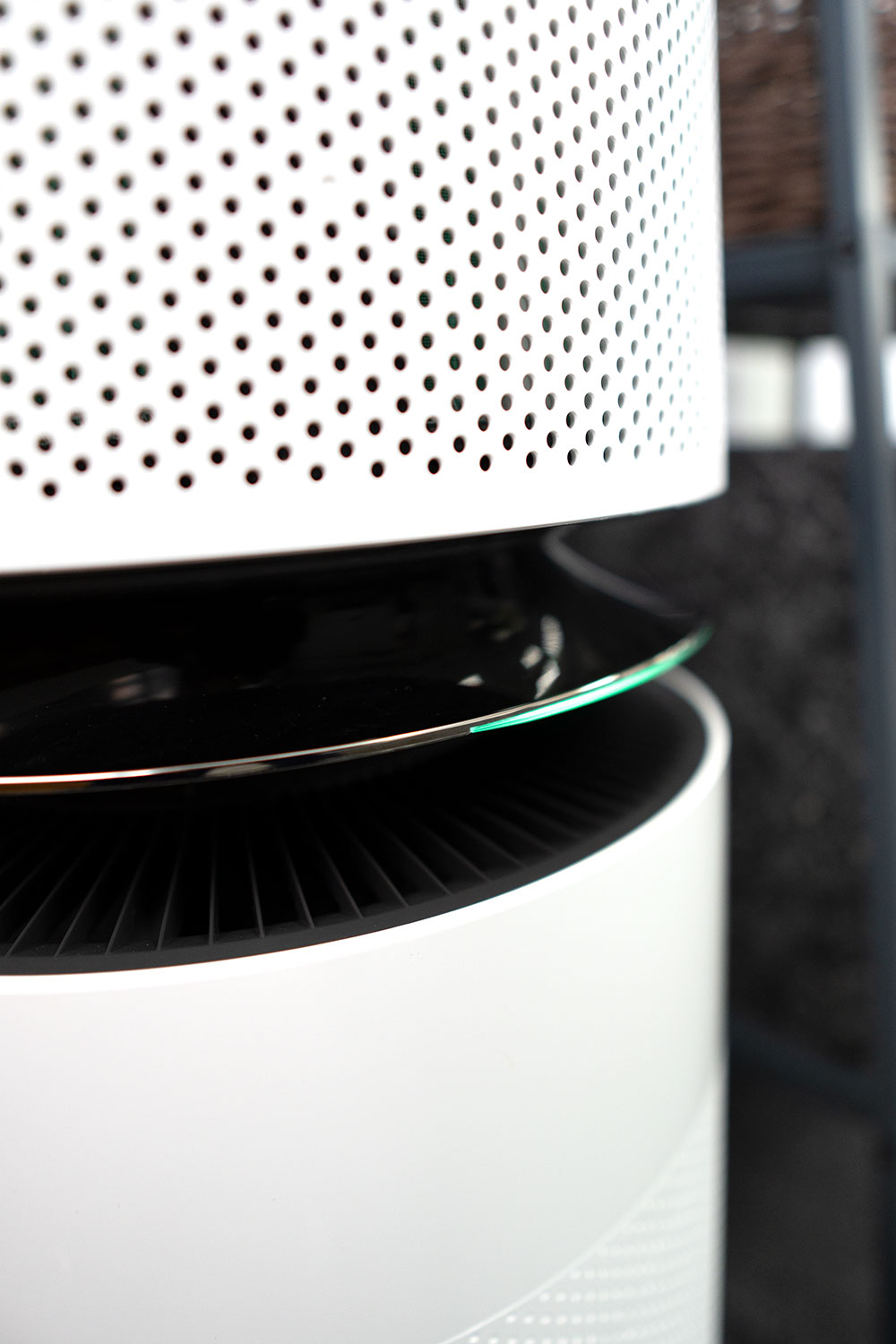 At the top of the air purifier is the advanced Clean Booster fan, which helps to send clean air up to a distance of 7.5 metres. Its nozzle sports a tilted design, and is able to rotate up to 70° laterally, pushing fresh and filtered air to all parts of the room. One can even feel the difference in air quality when taking a quick break in the pantry or going for a toilet visit on the other side of the office. Food smells, odours, and fine dust are significantly reduced, so that everyone in the office feels comfortable in any room.
The LG PuriCare™ air purifier's 360° Total Care Filter System is also a welcome addition, since the office hasn't been able to go through its usual weekly clean. Instead of having to deal with allergens and dust bunnies, the system uses specialised filters to remove dust – from large to ultra-fine micro particles – from the environment. Thankfully, the LG PuriCare™ also comes with an additional filter that targets harmful gases, airborne chemicals, and odour-causing agents such as formaldehyde.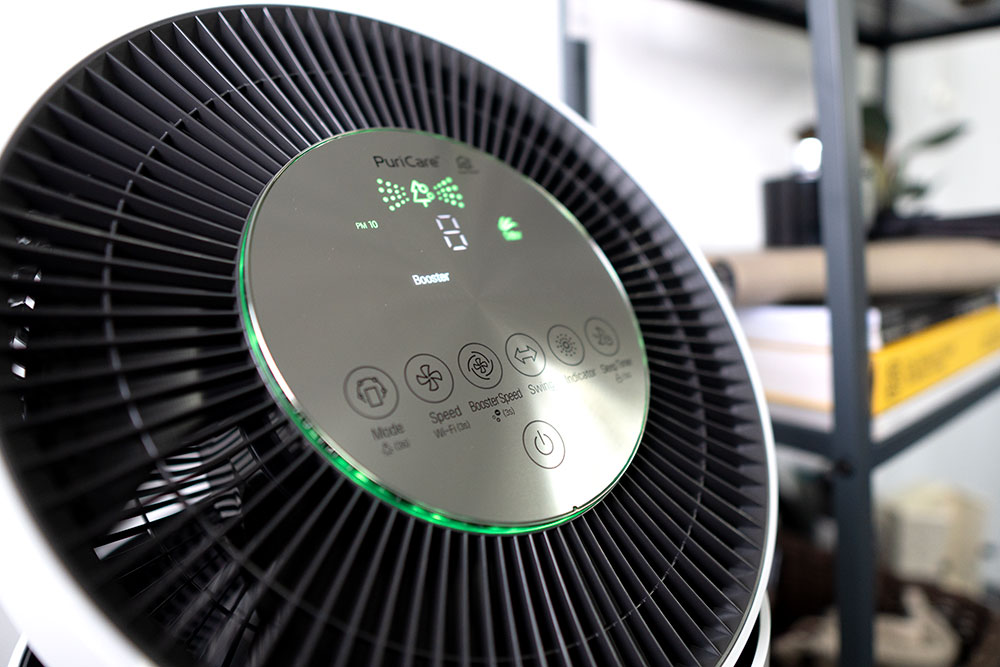 Another feature in the LG PuriCare™ is the advanced PM1.0 Smart Sensor, which detects fine particles under one-micrometer in diameter. This sensor comes in handy when living in a city that's often plagued by pollution and smog, which can make its way indoors and wreck our air quality. The sensor performs real-time status checks to ensure that the LG PuriCare™ is always operating in accordance with actual pollution levels.
We're also able to track the office's pollution levels and purification progress on the LG PuriCare™. The Smart Display uses six coloured lights to allow us to check our air quality with a single look, while the Smart Indicator also clearly displays accurate air quality and odour measurements.
Since we're in the age of apps and mobile phones, it's great that we can also connect our smartphones to the LG PuriCare™ with LG's ThinQ app. With the app, we can monitor the indoor air quality, change settings and switch the air purifier on or off from anywhere in the office – so that in case we forget to power off on the applicate itself before leaving, we can easily do so with our phones. The app is also useful for providing status updates from the LG PuriCare™, as well as sending alerts when the filters need to be replaced.
If you'd like to learn more about the LG PuriCare™ 360° Air Purifier or get one of your own, you can visit LG's website here.
Photography: Anson Siau