Throughout the game and the fame, these are the six lessons we learned from the Air Jordan in Netflix's latest 10-part documentary series 'The Last Dance'.
Rarely do we get to live within the same timeline as Gods and if they existed in our era, the world might look to Michael Jordan as one of them. He is arguably the greatest basketball player of all time, if not the greatest athlete. He climbed his way to the ranks of Hall-of-Famers Larry Bird and Magic Johnson and then outdid their consecutive championship wins with his 'three-peat' championship victories with the Chicago Bulls, not once, but twice, between 1991-1998. He was more than just basketball – he was a larger-than-life personification of hope for the African-American athlete in the 1990s with his raw talent, undeterring focus and grinding grit to dish out his all in every championship game and ultimately, be the best the game of basketball.
In Netflix's latest 10-part documentary series 'The Last Dance' produced in collaboration with ESPN Films, viewers were allowed to delve into some of the most important chapters of the 'Black Jesus' life and career, beginning from his schooling days in Wilmington, North Carolina, USA, to the height of his NBA glory alongside indispensable teammates Scottie Pippen, Dennis Rodman and Steve Kerr, led by head coach Phil Jackson. Together, they transformed the Bulls from, in Jordan's own words, "a sh*tty team to one of the all-time best dynasties." Throughout the fame and the game, the friends and foes, these are the six top lessons we learned about the life and times of the Air Jordan.
Where you come from does not matter, it's where you're headed
Growing up in the small town of Wilmington, North Carolina, rampant racism were among the factors that motivated him to excel in basketball and play college ball. In Episode 2, he said, "You had racism all over North Carolina and all over the United States. There was a lot of it around there. As a kid, [I thought] this is where I don't want to be. I want to excel out of this. My motivation was to be something outside of Wilmington. For me, it became athletics." Interestingly, his first love was actually baseball, a team sport he bonded over with his father James Jordan. He wasn't even very good at basketball and was cut from his high school varsity basketball team as a sophomore. When he earned a spot in the University of North Carolina's team, he had to work hard to catch up with his peers. It took him one summer to grow five inches and daily training for hours longer than anyone for scouts to finally take notice of him. In 1984, at 23 years old, Jordan was selected third overall by the Chicago Bulls and would go on to chart unprecedented legacy with the team.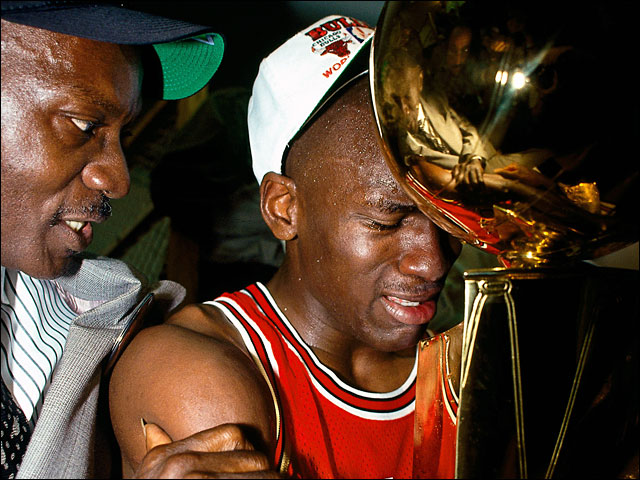 Respect and cherish your elders
More than just mentors, Jordan had multiple father figures to whom he looked up to. His own father James Jordan was one of his greatest motivators in achieving greatness and was his pillar of success who was right by his side from championship Day One. Most memorable is a picture of him photographed right over Michael's shoulder in the iconic photo of Michael kissing the Larry O'Brien Championship Trophy from the Bulls' first win in 1991. Following his untimely murder by gunshot to the chest in 1993, Michael was so devastated that he could not tie his tie and had to get help from NBC reporter Ahmad Rashad, as Rashad regaled in Episode 7. Michael then announced his first retirement and stayed away from basketball for a year and a half with many speculating that he could not play without his father by his side at games. Upon his return in 1995, it was incidentally on an emotional Father's Day that Michael would lead the Bulls to win its fourth championship. He dedicated the win to his father saying, "This is for daddy."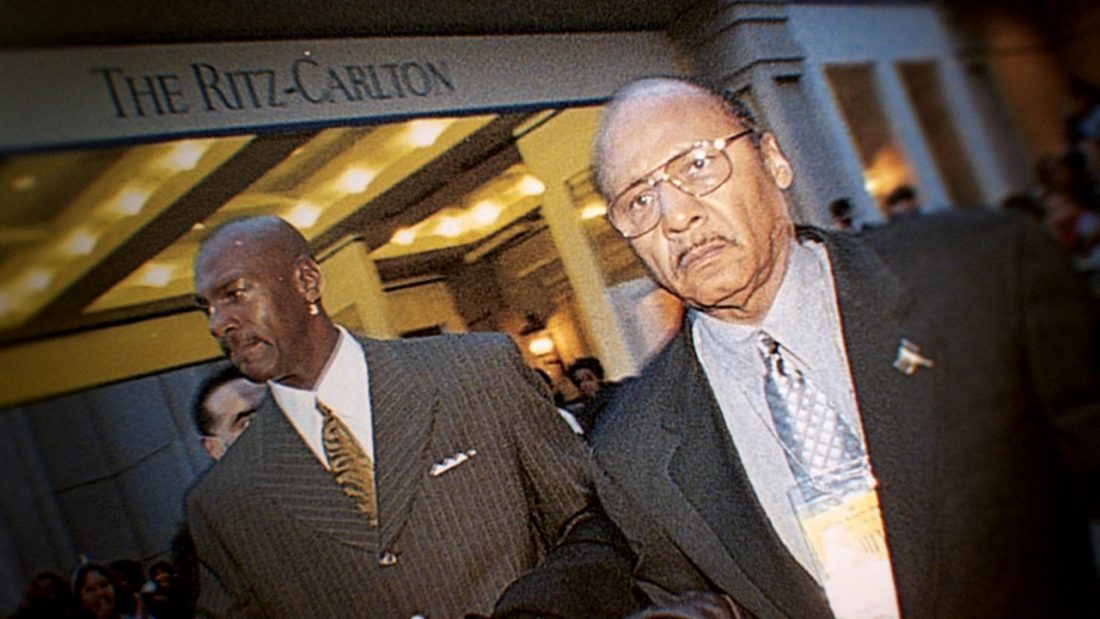 Filling that father-figure hole in his heart moving forward was his head security Gus Lett, whom he saw as a second father. He was also often pictured right next to or behind Jordan during games, taking only a leave of absence once when he had to go for treatment of lung cancer."That was Gus, he was a protector," Jordan said in Episode 7. "But he was more than that, and I saw him for being more than that. When my father died, he became a father figure to me." Throughout Lett's treatment, Jordan was there for him the entire way, at the hospital, at the Lett household, attending treatments, calling and checking at every turn.
Stay away from drugs
As a rookie with the Chicago Bulls, Jordan kept his nose clean from the start. The team then was notoriously known as a "travelling cocaine circus" when he first joined but he made it clear he steered clear away from it and that is what saved his career. In Episode 1, he recalled being on the road for the first time with the team and walking in on "practically the whole team" using questionable substance. "I walk in, and practically the whole team is in there. It was things I had never seen in my life as a young kid. You got your lines over here. You got your weed smokers over here. You got your women over here." Jordan said he told the team he wasn't going to stick around. "First thing I said, 'Look, man, I'm out.' Because all I could think about is, if they come raid this place right now, I am just as guilty as everyone else in this room. From that point, I was more or less on my own."
You are not defined by your mistakes
As Jordan reached the height of his career, critics started to chip away at the pedestal they put him on. Speculations of gambling problem were fueled by cheques amounting to tens of thousands of dollars issued to third parties claimed as loans, but which later Jordan confirmed are for payment of debts from gambling losses. This led to increasingly damaging conjectures of game-setting and betting, which Jordan vehemently denies. "I never bet on games," Jordan said. "I only bet on myself, and that was golf. Do I like playing blackjack? Yeah. … The league called me and asked questions about it. And I told them." Asked whether he had a gambling problem: "No, because I could stop gambling. I have a competition problem, a competitive problem."
It's never too late to re-explore your passions
After his retirement from the NBA in 1994-1995, Jordan spent a season with the Chicago White Sox Minor League. It was a brief stint, but one which was very promising in which Jordan could have gone on to the Major League had he stayed, according to owner Jerry Reinsdorf, who also owns the Chicago Bulls. Before picking up basketball, Jordan was first a baseball player, and to get over his father's tragic murder, decided to give a shot at realising his father's dream of seeing him becoming a pro baseball player. "It was always his father's dream that (MJ) be a baseball player, so I didn't try to talk him out of it," Reinsdorf says in Episode 7. "But I did say to him baseball is a lot harder than you think it is."
This is a mood. #TheLastDance pic.twitter.com/YK11803Hcn

— NBA on ESPN (@ESPNNBA) May 18, 2020
"All you needed was one little match to start that whole fire"
From "a sh*tty team to one of the all-time best dynasties", the Chicago Bulls saw the coming together of some of the unlikeliest players to become the greatest team NBA and basketball the world over has, and possibly will ever, know. They overcame their fair share of betrayal, tragedy and scandal before they got to reap the rewards of success, recognition and legacy. And it all began from one man's hunger to be the best that set off a chain reaction that has each element getting stronger. It can be seen from Jordan's shots and Pippen's play to Rodman's rebound and Jackson's coaching. As Jordan himself said in the concluding Episode 10, "All you needed was one little match to start that whole fire."
(Source and images: 'The Last Dance', Netflix)