Last night, the team behind 50 Best – the authority on the World's 50 Best and Asia's 50 Best restaurants and bars – introduced an inaugural list created to acknowledge and recognise people who are shaping the future of gastronomy.
Named "50 Next," the list (but not a ranking) showcases a diverse selection of brilliant young minds under the age of 35 who are pushing the boundaries of the food and drink chain. Applications and nominations were submitted by the public at the end of 2020, before robust research and analysis was performed by 50 Best in collaboration with the Basque Culinary Center to come up with the finalists.
The 50 Next list is divided into seven industry-led categories: Gamechanging Producers; Tech Disruptors; Empowering Educators; Entrepreneurial Creatives; Science Innovators; Hospitality Pioneers and Trailblazing Activists. Each category spans a wide range of candidates of varying jobs and fields, from farmers, restaurateurs and producers to scientists, tech creators and activists.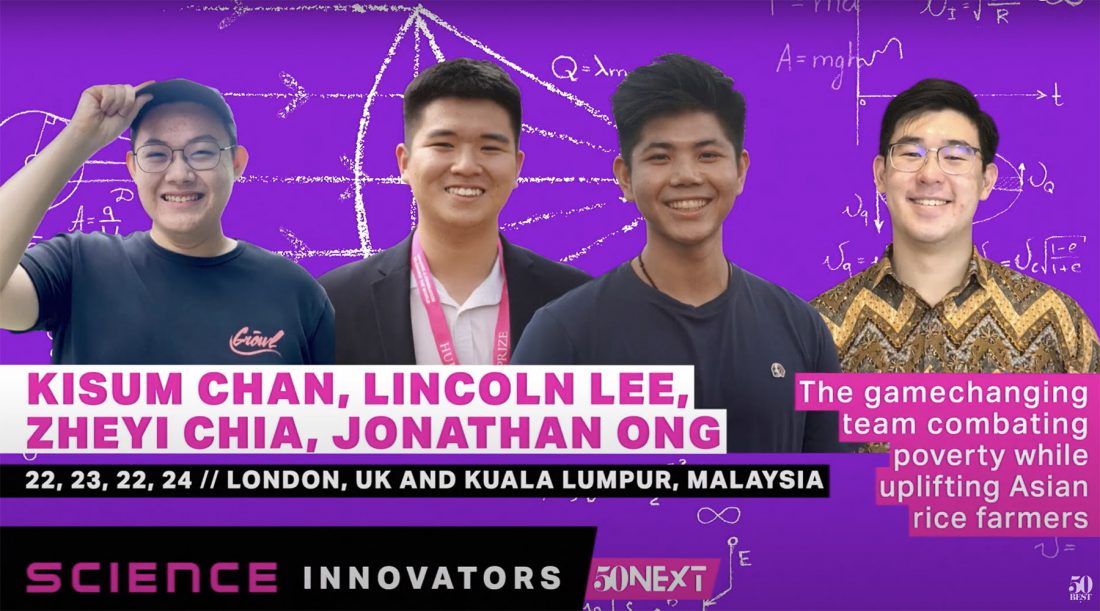 Three Malaysians, namely Lincoln Lee (23), Zheyi Chia (22) and Jonathan Ong (24), have made the list for their collective efforts at Rice Inc, together with their Hong Kong colleague Kisum Chan (22). Lincoln and Kisum co-founded the social enterprise while they were students at University College London, with ambitious goals to combat world hunger while alleviating poverty. They were later joined by Kuala Lumpur-based Zheyi and Jonathan to bolster the company into one that advocates for sustainable rice on a global scale.
The four Asian students started the company upon learning that "up to 26 million tonnes of the grain is wasted during production and that 70% of the world's rice is produced by smallholder farmers without access to efficient drying equipment."
"Agriculture isn't as 'sexy' as tech in Silicon Valley. We're changing that." – Kisum Chan
With the co-founders' degrees in biomedical sciences, Jonathan's background in accounting and management and Zheyi's economics degree, Rice Inc aims to reduce the loss of rice during harvest by providing farmers with industrial dryers and storage facilities. To date, the company has prevented over 200 tons of losses and saved 1.8 million meals and 6.5 million in carbon emissions.
The startup has also won multiple awards including the 2018 Hult Prize finals, whilst Lincoln and Kisum were among the Forbes 30 Under 30 Asia Class of 2020.
Discover the full 50 Next list on the 50 Best website here.
Source: 50 Best