"YSL Beauty's ability to combine the chicest of styles with a raw edge has always been one of the best ways to express yourself through fashion and beauty."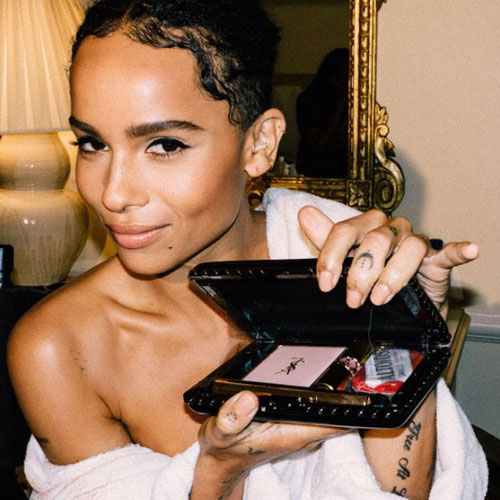 Zoë Kravitz is as fresh as the hairdos she sports. Managing to grow up out of the limelight in a celebrity household, she has gone on to carve a name for herself as a model, singer, and actress. Now the ultra-cool stunner joins YSL Beauty as its latest ambassador, fronting the brand's Tatouage Couture campaign this month.
What is it about this edgy woman that makes her so right for YSL? In Zoë's own words: "I know so little about style and designers. I'm very much a visual person. If I see something and I like it, it's not because a certain designer made it or it's on trend. It's about how it makes me feel when I'm in it. So, I'm not very trendy, but that might be my secret weapon."
That might be hard to believe, looking at her growing fashion portfolio; but what is plain to see is that Zoë brings a modern yet timeless and fiercely personal approach to everything she is involved with. This authenticity translates to persuasive marketing, and to her fan-base, there's little this versatile creature can do wrong. Following jewellery and fragrance collaborations, the 28-year-old most recently starred in Alexander Wang's SS17 campaign but has mainly been occupied with HBO's Big Little Lies.
https://www.instagram.com/p/BXTsLHPhjJr/?hl=en&taken-by=zoeisabellakravitz
Let's not forget the excellent canvas YSL Beauty has to work with – sky-high cheekbones, a lovely and increasingly common skin tone, and the chameleon-like ability to go from high fashion to hobo chic.
We've witnessed her relationship with the ever-relevant French luxury fashion house grow in her role as social beauty ambassador, so the Kravitz and YSL fans among us can't wait to experience this partnership flourish into an exciting new collaboration.
Browse YSL Beauty collections or drop by the largest store worldwide in Pavilion KL.
Images courtesy of YSL.