More than 600 million women around the world live in a country where violence by an intimate partner (IPV) is not considered a crime. Additionally, about 1 in 3 women have experienced sexual violence and/or physical violence by an intimate partner during their lifetime and reported some form of IPV-related impact, according to WHO. Of this number, only a small portion of survivors reportedly get justice.
In light of these statistics, YSL Beauty has launched a global initiative to fight IPV by supporting prevention programs of its non-profit partners, ahead of the UN's International Day for the Elimination of Violence Against Women on November 25.
Dubbed Abuse is Not Love, the campaign stands on 3 key pillars: funding academic research on this issue to build thought-leadership around youth and prevention; educating at least 2 million people on the common signs of IPV with the help of international partners; and training YSL Beauty employees and beauty advisors on IPV.
Currently, the global program has formed 3 main partnerships in 2020, namely with En Avant Toute(s) in France, Women's Aid Federation in the UK and It's on Us in the US, with more to be announced in 2021 in other countries. These partnerships are aimed at raising awareness of the severity of IPV in order to bring about meaningful change.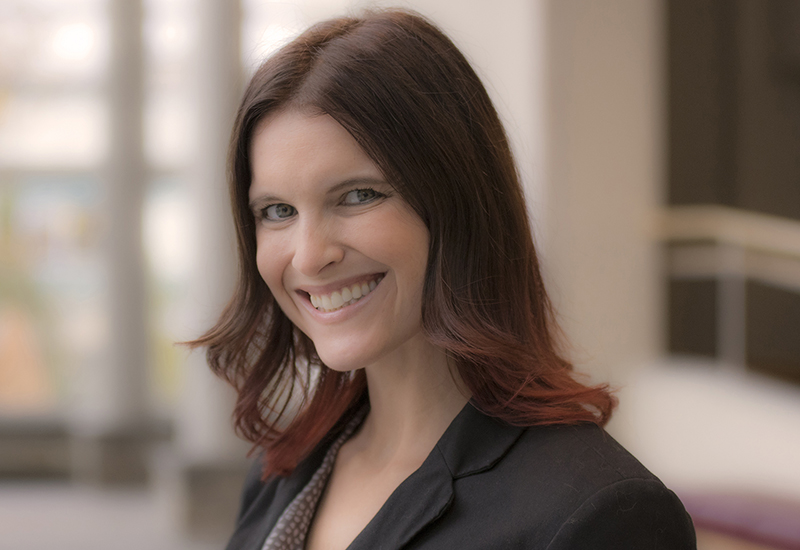 Dr Beth Livingston, a US-based gender and diversity academic who has conducted research has part of the Abuse is Not Love program, said: "I knew I wanted to be involved in this initiative when I saw that YSL Beauty was not only taking a strong point of view, but also was making a commitment to drive measurable change via their partnerships with leading NGOs around the world. The data on this topic is clear: IPV is a dangerous issue that affects women (and men) in all facets of their lives, including the workplace, and I believe that YSL Beauty's efforts will help brings important resources and awareness to those in need."
"Abuse is Not Love is a much-needed initiative that is true to the spirit of Yves Saint Laurent, who supported women's freedom and equality. Today, I'm prouder than ever to be a part of the YSL Beauty family and I look forward to working on this project together to fight against this abuse," commented Zoë Kravitz, YSL Beauty Ambassador.
Although IPV affects individuals of various socioeconomic, religious and cultural groups, women are most at risk, especially those aged between 16 to 24. To make matters worse, lockdowns imposed due to COVID-19 have increased IPV prevalence rates by 30 to 60 percent. Many women who have been quarantined at home are unable to seek help from professionals, organisations, friends and loved ones.
As research shows that IPV often comes with warning signs, the French beauty label hopes to educate people on these signs to detect it earlier and offer help. You can do your part too by familiarising yourself with the symptoms below: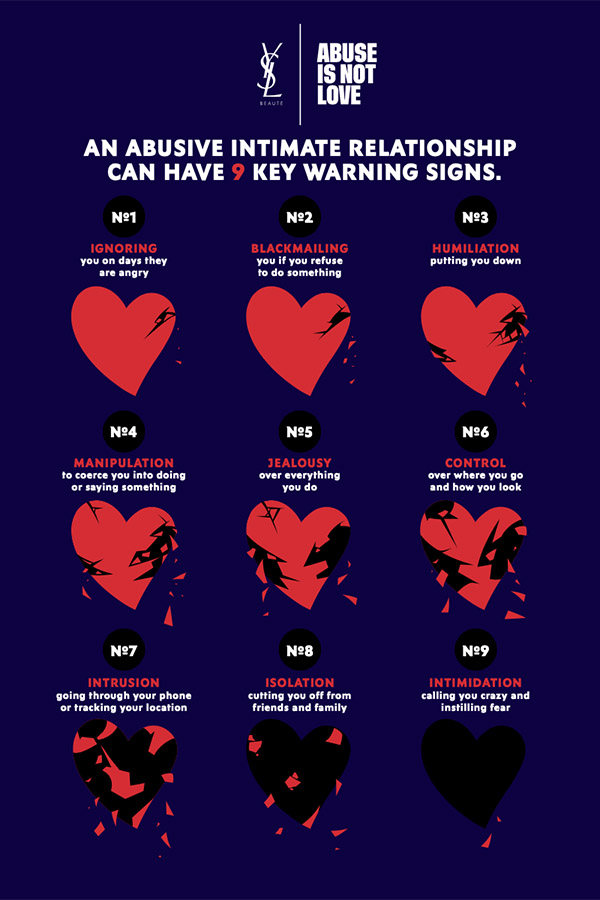 ---
To find a local hotline in your country, check out the UN's women hotline compilation list here. In Malaysia, you may contact the Women's Aid Organisation Hotline at +603 7956 3488 (24 hours) or WhatsApp Think I Need Aid (TINA) at +6018 988 8058 (24 hours).