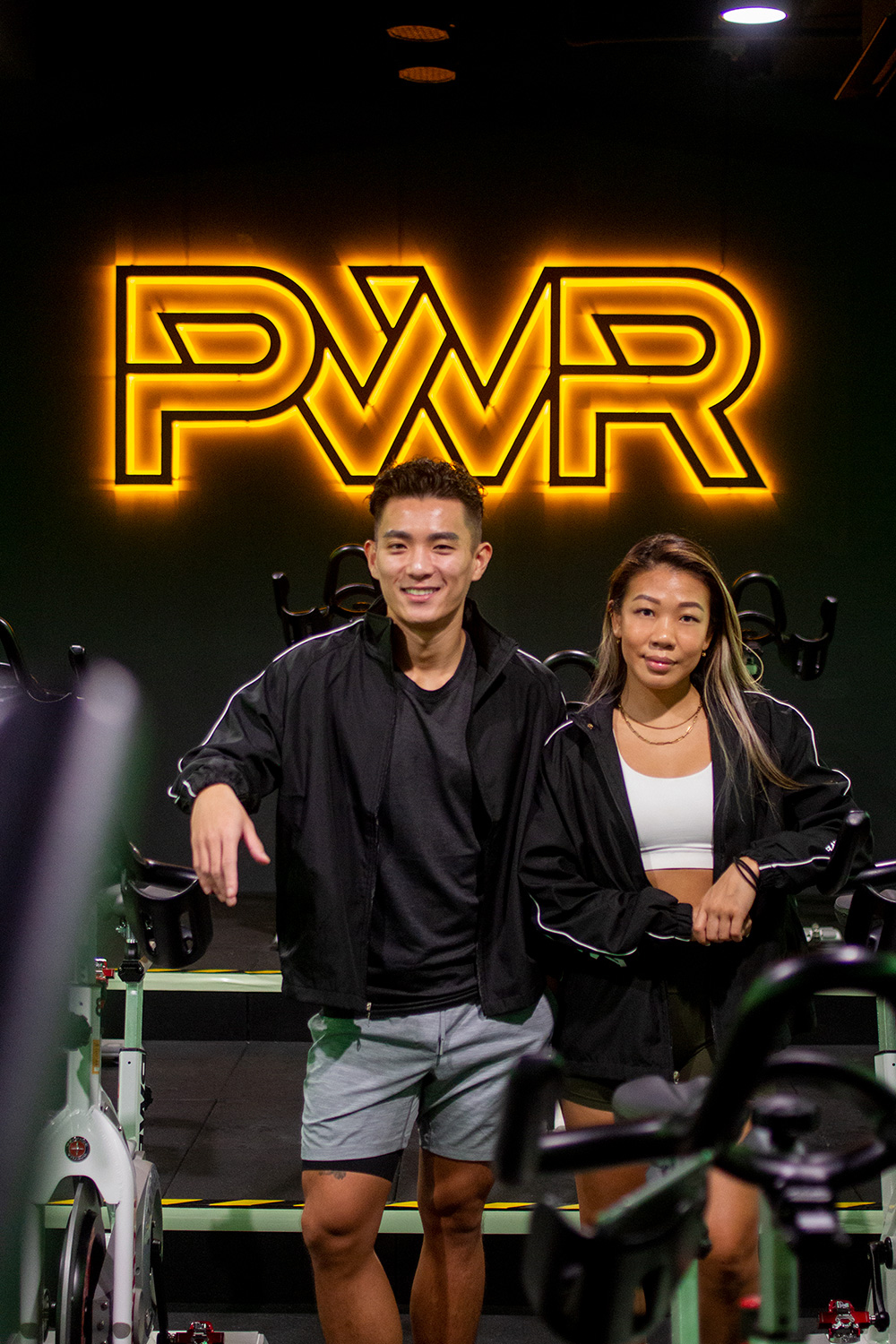 Spin studios and strength training gyms are a dime a dozen all across the city. Spin  studios and strength training gyms with a focus on its community, not so much.
Recognising the importance of building a place of support and growth for its members drove Yiping Teo and Hanpin Ma, along with co-founders Jeremiah Tan and Chao Way Lee, to dig deep into them and birth PWRHOUSE. At first glance, it looks like just another fitness centre but look closely and you'll see the difference in the way the team interacts and, more importantly, the way its members appear right at home the moment they step through PWRHOUSE's doors.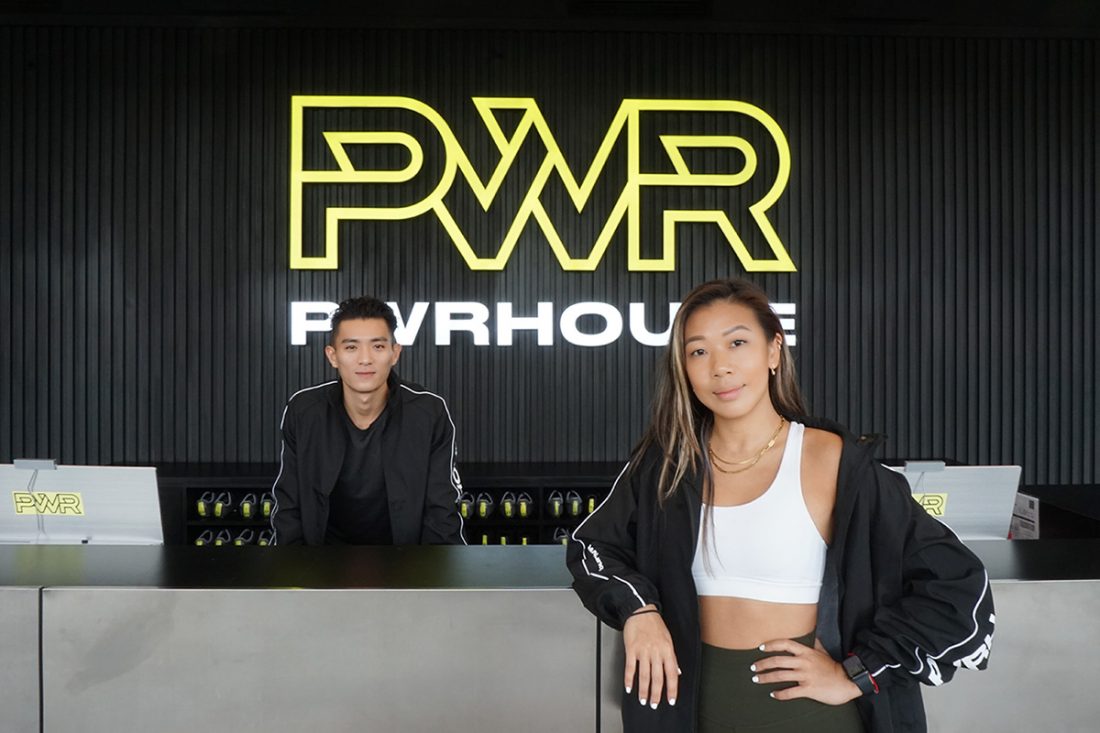 "I want people to see fitness in a different perspective," shares Yiping. "I don't want them to be scared and intimidated by the sight of weights, or a group, or anything that could potentially make them feel shy and scared to want to try. Fitness is a lifestyle, it's more than just a workout. I have grown into a very different individual year by year because of fitness."
"The entire exercising process should make you feel good," Hanpin echoes. "Here, it's not just a workout. Here, we motivate people. I realise a lot of people exercise not just to become fitter, although that is a big motivation factor. A lot of people see exercise as an outlet for stress. We are trying to be a community to support them here while they get their work out in. We want to be part of their lifestyle."
Combining their personal passion for fitness and drawing from their own experience of the importance of acceptance and community, they set out to start a place where anyone and everyone is welcome no matter your background and  fitness level. The diversity here is what truly makes it a powerhouse, from the members and trainers to the classes and sets.

Live your workout
PWRHOUSE opened its doors in early October 2020 in a massive 6,000 square feet space in the Matahari Building at Desa Sri Hartamas. The brand's now iconic electrifying yellow and black colours dress the walls as well as all the doors and furnishing right down to the welcome counters of the check-in concierge and in-house café.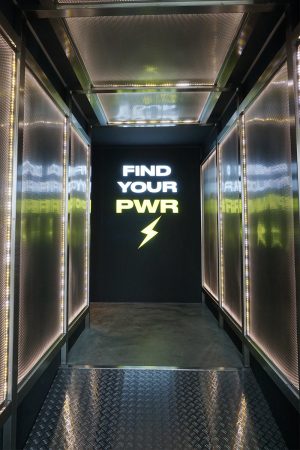 Classes take place in two spacious studios – one dedicated to spinning and the other, to strength training. The spin room can comfortably fit 45 bikes under regular circumstances, illuminated by neon lights that pulsate and flash along with the playlist of choice. In the strength training room, weights line the floor neatly, accompanied by matching yellow resistance bands, tools one will need to get in a workout that's equal parts fun and engaging in 45 minutes.
It's not an odd sight to spot PWRHOUSE merchandise adorned by the members and trainers either, be it a subtle sock or sweatband, or a louder and prouder jacket or yoga mat.
"For us, we love to dress nicely," Yiping opens up. "It's like when we go to work, when you dress nicely, you feel good about yourself. If you dress appropriately and it's a brand that you believe in, you'll feel like you belong more and you'll be more committed with each class."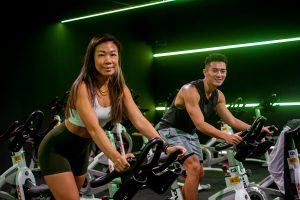 It's more than just about appearance. Creating a lifestyle affiliated to the brand is in line with what both co-founders have in mind in terms of creating a community.
"The merchandise is just something small that people can share and carry outside of the gym as a small reminder that no matter how bad the day is going, they can always come back here to their happy place," Hanpin elaborates. "It's a place for people to gather, connect and network on top of just sweating out."
Yiping likens it to a cardio party, a healthier alternative to the atypical night out, complete with the same music and vibe. "As a small boutique gym, this is a chance for people to socialize. Instead of constantly going out to drink, this is a cardio and strength party. You come here and you meet all types of people."
Empowering others to empower themselves
In the bigger picture, PWRHOUSE seeks to train strength and build assets that go beyond just what the eye can see. It's about the mind and character here, two things a lot stronger and way more powerful in inciting change than what you can flex in the mirror.
"In order for you to build yourself into someone better inside, you need to have a strong mind. A strong mind can convince your body to do the things you want to do and a strong mind can convince you to achieve anything you want in life," Yiping reasons.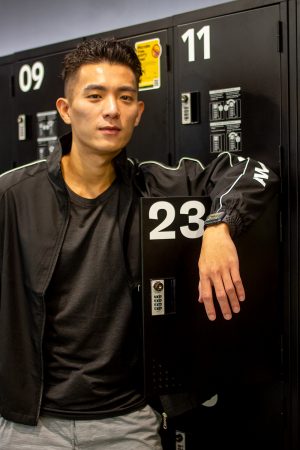 It starts with the instructors here, the people who will lead the class to a place of fulfillment through each session
"He or she has to be a ray of sunshine," Hanpin tells honestly. "They have to brighten everyone around them, add warmth. We don't want any negative vibes here.
Yiping agrees. "When we auditioned for them, we pulled people from different backgrounds. We looked for people who were able to radiate good presence the moment they walk into a room. They're also able to, no matter what they do or say, cause a vibration through the people they're around. They make an impact. They're a powerhouse on their own."
To walk the talk of PWRHOUSE being a place for everybody with the intention of becoming better, the instructors are also free to be themselves. In fact, their personality is their biggest asset to contribute.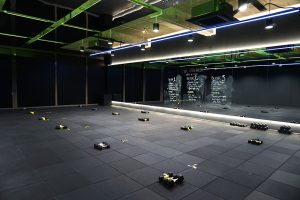 "We always tell them to be themselves," Hanpin lets on. "That's how we deliver the message to our clients that when you're at work or out there with other people, you may have to take on a persona, professional or otherwise, but in this room, you're free to be yourself. When you step through this door, you don't have to pretend to be anyone but you."
Gone are the days when gyms were testosterone-filled rooms of cold hard weights and intimidating blunt machinery. PWRHOUSE champions acceptance, community and belonging with each of their killer fun time of a workout.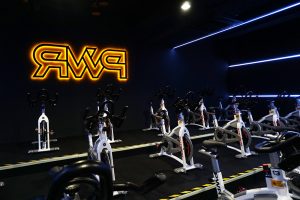 "It's also about building people up – the people who come here and the people who work here," Yiping adds. "We seek to empower every individual who walks through these doors so they can embrace their own power.
"The primary goal here is for you to grow holistically – mind, body and soul. And if you lose weight, that's a plus for us."
Log on to the official website here for more information or to book your classes.
Photos: Anson Siau