As a fashion designer, Brian Khoo dresses queens.
He draws his first splash of inspiration from music (typically that of Queens of 21st Century Pop Beyonce), stitches them together with equally regal muses in mind (among them local fashion queen Marion Caunter) and materialises gowns of couture befitting women who are queens of their own lives.
"My designs are for bold women who are not afraid of showing off who they are," says the 31-year-old who hails from Sandakan. "Whatever you have, own it. My wearers bathe in the attention but do not seek for it."
His quiet demeanour is a stark contrast to the rack of his creations spilling out from behind him in our studio: couture gowns of lace and beads and tulle in colours of the rainbow that blush in pastel as many as there are those that invite in vibrant pops of fiery dyes.
His eponymous label isn't conservative when it comes to colours simply because it is Brian's personal belief that what you wear is the first and fastest way of introducing yourself.
"Fashion is a vessel for self expression," he opines. "You don't need to use words to tell people who you are. You just wear what you feel is most you and it's a summary of who you are. People will know who you are from your clothes."
As he readies for a maturing of his brand and design ethos, Brian Khoo – designer, lecturer, devotee and, ultimately, lover of fashion as a utility and creative outlet – is letting his craft guide the way.
The hands that make the dream
Brian had fashion nurtured into him, being raised by a seamstress mother who made clothes for him and his siblings as they were growing up. Sewing methods and fabric sourcing were part of his vocabulary from before he could remember.
Ironically, she didn't warm up to the idea of him wanting to pursue fashion very well.
"My mum knew how hard it was to make clothes as a seamstress, so I guess she didn't want that for me. It's not easy, she always said it's a lot of hard work and long days working and sewing with your hands."
Given Brian's all-around artistic streak, his father also thought architecture or interior design would have been disciplines that were more applicable.
"I told them that I won't give up. This is my dream, and I will persevere through all the hardships. Pursuing anything in the artistic field is never easy because of how subjective it is.  That's when they realised that I was serious about it," Brian divulges. "Finally, they said they've always known I will do this so they said to go ahead. They said they will support me."
His first step towards a fashion career started at RMIT University in Brunswick, Australia, where he graduated top of his class with a Diploma in Fashion Design. His talent was apparent to his lecturers, who highly recommended that he take his eye and talent to Europe.
But first, he had a duty to check off back home.
Upon completion of his time in Australia, he came home with a head full of ideas that he premiered to the world at the Malaysia International Fashion Week (MIFW) 2016. His parents sat front row and the look of pride  on their faces when he did his roundup walk of his first collection was what told him he was right to stick to his passion.
"That was also when I knew I wanted to take things a step further," he tells.
Recalling his lecturer's words about Europe, he deliberated between immersing himself in the couture and handwork of Paris, tailoring techniques of London or street style of New York.
"I finally chose Paris because I like hand embroidery, beading and hand-sewing," he shares.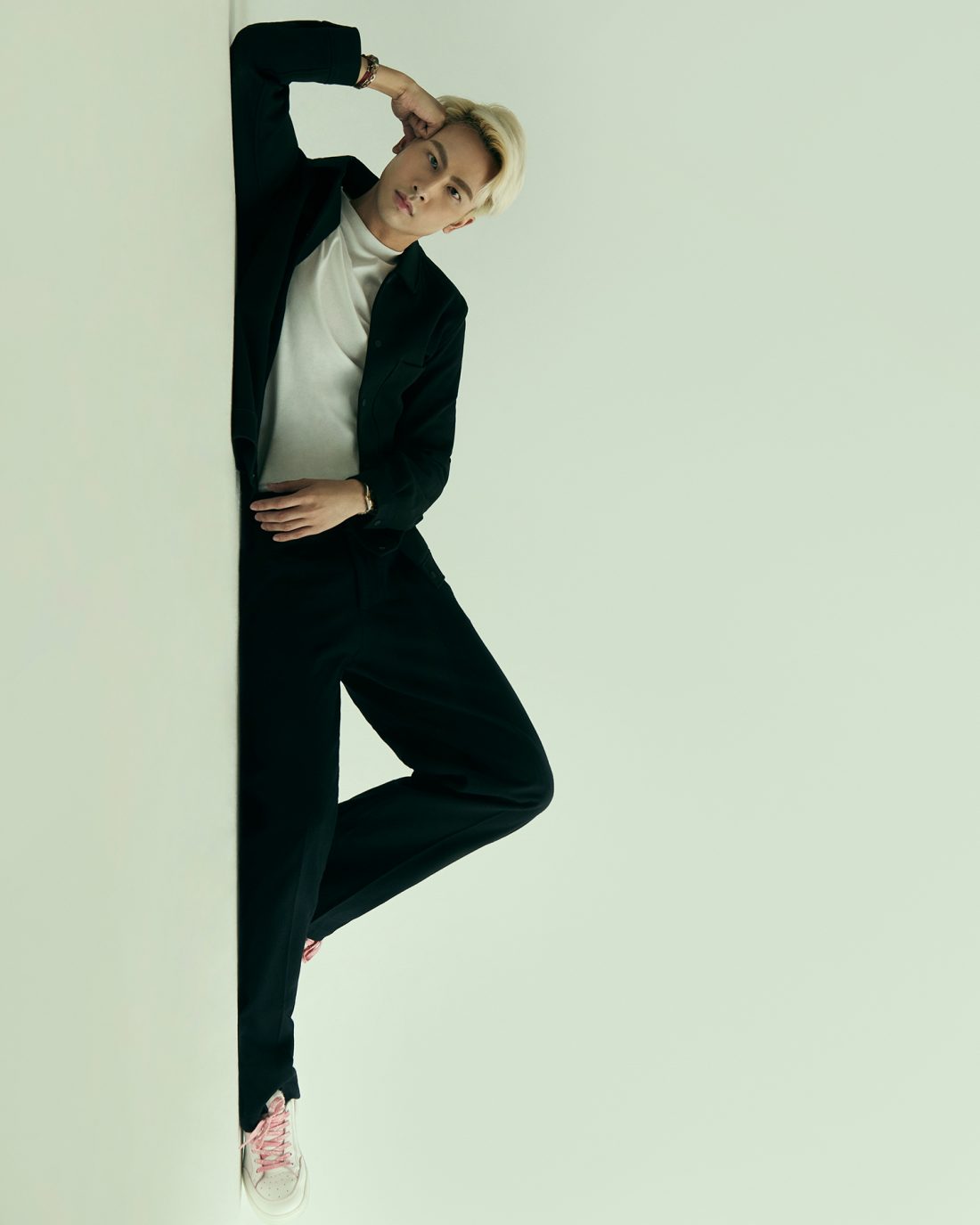 Brian Khoo by Brian Khoo
ESMOD School of Fashion Design was his next home and school, where he would learn to cut like a master tailor, sew like an craftsperson, draw like an artist before gathering everything together to design like Brian Khoo. An internship at Christian Dior also allowed him a brief stint of working directly with Raf Simmons.
As he widened his perspective and broadened his skills, Brian remained mindful to not lose his signature style.
"Growing up, Thierry Muglier inspired me the most," he shares. "As a designer in the 80s, he always inspired my with how he crossed boundaries and empowered the female form with bold shoulders, cinched waists and graceful hips."
This amalgamation of inspirations and training is apparent in Brian's namesake label Brian Khoo that launched in late 2016.
In shape, his dresses are sophisticated but not shy, fearlessly flaunting waists and hugging hips. In material, they flirt with lace and tulle and are not afraid to show skin. In detailing, beads that gleam and glitter continue to be stitched by hand to highlight its wearer's proudest assets.
"A lot of my clients come to me because they want dresses that speak their truths," Brian shares. "They use my clothes to be the voice of their style and presence."
Brian remembers vividly the day his wildest dream came true – when his long-time muse Marion Caunter called to commission a dress.
"My biggest moment that I knew I've come some ways as a designer was when Marion Caunter personally called me to dress her for the Tatler Ball. This was in 2019," he regales.
"She respected me as a designer and liked what I was doing so she let me do what I usually did. I came up with this bright orange dress, fully beaded with corsetry details. It's a very sexy dress yet just tastefully conservative enough. It was a peekaboo piece that showed her waist but had all the more scandalous parts well covered. "
Between Brian and his team of four, the dress took 800 hours to ideate and create. Every day for a month, they stitched and layered and beaded for a piece that well stole the show at the Tatler Ball that year.
"Seeing her red carpet photos was when I realised I've finally achieved something as a designer," Brian recalls. "I've always admired her, for her character, her personality, her style. She is my muse. Whenever I want to design something, I think of her. I design clothes for women like her."
Shortly after, an enquiry came in from one of China's biggest stars Maggie Jiang. In a bright fuschia number with a mermaid cut and deep cut sweetheart strapless neckline, she introduced Brian Khoo to international audiences at the Tencent Star Award 2020.
"It was equivalent of the Oscars in China," Brian tells. "I didn't expect her to wear my dress. After she wore it, I got a few Chinese clients who started approaching me."
The science, math and art of fashion
The glitz and the glam of high fashion is enthralling for any newcomer, but for Brian, his real love for it lies in the nitty gritty progress.
"I enjoy the production the most – that's when you think how to construct the garment. I enjoy taking my clients' measurements and making art out of it," he lets on.
Despite being very attune to his artistic side, Brian is also a big math aficionado, a side of him that is equally fulfilled in his craft. "Fashion is not just designing. It's also a lot of calculations and measurement. Different measurements require different techniques. It's a math and science on how to meet these measurements while making sure the final product is beautiful. It's the same with embroidery – you have to measure and calculate how many beads in one section, the length, the surface area. You have to calculate it carefully before you start producing the garment. It always excites me."
He keeps a keen spatial eye, too. "Sometimes you have to think about the cut lines as well – it's not just straight lines. I don't like straight lines. When it comes to garment construction, I like to think about how to make it interesting instead of boring straight lines. I always turn things around and give them a small extra elements."
This little attention to detail is what stands his ready-to-wear and menswear lines out from other designers.
"I try to use cut lines like cinched waists to visually create better fit and tailoring," he explains. "Visually it looks cinched but when you hold it up, it's not, because men don't like cinched waists."
It's a little secret that he likes to tease the optics with. What's not so secret is his mantra that less is more.
"I wish people appreciated minimalism more. Minimalism may look simple, but the less you have to work with, the more effort it takes to make it as clean as possible," he tells. "The more things you have on your garment, the more it's apparent that you're trying to cover flaws. To let your true self shine, less is more so you stand out. Your dress, your clothes are just the side actors."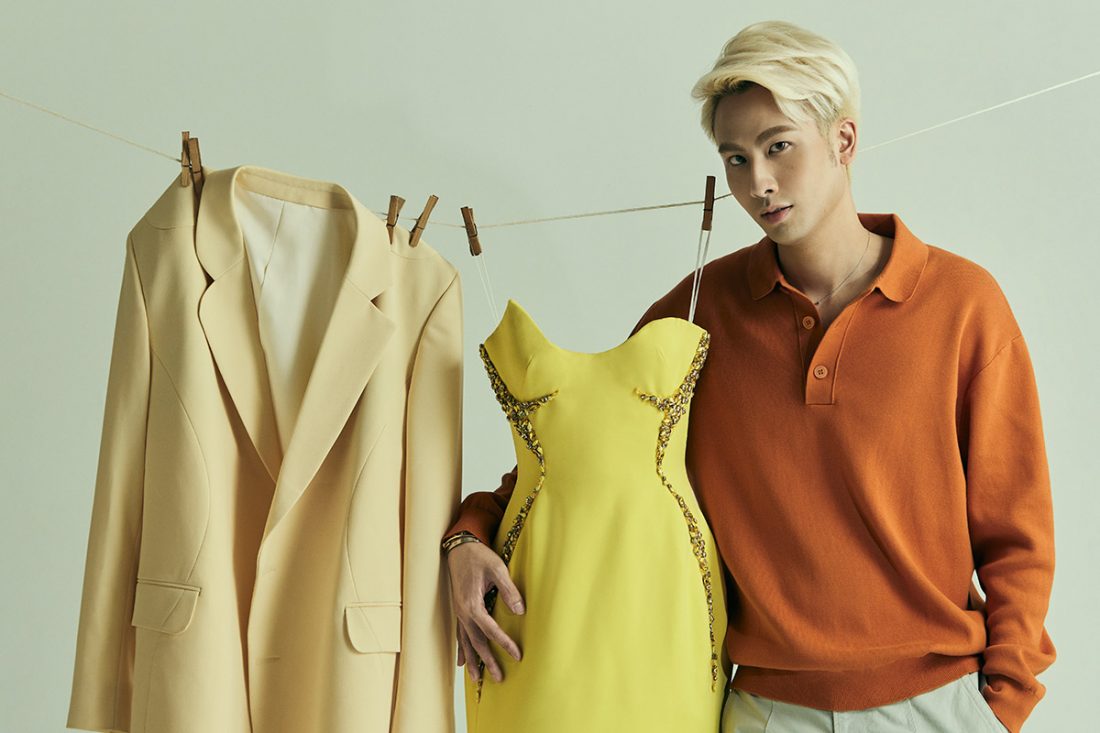 This delicate balance of finesse and frivolity is something he hopes to be able to impart to upcoming students of fashion in his lecturer role at ESMOD Kuala Lumpur. As he teaches, he's also found himself learning, growing, evolving.
"I don't believe we can know everything in our lifetime, we're always learning something from everyone. You need to always be sharing knowledge to gain knowledge. Teaching has given me a new dimension and perpective of seeing fashion. I see it through the eyes of the new generation, it allows me to see what they want and how it's changed in their time,' he reflects.
Through these new eyes, he's also seeing himself, and his art as a designer, with better clarity. He is able to track just how much he has grown, with subtle reminders of the fresh young start of his students.
"When I started my brand, I questioned myself a lot," he lets on. "I always wondered if I should tone down my designs. I did, for the first two years. Then I realised that that's not what my clients want. They come to me because of my distinct design that's bold and fearless. That's when I realised I should just do what I want and if the people appreciate it, they're your clients. If they don't, then they're not yours."
Art direction: Anson Siau 
Photography: Tommy Ooi of Blink Studio 
Grooming: Janice Liew