There are distinctively themed Escape Studios for the adventurous, and then there are top of the range Getha Lux Suites for unparalleled cinematic luxury.
Forget your standard visits to the theatre, Golden Screen Cinemas, or better known as GSC, wants to redefine how we watch movies with its latest ultra-luxe boutique cinema concept, Aurum Theatre.
Fresh after its inaugural opening in The Mall, Mid Valley Southkey in Johor Bahru, GSC has now unveiled its flagship Aurum establishment at The Gardens Mall. Having had the luxury of watching a movie in one of its seven unique halls, it's hard to go back to our regular cinema experiences.
What's so different about Aurum Theatre and why should you consider a visit? Here are eight key highlights to know about this new concept cinema.
Embodying gold, in name and in class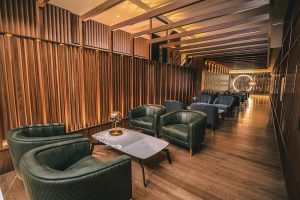 Named after the Latin word and chemical element for gold, Aurum boasts a first-of-its-kind cinematic experience in Malaysia that's as extravagant as its title symbolises. Everything from the lavish halls to the bespoke hospitality and service to its café and full-service restaurant has been carefully designed and curated for 'true cinematic luxury'.
Think private cabins, reclining seats, and in-hall dining services equivalent to the business class of cinemas – at the minimum.
Comfort Cabin halls for the classic gold class fans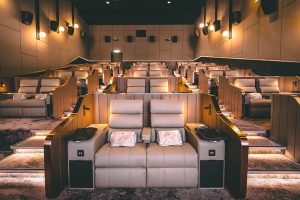 For starters, there are two Comfort Cabin halls that will serve fans of GSC's Gold Class experience. Each cabin is built with individual privacy panels to allow guests to recline their seats at ease. Additional amenities include a comfy Getha blanket, a wireless charger, personal lamp, a drawer to keep your belongings, as well as a side table on which to enjoy meals, snacks or drinks.
Distinctively themed Escape Studios for the adventurous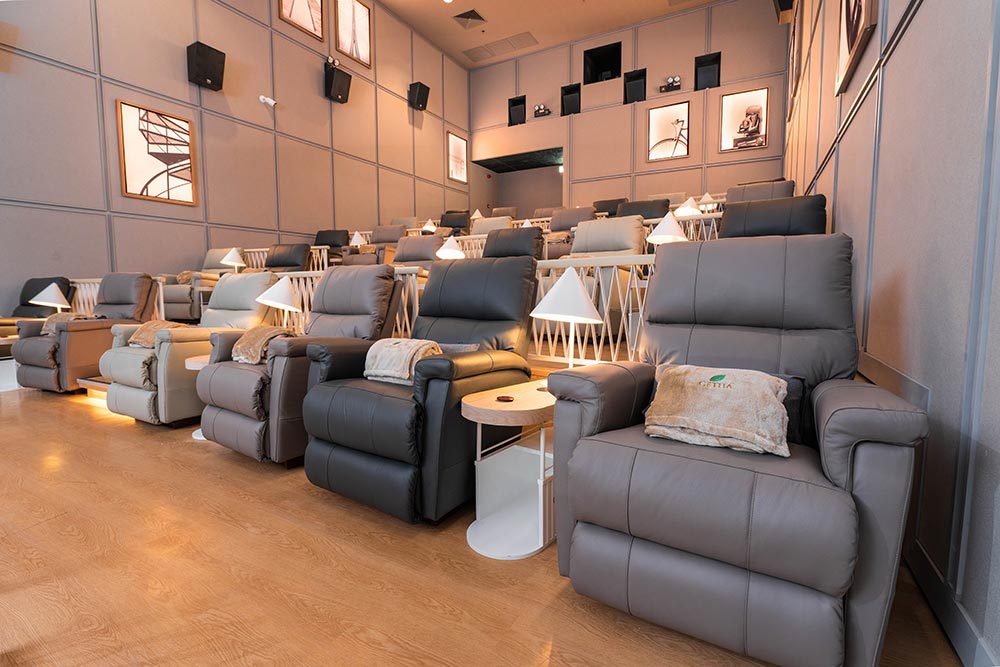 Escape Studio I - Hygge
Escape Studio I - Hygge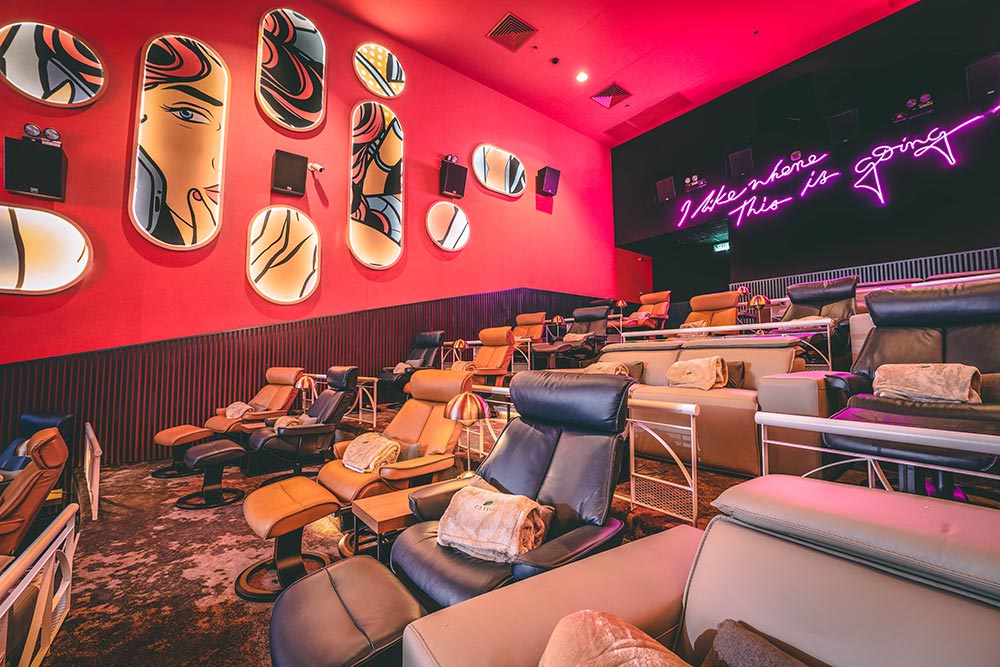 Escape Studio II - Dyptich
Escape Studio II - Dyptich
Escape Studio III - Wes Anderson
Escape Studio III - Wes Anderson
(swipe left for more)
Then there are three Escape Studios that differ from hall to hall, upping the ante for those desiring a more unique experience. Minimalists may opt for the Scandinavian-themed auditorium featuring snug LA-Z Boy rockers. Alternatively, the second hall exudes the visual style of Wes Anderson with its idiosyncratic colour palette and furnishing. If you're more of an Andy Warhol fan, the vibrant hues and retro pop art in the third studio might be your choice of escape from mundane cinemas.
All three types of studios are exclusive to The Gardens Mall. Each seat costs RM120 and comes with the standard Getha blankets, small plush pillow and in-hall service call button.
Top-of-the-range Getha Lux Suites for the luxe life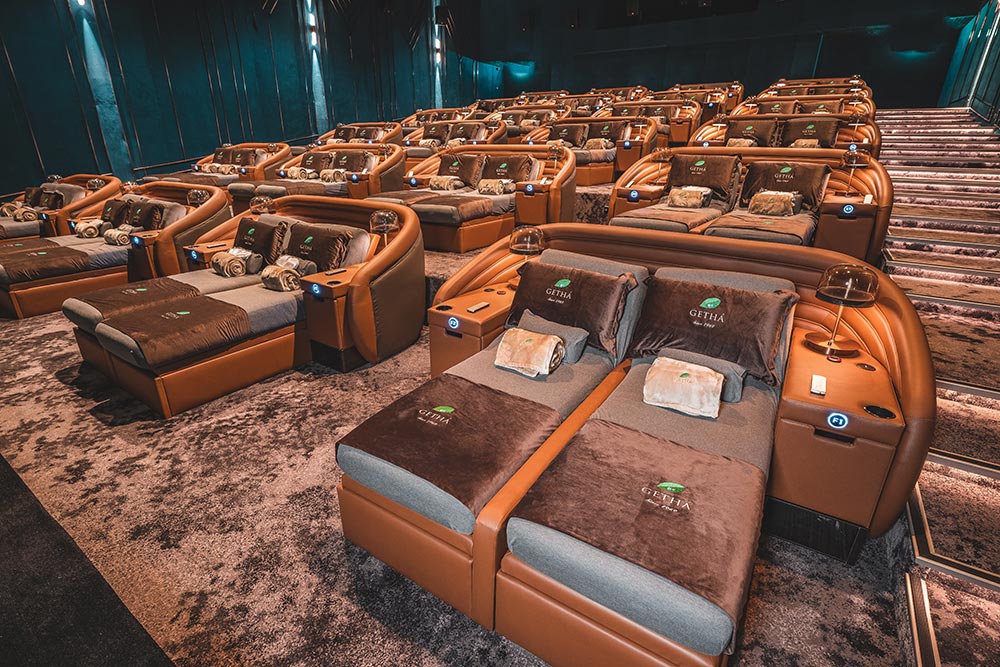 For those out for the crème de la crème experience, the two Getha Lux Suites are as opulent as it gets here. Expect two-motor luxury recliners made with Getha's trademark 100% pure natural latex foam cushioning, nano-silver antibacterial covers, plush pillows, disposable slippers and all other amenities mentioned for the Comfort Cabin above. All covers for the luxury recliners and pillows are refreshed with a new set following every movie session, so hygiene is also well taken care of.
Each suite also features a side table with ample storage space and a USB port to charge your devices. Tickets are priced at RM150 per seat.
Tickets are sold in the form of Aurum Passes
Here, every ticket doesn't just entitle you to a seat in your preferred hall; it also comes with a set of food and beverages from Jin Gastrobar, Aurum's full-service restaurant. Bonus: a choice of cocktail is included. Come early and enjoy your choice of preset culinary experiences (including a vegetarian-friendly option) or simply have it delivered to your seat in the hall.
Wine and dine at Jin Gastrobar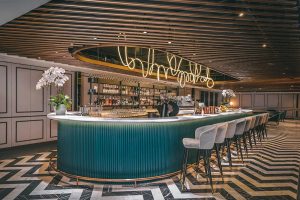 You don't necessarily need an Aurum Pass to dine in at Jin Gastrobar though, the restaurant welcomes walk-in guests too. Open from brunch to dinner, this modern restaurant serves an array of continental dishes including mains, sharing plates and gourmet snacks such as sizzling prawns and mentaiko pasta. Or you can order a selection of cocktails and beverages from the bar.
There's a Private Screen for special bookings
Should you be interested in organising a closed screening or special event, Aurum is happy to offer a reserved space called the Private Screen. Spacious enough to accommodate 20 pax comfortably, the private room package includes food and drinks served from a standalone bar with a dedicated host. Additionally, guests can transform the space into a karaoke room with its built-in karaoke systems.
Instagram-worthy corners everywhere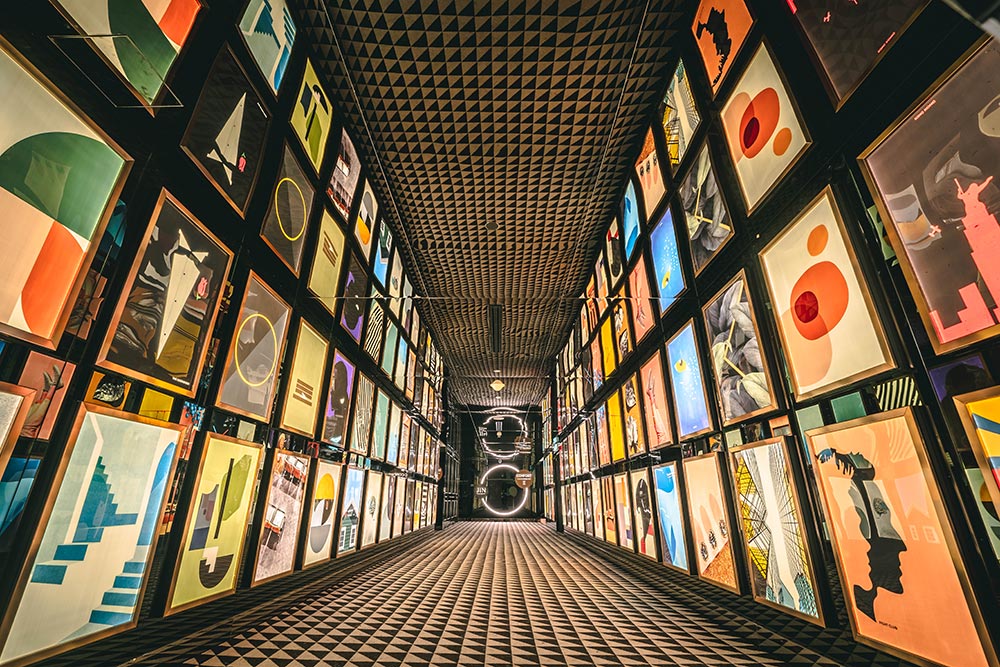 Just in case the establishment shots above haven't already impressed you, we've saved our favourite Instagram-worthy corner of this new theatre for last. Located near Aurum's main entrance, this corridor of re-illustrated movie posters leading to Jin Gastobar and the Comfort Cabins is sure to be a popular spot among avid Instagrammers. Can you spot your favourite movie poster?
For more information or to book an Aurum Pass, log on to gsc.com.my.
Location: FF-201, 4th Floor, The Gardens Mall, Lingkaran Syed Putra, Mid Valley City, 59200 Kuala Lumpur
Photos: GSC