Red Hong Yi's first exposure to art that led to her life-defining career was a print from IKEA.
Hung in her parents' bedroom in her hometown of Kota Kinabalu, Sabah, was a Picasso reproduction that fascinated her to no end. Her mother, picking up on her interest, explained to her what made Picasso so revered as an artist.
"She told me about how this artist expressed himself with just a few lines and it doesn't need to be elaborate,' Hong Yi recalls. "That sparked my fascination with art."
Throughout school, Hong Yi continued down the holistic path, excelling in the sciences, math and languages as much as art. Even when it came time to study a major that will become her vocation, she took the safe path as encouraged by her parents and went into architecture.
"I enjoyed what I did but with every year, I felt like it was one year less of what could've been with art," she opens up. "While I saw the practicalities of going into architecture, the regret grew."
Still, she stuck it out and graduated as an architectural designer, albeit to a weak economy where hope was thin and jobs even more scarce. From the haze of uncertainty rose Shanghai, where Hong Yi discovered a plethora of resources in first putting her art to practice.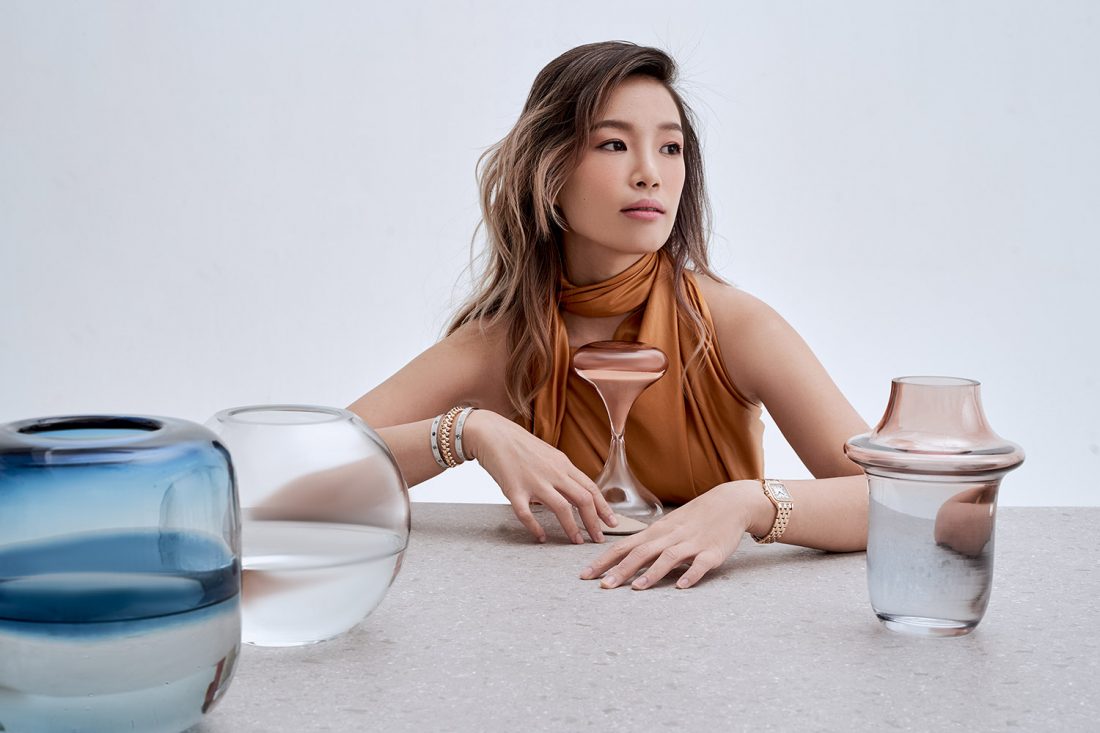 Her own artist
Red Hong Yi's first introduction to Shanghai was by means of her grand-aunt and -uncle, with whom she lived in the Chinese metropolis. It was a return to her roots in more ways than one. She got to really get to know her extended paternal family and discovered that her one of her grand-uncle was once a painter for Chairman Mao.
"He used to be an oil painter and went into propaganda art," she regales. "He wasn't working for the Chairman, but during the cultural revolution, all practicing artists had to be propaganda artists. He was a really big influence in my early years. I asked him to teach me how to draw because he was really good at portraits. He didn't want to saying that he didn't want to paint anymore because it was painful for him to go back to that time where he didn't have a say."
Such was how Hong Yi started experimenting with art her own way – with everyday objects that she builds, molds, ties, arranges and tweaks into unlikely portraits of realism. She keeps her grand-uncle's advice close to heart through it all.
"He always told me to have my own style and voice so people can recognise your style," she shares. "I think those things inspired and shaped my art."
In wanting to share her creations with her friends in Malaysia and Australia, Hong Yi started documenting them online, photographing the process and final product with a DSLR herself and posting them on social media.
It wasn't until a videographer friend was visiting that they decided to make a video of a particular painting she was working on. That video, its subject and the means by which it was painted, would change it all for Hong Yi.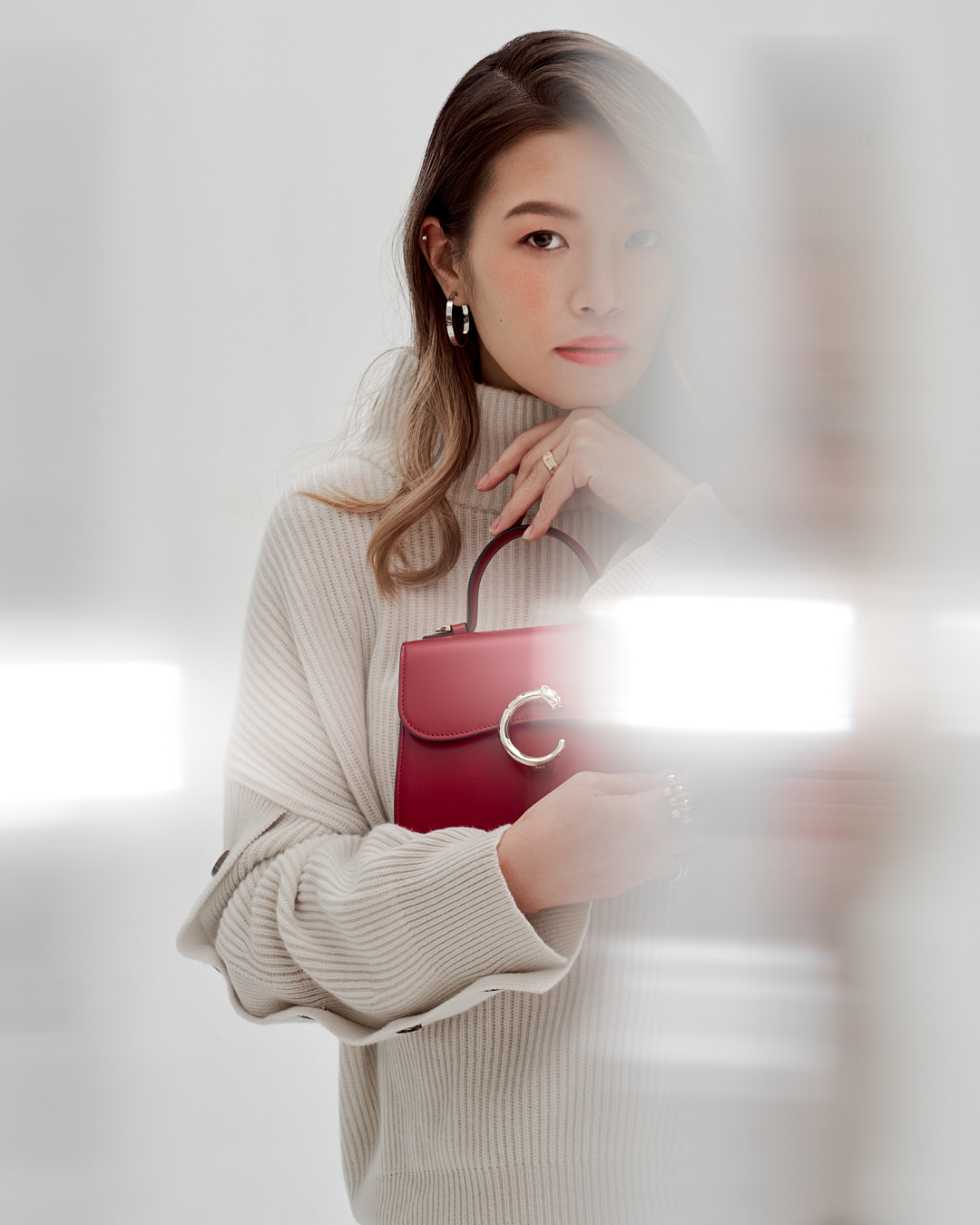 Beauty in the everyday things
Red Hong Yi first recognition was with her portrait of retired NBA player Yao Ming painted with a basketball. Meticulously dipping the basketball in paint and then dribbling it on paper, she outlined, painted and detailed the former Houston Rockets centre.
"It was done in three hours. The reason I did that was because I wanted to highlight the personalities that were featured in China within Chinese media," Hong Yi tells. "Yao Ming was highlighted because he had just retired from the NBA and there was a lot of rumours about him going into politics and starting ventures."
The video went viral, being reshared hundreds of thousands of times on YouTube and getting picked up by the likes of Medium, Modern Met, Mashable and more.
It even caught the eyes of international superstar Jackie Chan, who then commissioned a portrait of himself from her. To materialise the action star, she tied together 65,000 bamboo chopsticks into bundles of 20 and strung it up into an uncanny recreation of Chan.
Since then, she has gone on to create portraits of our own badminton hero Datuk Wira Lee Chong Wei with 1,800 shuttlecock feathers and artist Ai Wei Wei with 7kgs or 100,000 sunflower seeds, among others.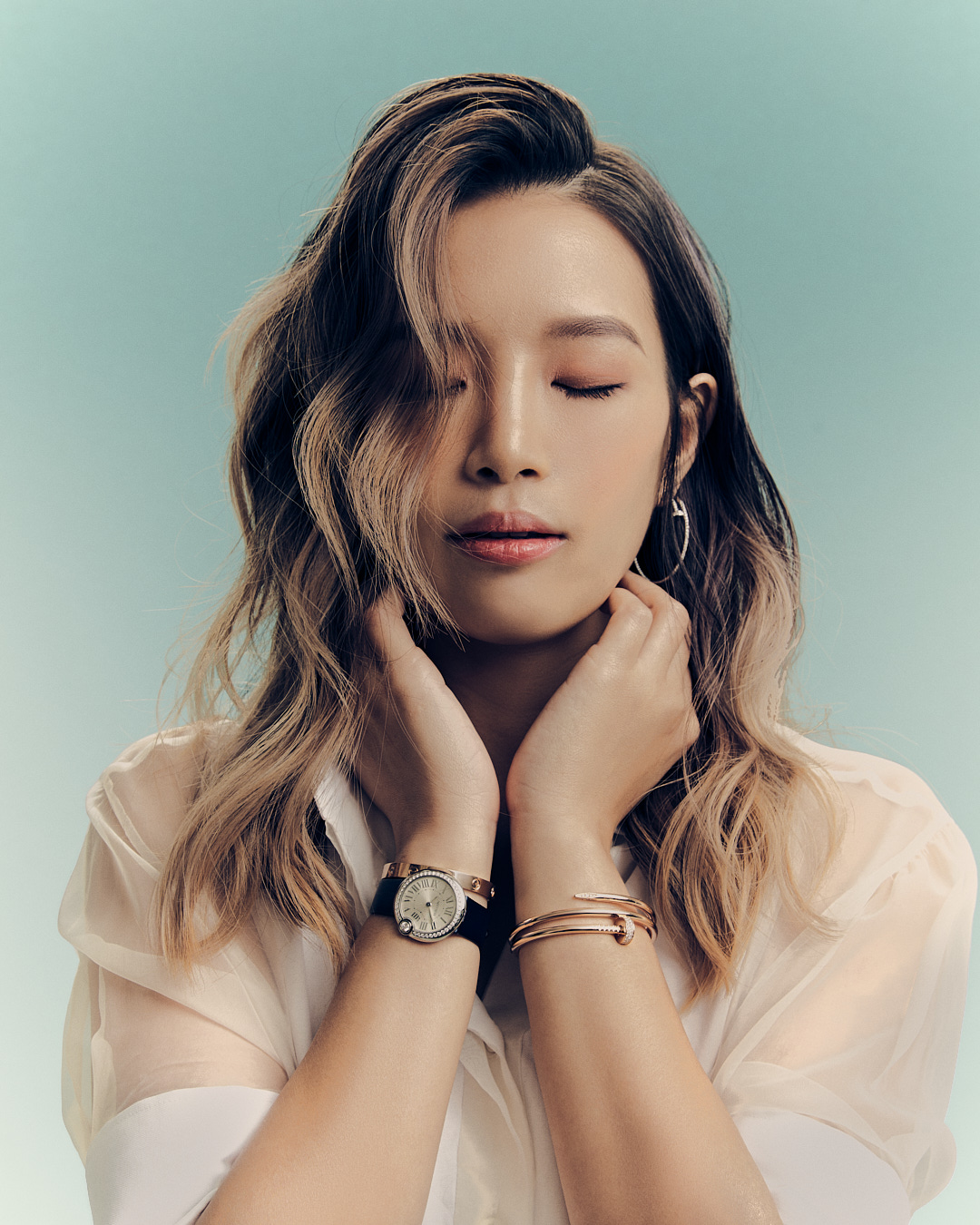 But her most impactful work of all yet was released in April of this year in a special collaboration with Time Magazine for its climate issue.
In the span of two months, she conceptualized, planned and created the powerful piece that had the continents of the world arranged out of matchsticks. At the strike of a single match, it went up in flames, devouring the piece that took weeks to put together, a direct clear message of the urgency of climate change and the damage we are inflicting upon our planet.
"It's always been a dream to work with Time because my favourite artists have all done covers with them," she says of the project. "That was a month's worth of work gone up in flames in seconds, which was a message in itself. It shows just how fast the damage we are doing can destroy our home."
After highlighting cultural, social and climatical impact, Hong Yi turns now to look at the newest disruptor in the art scene – blockchain technology and NFT.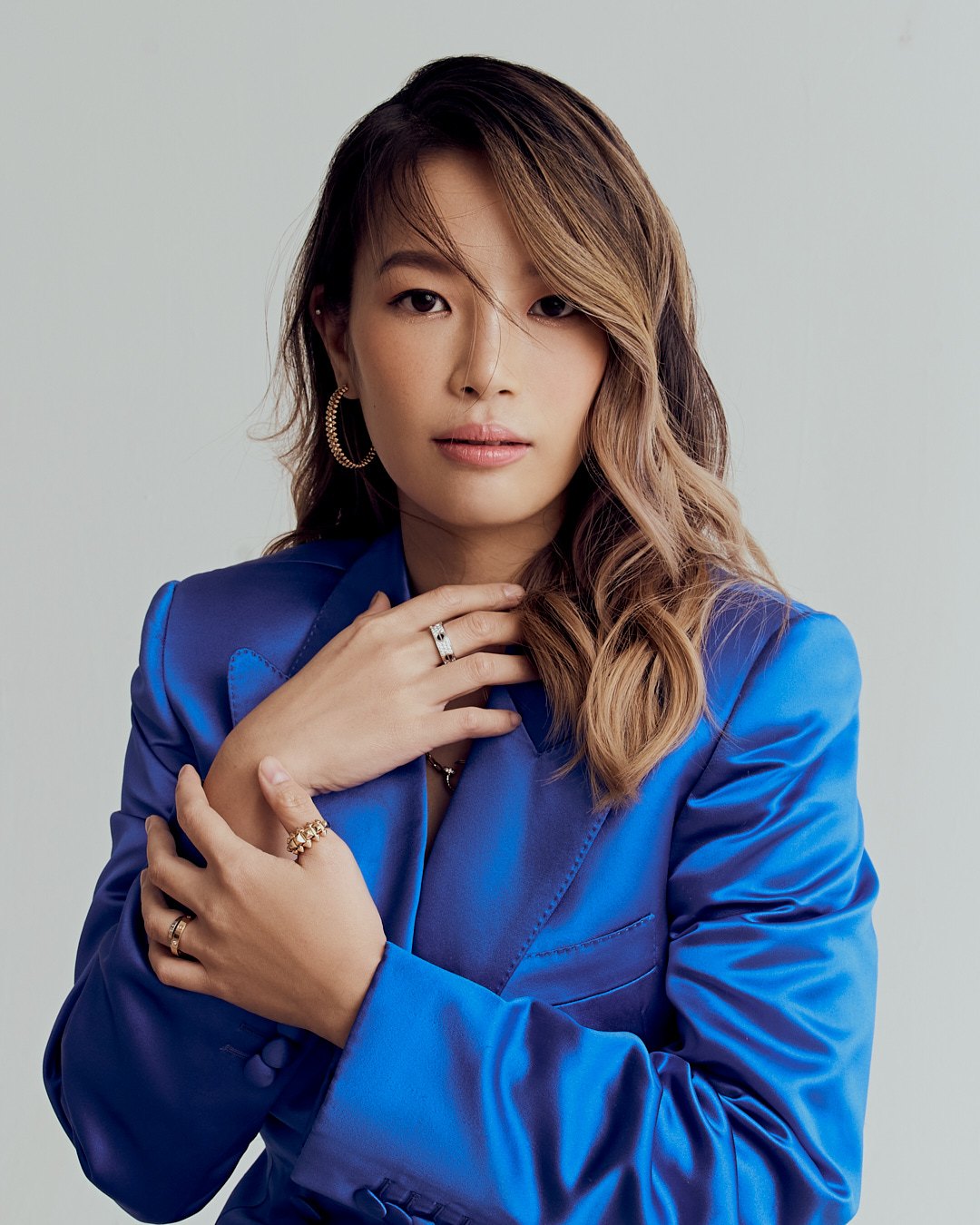 In the age of crypto, blockchain and NFT
Red Hong Yi's first introduction to the world of crypto and non-fungible tokens (NFT) was on a date with her now fiancé Joe Lee. She had met up with a banker turned trader who was talking about this new big puzzling thing called Bitcoin and cryptocurrency.
"I was super fascinated and I learned more," Hong Yi divulges. "I wanted to buy Bitcoin but it was so expensive! That was when he told me that I was in the best position to just sell NFTs in exchange for crypto. That's when he told me about how and why NFTs were the gamechanger in a lot of ways."
After a lot of research and many months of reading up on it, she convinced her team to create their first NFT. The question then was, what?
"We thought of memes because memes are very shareable," she divulges. "We also thought about inflation and how central banks are printing money non-stop."
Such was how her Memebank series of NFT was birthed, based around six copperplates for banknotes parodying six real-world currencies – the US Dollar, British Pound, Chinese Yuan, Japanese Yen, Singapore Dollar and Malaysian Ringgit. Instead of the exact print of the currencies, the team replaced certain elements of it with pop culture faces, memes and crypto references.
The first one sold – the one of Doge on the US Dollar note –  for 36.3 ETH in July, equivalent to approximately RM325,000 at the time, providing to capital to push forth with the five other plates. The buyer owns the rights to the NFT of the copper plate, as well as the physical plate itself, owning the artwork in both its physical and digital existence.
"I've never been brave enough to go all out "No, I want to create my own thing and the collectors can collect it." It wasn't until NFT came along that I was able to break that,"Hong Yi tells. "NFTs have given me the liberty to make my own thing. That's what every artist wants."
Hong Yi is quick to acknowledge that not every NFT is a jackpot.
"A lot of people have this expectation that once you put it up as a NFT, you're going to sell. That's not really the case. It's very similar to physical art where a small percentage of it sells very well – it still comes down to demand for the artist and the corresponding artwork. A lot of it depends on the artist marketing, strategising and building a community and following around it," she explains.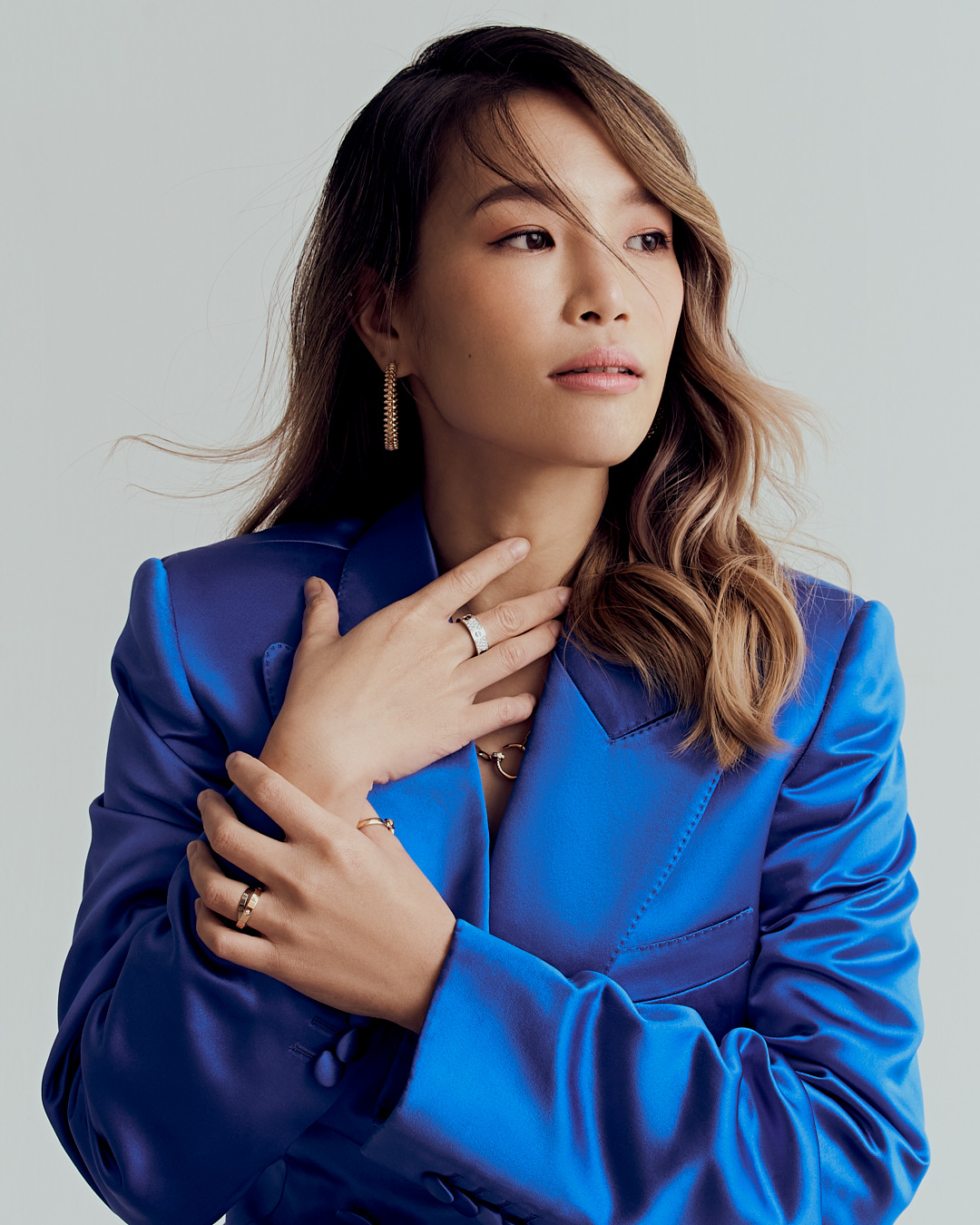 Art in all its dimensions
Red Hong Yi first got into art by utilising the assortment and multiplicity of everyday things around her. As she readies her art for a new coming change that's looking more towards the plane on all things digital and technology-driven, she hopes to root herself in the same diversity.
The first part entails bridging the physical and the digital. "I've always been digital, but it's not been tangible on that side. It's been the step before making something. Now, I'm able embrace that digital side and push that to the forefront a little bit," she shares.
NFT is still an intimidating term, but she believes with time and further understanding from the masses, it is the way of the future when it comes to fintech and art.
"It's the new wave you cannot avoid – it's like sending emails where one used to send physical letters," she exemplifies. "You're replacing one with the other but in the name of advancement.'
She adds, "What I like about NFTs is that it's so efficient. You can keep an artwork without storing it, without having to deal with materials like resources and shipping of it. It makes it very easy to own an artwork."
"Memebank is the first product or project that I've pushed out entirely myself from design to exhibiting it. I hope this is my trajectory for the next 5-10 years where I would be able to create a series and then push it out as an exhibition."
For the artist who became known for "painting without a paintbrush", she is now ready to step into the realm where there isn't even paper or tangible surface to paint on. That, perhaps is where true art lies, in creating your vision from anything and everything.
Memebank will culminate as an exhibition in APW Bangsar in January. Follow Red Hong Yi on Instagram @redhongyi for more information and updates.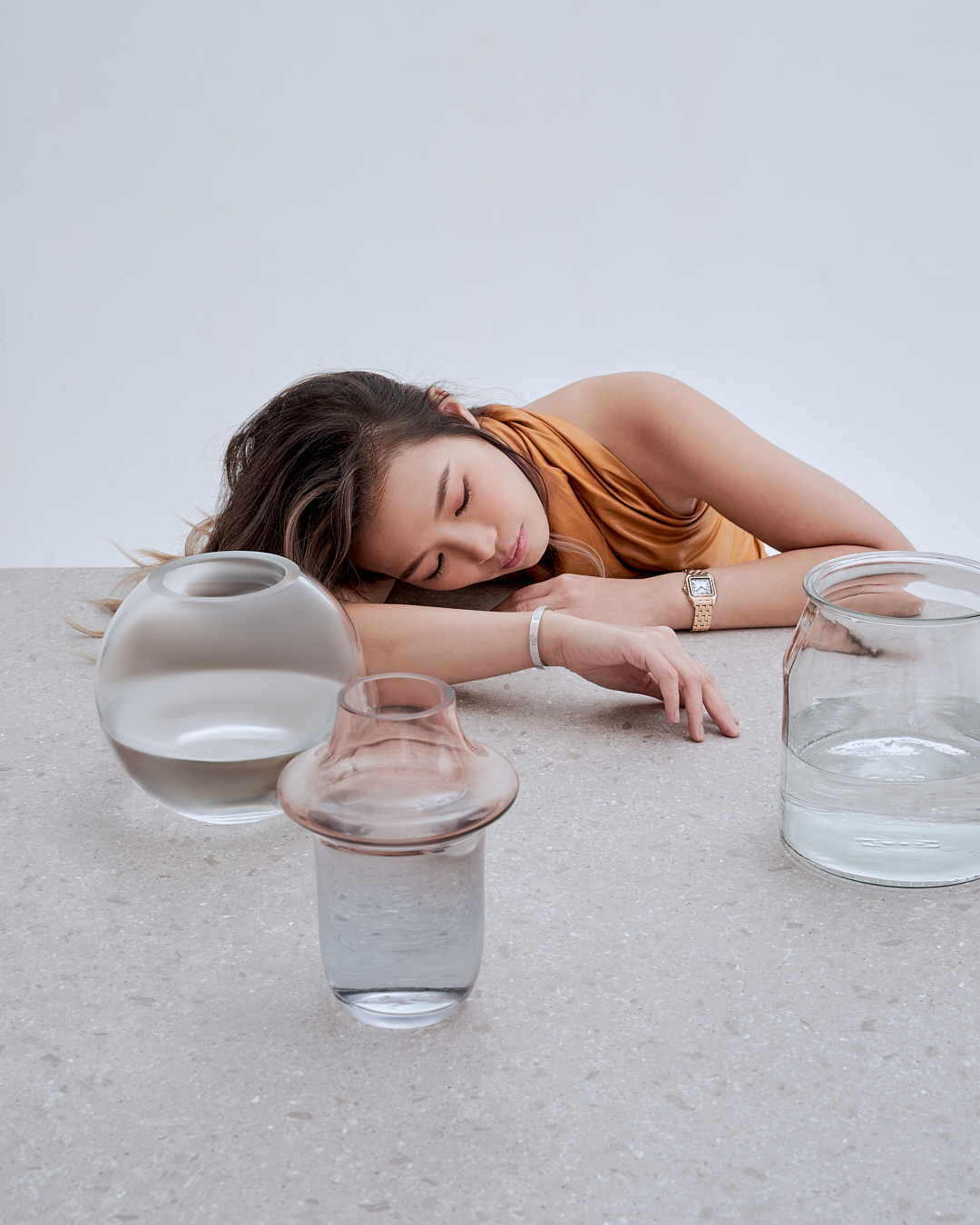 Art direction: Anson Siau
Styling: Sarah Saw
Photography: Edmund Lee of OneThreeFour Studio
Video: Felix Khu
Hair and makeup: Eddie Ho