Here's a closer look at the detailed renderings of the AQUA for a glimpse into the future of eco-friendly superyachts.
At every yacht event, it's often the largest, fanciest and most expensive models that draw the crowd's attention. But Sinot Yacht Architecture & Design and Lateral Naval Architects made waves for a different reason at the 2019 Monaco Yacht Show with their miniature model of what would be the first hydrogen-powered superyacht.
Simply named AQUA, the 376-foot-long concept is designed to be fuelled by liquified hydrogen, which is stored at extremely low temperatures of -424 Fahrenheit in two 28-ton vacuum isolated tanks. The hydrogen is converted into electrical energy by Proton Exchange Membrane (PEM) fuel cells, emitting water as the sole by-product.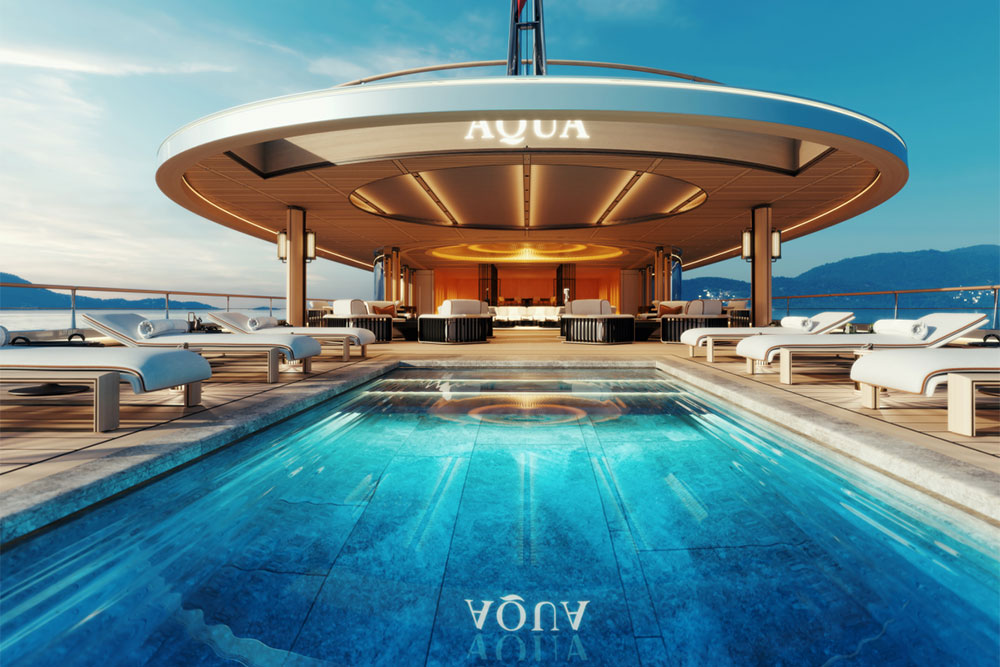 The generated energy is then transmitted to AQUA's switchboards, which distributes it to provide power for propulsion, auxiliary systems and hotel services. Meanwhile, large batteries buffer the generated electricity to ensure power demands are always met. An electric propulsion also keeps the vessel extremely quiet underway.
All that said, the AQUA isn't just groundbreakingly green as far as superyachts go; it combines cutting-edge technology with exceptional design to ensure it reigns over the oceans when production is completed.
"Imagine AQUA at open sea, moving water with water," says designer Sander Sinot. "At 17 knots with a range of 3,750 nautical miles, AQUA could be solidly in the forefront of its superyacht peers."
Here's a closer look at the detailed renderings of the AQUA for a glimpse into the future of eco-friendly superyachts.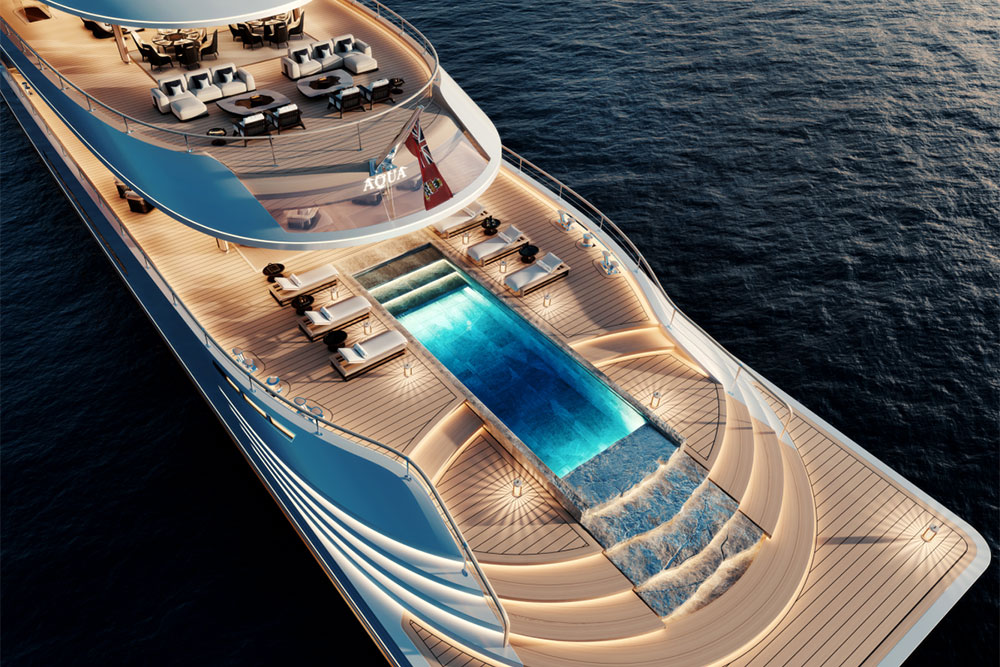 The AQUA has a five-deck configuration that accommodates up to 14 guests and 31 crew members comfortably.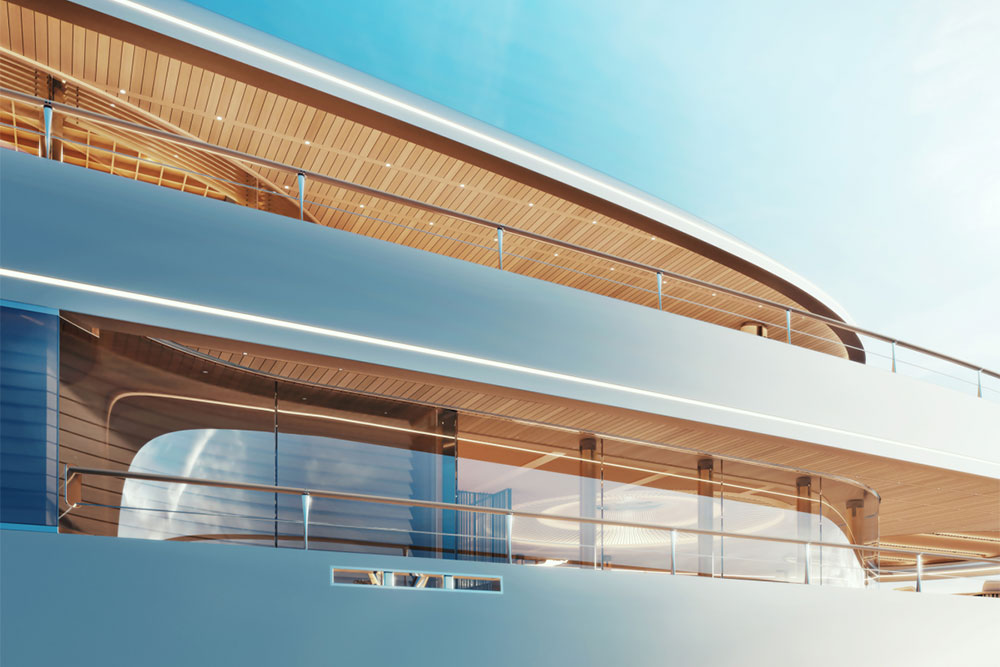 Its exterior is defined by curved, sculpted lines and glass band windows inspired by the flow of ocean swells.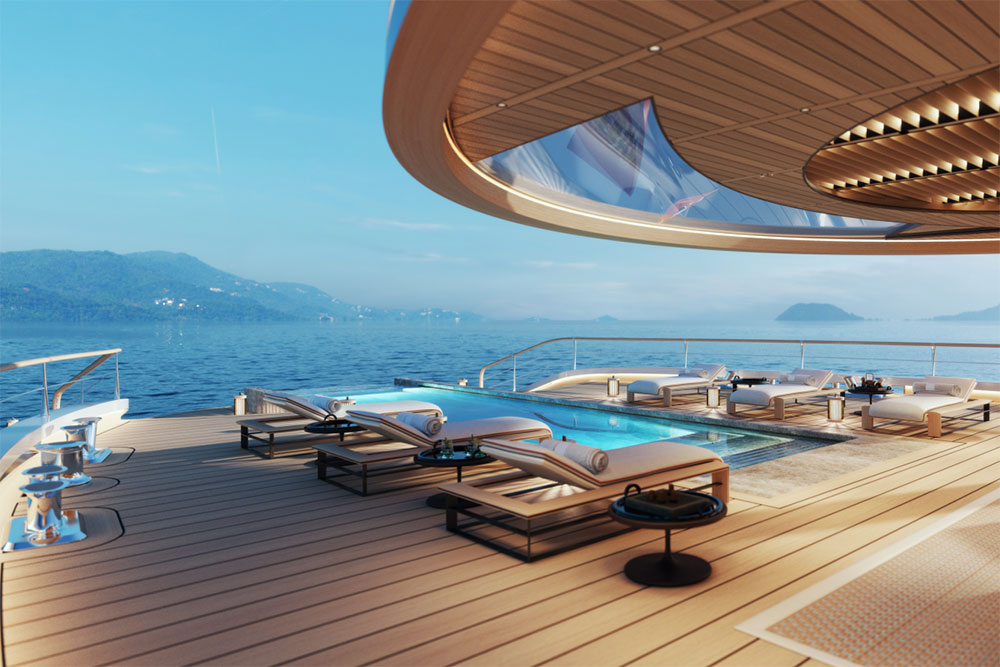 The aft deck features a series of platforms that lead towards the sea, including a beach deck pool and lounge.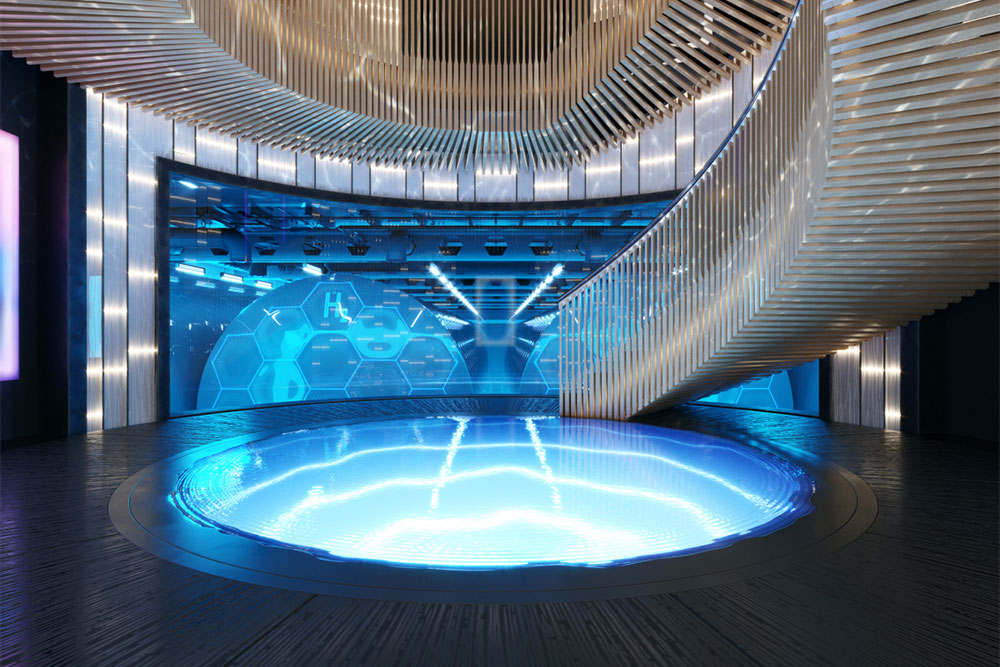 At the core of the vessel is a circular staircase leading from the lower deck – where its two large vacuum tanks are visible behind a giant façade of strengthened glass – all the way up to the top deck.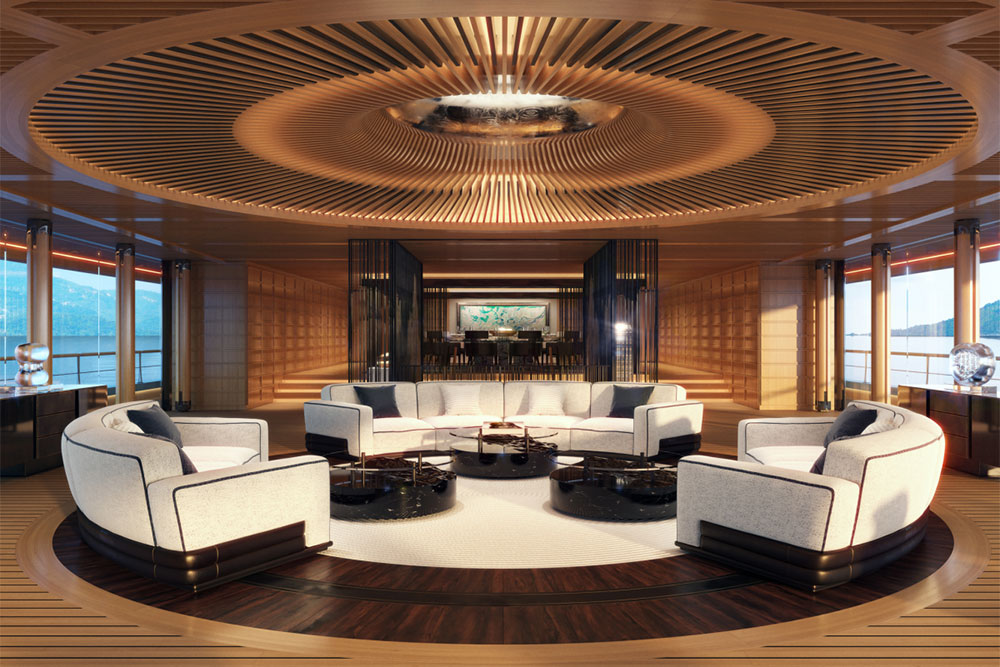 There's a master pavilion, two VIP staterooms and four regular staterooms
All rooms will come with floor-to-ceiling windows and exude a minimalistic, Japanese-inspired aesthetic.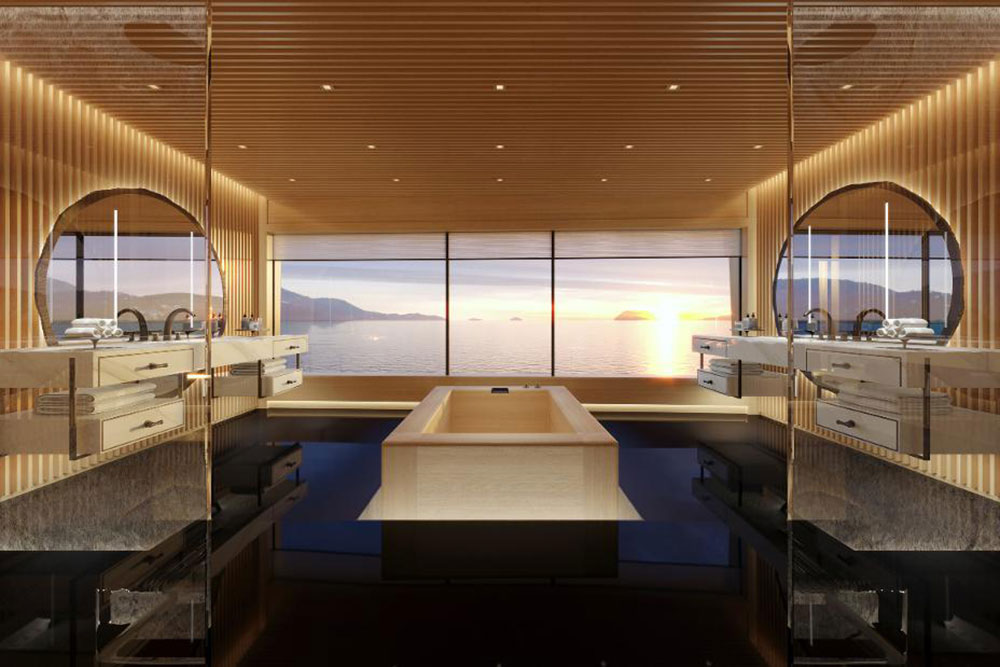 Located on the front half of the top deck, the owner's pavilion also features a massive bathroom, a dressing room and an intimate private spa section.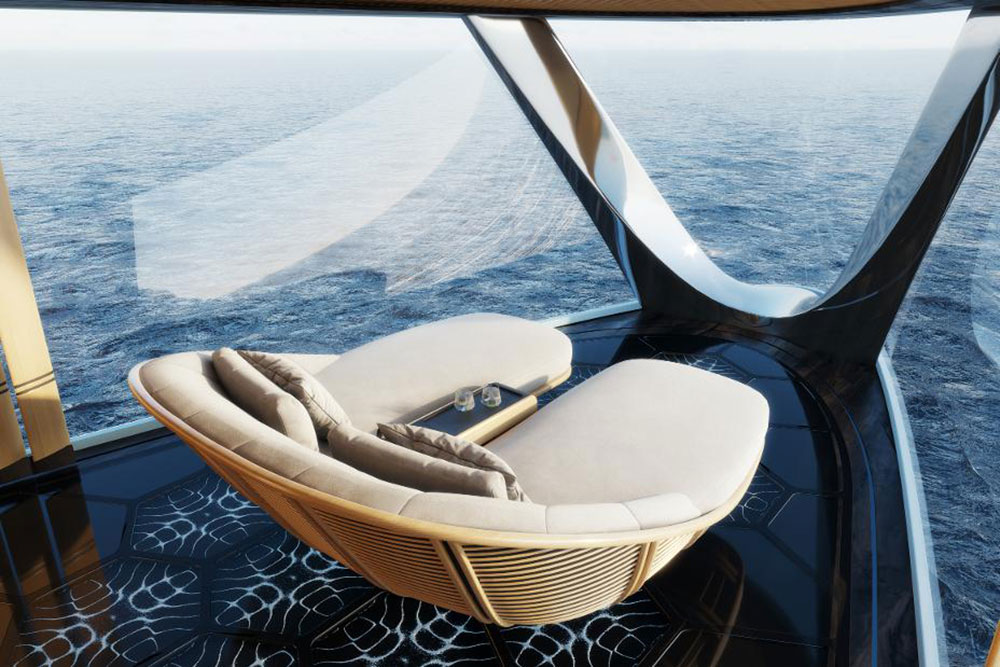 At the far end of the owner's pavilion is the AQUA room, which offers unparalleled views from the best position on board.
In addition, the superyacht will boast a sprawling indoor health and wellness center comprising of a gym, a hydro-massage room and a yoga studio.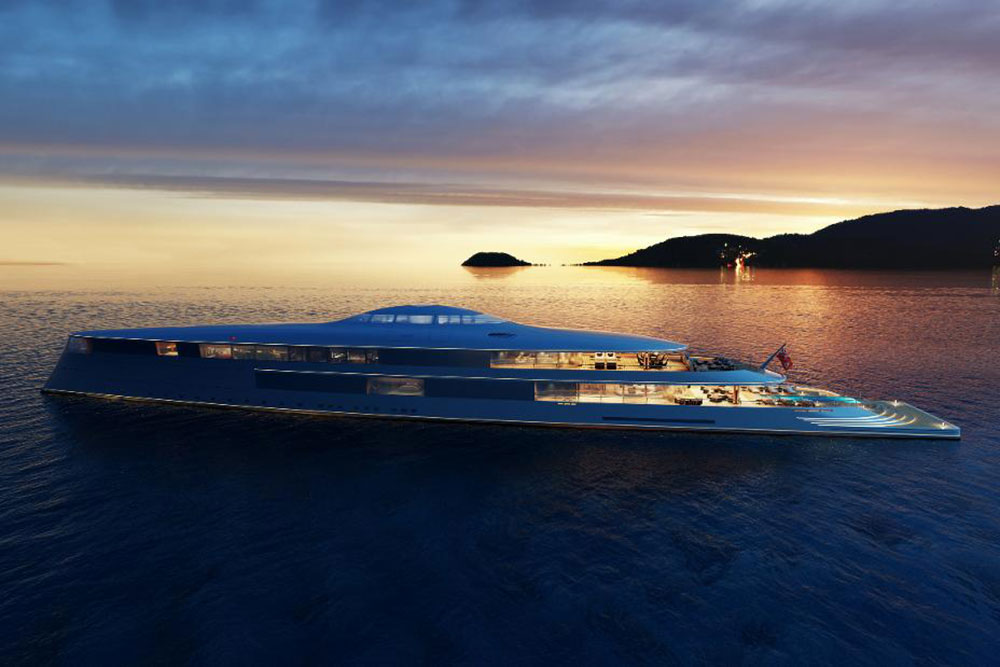 If all that's not enough for the lucky owner of this superyacht, it has additional space to hold two 32-foot tenders and three jet skis.
(swipe left for more)
There's no word yet on when the AQUA will be ready to take on the seas or how much will it cost to have that privilege, but if the renderings are anything to go by, it'll be steep sum, we're sure.
Photos courtesy of Sinot Yacht Architecture & Design