Massage candles are made using different waxes and butters than regular candles to provide a whole new relaxing experience.
What comes to mind when you think of candles? Aromatherapy spa sessions, intimate evenings, bubble baths, gift baskets or a quiet night to yourself while curled up with a book? Candles are often synonymous with moments of passion and relaxation, capable of filling your room or living space with the fine aromas of pure essential oils to create a sense of peace and romance while refreshing the troubled mind.
Now imagine loving the scent of these candles so much, that you wished you could wrap your body or your partner in these sensual perfumes? That's the magic of massage candles; they work as a fantastic tool to not only cultivate moments of self-love, but also to re-ignite some fire into the bedroom.
What are massage candles and what's so great about them?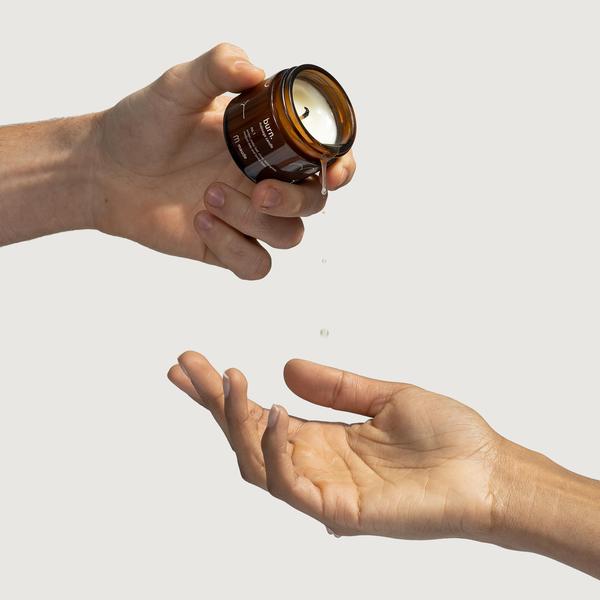 Think of your favourite scented candle – but instead of just letting it burn in your room, you can use the melted wax all over your (or your partner's) body like a beautifully fragranced body oil. Right after lighting it you can first enjoy the fine perfume it gives off, before using the warm molten waxes and oils to give a soothing massage to yourself or your significant other. 
It mainly makes for a great introductory accessory to heating things up in the boudoir if you wish to venture into the daunting world of sex toys, but are still apprehensive of your own kinks and interests. There's nothing like paving the way to the throes of passion with an erotic massage for (or from) your partner. Massage candles also usually contain blends of fragrant essential oils to not only help set the mood for the evening, but also to put you and your partner at ease – making it especially perfect for those who often overthink during sex and have trouble reaching an orgasm. Engaging in deep, relaxing aromatherapy massages also allow you and your partner to bond in a fun and sexy way.
Even if you're single, you can still treat yourself to some at-home self-care by giving yourself a massage at the end of a long and stressful day. Using massage candles is also a unique way to help you get in touch with your body after savouring its fine scents. At some point, everyone has their own insecurities about their physique, so indulging in some fragrant self-massage allows you the space to gain a better understanding of not just your body and higher sexual self, it also helps you to regain the confidence to be comfortable in your own skin. 
How do massage candles differ from regular candles?

The main difference between massage candles and regular candles is the wax used. Regular candles are made from paraffin wax that has a high melting point of anywhere between 45°C to 68°C, while massage candles are usually made from soy wax or beeswax. These waxes burn at a lower temperature and melt at around 38°C, which is slightly higher than the average body temperature – making it skin-safe and allowing you to enjoy its sensual qualities without risking any burns. The waxes in massage candles are also blended with nourishing ingredients alongside fragrant essential oils, such as cocoa or shea butter to create a nourishing and moisturising effect to the skin. Its low melting point is designed to create a gentle yet seductive ritual, melting into a fine, luxurious oil into the skin. Some massage candles also come with a unique pouring spout that allows for easy application of the oil. 
How do you use them?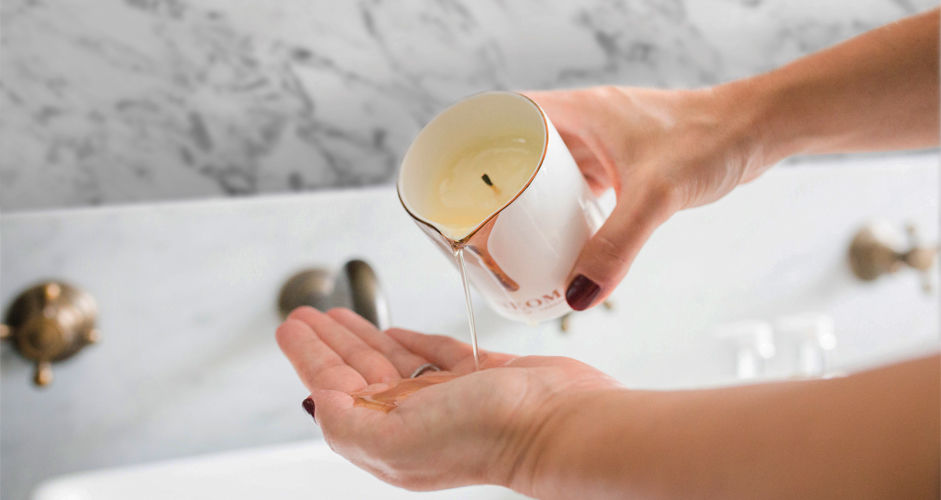 Depending on how much you need, massage candles usually only need to be lit for about 10-15 minutes to form enough oil. Once you've gotten enough oil, put out the candle flame before pouring it directly onto the skin. You can also adjust the amount you need by pouring the oil onto your fingertips or into a small bowl before massaging, so you have more control over how much you apply. From there you can just treat it like any other massage oil during your self-care or seduction rituals. Just make sure to wash your hands before and after using the oil for obvious hygienic reasons, keep your candle away from any flammable objects and materials, and remember that massage candle oils are not a safe sexual lubricant, so keep them strictly on the skin.
When it comes to putting out the candle, always remember to never blow out the candle – instead gently bend the lit wick using any tool (even a simple skewer will do!) into the melted wax to extinguish it, or use a wick snuffer. This is so that you don't end up sniffing smoke after the flame has gone out. 
Featured image: Unsplash.
Product photos courtesy of the respective brands.