The Clynelish 14 Year Old revels in its simple sweetness with blossoming floral notes that match its vibrant yellow gold appearance.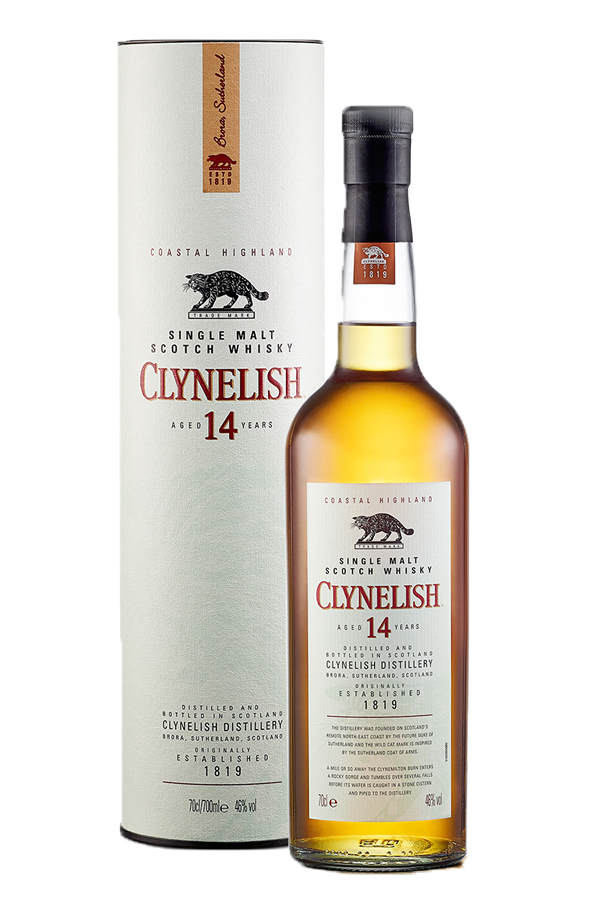 At first glance, the Clynelish isn't the first bottle of whisky that will catch your eye.
Minimally packaged with a simple white label on a bottle with an even simpler silhouette, its subtlety in aesthetics is a prelude to what the whiskey itself is like – subdued but impactful, calm but blossoming, easy to drink yet complex in characteristics.
The Clynelish 14 Year Old does not pretend to be more complicated than it really is. It revels in its simple sweetness with blossoming floral notes, a faint syrupy fragrance that matches its vibrant yellow gold appearance.
Background
The Clynelish distillery we are familiar with today started operations in 1969 but the first drop of Clynelish whisky actually began distillation in 1819 in the older, original distillery located just across the road. This original location was closed in 1968 and reborned as Brora – a peated malt – which thrived until the early 80's.
Clynelish is still malted from barley harvested in the Northern Highlands using water that is still piped down from the Clynemilton Burn.
First Pour
Fresh from the bottle, the whisky is the colour of sunshine, accented with fragrances of ripening fruits from the first pour.
First sip unveils a sugary palate that is unexpected given its creamy texture. It is medium-bodied and lingers deliciously on the tongue with an agreeable long finish. It is definitely not a heavyweight but it is not meant to be – it is light, easy and unfussedly drinkable, perfect as an aperitif.

Second Pour
Add a splash of water and the whisky opens up to a different bouquet – more floral than fruity this time.
Its floral notes makes it perfect for pairing with seafood and herbal taste profiles so inherent in our Asian cuisine. Its creaminess is loosened and now conjures an almost sparkling mustard-fresh style that leaves you almost tasting its coastal highland roots.
If we had to sum up the Clynelish 14 Year Old up, it would be fresh, floral and fruity, perfect for a hot summer's day, or a sunny humid mid-afternoon that we get aplenty here in Kuala Lumpur.
Cheers!