The rarest of Bowmore's exceptional bottling, this heavily peated single malt scotch boasts massive notes of caramel and smoke before melding into nuances of chocolate with just a touch of pepper.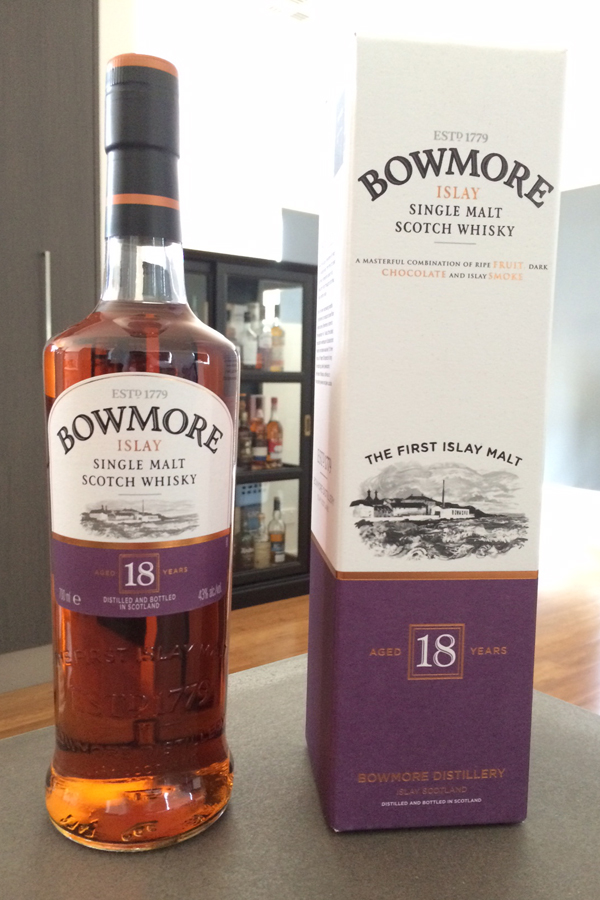 Truth be told, I am not a big fan of peated whiskies.
I prefer the highlands style and sherry style whiskies. However, growing up in Malaysia, my parents have always taught me to have an eye for a bargain. I spotted the Bowmore 18 at a decent price and immediately purchased a couple of them. Unfortunately for me, the prices have gone up these days and I am kicking myself for not buying more.
Background
The Bowmore distillery was established way back in 1779. The distillery has changed ownership quite a few times throughout this period before being permanently acquired by Morrison Bowmore Distillers Ltd in 1963. The Bowmore distillery is home to Scotland's oldest maturation warehouse and the only one that is below sea level. The Bowmore always had a core range consisting of the 12, 15, 18, and 25 year-olds, all of which are carefully matured in warm and salty oceanic conditions in order to develop and produce the Bowmore's distinct peaty flavours.
Considered the rarest of Bowmore's exceptional bottling, this 18-Year tempts with a pale bronze colour and unique flavour due to its ageing carried out in a combination of American bourbon casks and Spanish sherry casks. Can you imagine the flavours it holds from that time spent in two very full-bodied casks?
First Pour
Visually, it has sort of a pale bronze colour and seems to have a very light and smooth consistency. The first smell is beautiful; it has a wonderful fresh and fruity aroma. Upon nosing it again, I discover a wonderful chocolaty aroma followed by a little smoke. First sip gives me massive notes of caramel and smoke. I go in for more and receive lots of chocolate and smoke with just a touch of pepper. I savour that exquisite flavour for as long as I can before I finally swallow. Unlike the Glendronach 18, the finish here is surprisingly short and this whisky goes down really easy. There is just a hint of pepper and smoke at the end. What surprises me the most is its consistency – it reminds me of a full-bodied red wine with that sort of tannin-like mouth feel lingering on.
Second Pour
The second time round is with a little bit of water. The aroma remains as pleasant as ever, this time more like toffees and smoke. However, in the mouth the sweetness decreases ever so slightly but the pepper and smoky notes increase a notch. The whisky feels lighter, potentially due to the Bowmore 18's low ABV at 43% so adding water to it makes it seem somewhat lighter-bodied. It goes down considerably easier with the water and, again, has a really short finish.
I really, really like the Bowmore 18 considering that I prefer mostly non-peaty expressions. It is truly an exceptional whisky that has to be drunk after a meal, preferably neat! My only concern is that this whisky does have a slightly unpleasant taste when it is paired with sweeter foods so I suggest having it with smoked meats and cheese.
Cheers!