Psst! Take a look at this fine festive feasts to tickle all your Christmas fancies this year. They are the perfect way to reward yourself and your loved ones with a hearty meal. 
Christmas and New Year are just around the corner, so it's the perfect time to kick back and get ready to dig into some festive feasts with your family and friends.
Since it's the time of giving, why not treat your loved ones to a fancy Christmas meal this year? We have put together a list of delectable dining options around Kuala Lumpur for you to sink your teeth into, or to take your loved ones to, as a show of appreciation for their presence in your life.
Whether it's a date or a family dinner, here's a list of festive feasts to enjoy this Christmas season.
Shangri-La Kuala Lumpur
Get ready for an elaborate 6-course Christmas Eve Set Dinner Menu at Shangri-La's restaurant La-Fite featuring delectable dishes such as the Alaska King Crab with Light Cauliflower Cream and Caviar, the Roasted Tenderloin and Braised Shortrib with Black Truffle Sauce, and many more, priced at RM570 per person. Or perhaps indulge in the 4-course Christmas Day Menu at Arthur's Bar and Grill which will feature its own carving station with Roasted Tom Turkey with Chestnut Stuffing, and an array or gravies to choose from. Or if you and your loved ones are more in the mood for some Asian influence, you can take your family to Shangri-La's Japanese restaurant Zipangu for its Christmas Izakaya Specials for either Christmas Eve Dinner or Christmas Day Lunch at RM268 per person, and choose from a wide array of specialty Japanese dishes and celebrate Christmas the right way.
For enquiries and reservations, contact the Festive Desk at +603 2074 3560 or email: restaurantreservations.slkl@shangri-la.com
Le Méridien Kuala Lumpur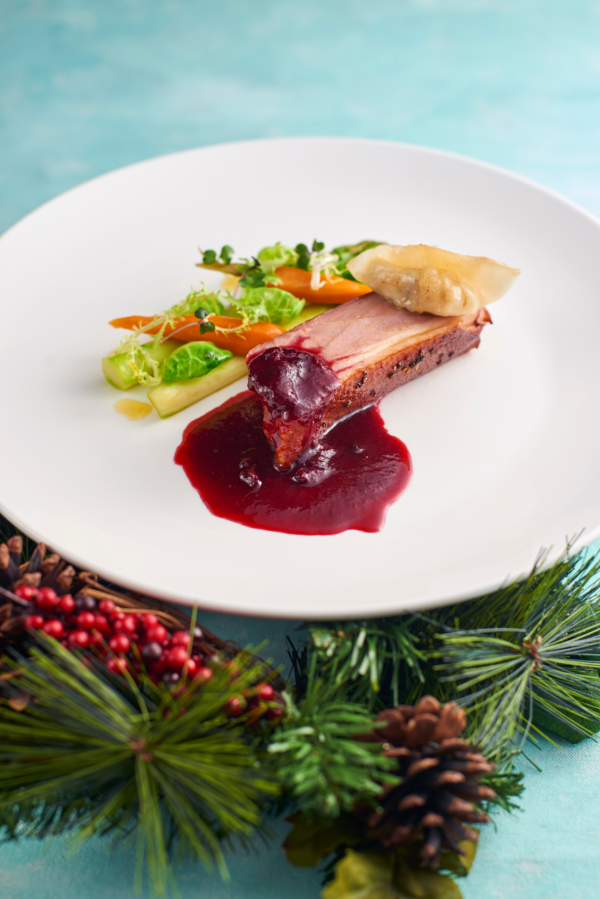 This year, Gastro Sentral at the Le Méridien Kuala Lumpur will be featuring a 3-course Christmas eve dinner with an assortment of offerings like the Warm Apple-Yuzu Smoked Duck Magret, Citrus Confit Duck Leg Roulade with Foie de Canard Gyoza, and the Extra Virgin Olive Oil Seared Kingfish and Filo-Wrapped Tiger Prawns served with Ragu of Kiefler Potato and Artichoke, and warm Shallot-Caper Vinaigrette. The 3-course meal is priced at RM188 nett per person. As an alternative, you and your loved ones can indulge in a spread of traditional holiday favourites at Latest Recipe, such as the Whole Roasted Turkey and Dry-Spice Roasted Lamb, just to name a few. There's even a live waffle station! The Christmas Eve Buffet Dinner at Latest Recipe is priced at RM218 nett per person.
To discover the other offers that Le Méridien's dining outlets have this season, call +603 2263 7434, e-mail dining.lmkl@lemeridien.com or visit the hotel's website here.
Nobu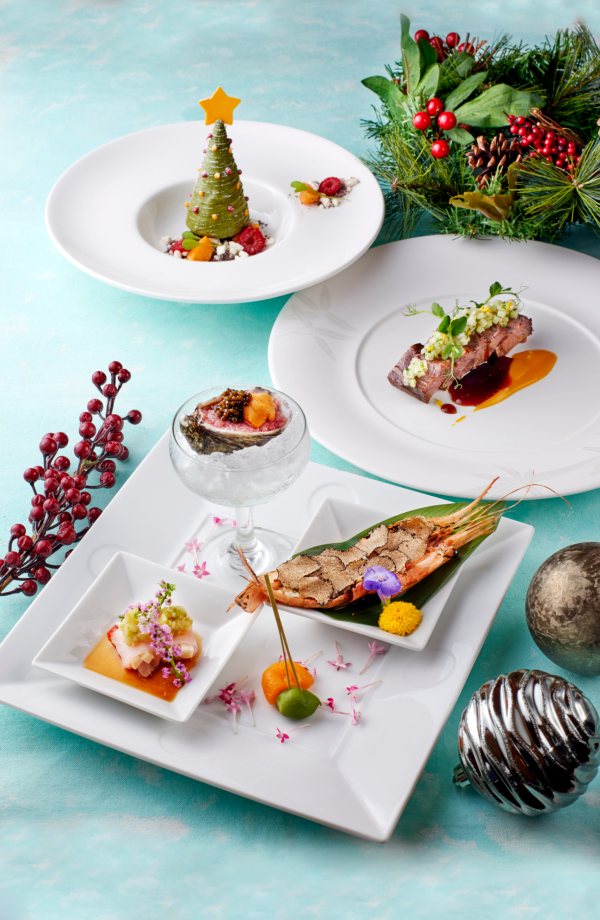 Who says you can't have sushi on Christmas? If  you're craving some Omakase, Nobu has got you covered. From December 21st to December 25th, enjoy a specially crafted menu featuring Santenmori with a selection of seasonal premium ingredients such as botan ebi and truffle, and of course, the Braised Wagyu Cheek. There's even a Christmas Tree dessert to end your festive meal. The Christmas Omakase menu is priced at RM560++ per person.
For inquiries or reservations, go ahead and call +603-2164 5084 or WhatsApp 019 3895 085
St. Regis Kuala Lumpur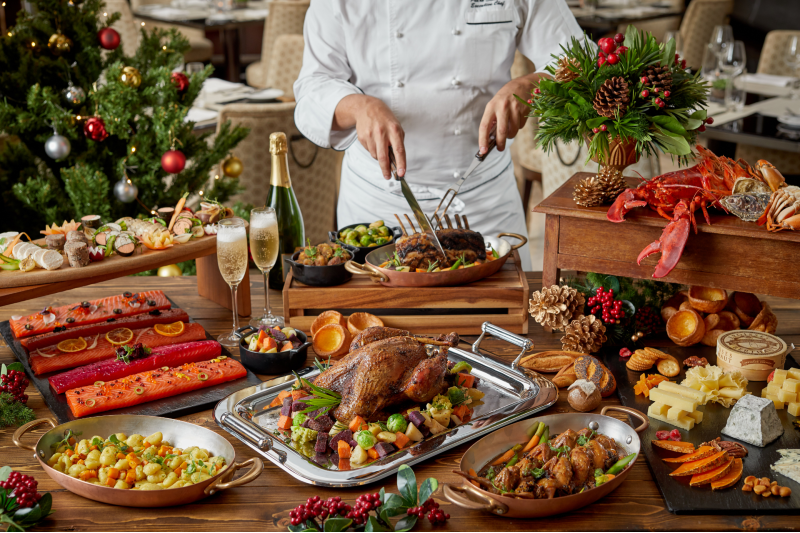 Ready to go traditional with some roasted turkey this Christmas? You can, at The Brasserie, at St Regis. From 19 November until 31st December, dig your utensils into a whole roasted turkey that's, cooked to perfection and served with apple stuffing, caramelised chestnuts, brussel sprouts, cranberry sauce and turkey jus. St Regis also has their signature roast lamb rack with apple stuffing, caramelised chestnuts, brussel sprouts and mint jus. Both the whole turkey and lamb rack are priced at RM698++ respectively. Alternatively, you can enjoy the Brasserie's Christmas Eve Dinner, which features a spread of roasts, foie gras and risotto cooking stations, and even an oyster bar. The Brasserie Christmas Eve dinner is priced at RM368++ per person, without alcohol and RM548++ per person with free flow of wine and cocktails. The Brasserie's Christmas Day Brunch will be priced at RM368++ for food only and RM548++ with free flow sparkling wine, red wine, white wine and cocktails. Over at the Drawing Room, there will be Festive Afternoon Tea until December 31st, where there will be Christmas cakes, scones and other festive goodies served. For the Afternoon Tea set, children aged 5-12 receive a 50% discount for every full-paying adult and one child under 5 dines for free.
To book yourself and your family a place at the St Regis these holidays, simply call 03-27276696 or email dining.kualalumpur@stregis.com
Ritz Carlton Kuala Lumpur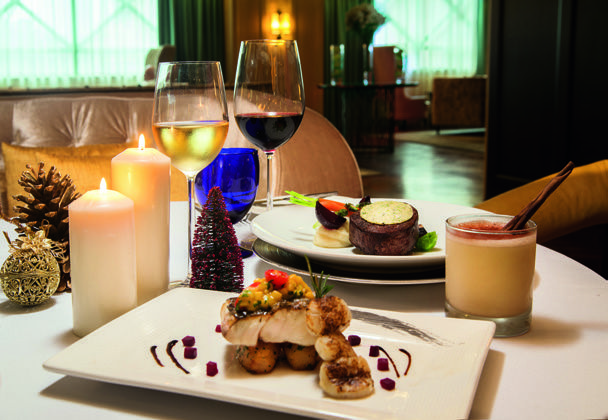 Want to dine in style? Then enjoy a four-course Christmas Eve dinner at The Library with The Ritz's Chef Wai featuring seasonal creations, priced at RM300 per person (RM450 with wine pairing). Or perhaps a Christmas Brunch at The Cobalt Room on Christmas Day, featuring festive favourites. Santa Claus will make an appearance at this brunch, so the kids better be prepared. The Christmas Brunch is priced at RM198 per person and RM99 for children under 12.
For reservations and enquiries,Whatsapp The Library at +60 18 621 4252 or the Cobalt Room at +60 18 929 2174 or email dining@ritzcarltonkl.com
Mandarin Oriental Kuala Lumpur
The Mandarin Oriental will treat you to a 6-course dinner at the Mandarin Grill featuring dishes such as Risotto with sage and kale, Ravioli with ricotta, basil cream and meat ragouts and Slow-cooked venison loin with blueberry. The 6-course menu is priced at RM498 per person. There will also be a Christmas Eve Buffet Dinner at RM258 per person at the Mosaic & Lounge on the Park, or a Christmas Eve Barbecue Dinner at AQUA Restaurant & Bar at RM258 per person.
For reservations, please call +603-2179 8798 or email mokul-fb@mohg.com.
The RuMa Hotel and Residences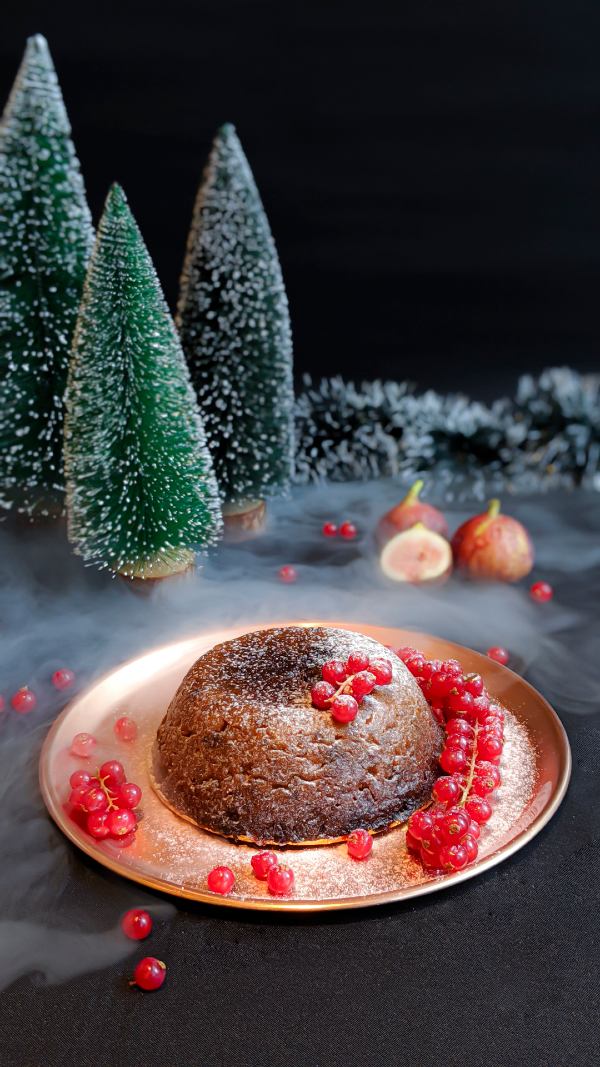 Does a specially curated 5-course menu at ATAS Modern Malaysian Eatery sound good to you? Look no further than The RuMa. Priced at RM288 nett per person, the menu showcases classic Christmas dishes infused with the restaurant's signature twist on local provenance and heirloom ingredients. Diners can enjoy Warm Foie Gras with caramelized figs and bitter herbs, Roasted Lobster with calamari, clam, long coriander and coconut broth and Roasted Turkey with savoury bread pudding. End the night with a decadent Warm Christmas pudding and honey comb ice cream. Wine pairing for this menu will be priced at RM458 nett. On Christmas Day, there will be a brunch buffet at ATAS with local favourites such as Kerala Coconut Curry, Slow Roasted Turkey with burnt bread pudding, Rendang Spiced Black Angus, Percik Chicken, Strawberry Angel Gateaux Buche de Noel, and Ginger Mango Panna Cotta. The Christmas Brunch is priced at RM395 nett per person or RM515 nett per person inclusive of alcoholic and non-alcoholic drinks.
For further inquiries and bookings, call +603 2778 0888 or email info@theruma.com.
Sheraton Petaling Jaya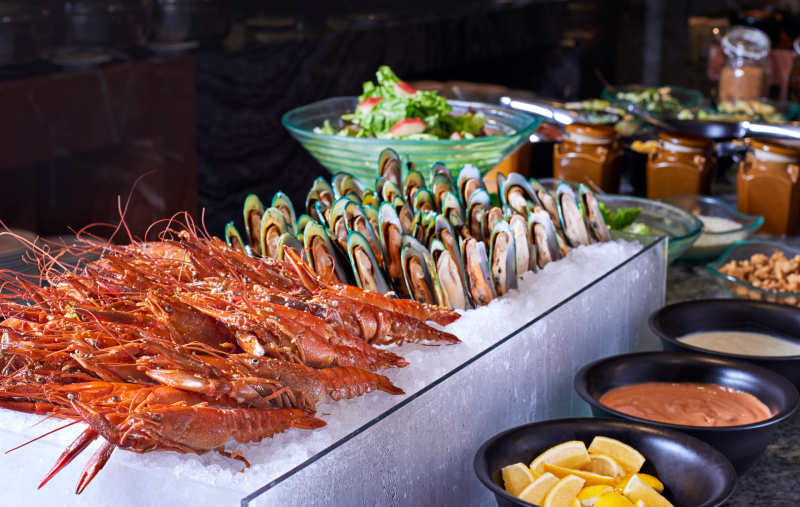 Over at the Sheraton PJ, there are ample dining options for you and the family to enjoy at their restaurant, Feast. Featuring a buffet-style menu, you and your loved ones can enjoy an array of Christmas season favourites, along with some mouth-watering desserts. Familes can enjoy the Christmas Eve Dinner buffet at a price of RM178 nett for adults and RM89 nett for children. There will even be carollers singing some Christmas tunes! The Christmas Day Brunch Buffet will be priced at RM158 nett for adults and RM79 nett for children, while the Christmas Day Dinner Buffet will be RM158 nett for adults and RM79 nett for the kids. The Christmas Weekend Hi-Tea will be priced at RM108 nett for adults and RM54 nett for children, and will feature fun activities for the little ones. There will also be Christmas-themed buffets on until December 30th (except on Christmas Eve and Christmas Day) for lunch and dinner, priced at RM98nett for adults and RM49 nett for children for lunch and RM118 nett for adults and RM59 nett for children for the dinner buffet.
For reservations and to find our more informatiriceon, feel free to call +603-7622 8888 or email dining.spj@sheraton.com
The Westin Kuala Lumpur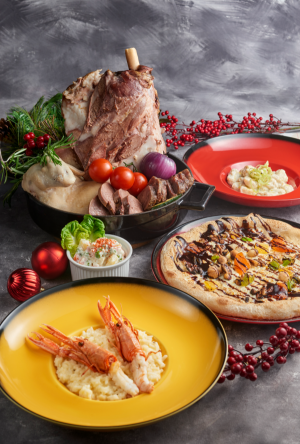 It's going to be a sweet Christmas at The Westin Kuala Lumpur this year. Aiming for a Chocolicious Christmas, The Westin is featuring a wide array of chocolate pastries and desserts alongside its savoury Christmas dinner. At its Italian restaurant Prego, guests can indulge in a spread of authentic Italian delicacies, with unique desserts such as the Pizza di Natale with Chocolate, and the Parmagiana Panna Cotta. The very special Saffron Risotto will also be making an appearance. The Chocolate Factory Christmas Eve Dinner and Christmas Day Brunch will  be priced at RM288 nett per person respectively for food only, while guests add RM160 nett for free flow Prosecco & RM260 for Champagne for both days respectively as well.
At the hotel's all-day dining outlet The Living Room, enjoy Christmas Eve Chocolate Village Dinner Buffet is priced at RM188 net per person, while the Christmas Day Hi-Tea Buffet is priced at RM172 nett per person. If you'd like something a little oriental, the hotel's Chinese restaurant Five Sen5es will feature a Chocolate Imperial Christmas Eve 5-course dinner for RM160 nett per person and a Christmas Day Dim Sum Brunch at RM138 nett per person for food only. For dining reservations, contact Westin Dining at 603 2773 8495, WhatsApp +6017 281 9231, or send an email to westindining@westin.com. Log on to their website here for more information.
The Grand Hyatt Kuala Lumpur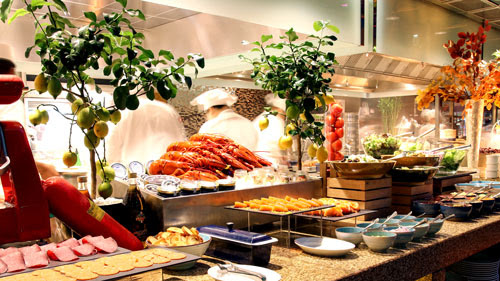 At the Grand Hyatt, the Festive High on Sugar afternoon tea buffet at THIRTY8 will have the sweet-tooth guest excited. Available on the weekends until December 29th, the tea buffet is priced at RM160 nett per adult, and RM80 nett per child. Meanwhile the Christmas Eve Dinner featuring an international buffet at THIRTY8 will feature Western, Japanese and Chinese cuisine, as well as sustainable seafood on ice including shucked oysters, tiger prawns, blue swimmer crab. It is priced at RM450 nett per adul and RM225 nett per child.   Over at JP Teres,  the international buffet on Christmas Eve will be priced at RM210 nett per adult and RM105 nett per child. The buffets at both venues come with unlimited signature drinks, chilled juice and soft drinks. There's even a kid's corner and Santa and some carollers will make an appearance too! For Christmas Day, there will be a lunch buffet at THIRTY8, priced at RM450 nett per adult and RM225 nett per child. To make a reservation, call +603-2182 1234 or visit their website here.
Four Seasons Kuala Lumpur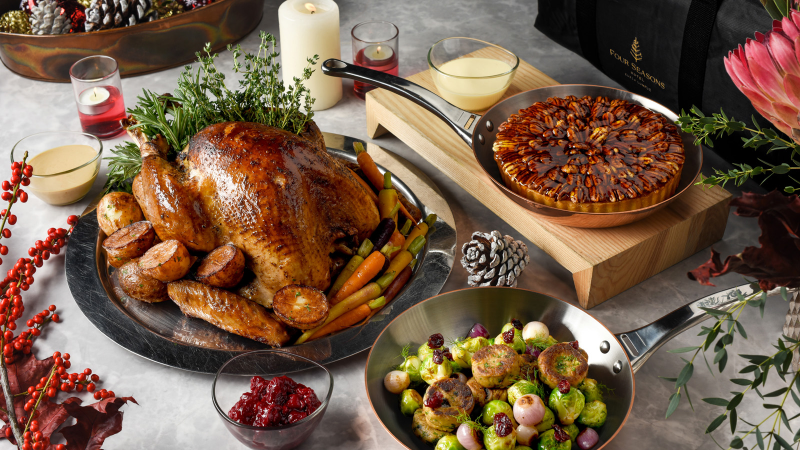 Dine in style this Christmas at the Four Seasons Hotel's restaurant Curate. The Christmas Eve and Christmas Day buffets feature holiday specialties from around the world such as minced pies and gingerbread Yule logs. There will even be roasted turkey and black truffles, and baked flounder stuffed with Crab Imperial, courtesy of Chef Junious Dickerson. Christmas Eve dinner will be priced at RM298 nett, while it's Christmas Day Brunch is priced at RM268 nett. Christmas Day Afternoon Tea at The Lounge will feature Christmas goodies such as eggnog, chestnuts and gingerbread, with savoury treats such as beetroot cured salmon, chestnut turkey salad, foie gras mousse. All of these delectable goodies will be accompanied by The Lounge's signature tea. Afternoon Tea at the Lounge will be priced at RM198 nett per person. To find out more, visit the hotel's website here.
(Images courtesy of respective establishments)