WhatsApp is considered to be one of the most popular messaging apps in the world. With a clean interface, and many features enhancing the texting experience between people, WhatsApp continues to improve itself by constantly introducing updates to the existing features, in addition to introducing new features.
Currently, it has several features which are considered to be quite helpful for users, such as the ability to form group chats and even record voices via a recording tool on WhatsApp. Under Meta, WhatsApp has begun to expand its scope, rolling out several new features every now and again. However, we find that not every feature is necessary and some users have even questioned the app's transition into social media territory instead of confining itself to a texting based-platform.
WhatsApp plans to implement these new features and updates in the upcoming weeks. In this article, we will discuss the good, the bad and the rumoured additions to the texting app. 

Introduced as a way to place multiple WhatsApp groups together for a cleaner user experience, the new communities feature provides admins more control with the ability to form different groups inside a community. There are a lot of advantages of using this new feature, such as having a cleaner UI. This makes it easier to find specific contacts which have been buried under new messages from different work groups.
Imagine having too many workgroups for specific projects, that a single message from your mother could be hard to look for or even reply to. Placing all the workgroups under a specific community allows users to better share content and avoid messages flooding into group messages. The only downside to using this feature is that users who are not involved in many different group chats might not find this tool all that necessary.
WhatsApp has also announced that emoji reactions will be another new feature introduced to WhatsApp, which allows users to reply to messages using emojis. This new feature is definitely less time-consuming. Gone are the days of overthinking replies to conversations. With this new feature, a simple thumbs-up emoji could do the trick.
However, Meta seems to be making its messaging apps, Facebook Messenger and WhatsApp homogenous with this new addition. Facebook Messenger already includes this feature. According to WaBetainfo, Whatsapp also plans to introduce Instagram Reels via WhatsApp. Considering WhatsApp Snaps never really took off, users are questioning the relevance of adding the Reels to WhatsApp, as it is used more as a texting platform than a social media one.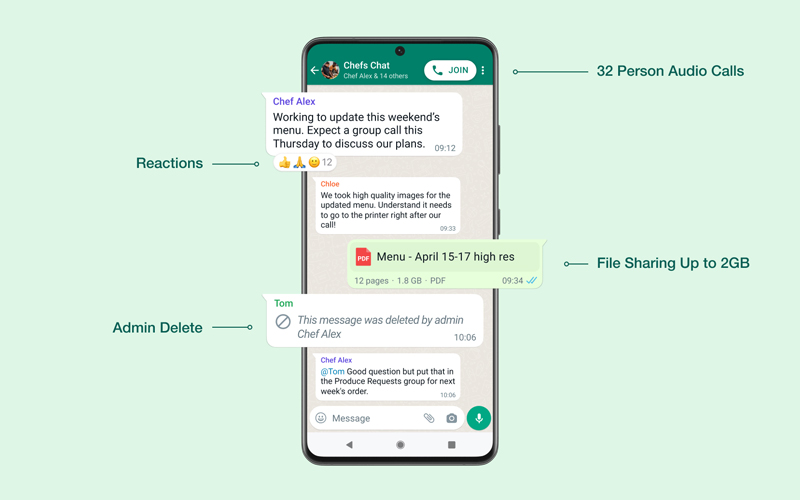 Admins can delete group message
Another planned feature that allows admins of group conversations to delete messages at any time. WaBetainfo has said in a tweet "If you are a group admin, you will be able to delete any message for everyone in your groups, in a future update of WhatsApp beta for Android".
With this feature, conversation groups could definitely become more civilized with group admins being able to delete insensitive tweets or even preventing fights from breaking out in group chats. However, admins who are power hungry might take it upon themselves to delete messages which they disagree with, if they so choose to.
Rumoured upcoming features
WaBetainfo, a trusted source regarding WhatsApp news, has revealed information on new WhatsApp features to be released in 2022. One of the upcoming features is said to be extending the 'delete for everyone' option to an undefined amount of time. According to WaBetainfo, the upcoming addition has been tested and allows users to delete a message sent 3 months ago. Good news for anyone who has never been able to delete messages they regret sending. 

The WhatsApp log-out feature reportedly allows users to log out of the app, similar to most social media apps under Meta. WaBetainfo has tested the feature and found it to be useful in allowing people to access their WhatsApp accounts on different devices.
A new update regarding WhatsApp's ' last seen' feature is reportedly being introduced, and will finally allow people to set their 'last seen' status hidden from specific contacts. A huge advantage for users who were not able to see the 'last seen' status of their contacts when using the feature. WaBetainfo reports an addition of 'my contacts except' in the privacy settings for WhatsApp, which allows users to hide their status from anyone.