Though its name is now synonymous with small plates and sharing portions, Chef Carrie Scully, who heads the kitchen, has added more mains to the menu.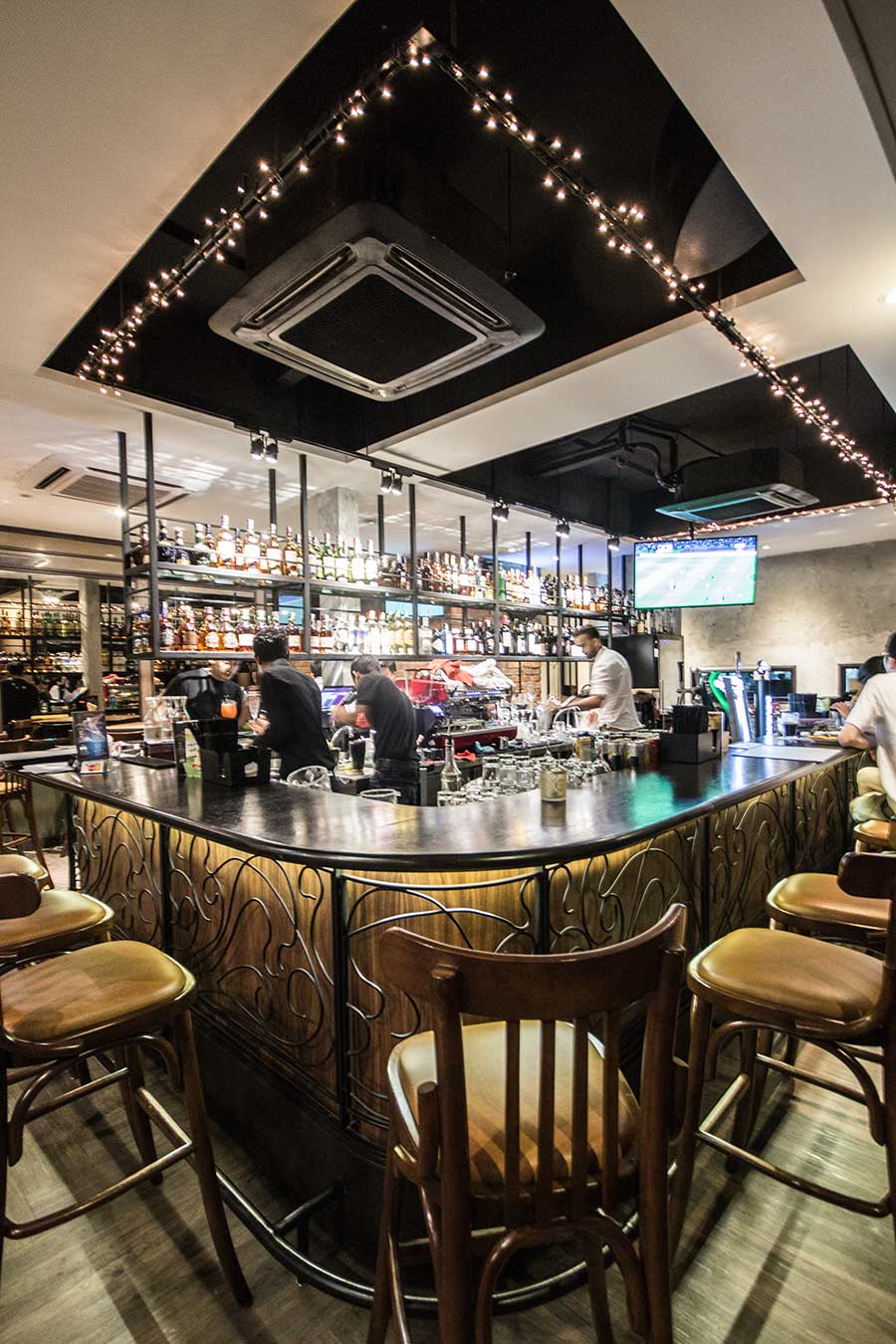 Opening its doors just over a year ago in Medan Damansara, Tiki Taka has since gained much popularity for its innovative pintxos (pronounced pinchos) and tapas, as well as a wide range of cocktails.
Despite its Spanish name and concept, the corner lot restaurant offers a unique fusion of Asian-centric flavours that may taste familiar yet intriguingly distinct at the same time.
Though its name is now synonymous with small plates and sharing portions, Chef Carrie Scully, who heads the kitchen, has added more mains to the menu – much to the delight of those with bigger appetites. There's also new bites and cocktails to appeal to regulars, who frequent the place for drinks night or simply to watch football and other sports.
We recently tried a variety of their new additions and these are 6 of our favourites.
Pintxos – Mini pork burger
Starting off our meal with this mini burger, our first bite immediately impresses us with packed meaty flavour from the pork patty and spicy kick from the salsa and peppercorn. We like that the cheese and cucumber complement the burger without stealing the limelight from the patty, which is the obvious star of the dish in our opinion. And fret not, the pinkness of the buns comes from natural beetroot juice, not food colouring.
Pintxos – Pork belly mantou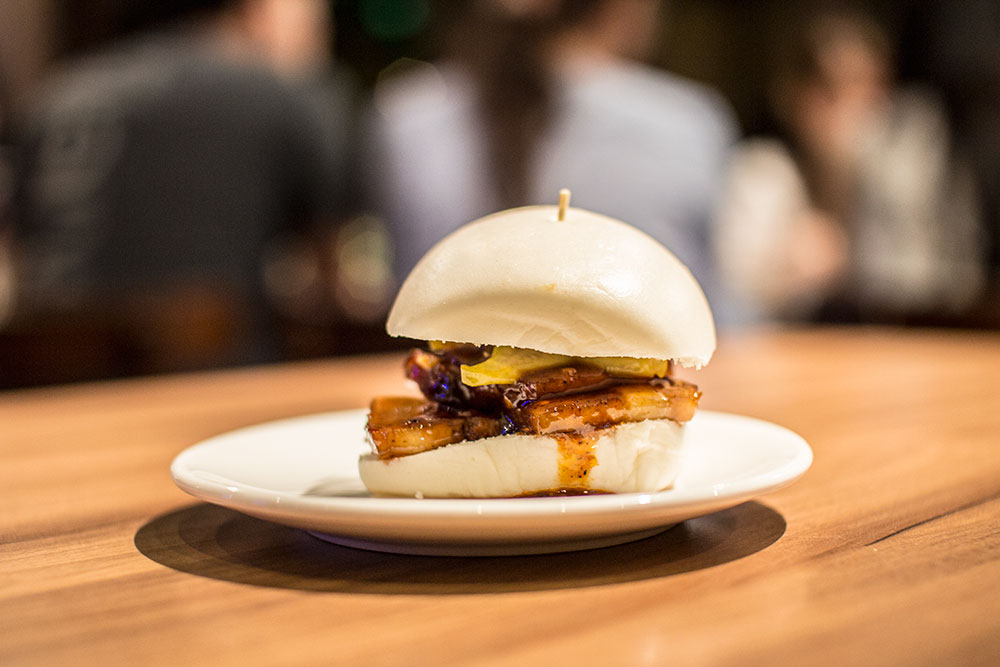 Our next dish leans towards a more sinful palate, featuring generous chunks of fatty pork belly sandwiched with a slice of pickled starfruit between mantou buns. Though we prefer the mantou to be slightly less dense, the succulent pork cuts still shine through with a sweet and spicy zing from the chilli sauce. The starfruit, an ingredient inspired from Chef Scully's childhood, adds a refreshing twist to balance the guilty pleasure of buttery fats.
Main – Lobster pizza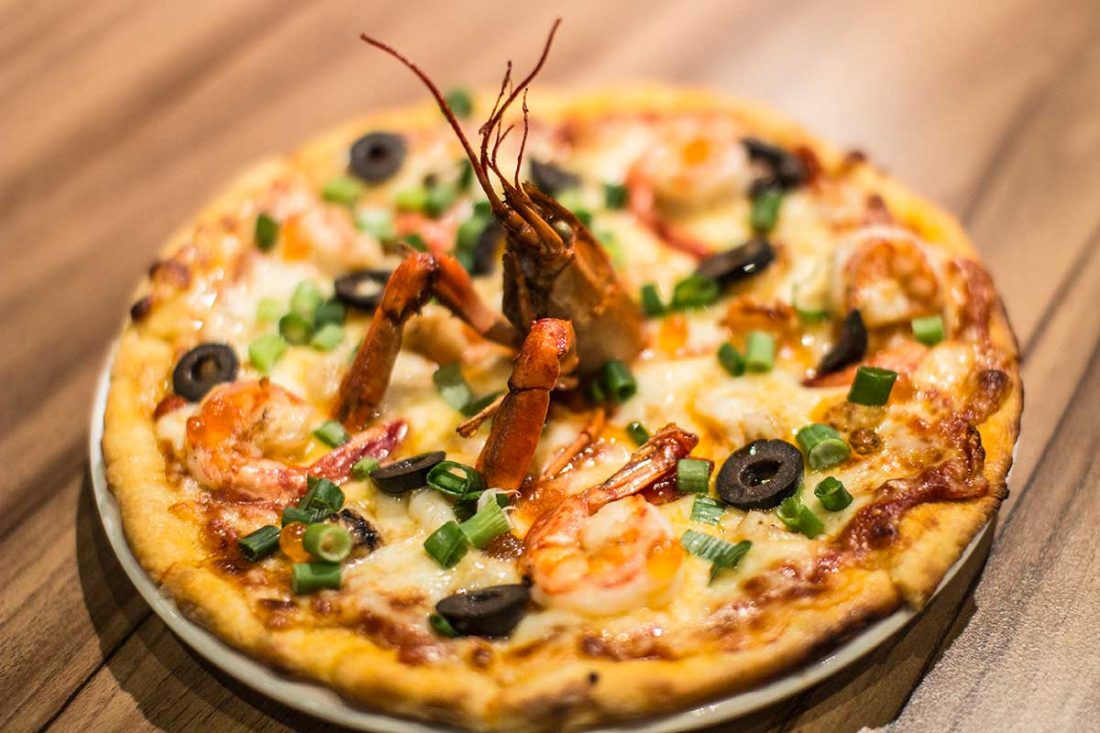 Tiki Taka's "Sin" is King Pork Pizza and Wild Boar Rendang Pizza have been great hits among diners, so it's not surprising that the new Lobster Pizza also makes this list.  Served with baby lobster, prawns, cheese, olives, ikura and spring onions on a thin crust, it's a hearty pizza that is great for sharing or having all to oneself. However, if you want more of that lobster, we recommend ordering for the latter.
Main – Nasi lemak babi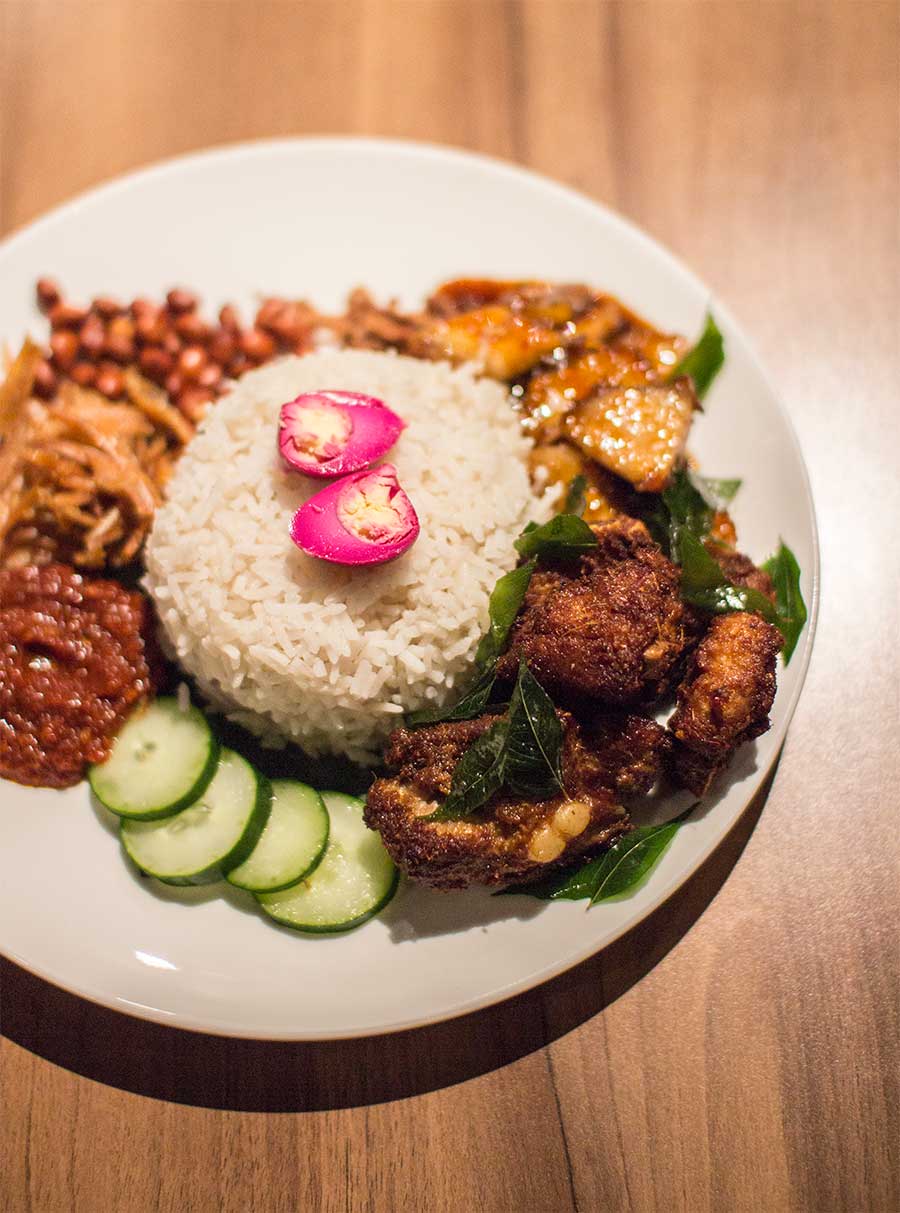 Can't get enough of pork belly? Then the nasi lemak babi will definitely fill your plate, as it more than did ours. One of Malaysia's most popular dishes merits the spotlight at this restaurant, with extra portions of pork belly and pork ribs to the usual anchovies, groundnuts, and sambal. The caramelised gula melaka pork belly delightfully melts in our mouth and the anchovies provide the perfect crunch in contrast. We find the deep fried pork ribs a little dry, but the sambal helps to enhance its otherwise fragrant aroma.
Drinks – Ginza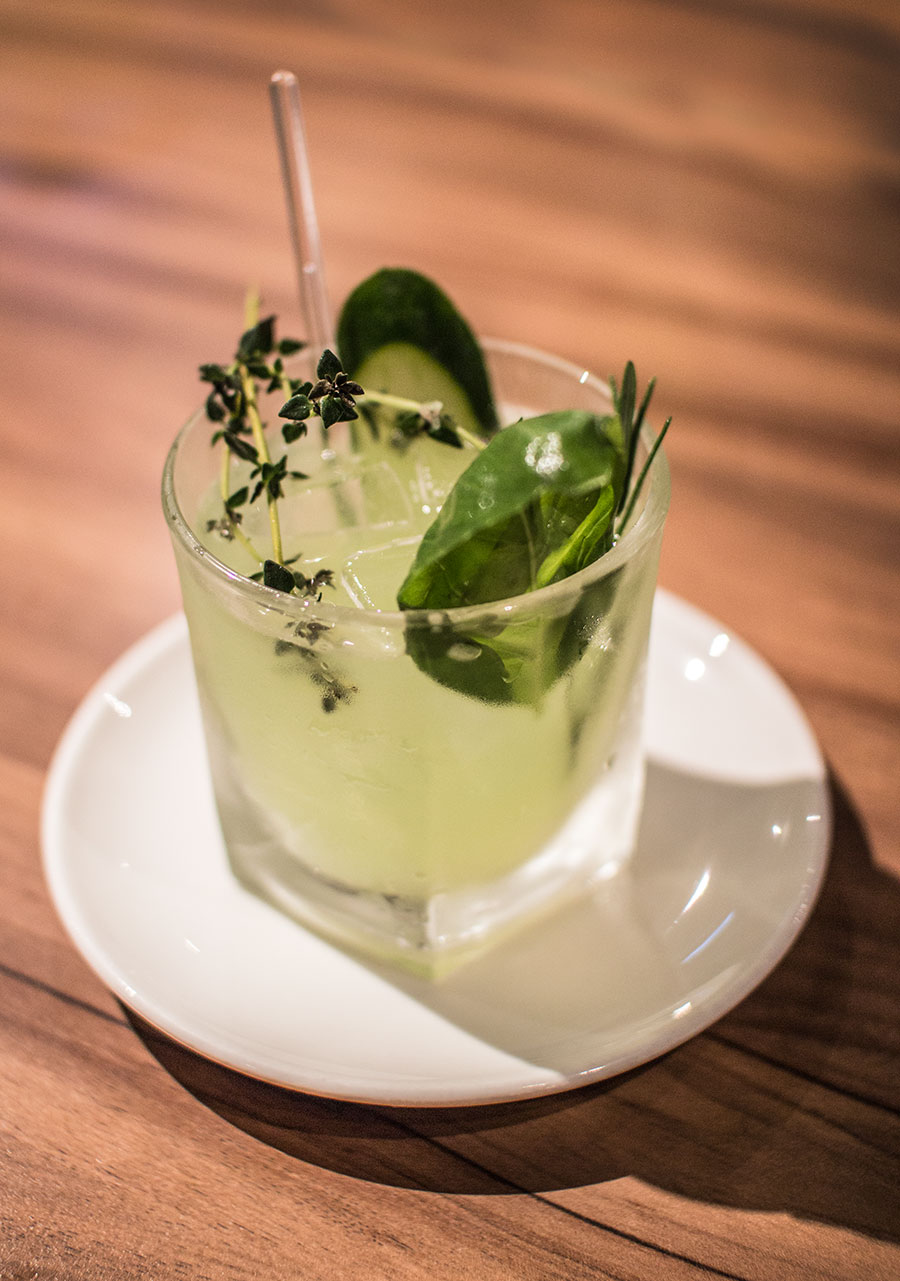 Moving on to the drinks menu, we decide to pick out something light to accompany our heavy meal and the Ginza – a gin based cocktail – sounds just about right. Muddled with rosemary and basil leaves and shaken with fresh herbs, a whiff of the drink interestingly reminds us of pesto sauce. Taste-wise, it is cool and invigorating with a strong herbal aftertaste but is still fairly light, making it a great pick-me-up at any time of day.
Drinks – Copacabana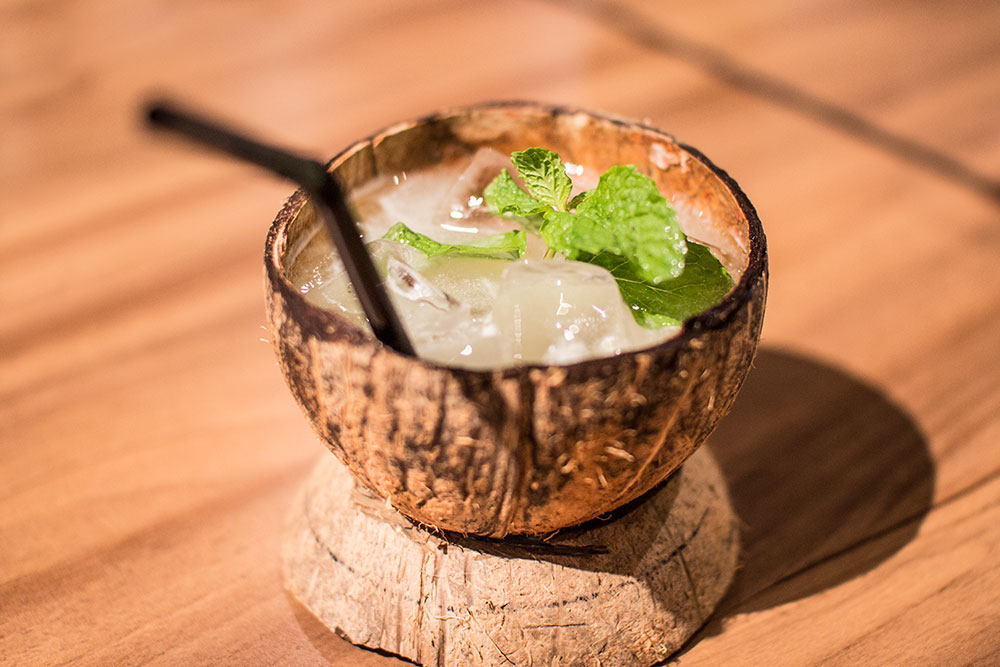 Arriving in a coconut shell, the Copacabana is a coconut based cocktail muddled with fresh mint leaves, lime, coconut cream, Havana rum, Malibu and pineapple juice. Coconut and pineapple come off strongest at first, while the mint trails after, finally leaving us with the sweet aftertaste of rum. Overall, it packs more punch than the Ginza, so we suggest taking the drink as an after-meal cocktail.
Keep up with events and promotions from Tiki Taka on their Facebook page here.
Location: 138, Jalan Kasah, Medan Damansara, 50490 Kuala Lumpur
Opening hours: Weekdays 4pm – 1am; Weekends 11am – 1am
Photography: Yew Chin Gan