It may be tropical weather year-round here in Malaysia, but that's not stopping Coach from bringing a snow white holiday to shoppers here this Christmas season. 
After being paid a playfully chaotic visit from Coach's iconic Rexy mascot in October to debut the revolutionary Windows of the Future display, the Coach storefront in Pavilion Elite KL is going bigger, merrier and brighter this holiday season.
Over the past week, the postcard-perfect entrance of premier shopping destination Pavilion Kuala Lumpur was transformed into an even more picturesque winter landscape. Courtesy of Coach's new 'Give A Little Love' holiday campaign, the fashion house is giving more than a little love to the space, with a bespoke holiday reimagining complete with wintery creatures and glittery decorations.
Read on for the reasons you should grab your sleighs and slide down to Bukit Bintang right now to see Coach's new holiday installation.
For a piece of NYC winter magic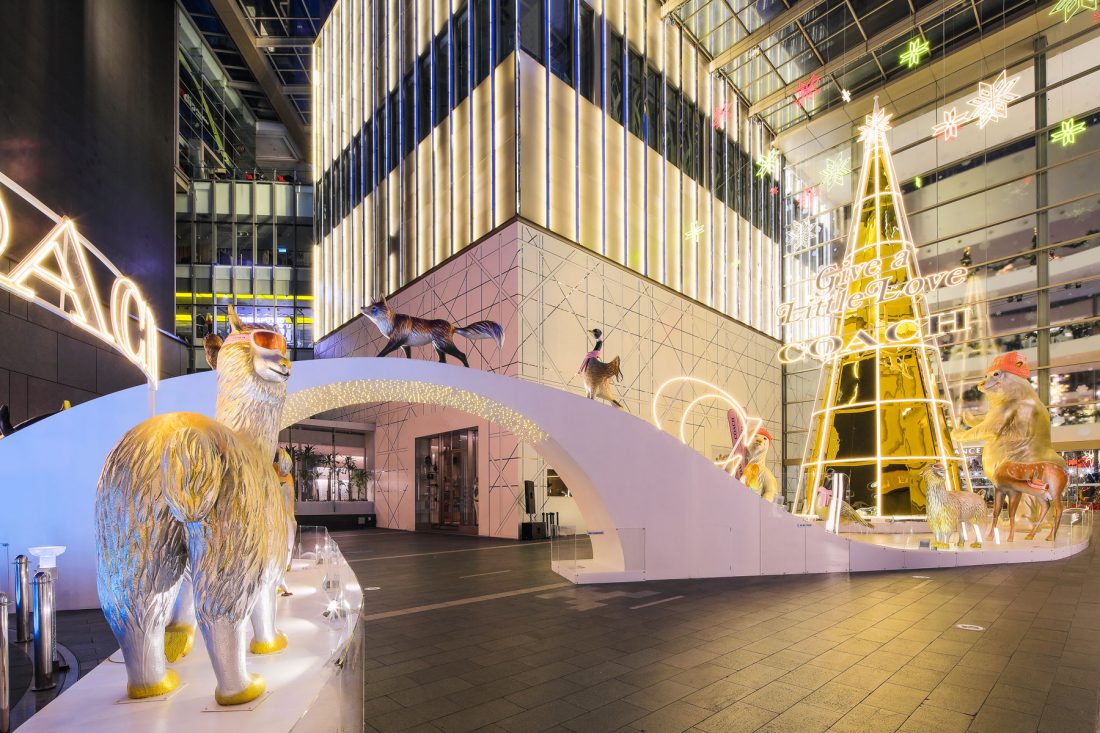 It's no secret that Coach has a history of paying homage to its own home city, channelling the attitude and authenticity of New York in its bags and accessories as well as its retail outlets. Now, its flagship store in Pavilion Elite is taking things up a snowy notch with an entire installation based on a New York park in winter. Visitors can make their way through frosty white landscapes, take a walk under an arched underpass lit by twinkling lights, or gaze at the larger-than-life Christmas tree by the mall's entrance.
For the jolly band of Coach-loving creatures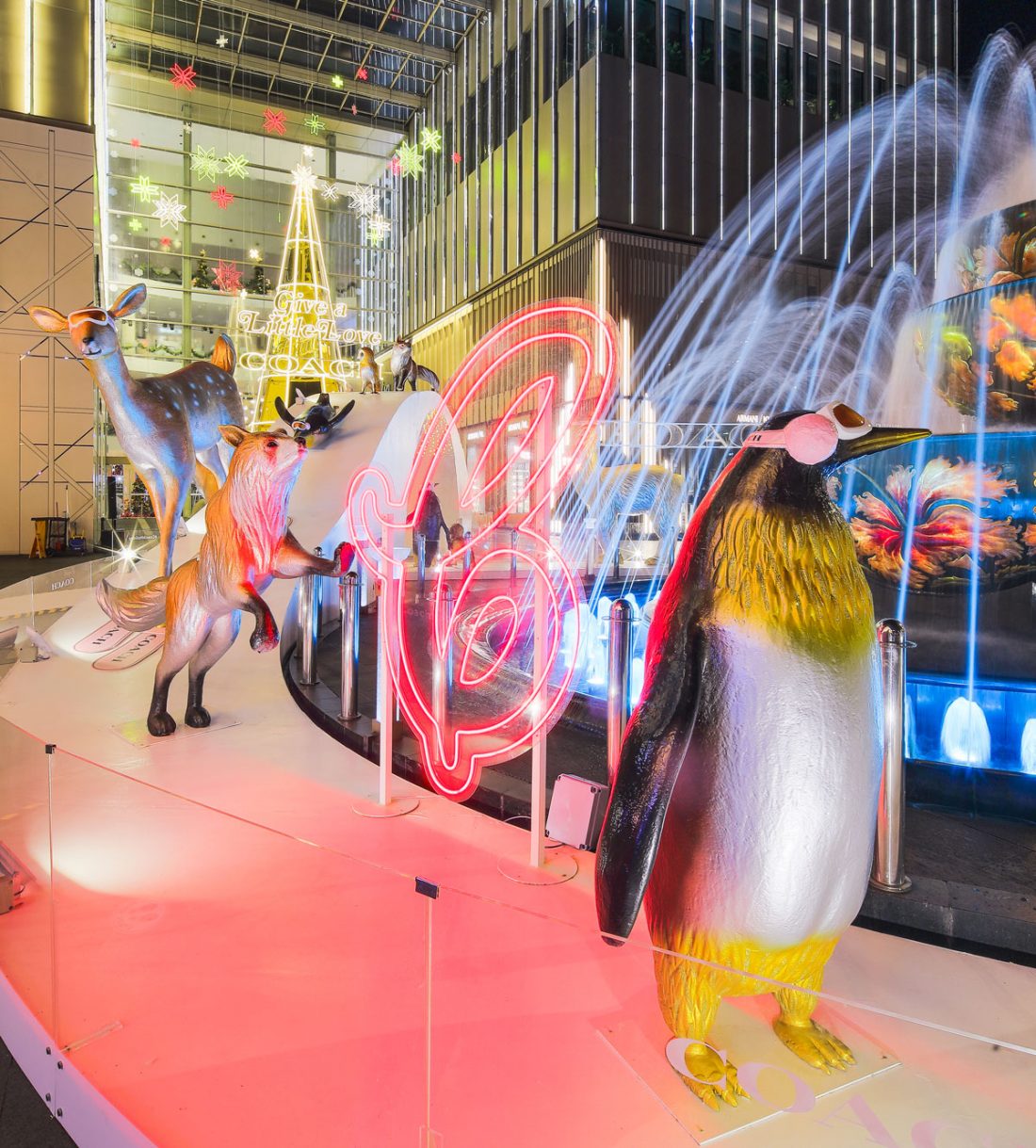 Seeing the potential of this new icy setup, a gleeful gang of folksy animals have set up camp in and around the Coach store to take advantage of all the holiday-themed fun to be had. Catch a glimpse of furry friends like Holly the deer, Ginger the fox, Paddles the goose, Luna the owl, Spike the hedgehog, Belle the penguin and Robin the bird, some suited up for classic winter activities like skiing and sledding, while others simply enjoy a frosty frolic in the show.
To spot a few famous faces
Whimsical creatures aren't the only ones drawn in by Coach's grand holiday installation. Local personalities and celebrities have been seen having a wander through the wintry park, decked in appropriately cosy and fashionable attire from Coach. Among the names showing up to partake in the campaign's spirit of festive wonder are actors Amelia Henderson, Dini Schatzmann and Janna Nick, and media personalities Maggy Wang, Siu Lim, and Tara Choi.
For the festive-friendly new holiday collection
View this post on Instagram
While visitors might be taken by the winter wonderland outside, the store has also received a significant snow-covered holiday update, where arctic creatures and fluffy white displays abound. Here, shoppers will discover the new holiday collection, which includes the Coach Studio in the iconic Signature 'C' print, as well as metallic Coach Quilties, which serve as the perfect shimmery sidekick to every holiday party.
A giant LED to get into the holiday spirit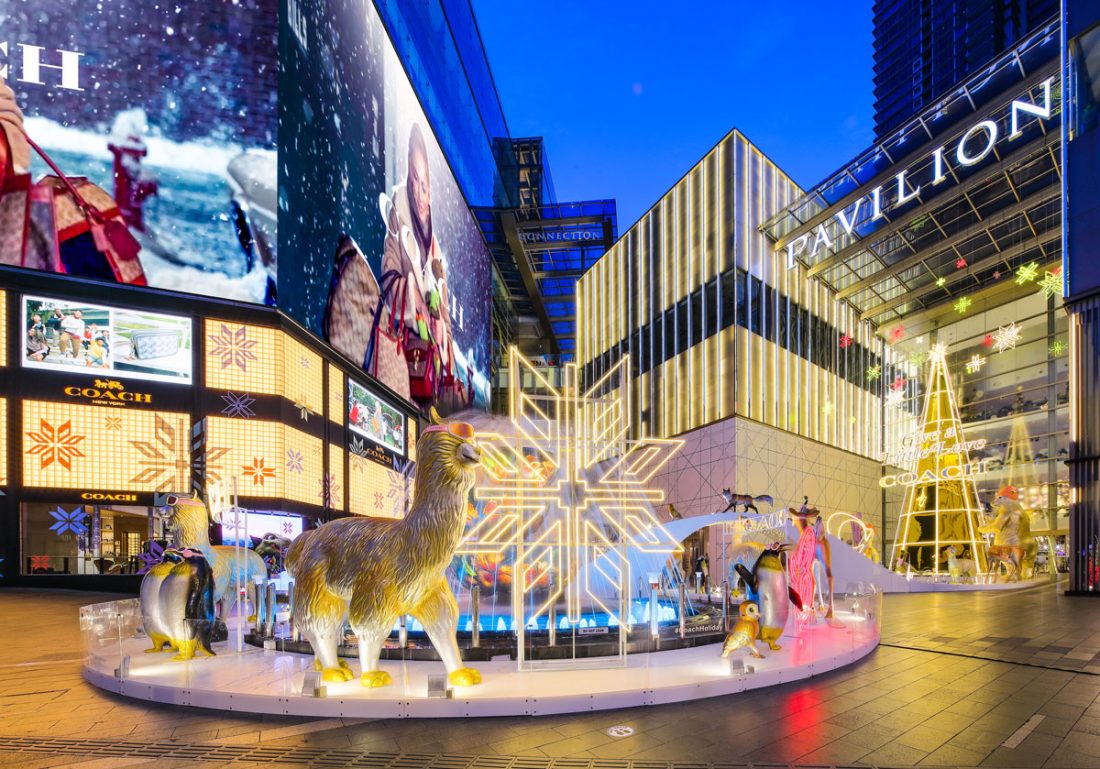 Despite blanketing the shopping hotspot with a dreamy winterscape and filling the space with Christmas cheer, Coach's work here is not finished yet this Christmas season. In December, the giant LED display above Coach's store and in front of Pavilion KL's entrance will also showcase a curated 3D animation that, paired with the jolly winter park installation, will put every passer-by in a magical mood. While the subject of the upcoming animation is still under wraps, check this space for an update of what will surely be a spectacular storefront surprise.