In 2019, URWERK named the UR-100 its essential collection, dialling the timepiece back to basics with cleaner proportions and simpler concepts. Ever since then, the independent brand has expanded the line to include the Gunmetal, Gold, and Iron editions with an updated movement, as well as the ferocious UR-100V T-Rex.
Adding to the UR-100V collection today is the Blue Planet edition, a tone-on-tone, monochromatic timepiece inspired by the vast mysteries of space and astronomy.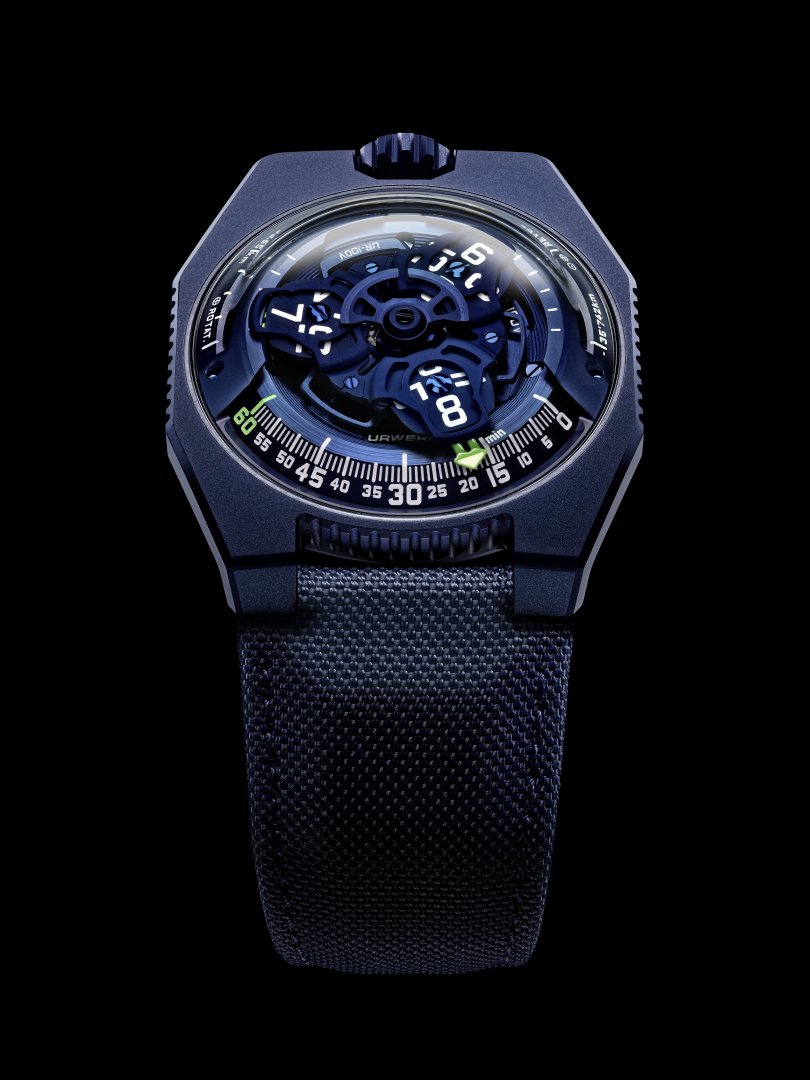 Based on the brand's press release: "The astronomical action takes place under a large observation dome, where, upon finishing indicating the minutes in the 0-to-60 arc along the bottom of the dial, the vivid green and yellow arrowhead hand (of of three) disappears – only to reappear at 9 o'clock to track the 555.55 kilometres the earth rotates at the equator every 20 minutes. The hand then reappears again at 3 o'clock to display a kilometre counter tracking 20 minutes of the earth's revolution around the sun (35,742) kilometres.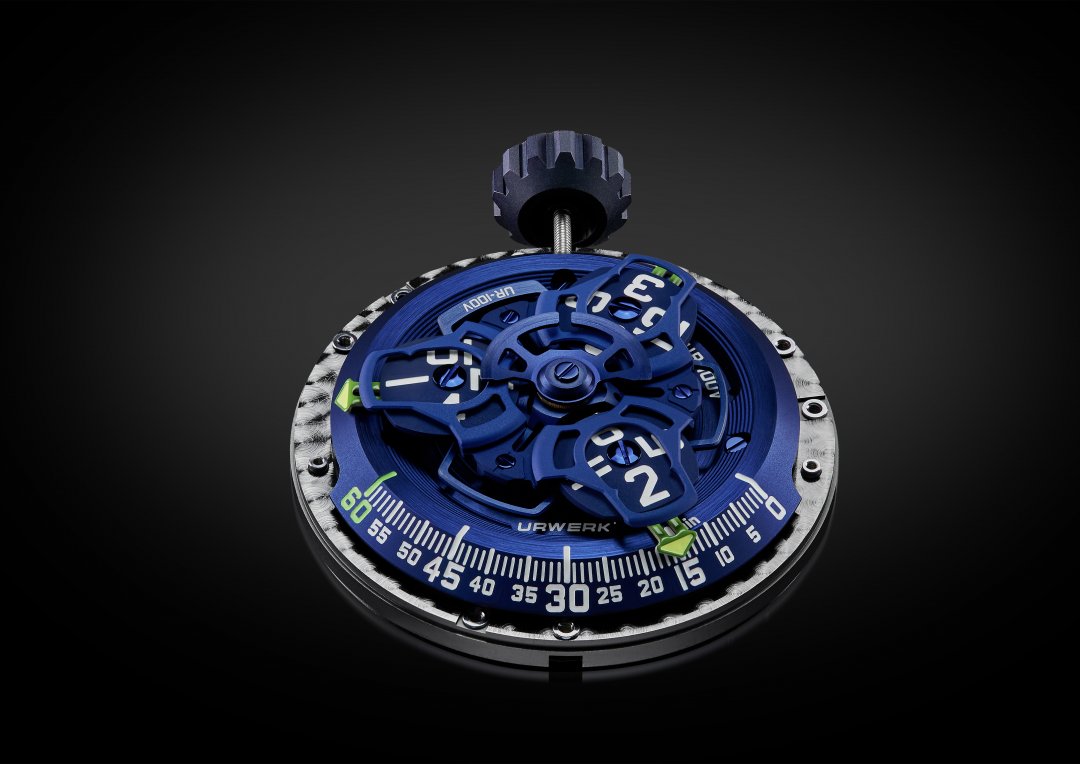 The brand dressed this model in a deep, vivid blue with a matte finish – from the steel case and the atypical movement, to its orbital carousel and textile strap – a hue reflecting our planet earth. Against the uniform blue background, the fluorescent yellow and green arrowhead hand stands out.
"When I create and when I paint, all colours resonate in me, but particularly blue. During my education at the Academy of Arts and Design in Lucerne, I had the chance to study the great florentine artist Giotto," commented URWERK'S designer, Martin Frei. "He was the first who, at the end of the Middle Ages, painted the sky blue – dethroning Byzantine gold – and launching the 'realistic' style of painting is normal today. I love the colour of Giotto's blue sky; it's the same sky as ours. Blue is a colour that surrounds us, that encompasses us."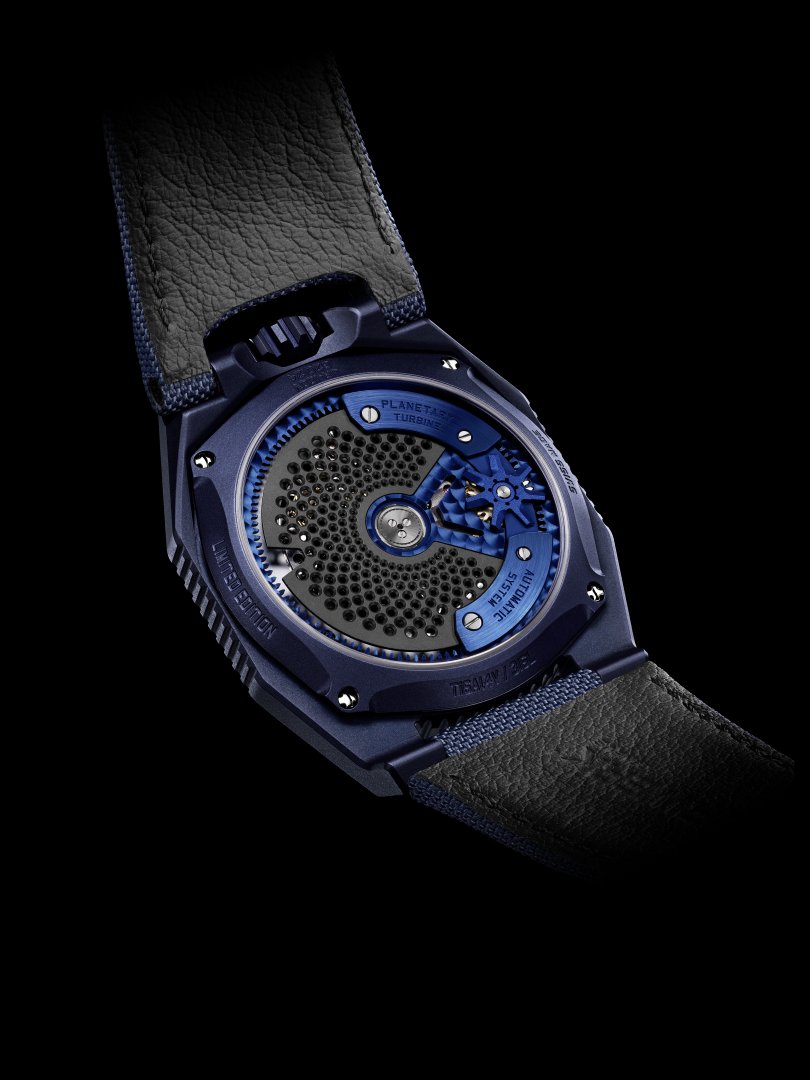 The UR-100V Blue Planet is equipped with the UR 12.02 self-winding mechanical movement, holding a power reserve of 48 hours. It's regulated by Windfänger Planetary Turbine Automatic System to help minimise shocks and resist wear and tear. The baseplates are made from ARCAP – a usual feature for URWERK – an alloy that doesn't contain iron, and is not magnetic.
Limited to 25 pieces, the UR-100V Blue Planet retails for RM216,000. For more details, visit the URWERK website or The Hour Glass.
Photos: URWERK