One of the best parts of Chinese New Year is the nostalgia it invokes as we take a pause from our present lives and fall back to childhood traditions.
Every red packet from our parents, every orange from our relative and every pineapple tart we steal from the jar has an indescribable power to return us to a time of childhood innocence when perhaps the biggest concern is to collect more angpaus than the year before. Let's not forget the many sweets, treats and snacks to be nibbled like pineapple tarts, love letters and more, each bite adding to the meaning of this festive time of year.
UNBOX by Huff and Puff seeks to box, package and deliver that prized nostalgia with its uniquely curated and personalised gifts for the season.
Helmed by Cecelia Chong and Jeffrey Su, UNBOX designs and packages unique gift creations ranging from old-school almond slice sugar crispies to Teochew soft candy and Nyonya pineapple tarts that will transport anyone back to the simpler days at our grandparents' homes. However, UNBOX takes it a step further by dressing them up in packaging reflective of paraphernalia of the time.
Expect delightful giftboxes like a collection of traditional soup herbs presented in a retro wooden dish cupboard; sweets and treats served in bamboo steam baskets and tiffin tin cans; as well as  single-portion slices of bakkwa, the delicious barbecued sweet meat, vacuum-packed and arranged in a fun Wheel-of-Fortune style box for a little game of luck before you dig into each packet.
"Curating gifts is something that our team thoroughly enjoys doing," they shared via email.  "Sharing a common love for vintage classic design of the local culture and tweaking it with modern elements is probably the strongest binding foundation for the team. In recent years, the trend for old-school classic design has been significantly on the rise, noticeably in café and restaurants décor and menu offerings, which is something we resonate with."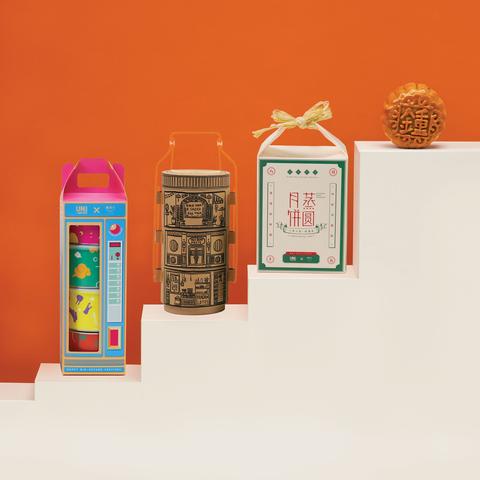 Emergency creativity
Born from too much time at hand during the national lockdown, Chong and Su call UNBOX their "MCO baby". Huff and Puff and its team of events and marketing professionals suddenly found ample time to design and create things they've always wanted to but never had the time or allocation. Seeking to express their pent-up creativity, they came up with UNBOX in August 2020 to offer personalised seasonal gifts that at the same time support local artisans and bakers.
Their first collection coincided with the Mid-Autumn Festival, which they commemorated with famed artisanal baker Ching Han Guan from Ipoh for a mooncake collection. Ching Han Guan's mooncakes were sold in three new packaging by the UNBOX team – a Chinese takeaway box, a traditional tiffin carrier and a stack of bamboo dim sum steam baskets.
"The idea of creating a dedicated platform for gifting came about sometime mid-May 2020," they recall. "We decided to work towards launching our brand and our first collections by August, coinciding with the Mid-Autumn Festival. We had about just two and a half months to create a brand from scratch, an online platform and market it whilst designing our first collection and scout for a potential partner. Thankfully, our team is trained to work under pressure within insane timelines with event planning. Despite the seemingly impossible task, our team came together to make it happen."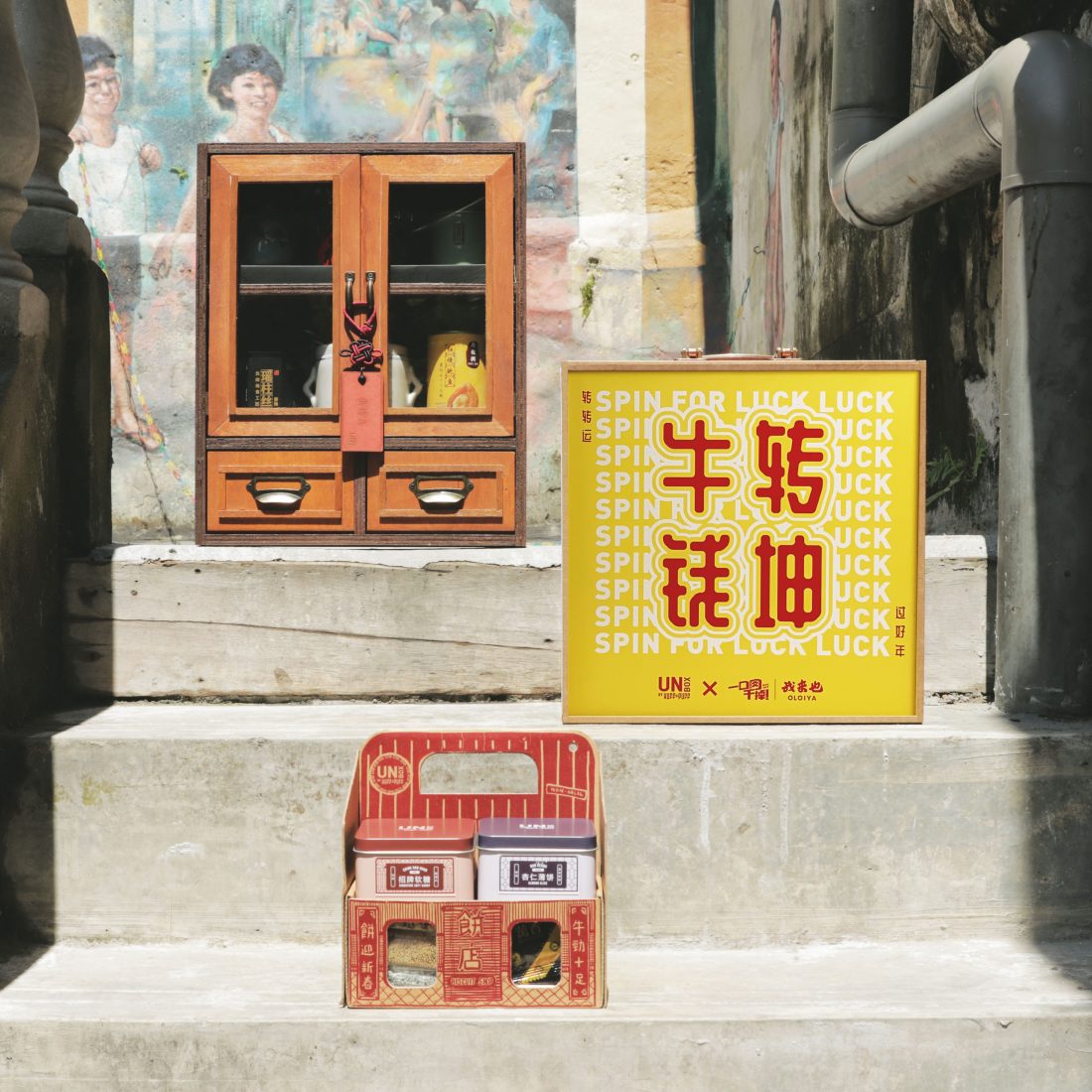 Snacks with a side of nostalgia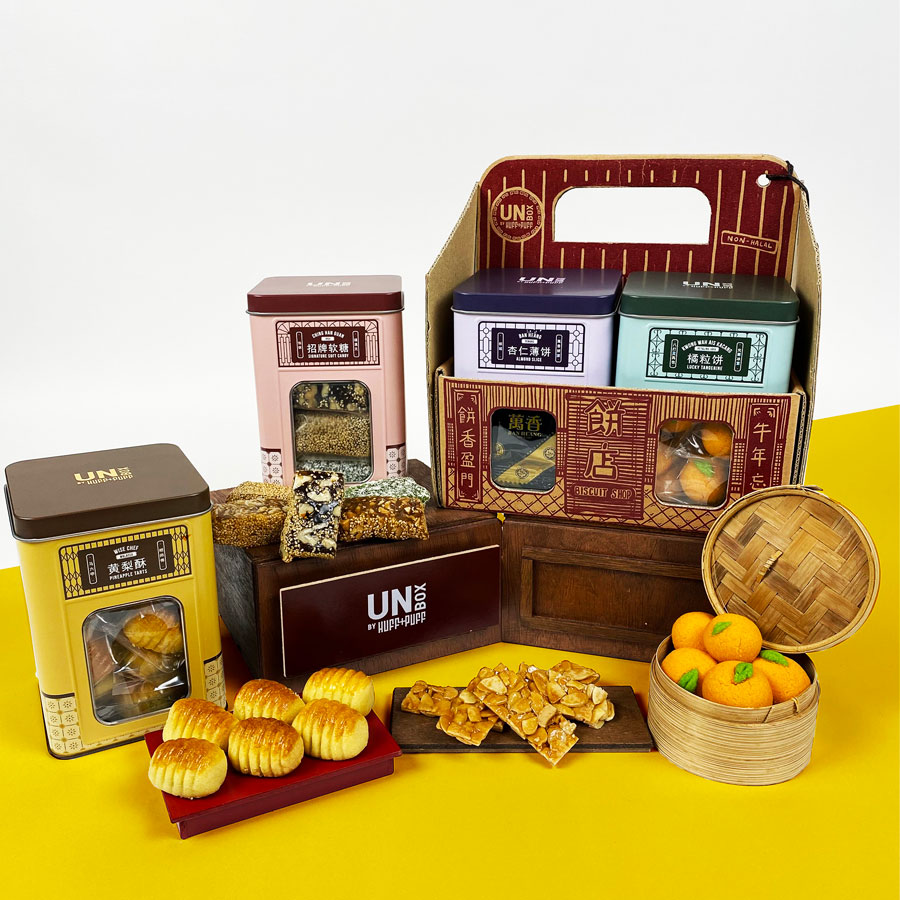 For Chinese New Year 2021, they've partnered with more bakers and sellers for a limited edition capsule collection.
They've partnered with Penang's Ban Heang Confectionary, Melaka's Wise Chef and PJ's own Kwong Wah Ais Kacang on top of Ipoh's Ching Han Guan to create a box of treats called Beng Chai Hong (literally translated to mean Little Confectionary Lane). For it, UNBOX designed nostalgic tin canisters reminiscent of the ones in old-school sundry shops to hold the cookies and candies.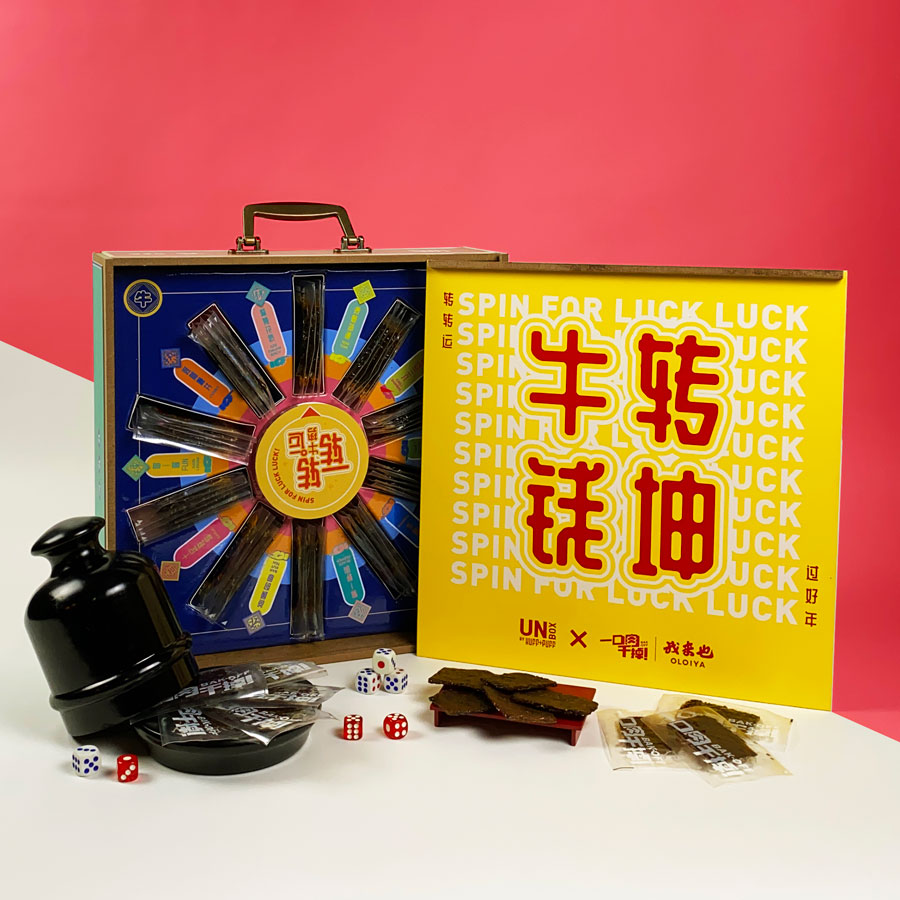 They've also brought in bakkwa producers BAK-OFF by Oloiya for a Spin for Luck Luck wooden case. Fifty pieces of bakkwa in 10 different flavours ranging from salted egg yolk to Szechuan mala  are arranged neatly in a Wheel of Fortune embedded in a wooden carry-on. Take a spin and see which you should try!
After you're done with the bakkwa, you can also remove the wheel and neatly reuse the wooden case for other means of storage, like your mahjong tiles, for instance.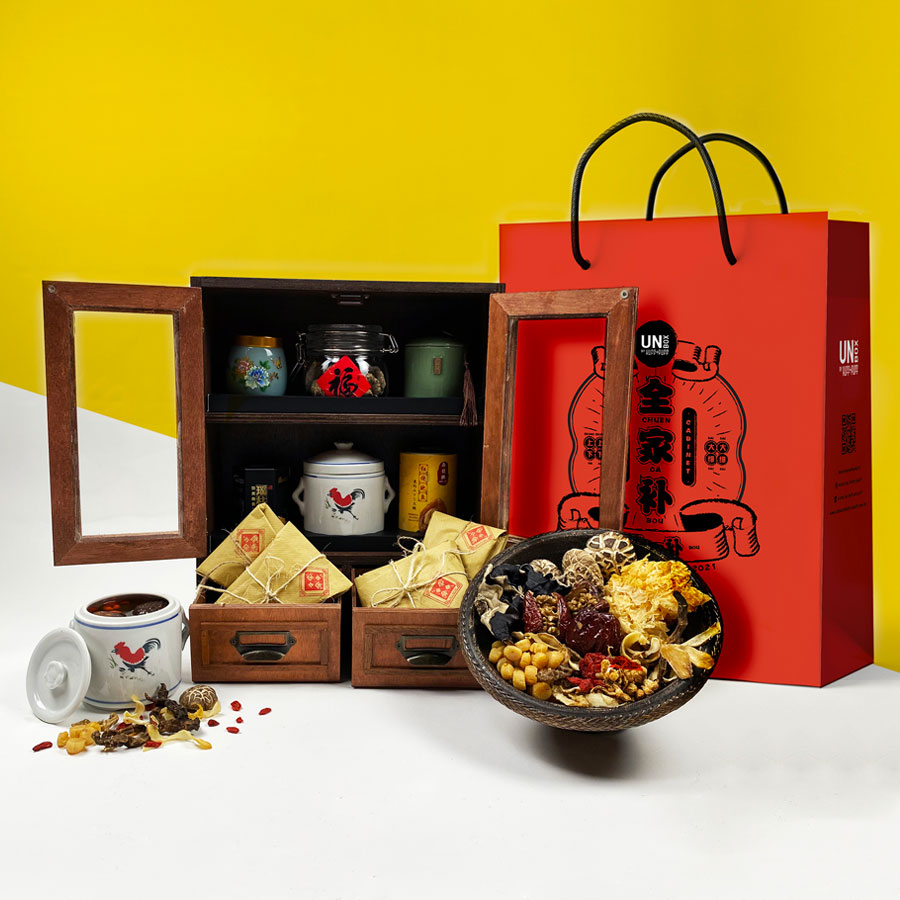 Last but not least, there's the Treasure Cabinet, created in collaboration with Chai Huat Hin, which holds in it separate herbal ingredients to make a herbal soup to nourish your loved ones. The doors open to individually packed ingredients for soups in delicate ceramic and glass jars just like how they were kept back in the day. It even includes a pot to use in a double boiler for you to make your soup.
"When we brainstorm for our collections, we set out a theme we want to go with," they share. "More often than not, the team runs wild with crazy ideas which we then narrow down along the way and fine-tune based on what we feel is yet to be offered in the market."
"Despite having half of the team only in their twenties, we're all old souls deep inside," they add. "We love vintage classics and challenging ourselves with unique twists to offer fun and modernised packaging that we can call our own."
Log on to the official UNBOX website here to place your orders.
(Photos: UNBOX by Huff and Puff)