Think you know sushi? You know nothing, says Sushi Singularity. 
The applications of 3D printing technology are far and wide, from creating mechanical lungs to help fight COVID-19 to advancing the automaking industry. In the food and beverage category, it can also be applied to making sushi.
Consider Sushi Singularity, which not only employs cutting edge machinery for 3D-printing sushi, but also tailors it according to a guest's nutritional needs. Talk about food meets tech.
Set to launch this year in Tokyo by revolutionary Japanese company Open Meals, Sushi Singularity isn't your run-off-the-mill walk-in restaurant. Before paying a visit, you'll be required to send samples of your DNA, urine and other bodily fluids first.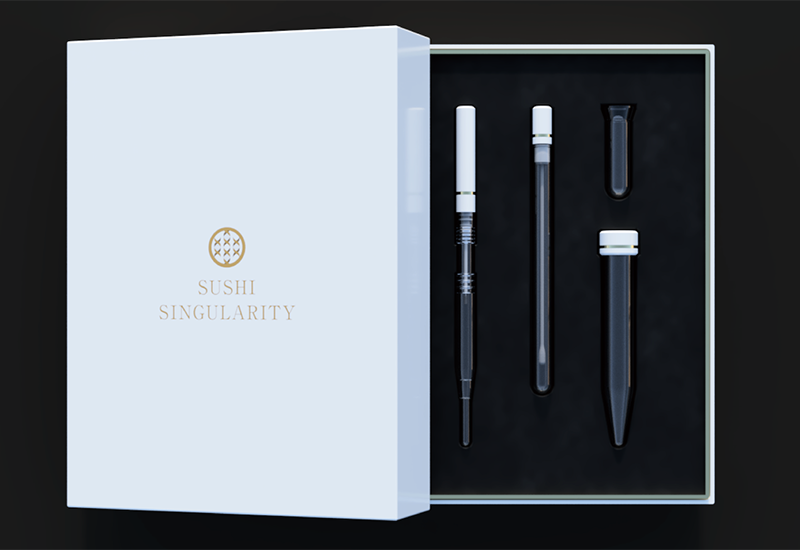 How so? Upon making a reservation, the restaurant will send you a sample collection kit to your doorstep. The data obtained will make up what the restaurant calls your unique "Health ID", which is used to evaluate your nutritional requirements.
The Health ID will be uploaded onto a food fabrication machine to create bespoke sushi made with nutrients that the particular individual requires. According to the website, the machine incorporates food ingredient cartridges, nutrient cylinders, and artificial light farm, a laser-sinted 3D printer and a giant robotic arm.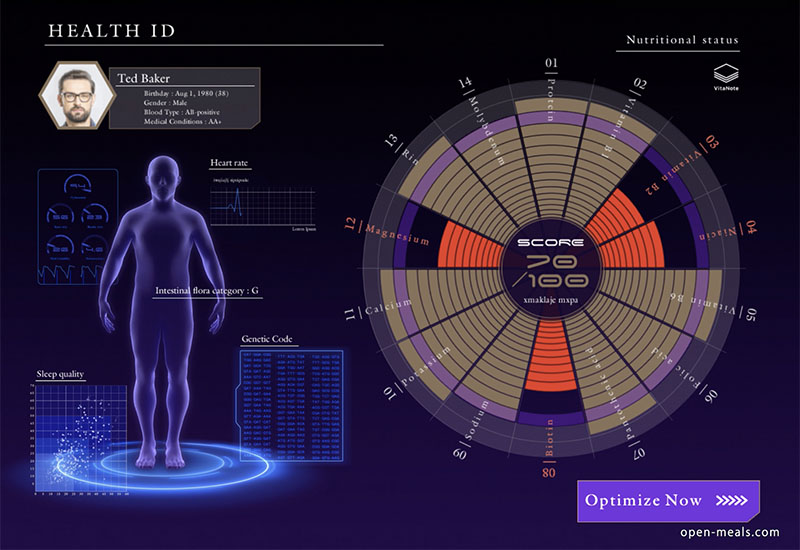 Of course, you can't expect the resulting "sushi" to look anything like what you may be accustomed to. Instead, the eight "conceptualized models" currently existing on their menu feature curious shapes, textures and colours. Take a closer look in the gallery below: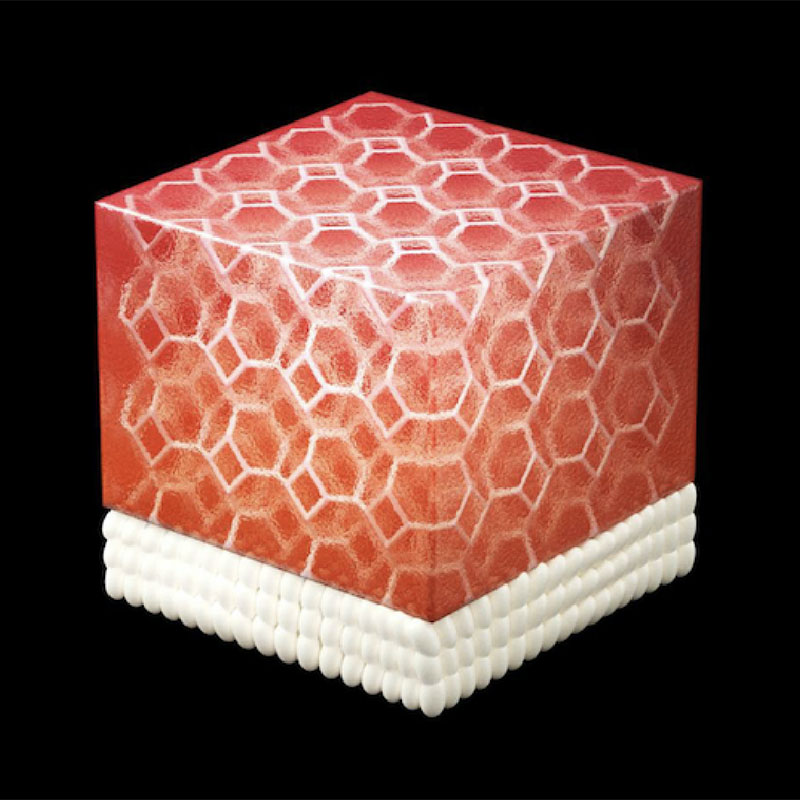 Cell Cultured Tuna
Cell Cultured Tuna
Using 3D printing and cell cultivation, this machine-made sushi is said to be able to reproduce the textures of tuna muscle in its internal structure.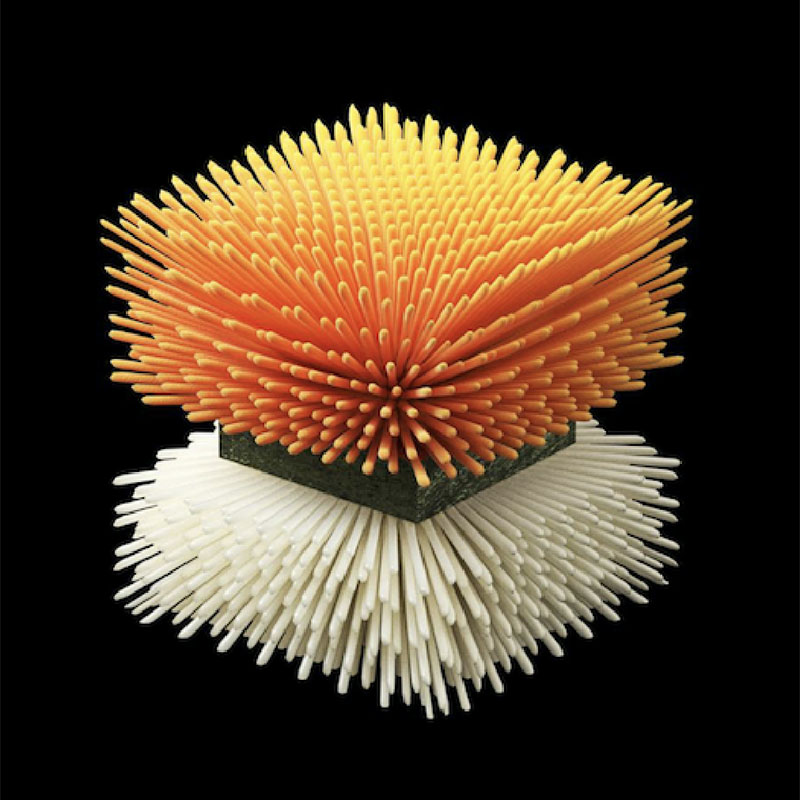 Powdered Sintered Uni
Powdered Sintered Uni
This sea urchin creation is made with CO2 laser, used to harden uni powder and rice flour into a uniform radiative shape with shell structure.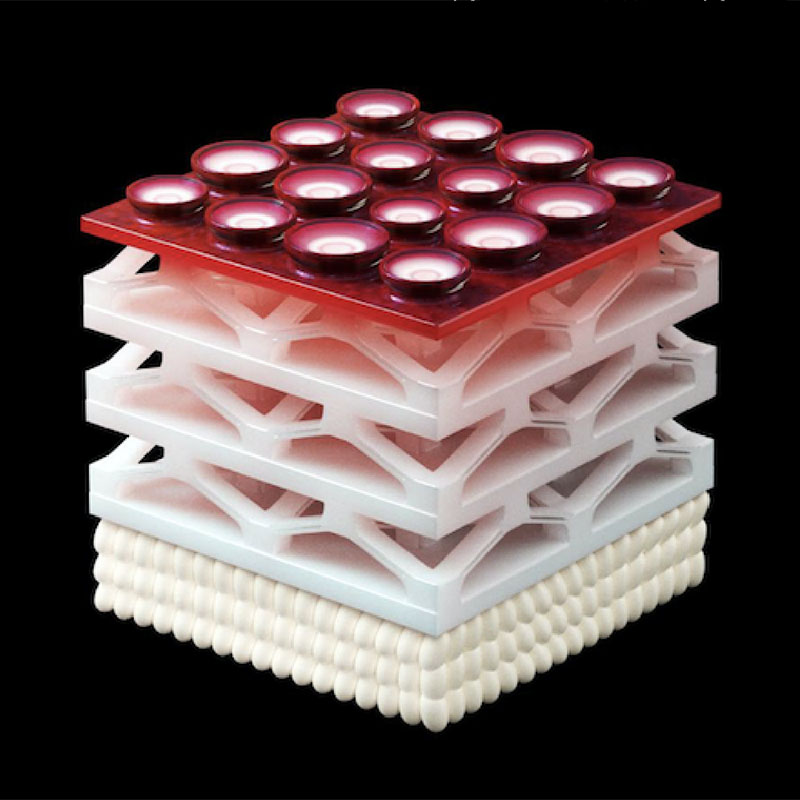 Negative Stiffness Honeycomb Octopus
Negative Stiffness Honeycomb Octopus
Unlike the positively chewy or otherwise overdone, rigid texture of octopus, this sushi is designed to have a negative rigidity. It's made to create the sensation of disappearing in the mouth at first bite, then "bouncing back" when chewed for a unique experience.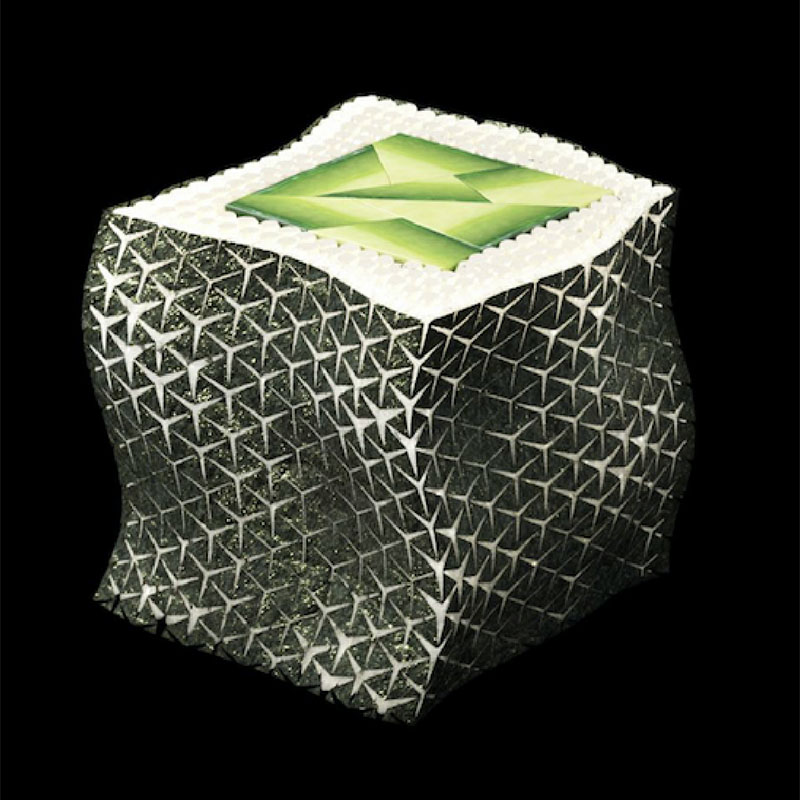 Oze Tick Kappa Roll
Oze Tick Kappa Roll
Fabricated using laser cutting technology, the resulting seaweed features an "oze tick" structure that easily collapses horizontally.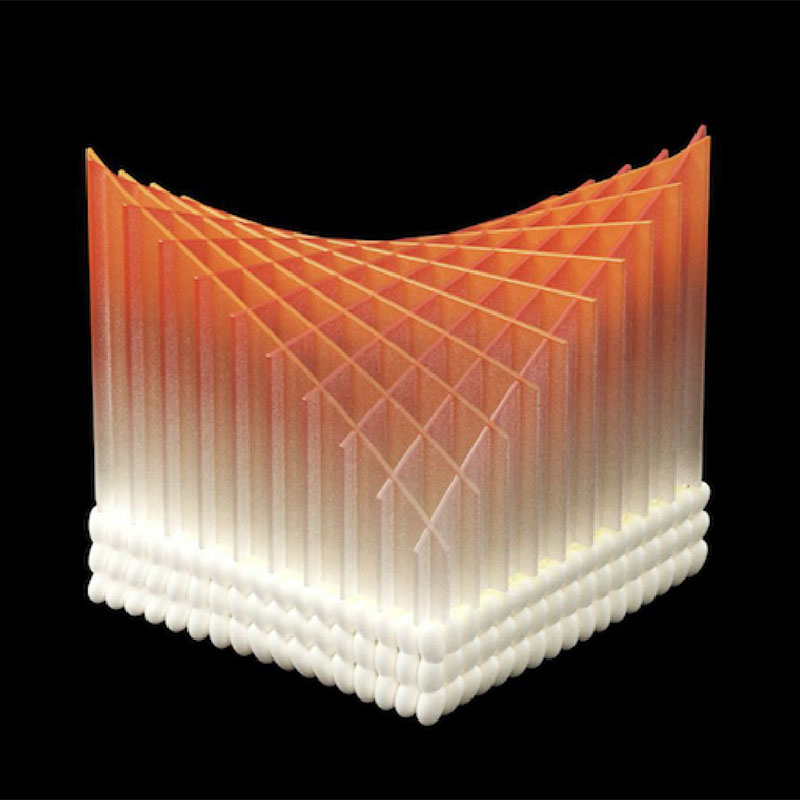 Anisotropic Stiffness Steamed Shrimp
Anisotropic Stiffness Steamed Shrimp
This 3D-printed shrimp sushi highlights a technology known as anisotropy – in which hardness changes according to chewing direction. Apparently, it's made to be firm from the top and soft from the side for different chewing sensations.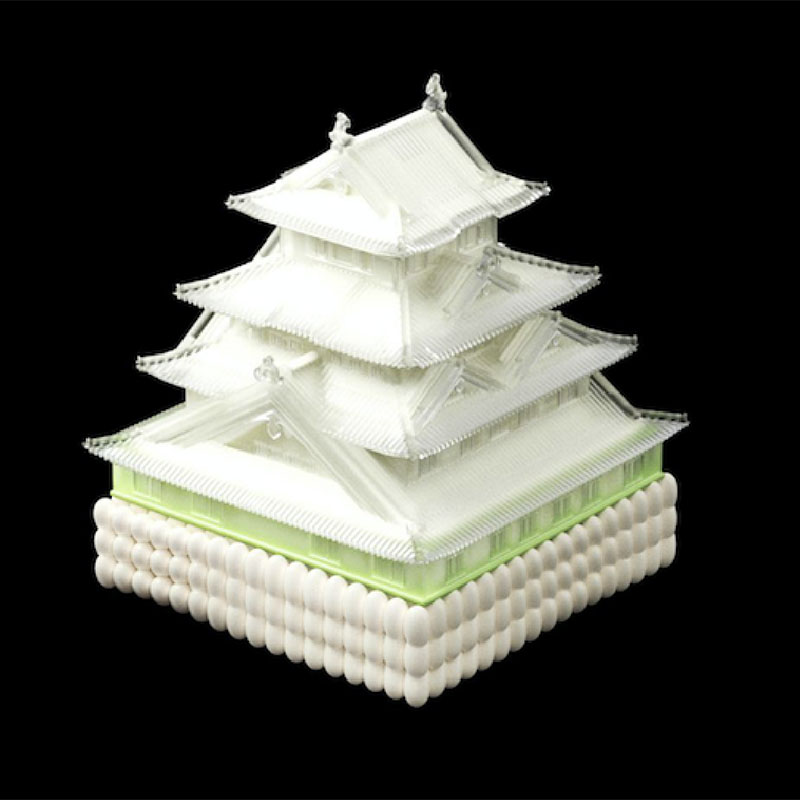 Squid Castle
Squid Castle
If you're familiar with Japan's Hirayama Castle, then you'll recognise the ultra-fine details of this "squid" that's produced from a 6-axis computer-controlled router. According to Sushi Singularity, the squid has a melt-in-your-mouth texture that's complemented by a "stone wall" beneath the castle that's made of rice.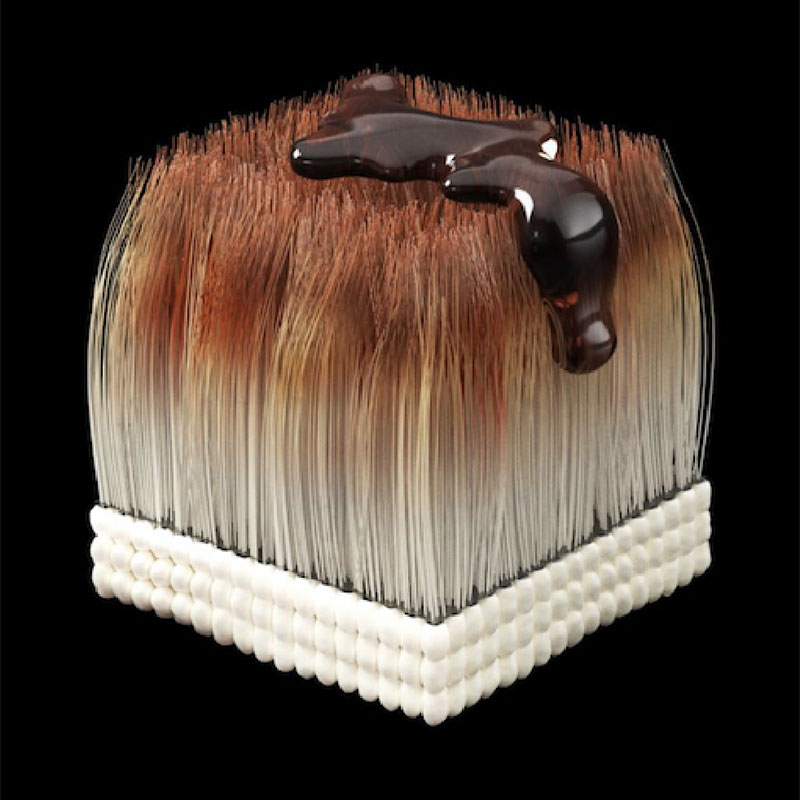 Micro Pillar Saltwater Eel
Micro Pillar Saltwater Eel
Thousands of ultra-fine hairs are incorporated into this structure to evoke the textures of saltwater eel. It will also come topped with sauce to complement its unusual fluffy texture.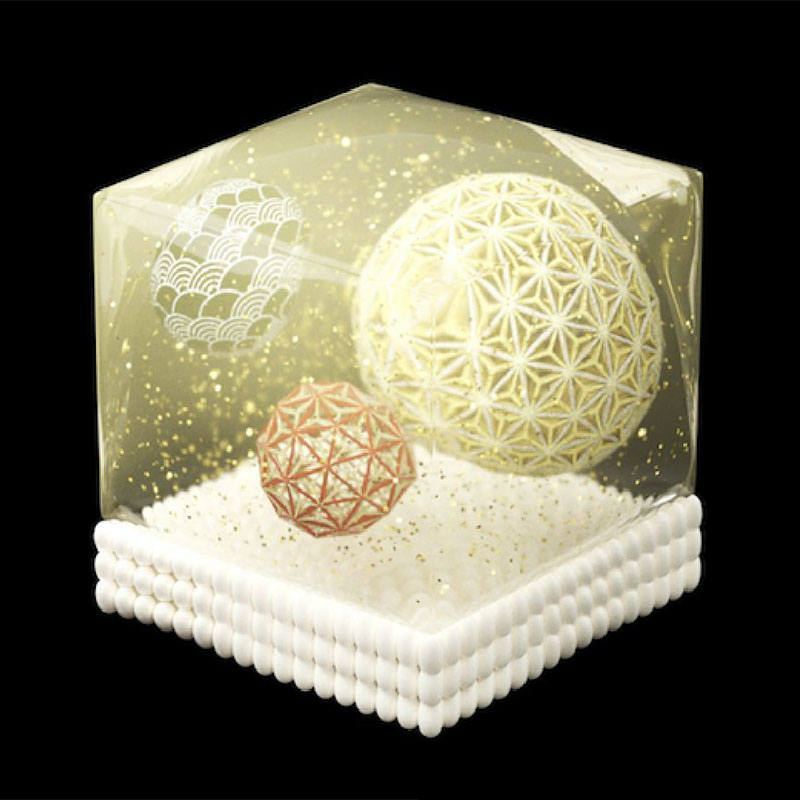 Dashi Soup Universe
Dashi Soup Universe
We've tried soup in jelly form but this is something else altogether. Formed by a chemical reaction between alginic acid and calcium lactate, this cube-shaped soup contains floating 3D printed ingredients within and even comes with rice – don't forget this is "sushi" we're talking about.
(swipe left for more)
For more information, visit Open Meals at the official website here.
Photos: Open Meals