The Legendary Designs of Jean Schlumberger by Tiffany & Co makes its Asia Pacific debut in Kuala Lumpur. 
Tiffany & Co pays tribute to one of the 20th century's most gifted artists with the debut of a new high jewellery collection, 'The Legendary Designs of Jean Schlumberger' in Kuala Lumpur. Renowned for his fantastical creations inspired by the natural world, Schlumberger's creations are infused with "an imaginative spirit and curiosity".
Jean Schlumberger is a notable figure in the history of Tiffany & Co. He joined the American jeweller in 1956, where he took the wonders of nature and transformed them into mesmerising, sculptural, bejewelled works of art. His creations have been highly coveted and collected by some of the world's most fashionable women, including Jacqueline Kennedy and Diana Vreeland.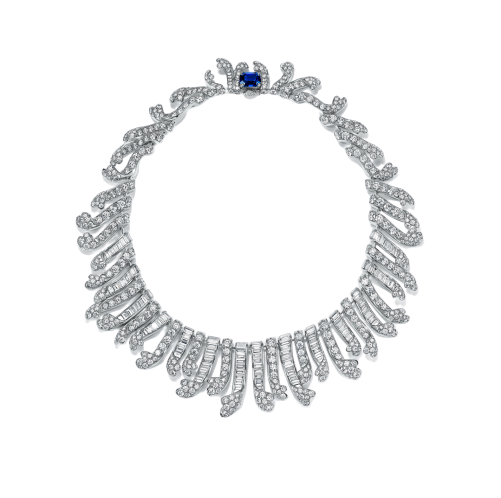 The collection features the distinctive use of extraordinary coloured gemstones and radiant Tiffany diamonds, creating one of the most expressive and innovative expressions in the world of high jewellery design. The beauty of nature is brought to life in this sublime collection, starring the platinum Baguette Fringe necklace. The necklace itself is a study in opposites and contrasts, juxtaposing hard and soft textures that blend femininity with boldness. Angular lines and soft circles make up the Baguette Fringe necklace, set with white baguette diamonds of over 23 total carats, and round brilliant white diamonds with over 62 total carats. The whole expression is tied together with an elegant blue sapphire clasp.

The Shell brooch, Etoile de Mer brooch, Fish Clip brooch, Ancolie brooch, Bird on a Rock brooch, Cooper bracelet, Nest earrings, 7 Leaves earrings, Fleurage earrings, Ribbon ring, 4 Leaves ring, Panier ring and the Stitches ring are other notable pieces in the collection.
The Legendary Designs of Jean Schlumberger will be available from 1 – 16 August at Tiffany & Co Pavilion Kuala Lumpur store. To learn more about Jean Schlumberger's designs at Tiffany & Co, visit their website here.
Photos: Tiffany & Co