One of the best ways to unwind after a hard day is with a cocktail in hand and experience that sense of relaxation, whether at home on a comfortable couch or in a dimly lit bar. Tequila continues to rule the spirits market in the United States and many other countries, according to Hilton's 2022 global trends study, while gin is preferred in Southeast Asia. Around the world, the sober curiosity movement is gaining momentum, and low- to no-ABV drinks and Cocktail Zero menus are becoming more and more popular.
"A perfectly crafted cocktail can add an extra spark to a hotel or dining experience. As our guests' preferences have evolved, we've continued to cater to their needs by refining our food and beverage offerings globally," said Alexandra Jaritz, senior vice president of brand management at Hilton, Asia Pacific. "This underscores Hilton's commitment to delivering best-in-class food and beverage programming. Whether you're enjoying a drink at one of our bars or in the comfort of your home, we hope this helps you set the scene for a memorable evening."
The bartenders and mixologists at the Hilton hotels are eager to create mixtures that will have you drinking pretty, whether it be straight up, frozen, on the rocks or virgin. The following is only a sample of some of the most anticipated cocktails you may enjoy this season at Hilton Asia Pacific properties:
Monday Negroni from Hilton Goa Resort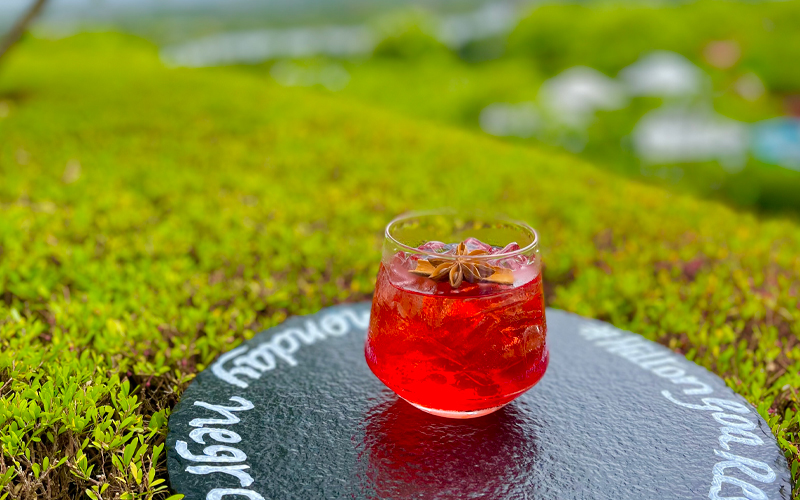 Even the most ardent cocktail lovers are adopting a more balanced approach to drinking, according to Coco mixologist Rasikta Kamble of the Hilton Goa Resort. This is especially true now because zero-proof spirits enable the same levels of artisan production without sacrificing flavour. Kamble predicts that this contemporary Monday Negroni will be a popular request this summer.
Ingredients:
2 oz (60 ml) Sakura Fresh Negroni

2 dashes Sakura Fresh Better than Bitters

Garnish: star anise
Directions:
Fill a mixing glass with ice and add Sakura Fresh Negroni and Better than Bitters.

Stir for 10 seconds.
Light the star anise with a cigar lighter and capture the smoke into the mixing glass for a few seconds.

Fill an old fashioned glass with fresh ice and strain the stirred cocktail over.

Garnish with the torched star anise and serve.
Illusion from Waldorf Astoria Bangkok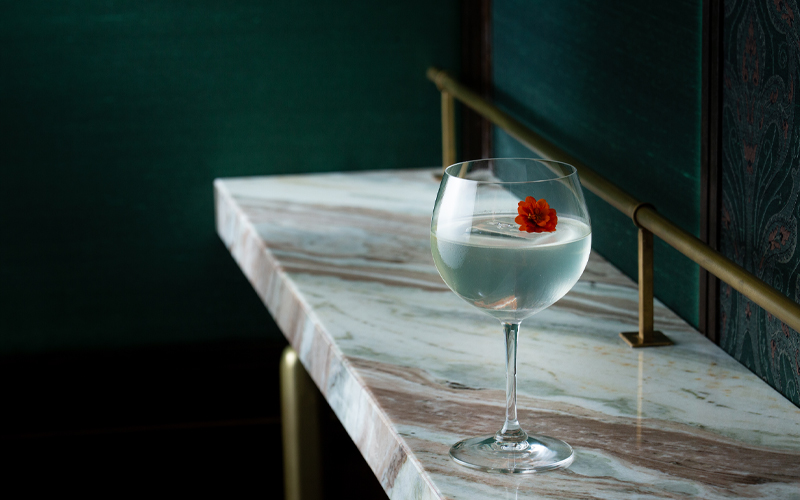 The Illusion is a drink that mixologists at The Loft of Waldorf Astoria Bangkok recommend for savoury summer drinking in Thailand. The Illusion, so named for its duality, is light-looking yet contains a powerful flavour and potency, making it the perfect refresher for the coming hotter months.
Ingredients:
45 ml Hendrick's Gin

5 ml peach liqueur

10 ml Silpin Thai lemongrass syrup

20 ml clarified lime juice

90 ml house-made vanilla, ginger and Pandan soda

Garnish: lemon twist, edible flower
Directions:
Fill a mixing glass with ice and combine all of the above ingredients.

Stir and strain into an oak Chardonnay glass.

Finish with a block of ice, edible flower and lemon twist.
Snow White from Hilton Adelaide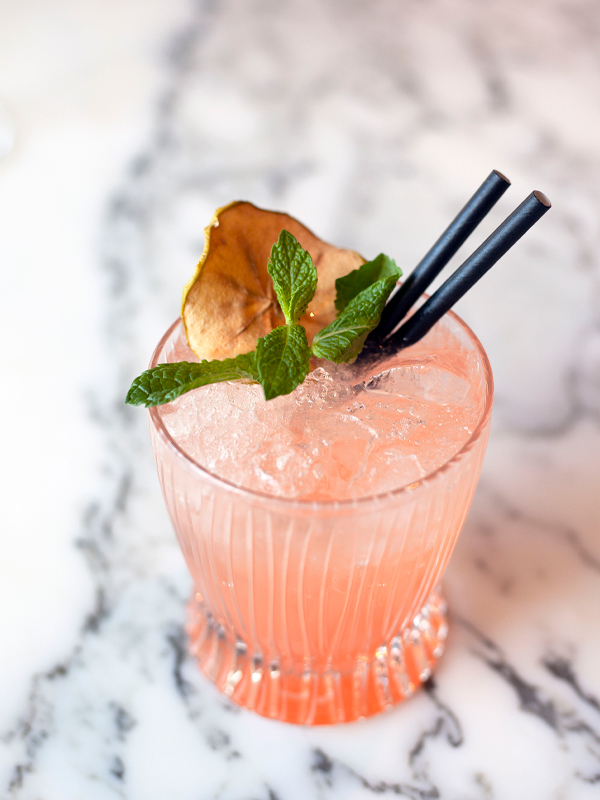 A special blend of South Australian gins are used in Snow White at The Collins Bar at the Hilton Adelaide, and they are swirled rather than shaken to preserve their distinct flavours. This vibrant drink is the ideal thirst quencher for hot summer days since it feels like a short vacation in a glass.
Ingredients
30 ml (1 oz) Four Pillars Bloody Shiraz gin

15 ml (0.5 oz) 36 Short Blood Orange gin

15 ml (0.5 oz) 78° Sunset gin

1 teaspoon yuzu juice (or lime juice)

15 ml (0.5 oz) honey syrup
Directions
Place all ingredients into a mixing glass and stir until combined.

Strain into a rocks glass over fresh ice.

Garnish with dried apple and a sprig of mint.
Cook's Note
Honey Syrup Directions:
In a saucepan over low heat, combine ½ cup honey and ½ cup water. Simmer until the honey dissolves then remove from heat. Let the syrup cool and pour into an airtight container.
Non-Alcoholic Espresso Martini from DoubleTree by Hilton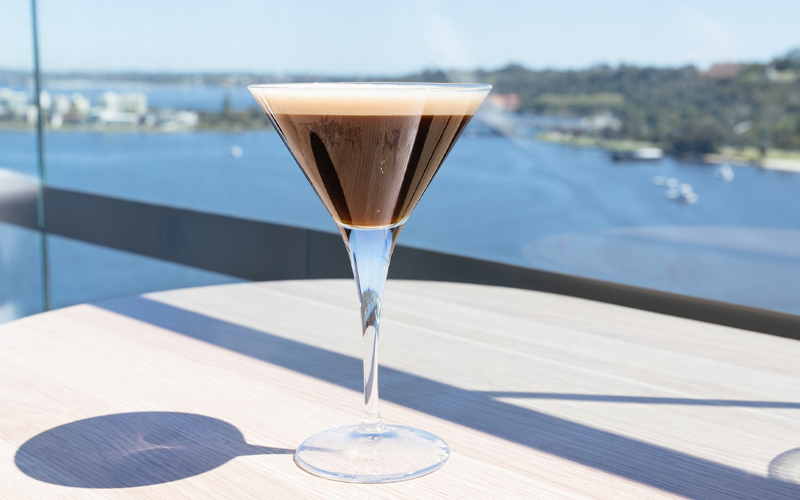 For the curious sober patron, the DoubleTree by Hilton Perth Waterfront's 18 Knots Rooftop Bar offers a non-alcoholic version of their popular Doubletree Espresso Martini that replaces the alcoholic ingredient with Seedlip Spice.
Ingredients
45 ml (1.5 oz) Seedlip Spice

60 ml (2 oz) Mr Blacks cold drip coffee

15 ml (0.5 oz) Monin salted caramel syrup

chocolate powder and coffee beans for garnish
Directions
Add all ingredients into shaker, shake over ice, then double strain into martini glass.

Garnish with a line of chocolate powder and three coffee beans.
Peakedness of Wuyi from Waldorf Astoria Xiamen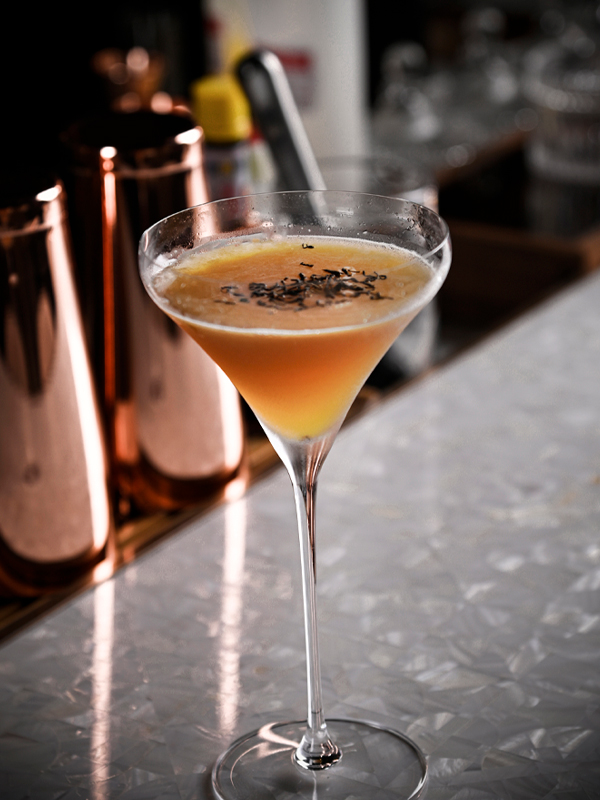 The Peakedness of Wuyi from Peacock Alley at Waldorf Astoria Xiamen is a spinoff of the traditional Bee's Knees and combines rock tea-infused gin with lemon juice and honey to form a fresh and light cocktail. A straightforward beverage to savour the sweetness of spring and indulge in a little alcohol while you're at it.
Ingredients
60 ml (2 oz) rock tea-infused Gin

25 ml (0.85 oz) lemon juice

25 ml (0.85 oz) honey

dry lapsang souchong for garnish
Directions
Add all the ingredients into a shaker. Double shake.

Double strain into a martini glass, and garnish with dry lapsang souchong.
Bageechaa (Sustainability Garden) from Hilton Maldives
Amingiri Resort & Spa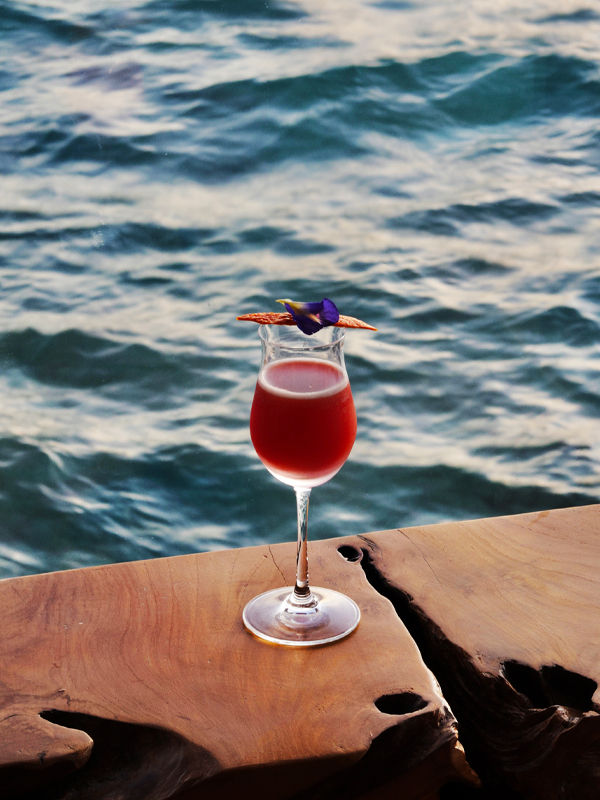 The Bageechaa drink, which will be served at the Hilton Maldives Amingiri Resort & Spa's Aura Pool Bar & Cocktail Lab (coming in July 2022), is based on the zero-waste idea of using all of an ingredient rather than throwing away any "leftovers." In Aura's recipe, the blood orange skin is used to make the oleo and the garnish while the juice is extracted from the blood orange's core.
Ingredients
2 wedges of peeled fresh blood orange (peel used for garnish)

15 ml (0.5 oz) blood orange oleo (made out of leftover skin)

10 ml (0.33 oz) homemade rhubarb shrub

10 ml (0.33 oz) lime juice

10 ml (0.33 oz) elderflower liqueur

50 ml (1.7 oz) The Botanist gin

3 fresh basil leaves
Directions
Chill a coupe glass.

Add blood orange chunks into shaker and muddle.

Add fresh basil into shaker and press the basil gently.

Add blood orange oleo, rhubarb shrub, lime juice, elderflower liqueur and The Botanist

gin.

Fill shaker with ice and shake well. Fine strain into a chilled coupe glass.

Finish with the garnish – place a nice and clean blood orange peel on top of the glass

and place the flower on the peel.
Pictures and recipe credits: Hilton Asia Pacific.