What better way to usher in the weekend than with a chilled glass? The Point KL shows us how to make the wine experience count.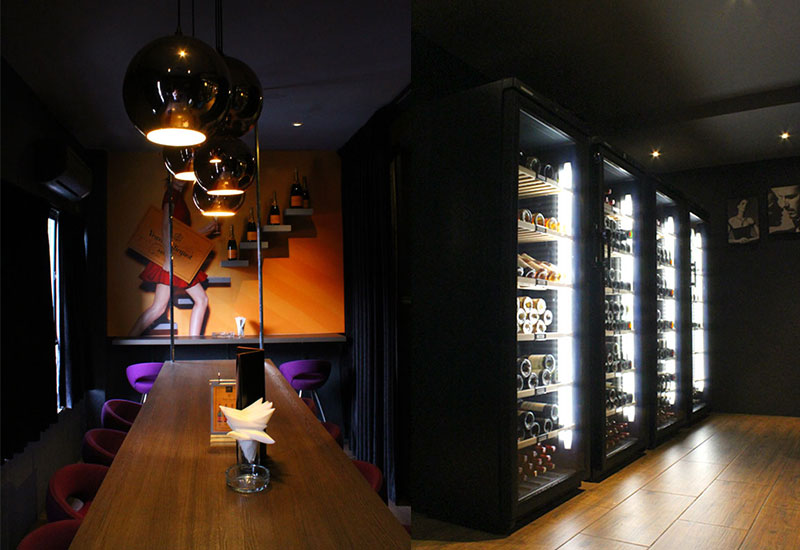 When it comes to wine, it's more than okay to explore, experiment, and enjoy when creating different memories of and with them.
This is what we learnt one Friday evening as The Point launched its second-floor wine bar in Medan Damansara (with creative Asian/ European restaurant downstairs). We got to sample a specially-curated selection consisting of Pierre Peters Blanc de Blanc Grand Cru, Château Cissac 2009 & 2000, Château Saint-Pierre Sevaistre 1979,Château Soutard 1981, and Oremus Tokaji Aszu 5 Puttonyos 2000.
Here's why it's worth checking out.
It's a big ol' celebration of wine
'Spoilt for choice' is putting it lightly – at this bar, you choose from a 350-label strong selection of old and new world wines, from the best vineyards, terroir, vintages and wine producers from each region. The Point's extensive inventory of 2,900 bottles costs a total of RM380,000. Fresh off its Award of Excellence from Wine Spectator magazine (an honour only held by seven Malaysian restaurants this year), you can bet the good folks here do what they do well. In fact, they are expecting to serve their very own Le Grand Fusion label  by the end of the year.
Unpretentious tasting sessions
You can join the Wine Club bi-monthly (in a paid event for a maximum of 25 per session) to explore different the tastes of the world through wine tasting sessions where all questions and opinions are welcome.
The launch evening was enjoyable and educational. Led by The Point's F&B manager Radzlan Azman, the wine tasting session was an open, laid-back lesson that left even the amateurs among us attempting to study the colour, complexity and charm of our six glasses.
All the right elements to enjoy a glass or three
It's not just what's in your glass that matters. From the time the bottles are stored in Liebherr Barrique chillers (with consistent temperature and humidity control) to the moment they are poured into the elegant glass (Gabriel-Glas, of which The Point is the sole local distributor), and served at your cosy nook or table, every aspect of your wine experience matters here, and you savour it in every sip.
Call The Point KL Restaurant & Bar at 03 2011 8008 or 019 318 1111 for enquiries or to make a reservation.
Images courtesy of The Point KL.