Christmas is almost upon us, and you know what that means – grand feasts, presents, mulled wine, and the carefree consumption of your body's weight in sweets. Most of the Christmas desserts that we know of today can be traced back to ancient times, with humble beginnings and oftentimes having carried a neutral or bland flavour before evolving into the rich, spiced, and candied versions that we now tuck into as part of the Yuletide tradition.
As the year draws near and we all look to a time of reflection, it's time to get to know the backstories behind some of your favourite holiday sweets. Whether it's the drunken fruitcake or the panettone you're challenging yourself to make this year, here are the origin stories of some of the most well-known Christmas desserts.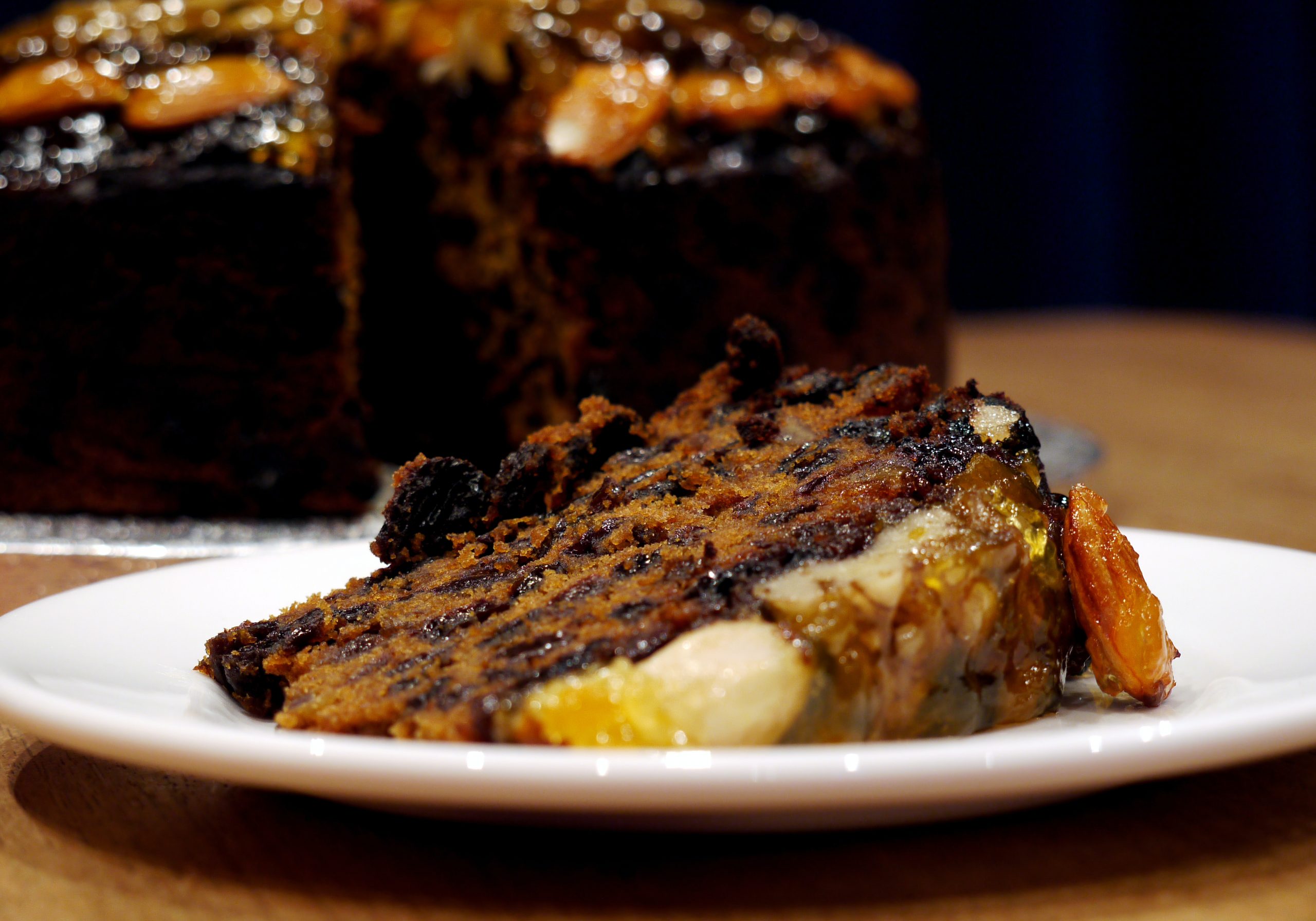 One of the main confections associated with Christmas is the humble fruitcake. Rich, boozy, and chock full of nuts and dried fruits, this sweet and tangy cake features a drier, denser texture compared to the cakes you're used to.
While the fruitcake is often linked to its British roots, its origins actually date back to ancient Roman times. The original cake was called "satura", and the recipe called for a mix of pine nuts, barley mash, pomegranate seeds, raisins, and honeyed wine. As the centuries went on, the ingredients in the fruitcake also changed, and in the 16th century, Europeans began soaking fruits in sugar to dry them out, before adding them and nuts to the fruitcake that we know now today.
Fun fact: Fruitcake was temporarily outlawed in the 18th century throughout Europe because it was "sinfully rich".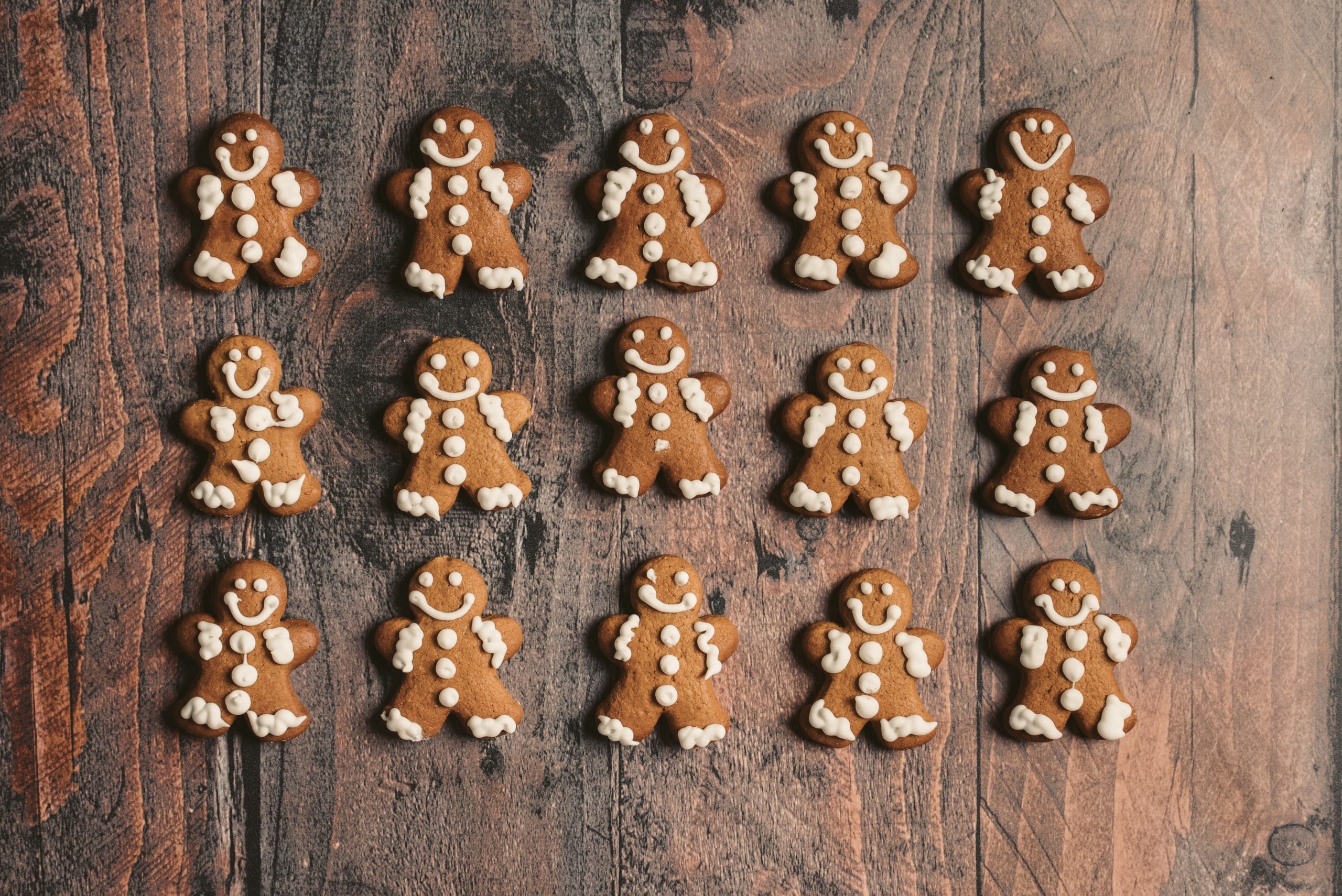 From edible spiced houses to candy-buttoned men, gingerbread is another iconic confection that's synonymous with the holidays. And while earlier forms of gingerbread can be traced back to Greece in 2400 BC, the term "gingerbread" simply referred to preserved ginger in Medieval England, and wasn't applied to the dessert until the 15th century. The European recipe called for a mixture of ground almonds, stale breadcrumbs, sugar, rosewater, and ginger that was pressed into wooden moulds, before being decorated with edible gold paint or flat white icing.
The first gingerbread man, however, is credited to Queen Elizabeth I, who presented visiting dignitaries with cookies baked in their likeness. The gingerbread house emerged around the same time in Germany, and was said to be popularised following the publication of the Brothers Grimm story of Hansel and Gretel.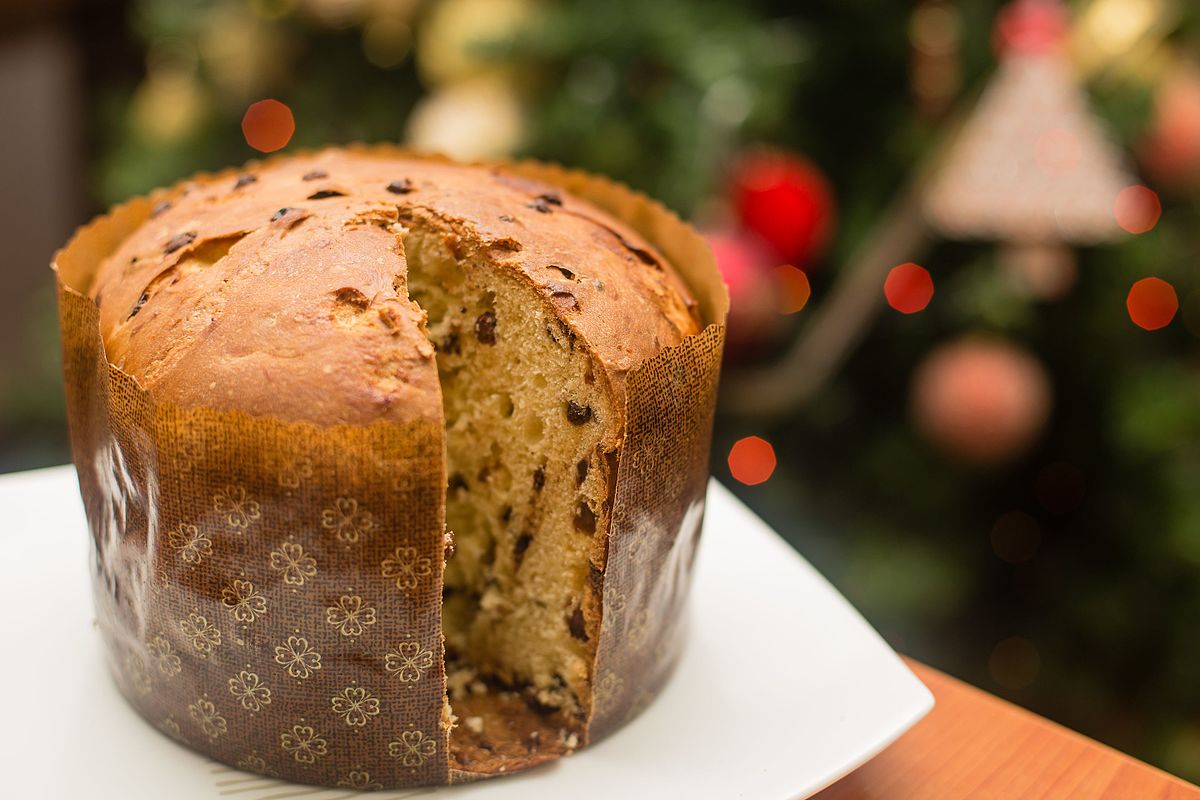 Also fondly known as "the Mount Everest of baking", the panettone is oftentimes mistaken as a cake when it's actually a sweetened bread. It is distinguished by its resemblance to a giant muffin, studded with raisins or candied fruit, light and fluffy crumb, and a bold sweet taste. Think of it as the bigger and lighter cousin of the fruitcake.
While the history of the panettone is varied and unclear, its origin story is invariably rooted in Milan. However, it's also possible that the loaf originated from the Roman Empire, when ancient Romans made a type of leavened cake with honey. Depending on which grandmother you ask, the sweet bread's backstory can range from one Milanese falcon trainer's effort to save a struggling bakery and marry the girl of his dreams, or a nun who baked a panettone to cheer up her poverty-stricken nunnery.
Mass production of the panettone took place in the early 20th century, and in 1919, Angelo Motta began producing his own brand of panettone. The light, fluffy texture and tall domed shape of the panettone is also thanks to Motta, who revolutionised the traditional recipe by making the dough rise thrice for almost 20 hours before baking.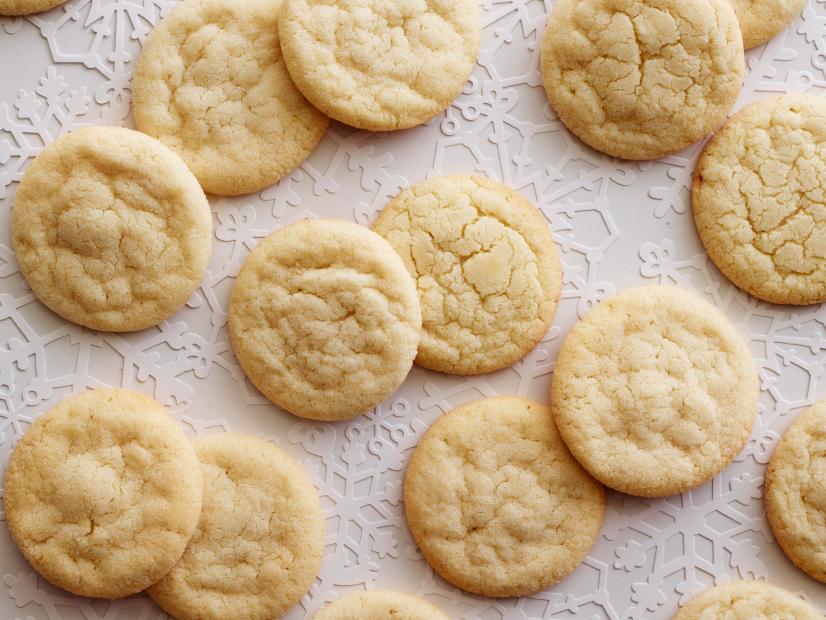 Plain, sweet, but a welcome canvas for kids to decorate on and consume afterwards, the sugar cookie is a simple treat that can easily be made at home during the holiday season. The sweet cookies have been around for centuries, with its origins dating back to 7th century Persia along with the cultivation of sugar.
The sugar cookie that we know of today was also first called the Nazareth Cookie, when German Protestant settlers in the mid-1700s created a round and crumbly cookie in Nazareth, Pennsylvania. Early sugar cookie recipes were also given whimsical names such as jumbles, plunkets, and gemmels in the Americas.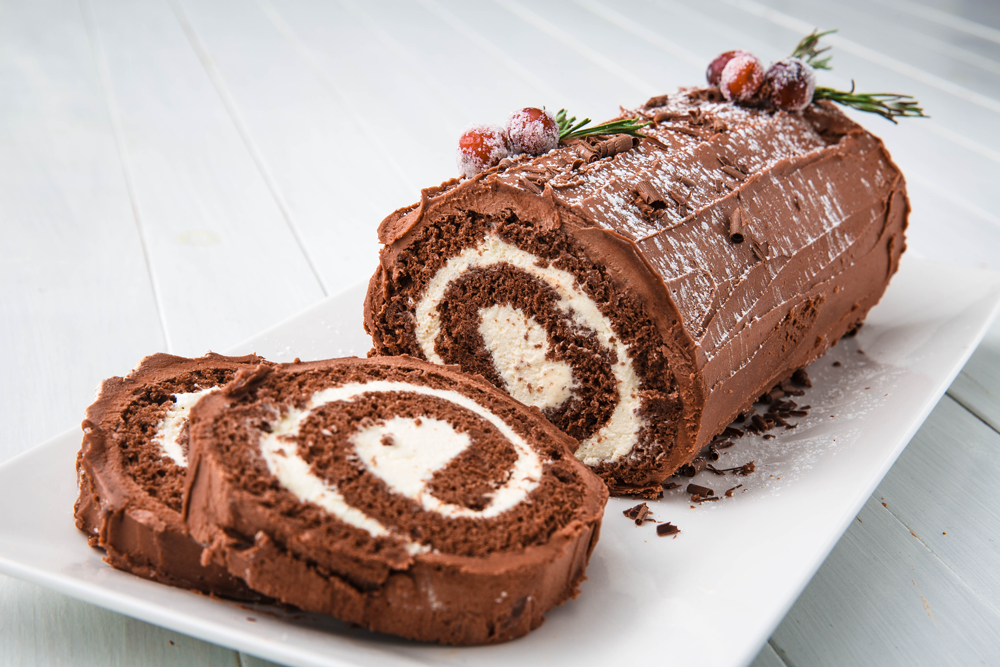 Before the sweet roulade, there was the European Christmas tradition of burning a specially selected log on a hearth for twelve nights, and subsequently placing a log underneath the bed for luck and protection against lightning and fire. While the origin of the custom remains unclear, the most popular origin story is derived from Germanic paganism.
As for the yule log cake, its creator is not known, but it's said to have first emerged in the 1600s, and popularised by French bakers as bûche de Noël in the 19th century. A sheet of genoise is iced and rolled to form a cylinder, before being iced again on the outside and decorated to resemble the actual yule log. By 1945, the yule log was no longer associated with the folk custom, and instead referred to the sweet, decorative sponge cake.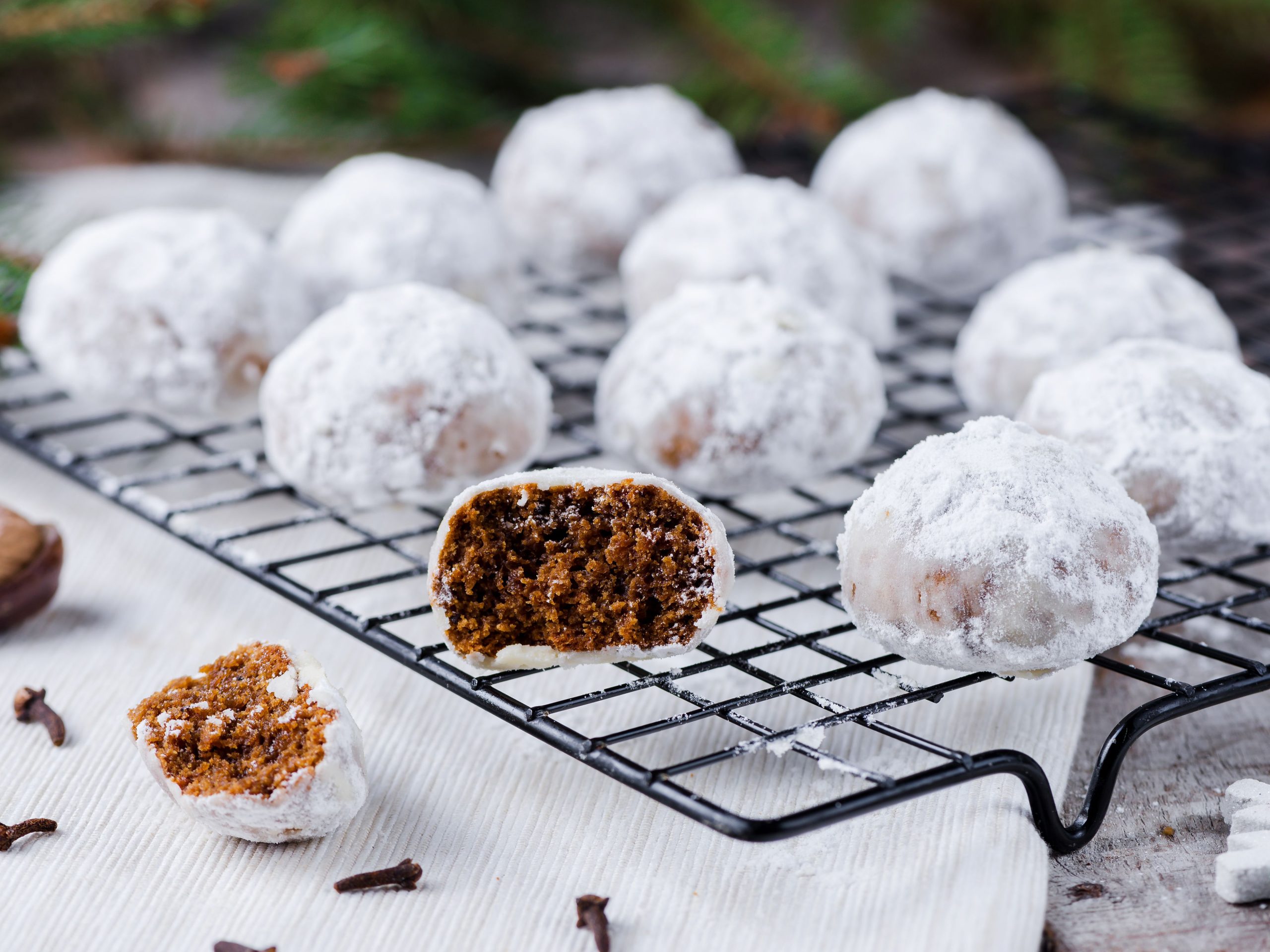 They're hard, snowy, and delightfully piquant, the pfeffernüsse are small, spiced cookies that are common festive treats in Germany, Denmark, and The Netherlands. These sweet-and-spicy treats derive their unique flavour from aromatic spices, most commonly cinnamon, cloves, nutmeg, cardamom, and anise. While the term is translated to English as "pepper nuts", the cookies don't usually contain them, and are instead named for their size being similar to nuts.
While the cookies' exact origin are unclear, the pfeffernüsse have been a part of European yuletide celebrations since the 1850s, when the cookies were traditionally linked to the feast of Sinterklaas, which was celebrated every 5th December in The Netherlands and 6th December in Germany and Belgium. Pfeffernüsse are also traditionally very hard to eat, and require to be dunked in liquid before eating.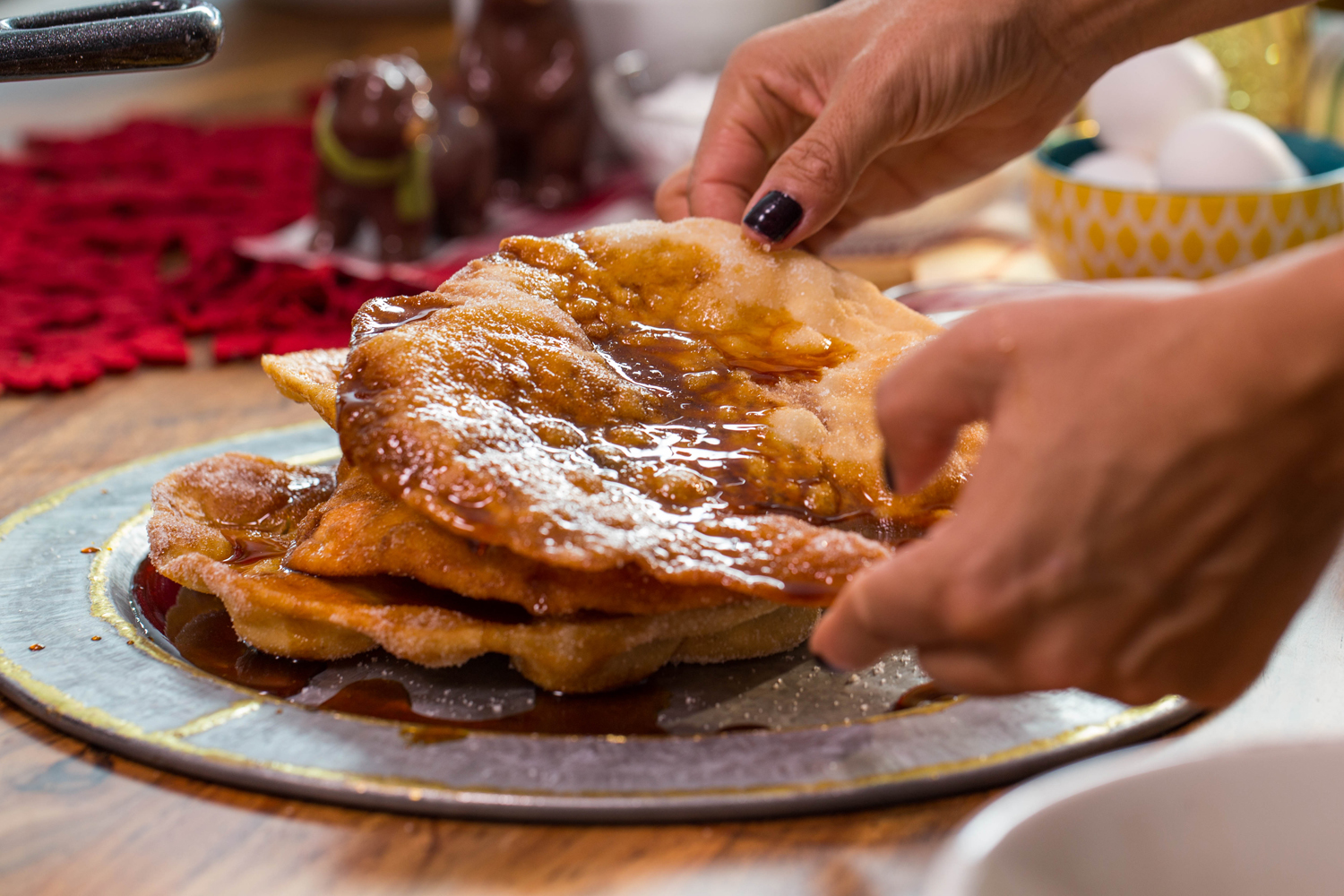 Think of buñuelos as a sort of holiday doughtnut, or fritter that's traditionally prepared not just on Christmas, but also Ramadhan and among Sephardic Jews at Hanukkah. They're a popular holiday snack in the southwest of Europe, Latin America, and certain parts of Africa and Asia.
The origins of these fluffy fritters have been traced back to Arab settlers in Europe's Iberian Peninsula, but are now commonly associated with Spain since Spanish explorers brought the buñuelos tradition with them when settling in the Americas. The shape and texture of the buñuelo vary from region to region, for example in Mexico, they can be rolled into a ball, pancake, or even into a thin twisted strip of dough that's fried and served with sugar or honey. In Colombia and Nicaragua, they take a savoury route by making buñuelos with white cheese curds and yucca respectively.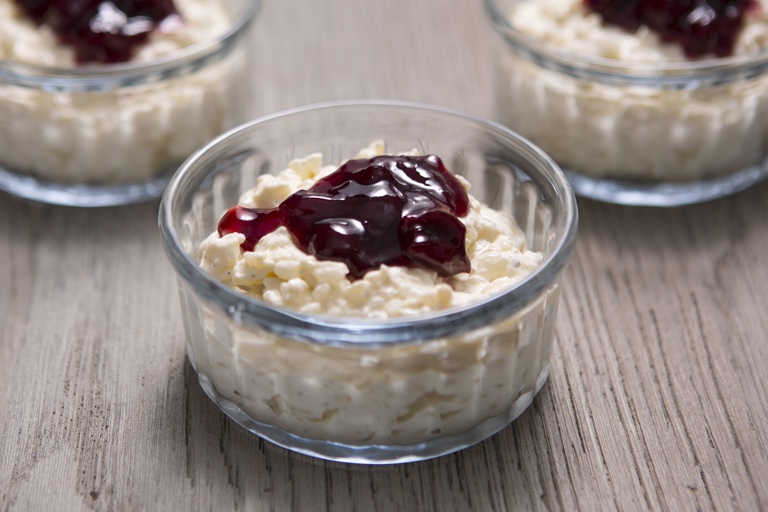 When in Denmark, eat rice at Christmas. Well, not exactly. Risalamande is a traditional Danish dessert served at Christmas consisting of rice pudding mixed with whipped cream, sugar, vanilla, chopped almonds, and served cold with a warm cherry sauce. It was created in the late 19th century, inspired by the French dessert riz à l'impératrice (meaning "empress rice"). In fact, the name itself is based on the French term riz à l'amande, meaning "rice with almonds". Swedes and Norwegians also have similar renditions of the dish, called ris à la Malta and riskrem (rice cream) respectively.
Before rice pudding became a more common dish, rice pudding was actually seen as an exclusive dish, since it required expensive imported ingredients such as almonds and cinnamon. Risalamande became more popular after World War II, when the addition of whipping cream was introduced to make the rice last longer. Traditionally on Christmas Eve, a whole almond is also added to the dessert, and the person who finds it wins a mandelgave – a small present that takes the form of a marzipan pig, a chocolate heart, or a small board game.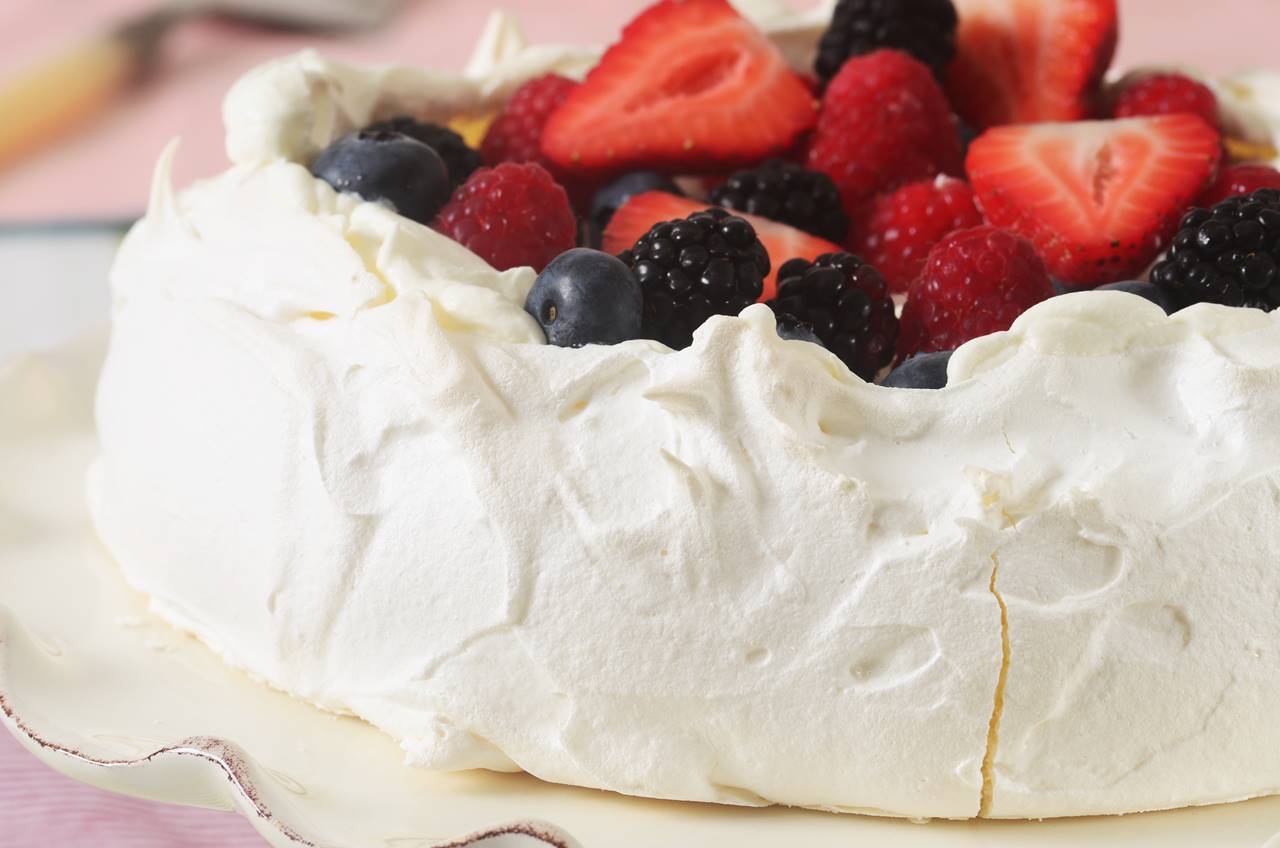 Fluffy, creamy, sweet, and heavenly – while the pavlova is mostly associated as a summertime treat or all year 'round dessert, it's also a dish that's often served during Christmas. The base is made up of meringue with a light, crisp crust and a soft, airy inside, and topped with generous lashings of whipped cream and fresh fruits.
There are many versions of the pavlova's history, but the one that's most commonly known is that it was created in honour of the Russian ballerina Anna Pavlova while she was touring Australia and New Zealand. Because of this, the pavlova has long been a source of argument between the two nations. New Zealanders believe that the dessert was created by a chef in a Wellington hotel who was inspired by Anna's tutu, and Australians claim that it was invented at a hotel in Perth when a diner said that the dessert was as "light as Pavlova".
The stollen looks like a fruitcake, but its texture closely resembles that of a panettone. Distinguished by its blanket of powdered sugar, this heavy, sweet bread is usually flavoured with candied fruits, currants, orange and lemon zest, and various spices. The original and most common stollen is the Dresdener Stollen from the Saxon city of Dresden, and was first called a Striezel before it was made with spices and dried fruits.
Some historians have said that Dresden Stollen originated in 1329, but was only baked as a Christmas bread for the first time in 1545 at the Council of Trent. At the time, stollen was baked in loaves that weighed up to a whopping 13kg. The name itself means "post" or "boundary stone" for a city, or the entrance to a mine shaft. Some even believe that the shape of stollen reminded locals of the entrance to a mine tunnel which reflected the silver and tin mining in Dresden.