Sneakers are essentials – as they effortlessly elevate any outfit to the next level. And though sneakers have always been a beloved staple in mainstream fashion, high-end designers have also recognized their undeniable appeal and have seamlessly integrated them into their collections. 
This year, we were blown away by the stunning collaboration between Nike and Tiffany&Co, resulting in a sleek black sneaker that is the epitome of style and sophistication. However, this is not the first time that a legacy brand has embraced the power of sneakers. In fact, some of the biggest sneaker collaborations of all time have come from these iconic fashion houses: 
1. Dior x Air Jordan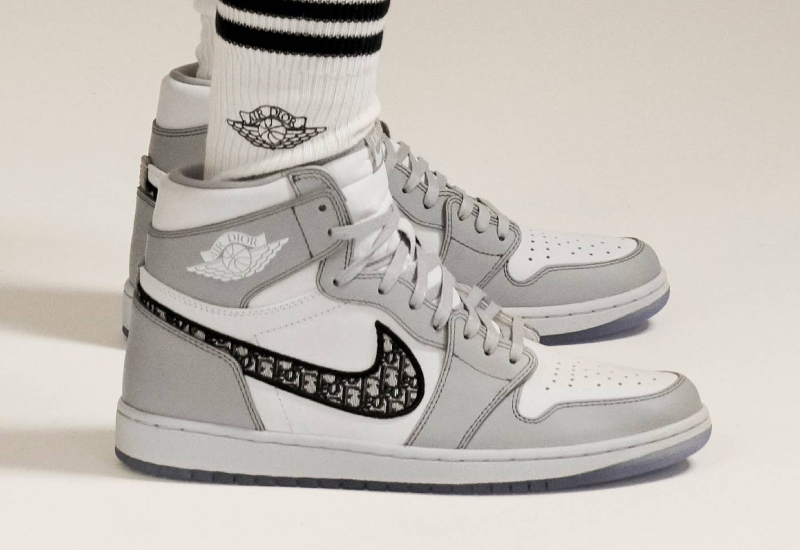 Dior's collaboration with Air Jordan was a game-changing move, resulting in the most sought-after sneaker drop of 2020. Priced at $11,320 (RM 52,887.04), this limited edition sneaker was meticulously crafted using the iconic stitching of Michael Jordan's Air Jordan 1 and Dior's unparalleled couture level craftsmanship. With only 8,500 pairs available, this collaboration was a true testament to the power of two iconic brands coming together to create something truly extraordinary.
2. Swarovski x Nike x Cactus Plant Flea Market
The Swarovski x Nike x Cactus Plant Flea Market $3,400 (RM 15,881.06) sneakers are unequivocally the rarest and most coveted footwear in the fashion industry. Adorned with Swarovski crystals, these sneakers boast a detachable double lace flap and an oversized Swoosh, complete with a heavily padded tongue. The price tag may be steep, but the unparalleled shine and exclusivity of these sneakers make them a must-have for any fashion-forward individual.
3. KAWS x Air Jordan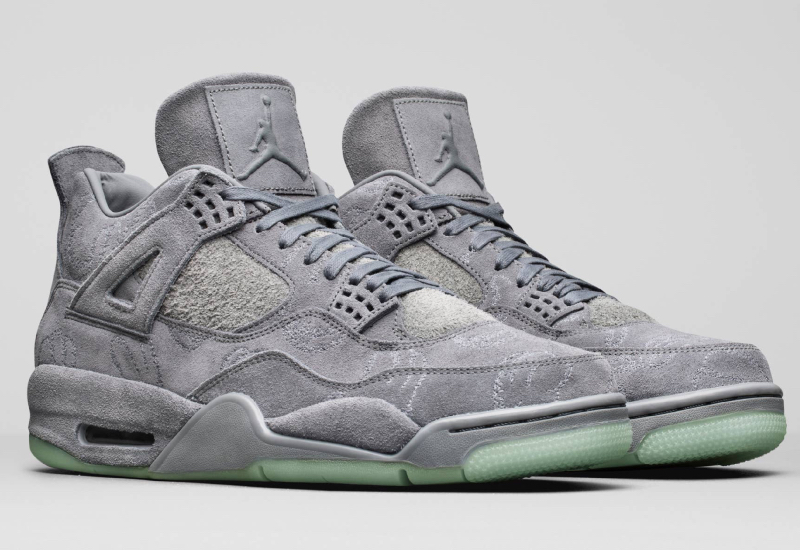 Nike always delivers when it comes to collaborations, and this time is no exception. Working closely with the iconic street artist KAWS, they have created an exceptional and highly sought-after pair of Jordan 4 Retro sneakers, priced at $2,318 (RM 10,819.26). The design is centred around a stunning grey suede palette, with premium uppers and midsoles. The artist's signature 'xx' adds a sleek touch to these already outstanding sneakers.
4. Yayoi Kusama x Louis Vuitton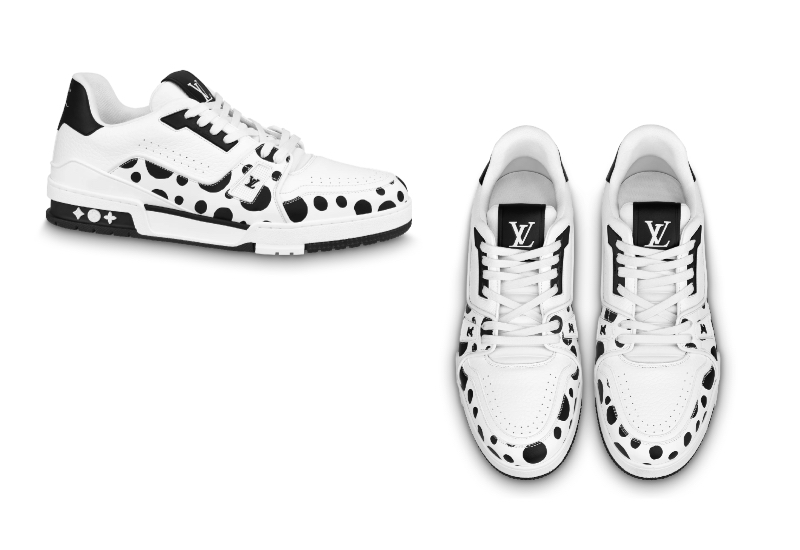 The LV x YK LV Trainer sneaker $1,360 (RM 6,352.42) is a standout piece from the highly coveted Louis Vuitton x Yayoi Kusama collection. Meticulously crafted from premium calf leather, it boasts the iconic Infinity Dots motif that has become synonymous with the avant-garde Japanese artist. The unmistakable signature of the collaboration is proudly embossed at the back of the sneaker, making it a true collector's item. Designed by the visionary Virgil Abloh, this model is a true icon of the Louis Vuitton shoe collection. 
5. Prada x Adidas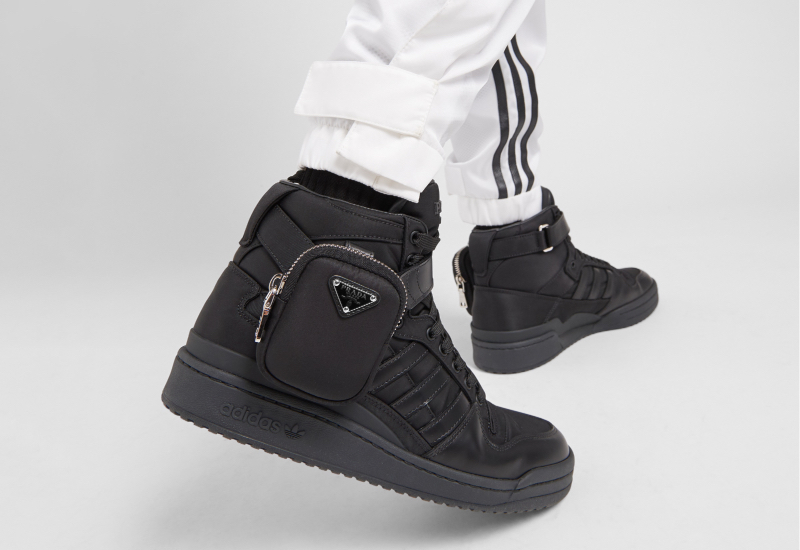 Adidas and Prada have seamlessly combined their strengths to create the ever iconic, Forum High, $1120 (RM 5,230.96), a sneaker that will forever represent the love of two brands. This collaboration showcases their commitment to sustainability, as they have utilised the innovative Re-Nylon material, which is made from recycled plastic, fishing nets, and textile fibre waste. A successful sneaker of unparalleled quality that demonstrates their unwavering dedication to the environment.
6. Nike X Tiffany.Co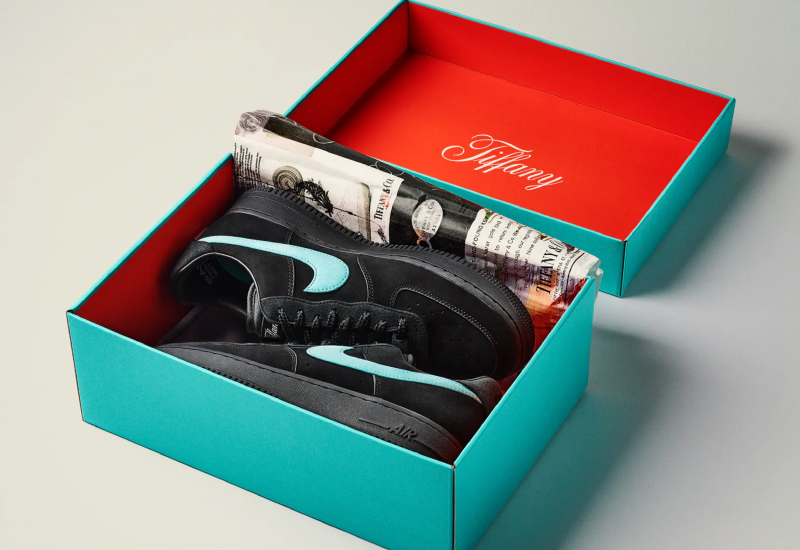 Tiffany's and Nike unveiled the Tiffany's Air Force 1, $400 (RM 1,868.36) on March 7th, 2023, and the colour scheme was flipped from the traditional design, featuring a vibrant exterior and a darker Swoosh. With only 1,837 pairs available to the public. This number is significant as it represents the year of Tiffany's birth. The sneakers are meticulously crafted by hand and come in the iconic Tiffany blue box, adorned with a touch of pure silver.