For those who are familiar, whisky tasting is truly one of the finer pleasures in life. From decoding the myriad of aromas in a golden dram, to savouring the many complex flavours that can build up and change over time – whisky sipping exists as a hobby, passion, and skill.
In an effort to inject more fun and mystery into the whole experience, The Glenlivet, the original Speyside single malt, has launched The Glenlivet Spectra – a limited edition trio of mystery Scotch whiskies that invites Scotch lovers into an immersive tasting experience, but without any reference to tasting notes, age, or cask information.
A true challenge for senses, each single malt is a reinterpretation of The Glenlivet's signature smooth and fruity house style. With this new release, the brand hopes to maintain its credo of challenging conventions, while playing a role in opening up the single malt category to a new generation of drinkers. The Glenlivet Spectra introduces a bespoke digital experience to allow whisky lovers to explore and rediscover their own palate without being spoon-fed any information, while personally interpreting the elusive tasting notes of each expression.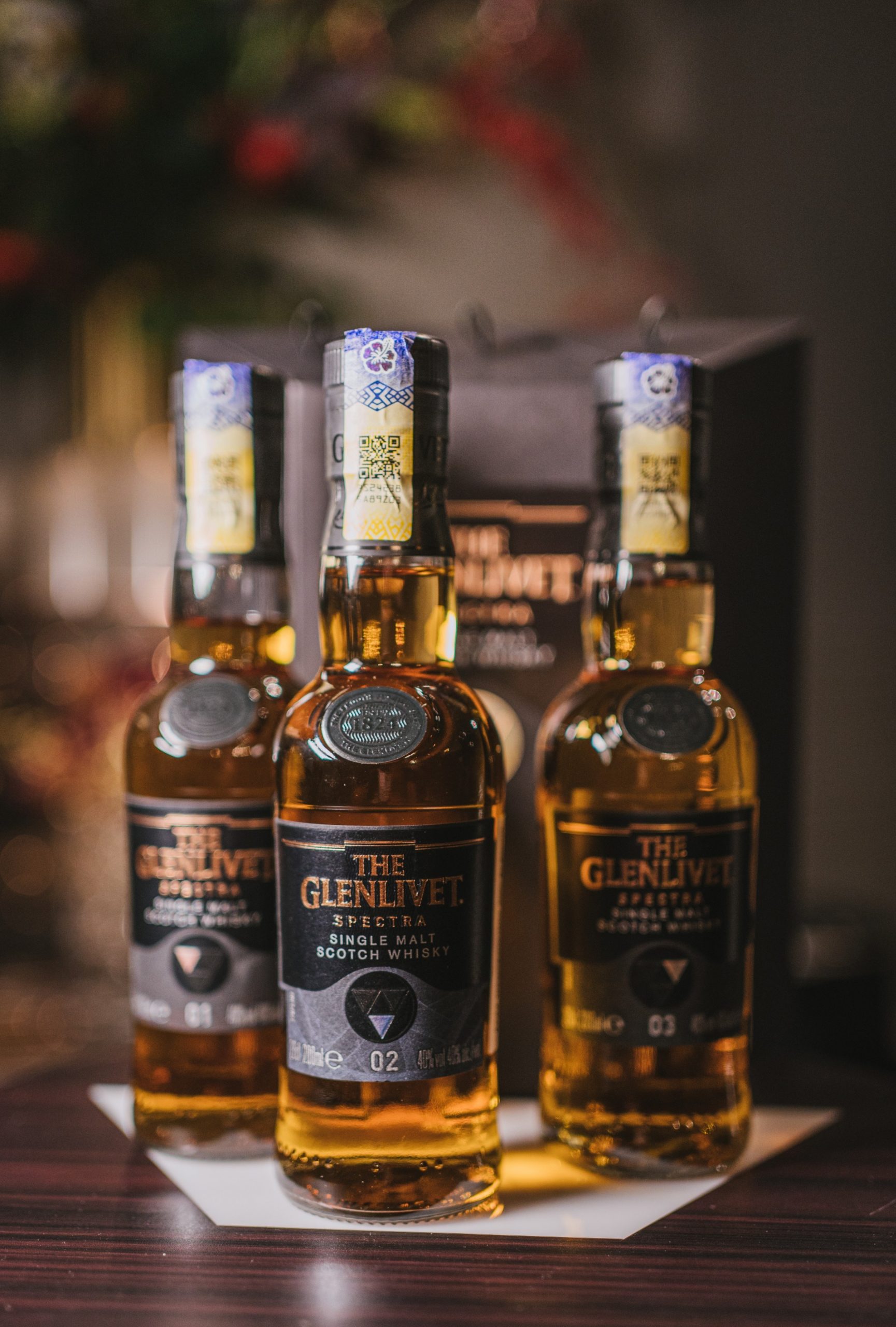 Through the "gamified" experience, whisky drinkers will be given cryptic hints that will put their tasting abilities to the test as they seek to determine what underlying aromas and flavour profiles make each bottle unique. At the end of each tasting, users are given a personalised scorecard showing how close they are to decoding each of the three mysterious single malts.
"True to our tradition-breaking spirit, we created an innovative whisky tasting experience across three single malts. Stretching our signature house style into three different whiskies that work together as a collection was a unique challenge," commented Alan Winchester, The Glenlivet Master Distiller. "Given the mysterious nature of The Glenlivet Spectra, we aimed to ensure each flavour was distinct and recognisable. I hope whisky lovers enjoy exploring the wide spectrum of flavours within The Glenlivet Spectra, as much as we enjoyed crafting them."
"The Glenlivet Spectra challenges whisky sleuths in developing their own perceptions of the whisky without any preconceptions. Shrouded in secrecy but guaranteed to be ingenious, The Glenlivet Spectra is yet another line-up of the mystery editions that transports whisky enthusiasts into a multi-sensorial world through sound and vision, pushing boundaries around product innovation much like the 'blank canvas' of The Glenlivet Alpha to blind-tasting The Glenlivet Cipher or cracking The Glenlivet Code in a virtual challenge room," added Karen Lee, Pernod Ricard Malaysia Group Brand Manager.
All three bottles of the luxury single malt comes packaged in a playful box comprised of three compartments, each housing one of the three expressions. Each panel has been specially designed to reflect the flavour profile of the bottle within. However, the full tasting notes and cask information will only be revealed by the end of March 2021.
The Glenlivet Spectra is priced at RM550 for three 20cl (200ml) bottles of single malt Scotch whisky, and can be purchased from selective e-commerce partners: Diineout Market, The Good Stuff, Boozeat, and Malting Point. For more information, you can also visit The Glenlivet official website.
Photos: The Glenlivet