It's that time of the year; the holy month of Ramadan is upon us. Apart from fasting, reflecting, and strengthening ties with God, Muslims often look forward to this special month due to the gratifying moments we share with our loved ones during Iftar (breaking fast). 
To celebrate, these hotels around KL are offering the best-curated menus and unique offers to treat your family and satisfy your cravings. From Malaysian classics to Middle Eastern delights, prepare to indulge in a scrumptious spread after a long day of fasting. 
1. W Kuala Lumpur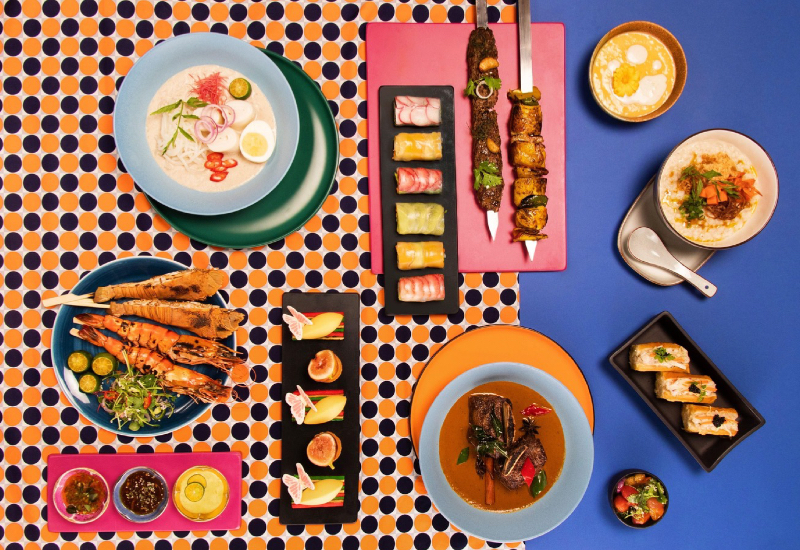 FLOCK, W Kuala Lumpur is the best city getaway in the hub of Kuala Lumpur City Centre, offering a gratifying Ramadan gastronomic experience. Bazar Malam, a Modern twist on a classic night bazaar, is returning this year, providing a delectable selection of Malaysian meals lead by Executive Chef Haznizam Hamzah and Sous Chef Suhalmi Md Tasir. 
From Kudap-Kudap and Jeruk-Jeruk Penang to Roti John Stall's exquisite fillings include luscious lobster, delicate chicken, tender lamb, and a thick and creamy cheese—these delicacies are a must-try for those who wish to sample the absolute finest of our local cuisine.
RM288 nett (adult) | RM144 nett (child) *aged 6 to 12-years-old.
Address: 121, Jalan Ampang, Kuala Lumpur, 50450 Kuala Lumpur, Wilayah Persekutuan Kuala Lumpur
Contact Information: 03-2786 8888
2. The RuMa Hotel and Residences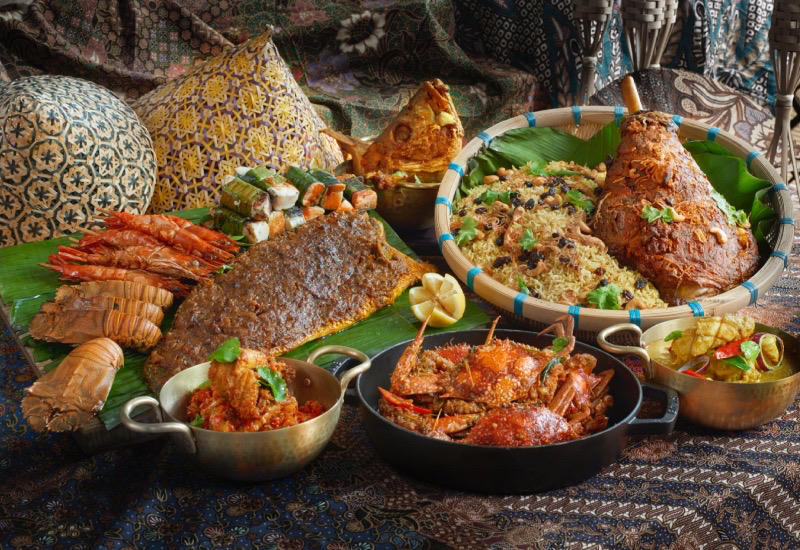 Beginning March 28th, SANTAI by RuMa Hotel and Residences is serving up a lavish array of traditional festive spreads, including Raya favourites such as Lemang, Daging Serunding, Satay, and Ayam Rendang, along with an irresistible selection of Ulam-ulaman (fresh Malay herbs) and Kerabu. Chef Mohammad Rizuwan of The RuMa Hotel and Residences' Production Kitchen took inspiration from the nostalgia of his childhood into creating the buffet menu. 
Along with these favourites, there are also modern takes on Malay staples like Salmon Bakar and Slipper Lobster Percik, as well as durian strudel and pandan crème brûlée to end with a sweet note. 
RM218 nett (per person), *Enjoy 20% Early Bird discount for pre-purchase by or before March 31, 2023.
Address: 7, Jalan Kia Peng, Kuala Lumpur, 50450 Kuala Lumpur, Wilayah Persekutuan Kuala Lumpur
Contact Information: 03-2778 0888
3. St. Regis Kuala Lumpur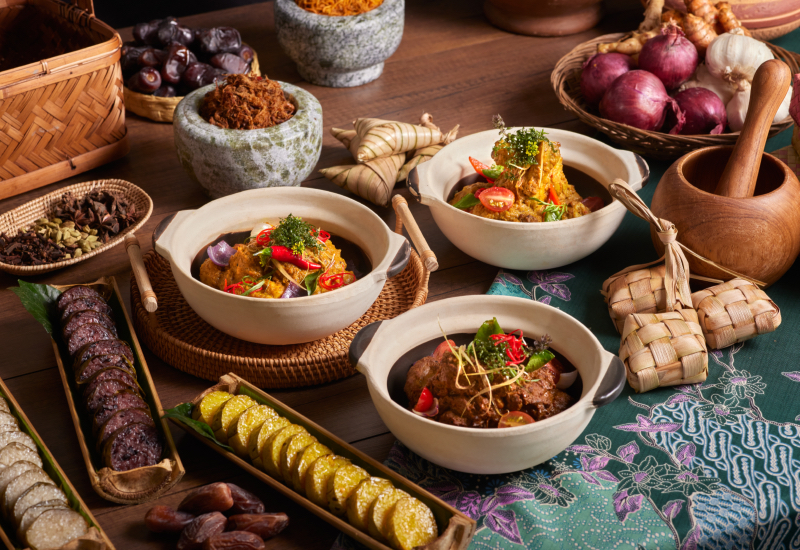 Enjoy The St. Regis Kuala Lumpur's Malam Warisan Melayu Buffet from March 27 to April 21, 2023. Executive Sous Chef Azizi Taslim and his amazing team pay respect to Malaysia's local herbs & flowers, which they transformed into an array of heart-warming localised dishes made known by each of the 14 states around Malaysia. 
The buffet also highlights the series of Warisan Melayu sambals which are created using our treasured, unique ingredients like Bunga Raya and Papaya Flower—providing a unique spice sensation. Prepare to feast like a king with slow-roasted lamb, spicy snapper fish stew, and rendang short ribs served in the Reading Room.
RM275 nett (adult) | RM138 nett (child) *aged 6 to 12 years old. 
Address:  No 6, Jalan Stesen Sentral 2, Kuala Lumpur Sentral, 50470 Kuala Lumpur
Contact Information: 03-2727 1111
4. Grand Hyatt Kuala Lumpur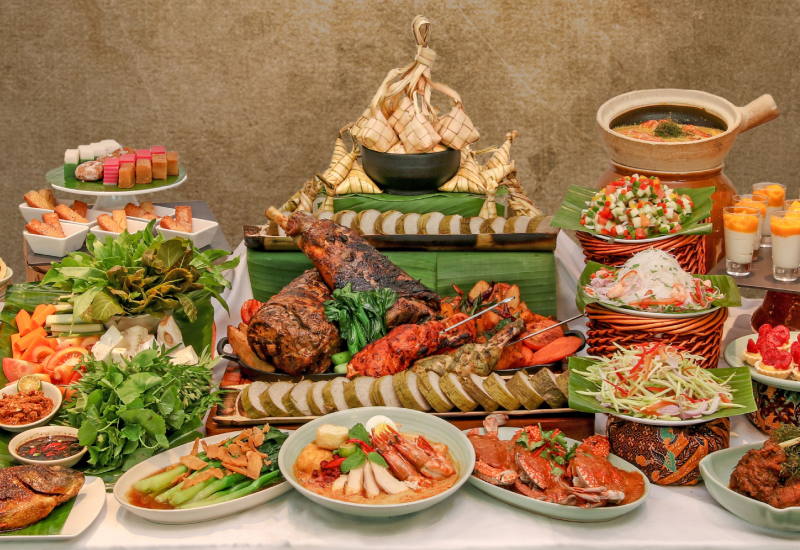 Prepare to explore the Grand Hyatt Kuala Lumpur's Grand Spice Bazaar Buffet for an unforgettable experience. The hotel's Great Ballroom will be transformed into a customised souk atmosphere with Turkish and Middle Eastern design beginning March 23. To round up the lavish celebration, the Ramadhan buffet rounds up over 90 local delicacies as well as distinctive Turkish specialties prepared by an Istanbul-based guest chef. 
JP Teres also offers a generous array of Malaysian favourites as well as a special Indian cuisine crafted by a guest chef from Chennai. There will be live stations, JP Teres' famous Chicken Rice, Kuey Teow Goreng, and a Cendol station.
Grand Spice Bazaar Buffet: 1 – 18 April 2023 | RM228 nett (adult) | RM114 nett (child)
Early bird price: RM208 nett (adult) | RM104 nett (child).
JP Teres Buffet: 23 March – 22 April 2023 | RM218 nett (adult) | RM109 nett (child)
Limited time offer: RM198 nett (adult) | RM99 nett (child) | *Valid until 21 March 2023 while availability lasts.
Address: 12, Jalan Pinang, Kuala Lumpur, 50450 Kuala Lumpur
Contact Information: 03-2182 1234
5. Four Seasons Kuala Lumpur
Curate at Four Seasons Kuala Lumpur will showcase a Malaysian Folklore Feast influenced by folktales from different parts of Malaysia from March 22 to April 21, 2023. Itik Golek Pekan, Kambing Panggang Utara, and Asam Pedas Salmon are among the delicacies on the menu. 
There's nothing like discovering your local kopitiam for any Malaysian, and you can do exactly that by feasting at The Lounge. The Lounge, which is available from March to April, offers upscale versions of kopitiam classics with a Four Seasons twist.
Sajian Kayangan Kita at Curate: RM289 nett (adult) | RM145 nett (child).
The Lounge at Four Seasons: Ala-carte menu starts from RM25-60.
Address: 145, Jalan Ampang, Kuala Lumpur, 50450 Kuala Lumpur
Contact Information: 03-2382 8888
6. Sheraton Petaling Jaya Hotel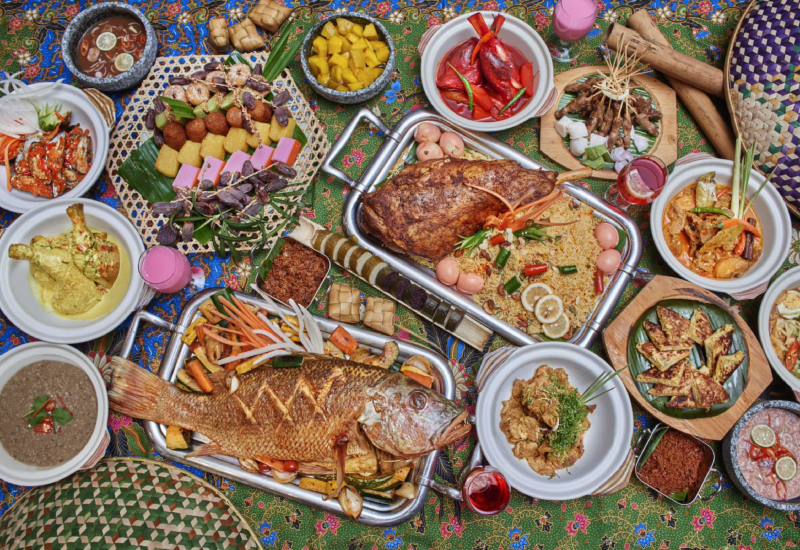 From March 23 to April 21, 2023, Sheraton Hotel will serve the "Sajian Warisan" special menu, which includes Gulai Daging dan Nangka Ala Canggung, Ayam Masak Lemak Rebung, Ouzi lamb, Kerabu Mangga, and more. On top of that, fresh fish on ice and other International specialties are also available, including  Arabic and Japanese delicacies. To heighten the dining experience, a live ghazal band will entertain you as you dine and unwind.
RM108 nett (adult) | RM54 nett (child) *Limited offer is valid for dine-in from 23 to 26 March 2023. 
Address: Lorong Utara C, Pjs 52, 46200 Petaling Jaya, Selangor
Contact Information: 03-7622 8888
7. The Chow Kit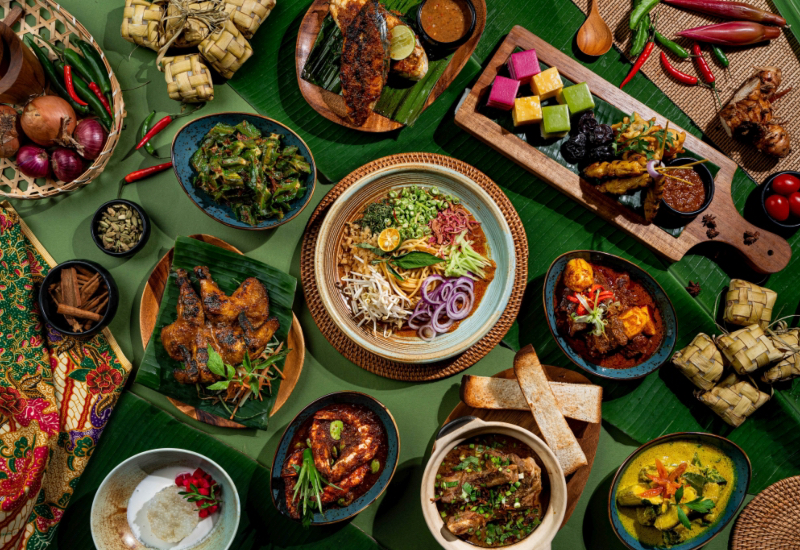 Go on a culinary journey across Malaysia with The Chow Kit this Ramadan. From 23rd March to 21st April 2023, The Chow Kit – an Ormond Hotel is excited to welcome Ramadan with Citarasa Malaya, a showcase of popular regional dishes and a celebration of the rich cultural tapestry of Malaysia, including a selection of dates and sweet Malay Kuih Muih, followed by Satay Ayam, Cucur Udang, Sup Gear Box Kambing and Roti Bakar. 
After that, close out the starters with a refreshing Pandan Lemongrass Cooler, before indulging in Kedah's famous Udang Sambal Petai Berlada, Johor-style Ikan Bakar, Daging Masak Gulai and Ayam Percik Madu. Wrap up the meal with two of the best Malaysian desserts, Bubur Pulut Hitam and Sago Gula Melaka. 
Citarasa Malaya: RM420++ for 3 people | For those who are coming in larger groups or would just like to try the Ramadan specials, price starts at RM150. 
Address: 1012, Jln Sultan Ismail, Chow Kit, 50100 Kuala Lumpur, Wilayah Persekutuan
Contact Information: 03-2778 6666
8. Concorde KL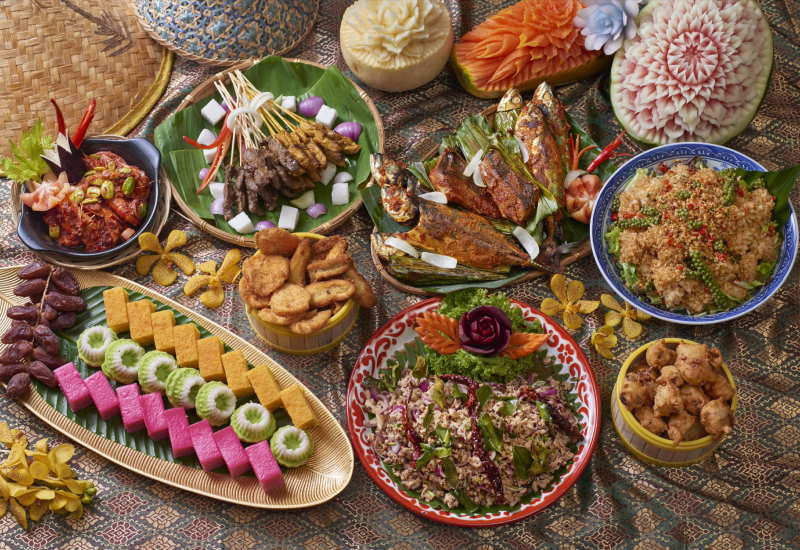 The Gabungan Duo Rasa Ala Kampung & Thai buffet buffet is available at Melting Pot at Concorde Hotel Kuala Lumpur. Chef Mohamad Yusoff and Chef Nopporn Nutto have curated a menu that includes dishes like Kambing Masak Hitam Manis, Grilled Thai Beef Salad, and Chicken Panang. From March 23 through April 21, 2023, both meals will be available on a daily basis
RM178 nett (per person)
Address: 2, Jln Sultan Ismail, Kuala Lumpur, 50250 Kuala Lumpur
Contact Information: 03-2144 2200
9. Sunway Resort Hotel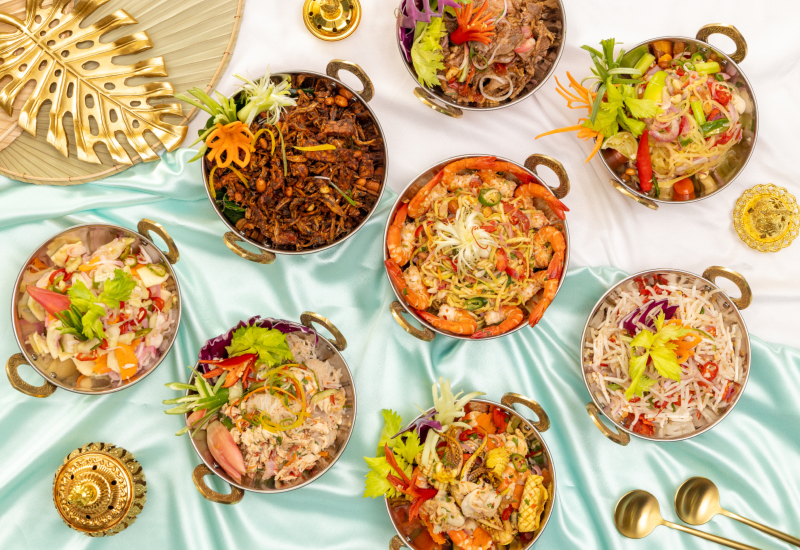 Jemput Makan makes its annual return to Sunway Resort Hotel this 24th March until 21st April 2023 with a nostalgic and traditional gastronomic experience amidst a brand-new venue. Inspired by the local expression, this year's theme "Nostalgic Indulgence with Malaysian Treasured Recipes" celebrates Malaysia's unique culinary Malay heritage.
Helmed by Chef De Cuisine Afiq Matkhir together with Sous Chef Tournant Mohamad Yatim Supaat and Senior Sous Chef, Chef Halid Bin Hm Burus, the highlight is the majestic Daging Bakar Harimau Menangis, a classic dish prepared using Chef Afiq's heirloom recipe. Marinated within 24-hours with spices like onion, garlic, lemongrass, chilli and slow-roasted for five (5) hours at very low temperature. 
RM228 nett (adult) | RM114 nett (child) *Aged 6 to 12 years. 
Address: 1, Persiaran Lagoon, Bandar Sunway, 47500 Petaling Jaya, Selangor
Contact Information: 03-7492 8000
10. Sofitel Kuala Lumpur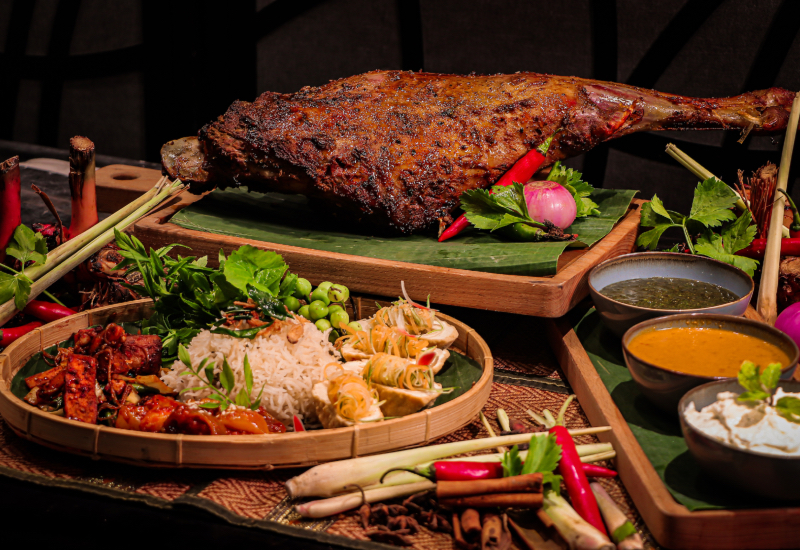 This Ramadan, Kwee Zeen by Sofitel Kuala Lumpur is all set to bring you a sumptuous buffet dinner themed as 'Destinasi Rasa Serantau' with live gamelan music to enliven the atmosphere. The highlights of the buffet are Chef Azhar and Chef Hamizan's seven signature dishes from the various states of Malaysia.  
The seven famous dishes are fermented durian with Tempoyak Patin Sangkar from Pahang, Daging Wagyu Salai Masak Lemak Chili Padi from Negeri Sembilan, Laksam Lemak Pasir Mas from Kelantan, Kambing Panggang Perap Basah from Selangor, Aasam Pedas Telor Ikan from Melaka, Rrendang Daging Rusa Tok Batu Kikir from Perak and Osso Buco Red Curry from Johor.  
23 March to 26 March 2023: RM148+ nett (adult) | RM74+ nett (child) *aged 7 to 11 years old.
27 March to 21 April 2023: RM188+ per adult | RM99+ nett (child) *aged 7 to 11 years old.
Address: 6, Jalan Damanlela, Bukit Damansara, 50490 Kuala Lumpur
Contact Information: 03-2720 6688
11. InterContinental Kuala Lumpur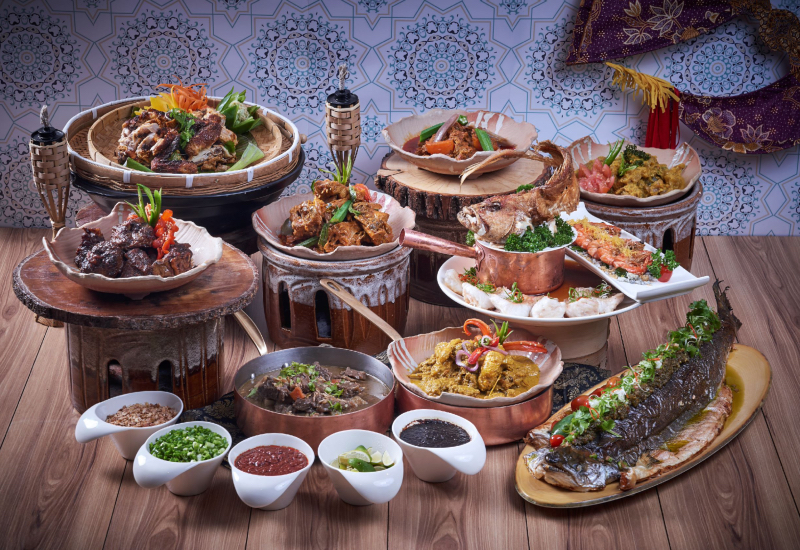 InterContinental Kuala Lumpur is all set to delight guests looking to berbuka puasa or just to gather and celebrate. Executive Chef Hashrul Sehwan, together with his talented team have skillfully put together a sumptuous buffet spread with more than 200 dishes from all over Malaysia and other Asian countries including China and Japan, promising an exceptional dining experience for all.
Expect a yummy inventive dishes like Sup Kawah Pecah Meletop, Ayam Panggang Bumbu Bali Barongan (Roasted Chicken with Bali Marination Style), and Sotong Bakar Dengan Sambal Mangga  – among many other must-try traditional Malay dishes from the main buffet counter.
RM258+ (adult) | RM155+ (child) *Aged 6 to 12 years. 
Address: 165, Jalan Ampang, Kuala Lumpur, 50450 Kuala Lumpur
Contact Information: 03-2782 6000