The Balvenie has added a 16-year-old French Oak Cask to its Cask Finishes Range as a form of new expression, reflecting the brand's commitment to its continued discovery of deep flavours while embodying the Speyside distillery's honeyed signature style. The new expression completes the existing range, consisting of The Balvenie Doublewood aged 12 years, The Balvenie Caribbean Cask aged 14 years, and The Balvenie Portwood aged 21 years.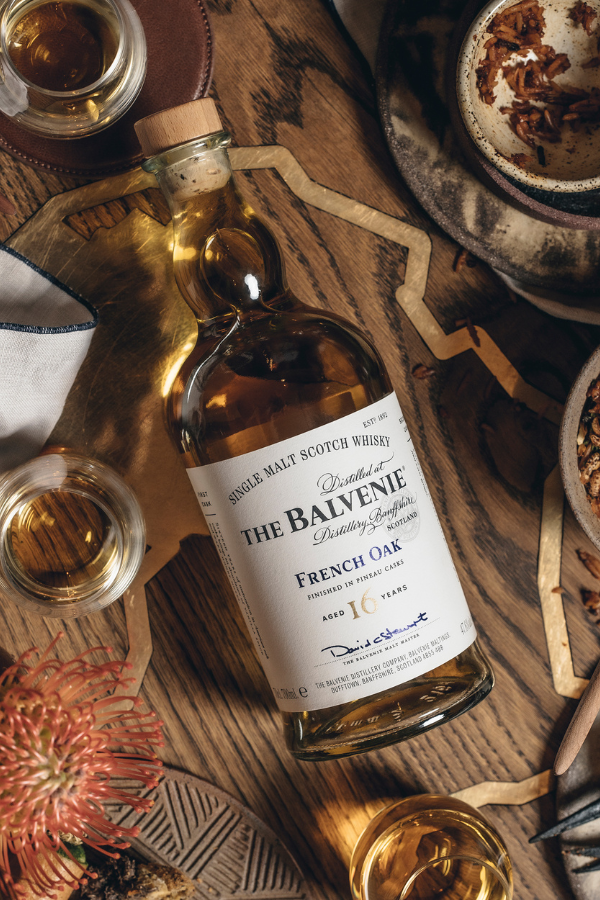 Its delicate, subtle sweetness of glazed fruits and spice from root ginger meet the delicate, subtle sweetness of glazed fruits and spice from root ginger. Its beautifully balanced light floral notes from lotus and geranium flowers dance between hints of fresh meadow grass and peeled apple skin, lingering with an energising zing from tangy lemon rind and grapefruit, meeting the delicate, subtle sweetness of glazed fruits and spice from root ginger.
Perfecting the Craft of Cask Finishing
A nod to ultimate craftsmanship, the new expression is a deep dive into flavour using Malt Master David C. Stewart MBE's pioneering finishing process, which he innovated in 1982 and is now celebrated across the whisky world. This process involves taking whisky from a period of maturation and moving it into a different cask for a shorter period of maturation, adding a layer of flavour to the whisky that no other method can. The Balvenie Makers recognise that making exceptional whisky requires time, patience, dedication, passion, and curiosity. In their commitment to making the very best whisky, the range explores time and flavour, from the iconic The Balvenie Doublewood aged 12 years, right through to The Balvenie Portwood aged 21 years.
Exploring the flavour of The Balvenie
The expression uses casks from Pineau des Charentes, a fortified wine made from fresh, unfermented grape juice or a blend of lightly fermented grape must, to which a Cognac eau-de-vie is added and then matured. Produced from the sun-kissed grapes of rolling green vineyards, this rich, fruity wine is steeped in tradition and seldom found outside Europe's winemaking region. This blend of Scottish whisky and French fortified wine casks creates a velvety sweetness with notes of grapefruit, geranium, glazed fruit, and ginger.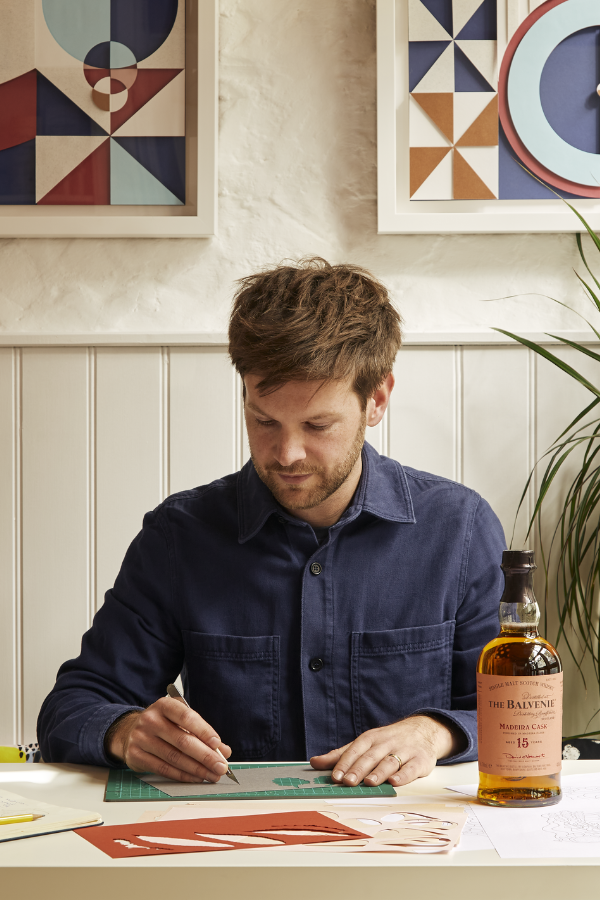 Blending the Craftsmanship of Whisky with Art
To further bring the new expressions to life, The Balvenie collaborated with multi-award-winning artist and handcrafted illustrator, Owen Gildersleeve, on a range of visual concepts for The Balvenie Cask Finishes Range, highlighting its dedication to craft, storytelling, and complexity of flavour. The elements of the artwork, which include a series of animations and a pop-up book, are handcrafted using a range of textured paper stocks. This attention to detail mirrors the focus on skill and craftsmanship that The Balvenie makers put into their whisky making.
It's always enjoyable working with brands and other creatives who are open to input and communication and who also have a great understanding of the process and time that goes into hand-crafted work such as this. These layered designs celebrate the warm depth of flavour in The Balvenie's whisky, bringing to life their various flavour profiles in a graphic hand-crafted manner, which fits well with the brand's luxurious feel and refined hands-on approach to making their whisky," commented Gildersleeve.
For more information, visit here.
Photos by The Balvenie.