Despite the slow return to normalcy, the world's top luxury houses have not dropped their gears when it comes to launches, especially in the bag department. We don't know about you, but we could use some retail therapy to get our hopes up for a brighter summer ahead.
Brands like Louis Vuitton and Bvlgari have teased us with summery silhouettes for that beach getaway we've been dying for, whilst Celine and Coach have unveiled timeless designs that are ideal for everyday wear. Scroll on to discover all the new bags we want in our wardrobe right now.
Celine Triomphe Shoulder Bag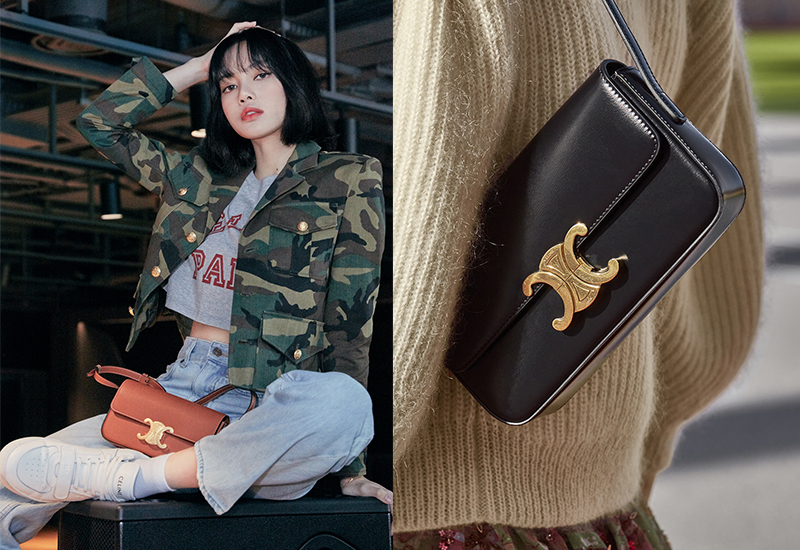 You've probably seen this bag on your social media feed thanks to Blackpink's Lisa, and she's not the only celebrity who has been spotted with it. First featured during the brand's SS21 show, the new model features a rectangular silhouette made from either shiny calfskin leather, tan natural calfskin or the triomphe canvas. It is defined by the Triomphe logo on the front flap, which is inspired by the chain surrounding the Arch of Triumph in Paris. Timeless and classy, the bag can be tucked under the arm or carried by the hand for easy styling.
The Celine Triomphe Shoulder Bag is now available at the Celine Pavilion KL concept store and celine.com.
Bvlgari Oasis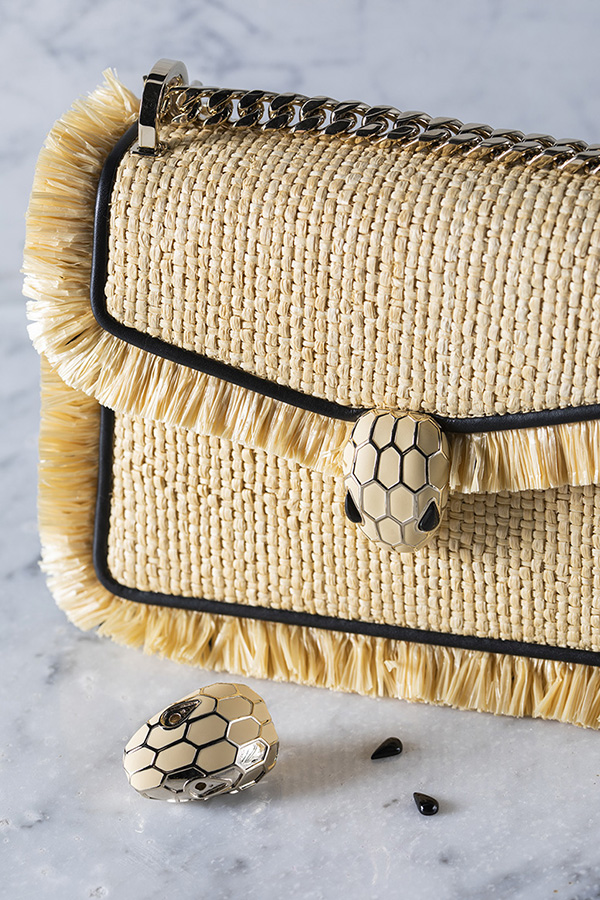 Ahead of the Fall-Winter 2021 season, Bvlgari has unveiled a leather goods and accessories line that is centred on the the Maison's iconic Serpenti. Designed to conjure an urban oasis, the collection sees the ongoing metamorphosis of the Serpenti Forever bag, this time wearing a raffia skin to portray an urban touch and playful attitude. The Serpenti Diamond Blast model is interpreted in two styles, one with a detachable top handle and thick gold chain strap, and the other with a thinner jewel-inspired chain. A shade-on-shade trademark snakehead closure highlights the bag's jewellery craftsmanship, whilst playful fringes outline its braided silhouette to add a soft, unique touch. Calf leather completes the rest of the bag, arriving in Lavender Amethyst, Carmine Jasper and Black.
The Oasis collection is now available in Bvlgari stores.
Louis Vuitton Marshmellow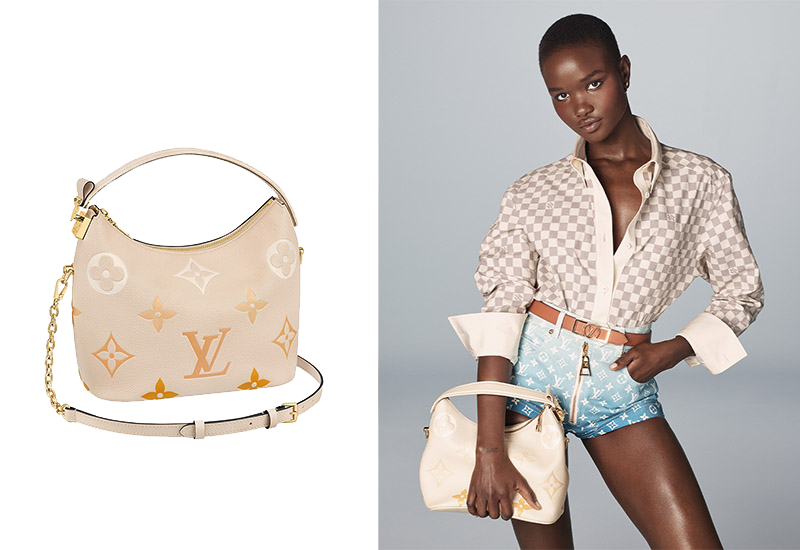 Louis Vuitton is all ready for a bright, carefree summer with a capsule collection presenting a splash of pastels in light, cheery gradients. While the range of bags includes several reinterpretations of recurring House classics such as the NéoNoé and Papillon, there's also the new Marshmellow hobo bag for a fresh addition to your bag collection. It is made from cowhide leather and shaped after its name, with an adjustable shoulder strap and additional leather and chain strap that can be detached for versatility. The bag launches in two shades, each adorned with LV and Monogram logo gradient motifs that blend into its supple leather body.
The collection will be available at Louis Vuitton boutiqes and website from April 19th.
Longchamp Le Pliage Filet Bag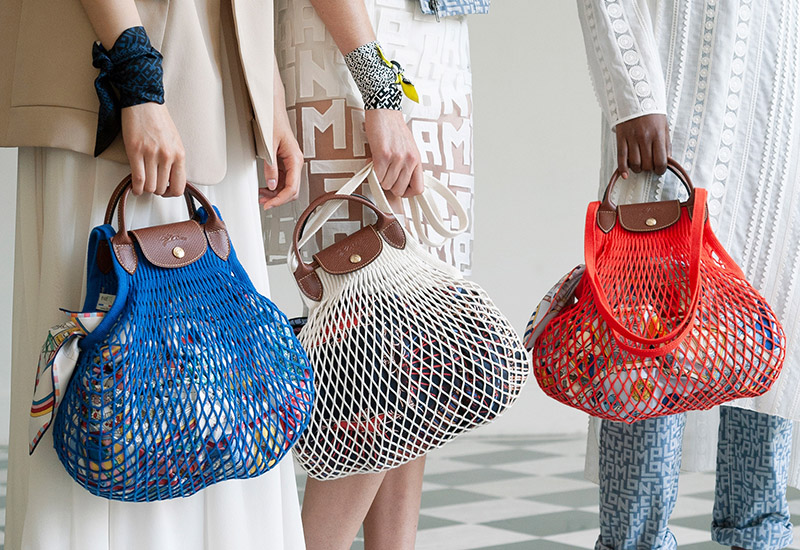 First seen at Longchamp's SS21 show last October, the fishermen net bag that's making grocery shopping look particularly fashionable is finally in-stores and we're here for it. Designed in collaboration with French label FILT, the Longchamp x FILT hybrid shopping bag is a marriage of the signature Le Pliage nylon tote and Filt string shopping bag – combining the former's Russian leather handles and flap with the latter's large mesh net. It comes in six vibrant shades, including Blue, Ecru, Khaki, Powder, Orange and Black.
The Longchamp X Filt bag is now available at Longchamp boutiques.
FENDI Bijou Baguette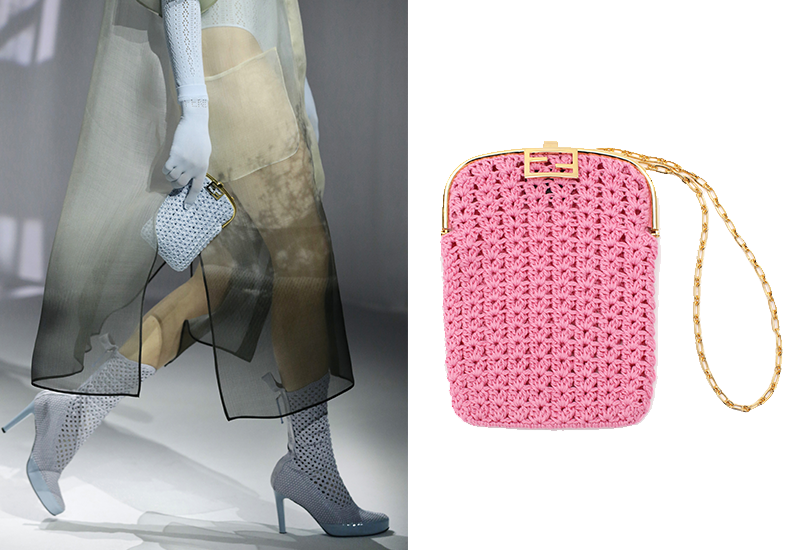 Following the launch of the Moonlight satchel bag, Fendi introduces the Bijou Baguette – a new petite accessory joining the Baguette family. Designed as a phone holder, the bag features a vertical, soft crocheted silhouette with a double F logo snap closure and chain strap. It comes in a variety of pastel colours including pink, blue, red and white. The micro bag also has a smaller sister, the Bijou Coin Holder, which can be hung on a bag via the hook on the purse.
The Bijou Baguette is available at selected FENDI boutiques.
BONIA x SCHA Adjani Shoulder Bag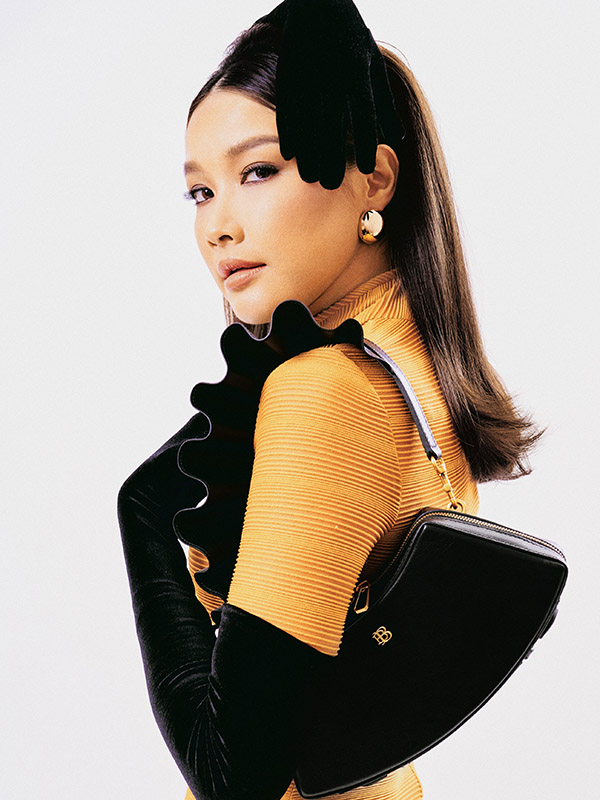 The product of collaboration between the Malaysian lifestyle brand and celebrity Scha Alyahya, the Adjani Shoulder Bag offers a modern, feminine accompaniment to any outfit. Inspired by shelled carvings and sculptural flowers that appear on Tuscan pillars in Italy, the bag is distinguished by a unique, curved shape and an elegant ruffle-detailed shoulder strap. It is available in beige, black, green, light pink and white, and comes with a limited-edition BONIA x SCHA twilly scarf.
The BONIA x SCHA collection launches on 19th April at BONIA boutiques and bonia.my.
Bottega Veneta Salon 01 – Beak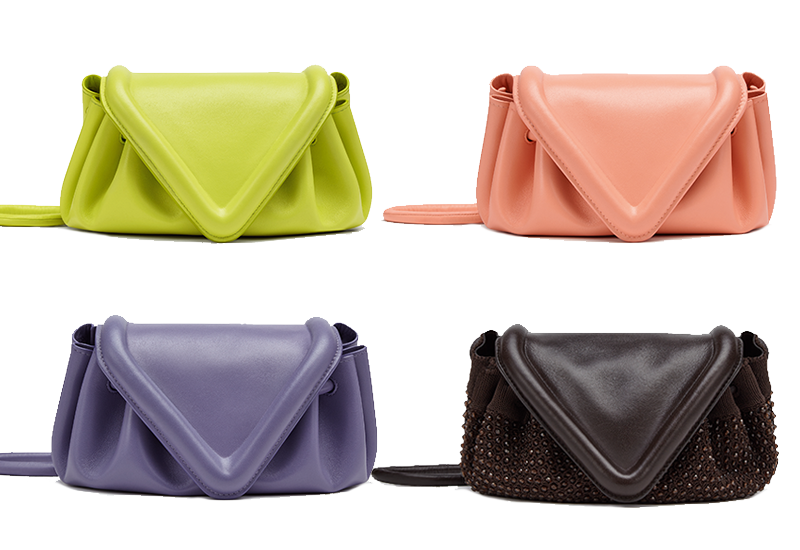 Continuing its trademark puffy designs, Bottega Veneta unveils the new Beak crossbody bag, characterised by a triangular flap and an oversized padded profile. Debuted alongside the brand's Salon 01 collection, the new accessory has a soft construction and an adjustable self-fabric puffy tubular shoulder strap that recalls one of its flap edges. The contemporary bag is available in three vivid hues and in black, with shiny embellishments.
The Beak bag is now available at Bottega Veneta boutiques and bottegaveneta.com.
Coach Ergo Bag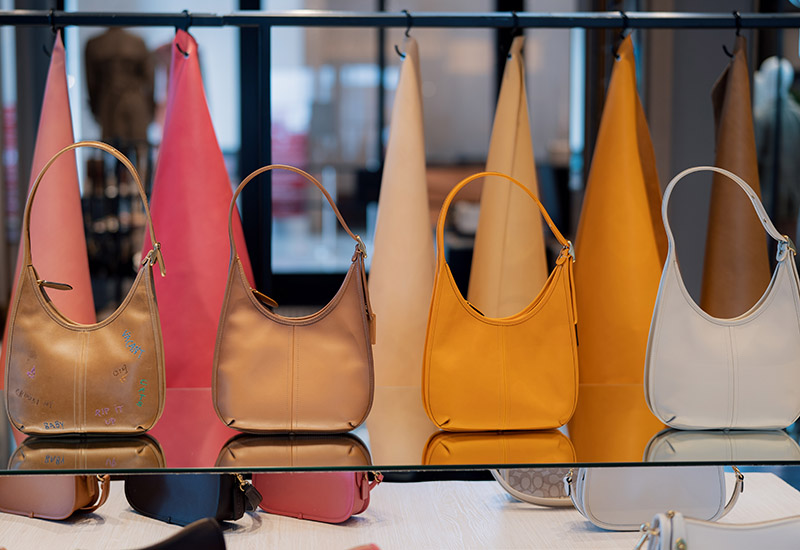 Underscoring the brand's commitment towards a more sustainable future, the Coach Ergo bag is reinterpreted using vegetable tanned leather treated with natural-sourced dyes for Spring 2021. Its clean, sleek design evokes '90s nostalgia, reflecting the return of the era's silhouettes for today's consumers. Fitted with a zip-top closure and adjustable strap, the in-trend bag comes in an array of neutral colours, orange and green, as well as in the signature jacquard motif.
The Coach Ergo bag is now available at Coach boutiques and coach.com.