Cheese platters are perfect for any occasion, be it for picnics, birthday celebrations, or even as a snack while you're working from home. But what exactly does it take to make the eye-catching box of goodies? We're breaking it down step by step on how you can build your own cheese platter for when you're craving some (and where you can buy them for when you're feeling lazy).
Step 1: Base and bowls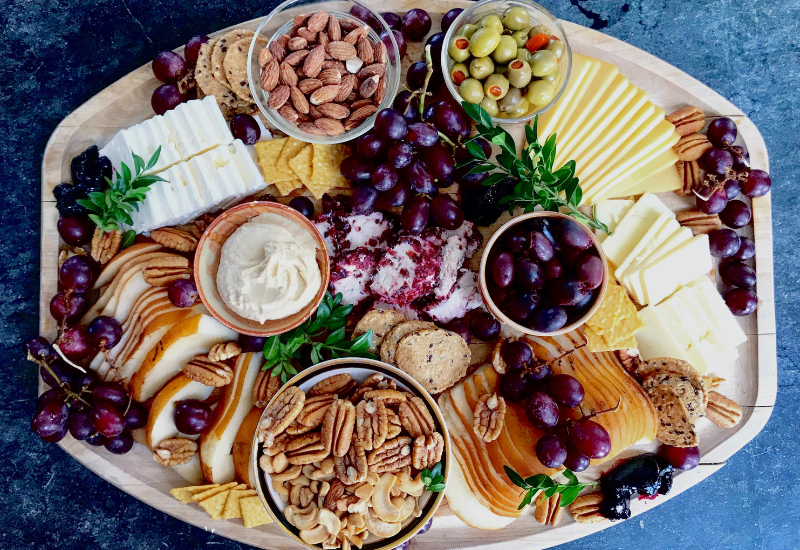 Before you get to decorating and making your cheese platter all nice, it's important to source a good base and some bowls. Typically we would go with a good old wooden board for the base and you can curate the size depending on how many people you're feeding. The bowls are for mapping out your board and how much space you'll have once you include your dips.
Step 2: Types of cheese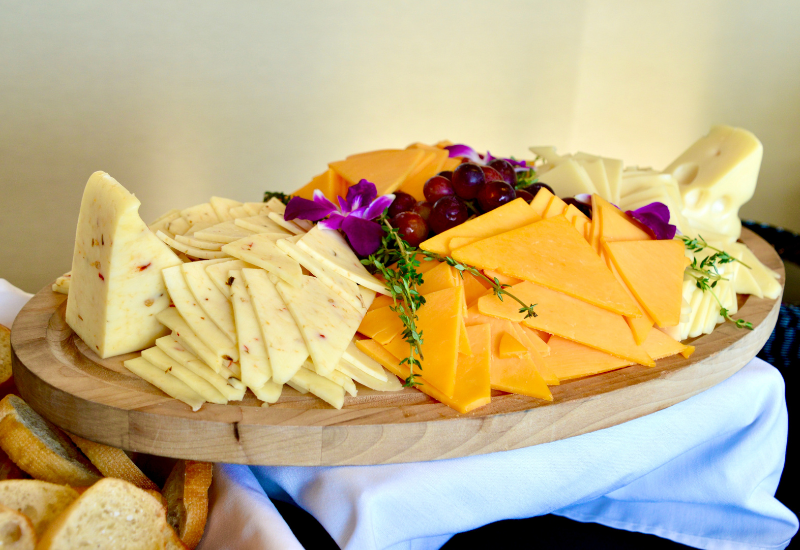 When it comes to building a cheese platter, you'll need to have at least two cheeses. If you're serving a bunch who are unfamiliar with cheese platters then choosing brie and gouda is a good choice. However, if you're serving people who commonly indulge in these then some unique type of cheeses would be nice. You can opt for goat cheese, blue cheese, parmigiano-reggiano and more. 
Step 3: Add the dips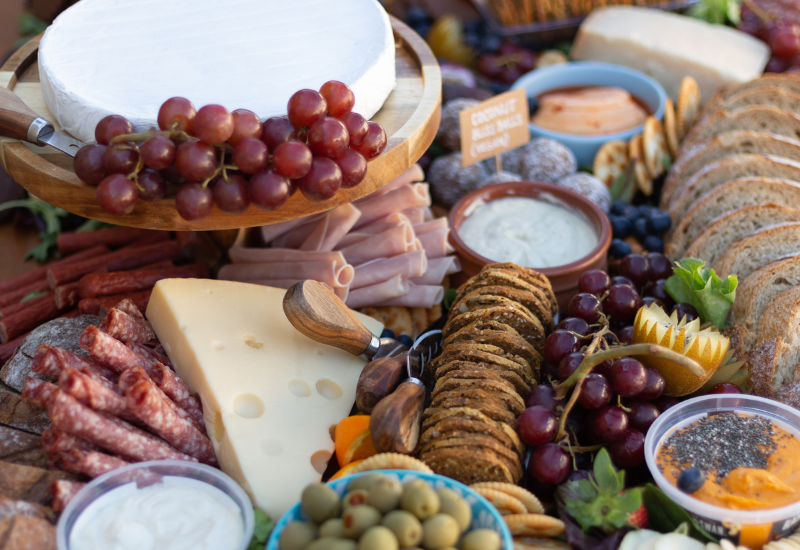 For dips, the general rule of thumb is a sweet dip and a savoury one. But you can always add more than two dips. For the sweet dip, you can choose from honey, peach jam, caramelized onion jam and more. If you have a bit more time, you can make your own sour cream and onion savoury dip. All you need to do is mix sour cream with some onion powder and a pinch of salt to taste. Alternatively, you can get hummus, chutney or a garlic dip.
Step 4: Fill up with crackers, fruits and nuts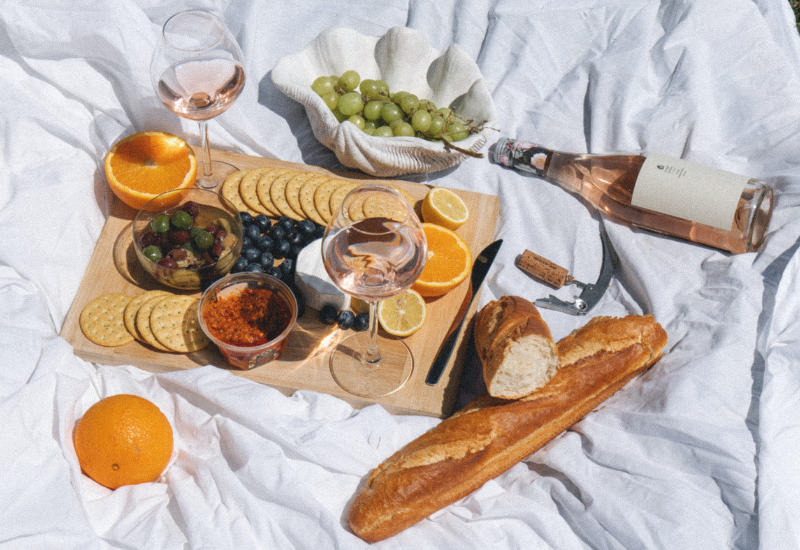 Now it's time to watch your platter come to life! Fill up the remaining empty spaces with your choice of crackers, fresh fruits and nuts. We personally love normal salted crackers and pairing our cheeses with strawberries, blueberries and grapes. But you can also opt for more fancy fruits like raspberries, blackberries and even mulberries. Then, add some nuts for a slight bite to your platter. Think almonds, pistachios, cashews and more, whichever's your favourite.
Step 5: The optional charcuterie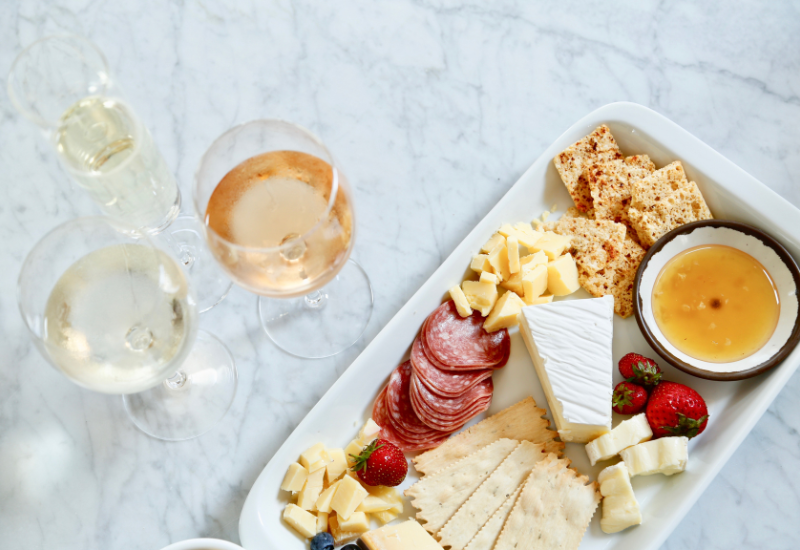 You can choose to leave the platter as it is or you can add charcuterie to the mix. Some of our personal favourites include salami and prosciutto. If you're including charcuterie on your cheese platter, it's great to add some bread alongside your crackers. Furthermore, you can also add a little balsamic vinegar dip that goes absolutely well when paired with bread, cheese and prosciutto.
Where to find them
Cheese platters generally don't take very long to put together but can be a feat when shopping for the essentials. So if you're running out of time or would like to purchase cheese platters as gifts, here are some local brands to buy from.
Keju by Carmen
Take your pick from cheese platters, dessert platters, grazing tables and even brulee brie, Keju by Carmen has it all. Keju by Carmen produces the most immaculate cheese platters for any occasion. They've done grazing tables for events and weddings, alongside cheese boxes for full moon celebrations and dessert boxes for Jimmy Choo events. There are even birthday cheese platters and cheese boxes in letters or numbers that truly can never go wrong.
Platter People
Platter People's cheese platters are truly something you'd find on Pinterest. The arrangements of cheeses, fruits and meats are almost too pretty to eat. But what we love about Platter People is the different sizes they offer. The S size is perfect for grazing alone or with someone else while the M size is great for four to five people. And if that's not enough, you can get the XL size for you and your family to feast on.
Splatter Me
Splatter Me does everything from grazing cheese platters and fruit platters to fruit 'cakes' and corporate gifts. The grazing cheese platters come in three types: the mini platter, the fruit and cheese platter, and the cheese and meat platter. If you'd like to take things up to the next level for your birthday, order the watermelon 'cake'. Made from fresh watermelon and a beautiful arrangement of berries, mint leaves and edible flowers, it's the ultimate healthy option. 
La Petite Bouchee
The menu at La Petite Bouchee is extensive at best, with over 10 options to choose from. The classic is the grazing box, individual box and cheese platters in bamboo or wooden boxes. But if you're gifting a cheese fanatic then the Platter de Fromages featuring brie, gouda, cheddar and blue cheese alongside a fresh baguette should suffice. Other than that, there are dessert platters, Mediterranean breakfast platters and healthy veggie platters too. 
JO + KO.
Looking for some luxurious options when it comes to cheese platters? Then you'll want to check out JO + KO. The local brand offers classic cheese platters and weekend brunch grazing boxes to much delight. But the highlight is their special pies, where you can choose from a hearty caviar pie or salmon roe pie. The caviar pie features creamy lumpfish caviar cream cheese and egg salad while the latter is a creamy smoked salmon roe cream cheese and egg salad. 
Photos and featured image by Unsplash.