During these difficult times, livelihoods have been affected, businesses are disrupted and dreams, diminished on a global scale. FirstClasse, in collaboration with Newswav, wants to help provide some much needed publicity to local businesses going through tough times with this latest #SupportLocal series. Visit our #SupportLocal page for more information.
---
When it comes to period products on the market, most of them are made with copious amounts of plastic, rough materials, and perfumes that not only damage the environment, but can also do a real number on the woman's genital area.
Bobble isn't just about making period products more eco-friendly and comfortable, but it's also looking to educate the world on their perception of menstruation.
Founder Malisse Tan started Bobble after the birth of her daughter and having been diagnosed with Hodgkin's lymphoma. The need to be more conscious about her health and lifestyle led her to questioning what really went into period products, which oftentimes either don't fully list its ingredients, or are packed with chemicals and fillers that people cannot easily understand.
"I was changing to more environmentally-friendly options at home, and wanted to learn what I was using. I was looking for organic cotton alternatives for myself, but what I found in the market was either really expensive or you can only get them overseas," Malisse explains.
Inspired by her own journey to lead a more conscious lifestyle and seeing the lack of options in Malaysia, she made the decision to create a line of organic and sustainable period products, with a focus on customer transparency, education, and inclusivity.
"I spent about one year researching the space, understanding how the products are manufactured, as well as understanding what the customer wants," Malisse recounts. "I did a survey of about 500 women to understand their buying behaviour and what mattered to them when it comes to period products – instead of relying on my own assumptions. Only then was I confident enough to start Bobble."
Bobble talk
The story behind the Bobble name is a serendipitous tale, one can almost say that the brand name was actually bestowed by Malisse's own daughter, Aleya. It was when Malisse had to name her documents when doing research for Bobble, that Aleya had just started to talk, and one of her first words was 'bubble', which ended up sounding like 'bobble'.
"I just took that word and named my documents that, and it kind of stuck," Malisse fondly recalls. "And I decided to continue with that name because I wanted a name that was easy to say, quirky enough to remember, and vague enough so that if I ever needed to change my business model or expand it, I can easily do it."
What goes into Bobble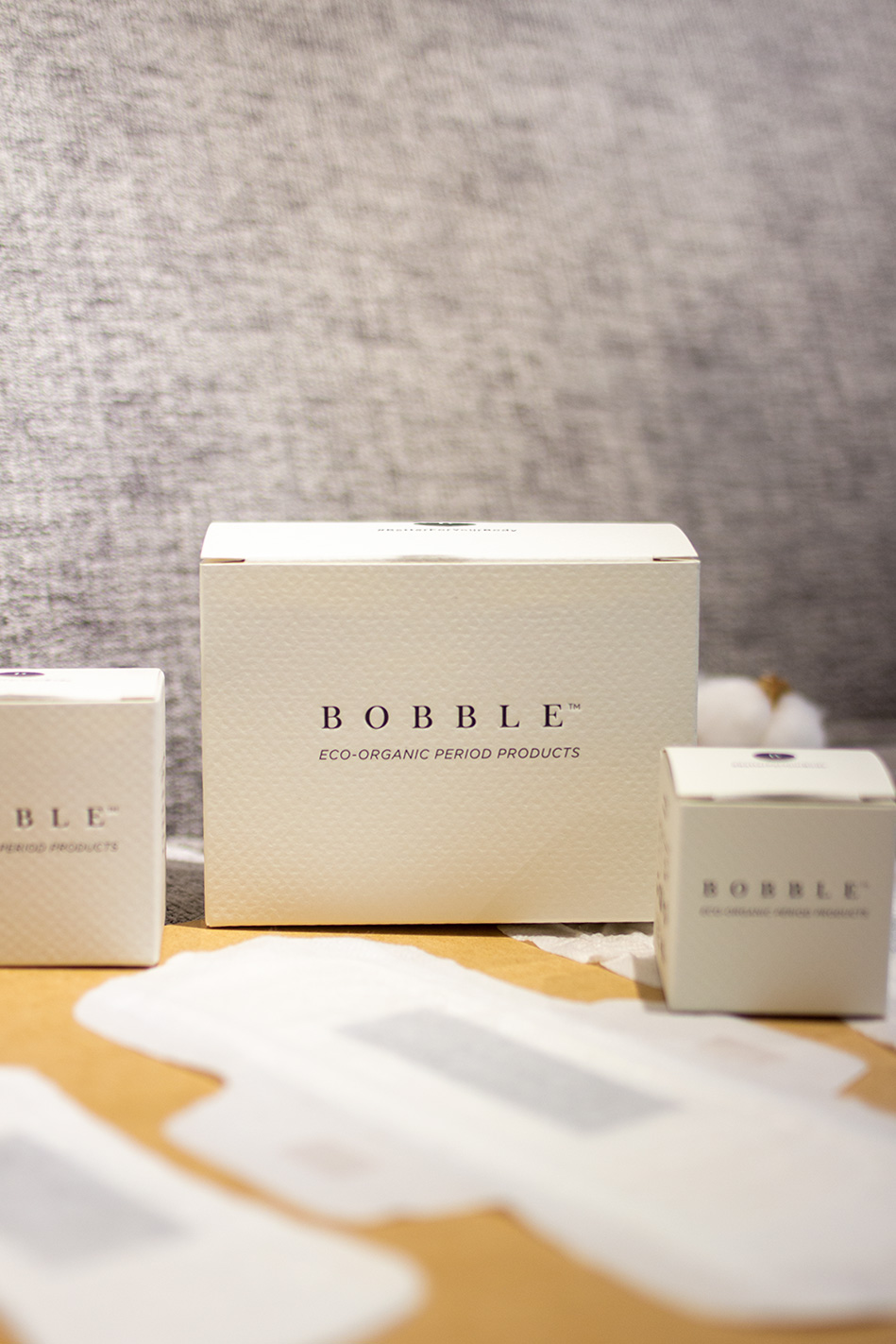 What's particularly unique about Bobble isn't just its eco-friendly mission, the brand and its products also address common concerns such as skin sensitivity and overall health. Some of the biggest concerns for women wearing pads are the feeling of stuffiness, discomfort, and even irritation from material that feels too abrasive.
Each Bobble pad consists of 6 different layers, including the organic cotton sheet to provide a soft and comfortable wear, and the biodegradable absorbent core polymer for fast and effective absorption to prevent leakage. But what sets Bobble apart is the bamboo charcoal and nano silver chip layer, which helps to control odour and bacteria growth.
"I noticed in my research that a lot of women buy scented pads to control the smell," Malisse points out. "The perfume used in these pads are actually really bad for sensitive skin, as it can be very irritating. The charcoal strip actually does two things: it helps with the odour while managing growth of bacteria – especially since we usually wear pads for 3-5 hours or more. Though we do encourage our customers to change every 3-4 hours no matter how heavy your flow for hygiene purposes."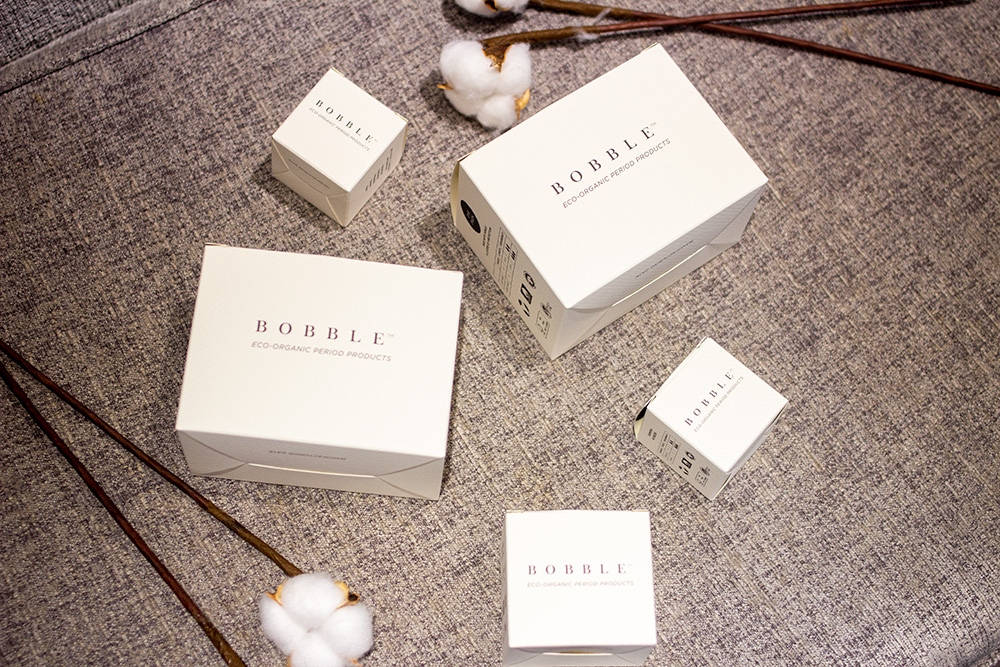 Bobble prides itself on using certified organic materials in its products, especially in the cotton used since it is one of the most important elements in Bobble's pads and tampons. Malisse acknowledges that the term 'organic' is often used a lot as a marketing strategy by certain brands in order to increase the price of a product and make it premium, however if these brands don't have the certification to back it up, it's only as good as your word. She makes sure that when she's working with the manufacturing factory and material sourcing that she's provided lab reports, lab tests, as well as valid certifications to ensure her products come with a legitimate and trustworthy certification.
Sustainability isn't just limited to the product itself, but it also extends to its packaging. The paper used are FSC-certified, having been sourced from sustainable forests, where with every tree that's cut down, a new tree gets planted in its place. As for printing, Bobble only uses soy-based ink.
"We also on the lookout for more sustainable farms that are closer to this part of the world," says Malisse. "I also wish to bring the supply chain back to Southeast Asia, because I'd like to offer more jobs for low income families, single mums, mums in need, or women who want a sustainable and passive income."
It's about being practical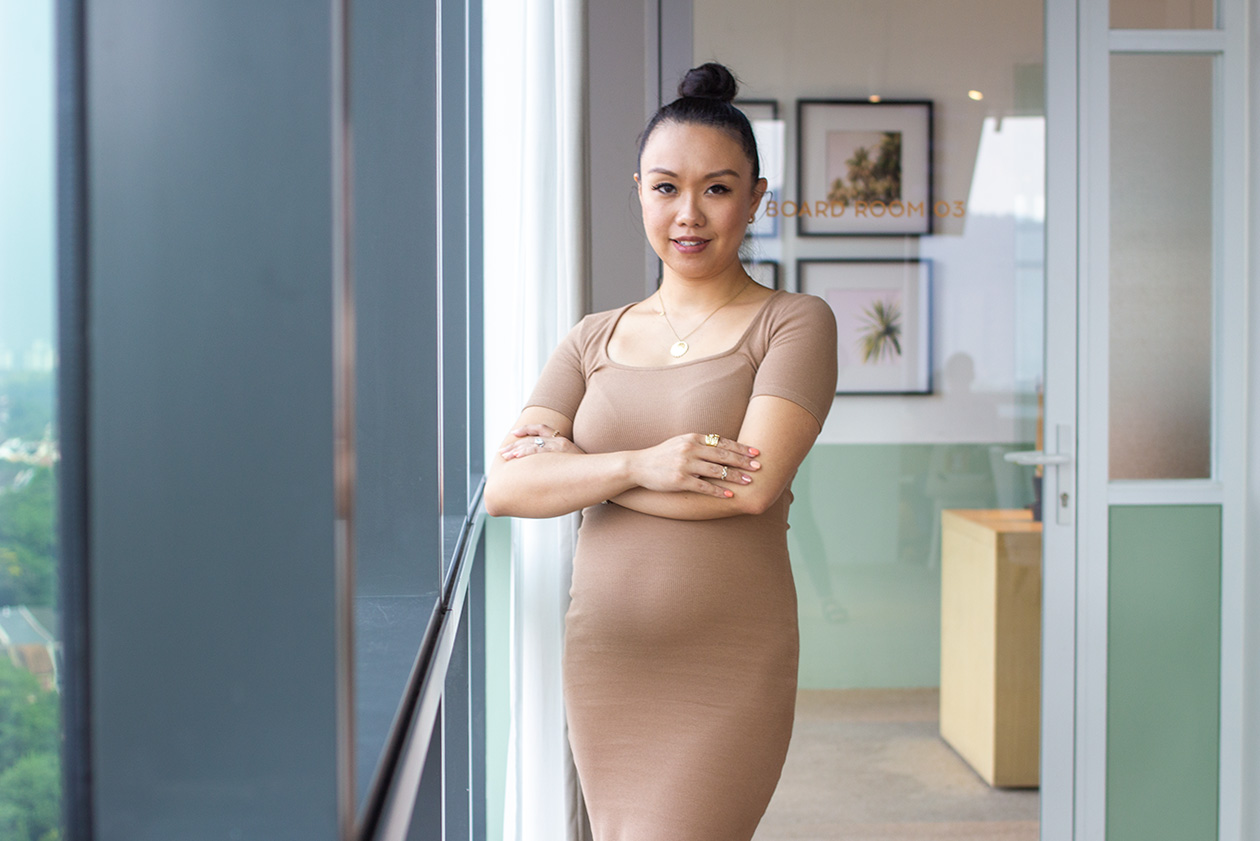 The sustainable period movement has brought about reusable options such as the menstrual cup and washable cloth pads. Both these products and Bobble share the same vision of helping women move towards a more sustainable approach to menstrual hygiene, so why doesn't the brand go down that route in the name of reducing waste and being eco-friendly? Simple: Practicality.
"We see ourselves as the bridge between generic brands and women working towards more sustainable alternatives."
"Firstly, I personally don't use menstrual cups or washable cloth pads," Malisse explains. "I wouldn't want to sell something that I've not used myself. And second, as a working mother, I'm out of the house a lot so I feel like it wasn't so practical to use a cup or washable in a public space. You'd have to wash it or hang onto it in a plastic bag so it wasn't really practical to me as a full-time working mum."
The reality is also that majority of women are still more comfortable wearing pads or tampons, and when it comes to changing what women have access to and how period products affect the environment, the more challenging one would be changing the behaviour of how women change their products.
"We see ourselves as the bridge between generic brands and women working towards more sustainable alternatives," Malisse elaborates. "The cup isn't for everyone, and some women wearing cups do use our pantyliners as backup. Everyone has their preferences and different body types, I think it's just about having safer and more sustainable options out there."
It's not just a girl's problem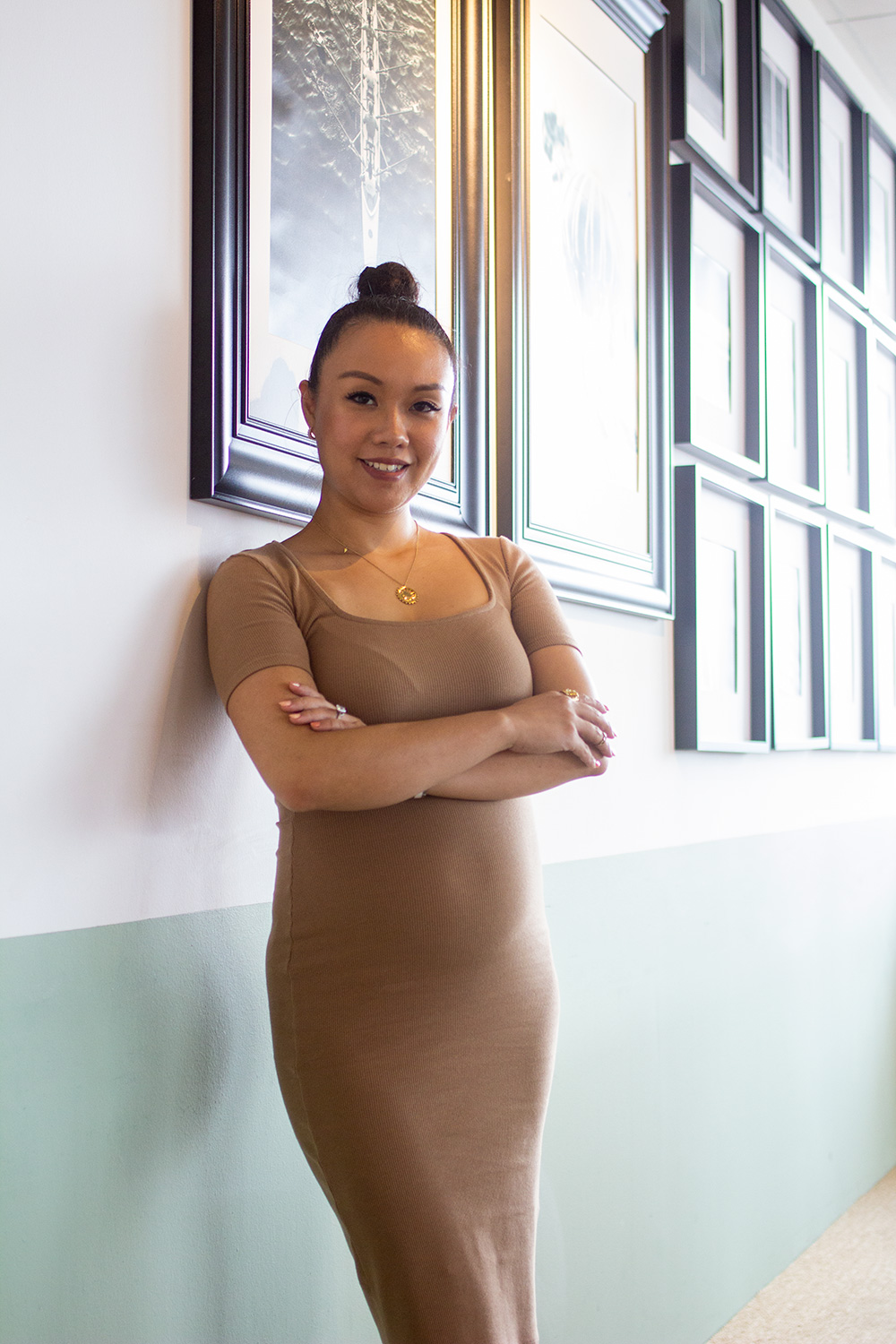 The topic of menstruation and sex health education is considered, to this day, a taboo in Malaysia. While countries like the UK and the US are getting more voices and exposure with their own period movements, it's still a long road ahead when tackling the more conservative culture in Malaysia. Malisse speaks about two things that need to be improved when it comes to period education in the country: segregation and language.
"The way we converse in our marketing at Bobble is we never use the word 'hygiene' or 'sanitary', we just call it as it is – period products."
"One of the things that can be easily changed is not segregating boys from girls in school when it comes to period talks," she says. "It's not just a girl's problem. Boys will grow up to be brothers, boyfriends, fathers, or husbands – they should know it as a normal bodily function."
On language, Malisse talks about how period products are often labelled as "feminine hygiene products" and "sanitary pads", which already dictates a negative connotation, implying that period is "dirty", when it's not.
"So the way we converse in our marketing at Bobble is we never use the word 'hygiene' or 'sanitary', we just call it as it is – period products. Menstrual products," she explains. "I think the more we start using these words, the more comfortable people will become."
When it comes to what Malisse wishes to achieve with her customers, is that they learn the three S's of Bobble:
Safer period products…
"Even if you don't suffer from anything, we should move away from this mentality 'if it ain't broke why fix it'," Malisse expresses. "We should invest in better quality period products because the vagina area is the most sensitive and absorbent part of your body."
…sustainability, and saving time and money.
"Being sustainable doesn't just apply to our product or packaging, but how we operate our business. We offer the 3-month subscription service because it saves time and money. We chose 3 months because we want to reduce our carbon footprint. We pack one time, and ship one time – and customers only have to pay for one-time shipping. Less materials are being used that way, while customers are assured that they always have period products on hand."
On staying positive
There's an inner power to Malisse that she naturally radiates, standing tall in heels whilst almost 4 months pregnant. Upon learning her role as a full time entrepreneur and mother, it's safe to say that she juggles the many elements in her life with the grace and strength every person aspires to. However, taking on a few commitments can have its challenges – something that Malisse is no stranger to. In fact, when she first started Bobble, she was balancing work life and motherhood – two full time responsibilities.
"I think as women we generally take on a lot on ourselves, but I have a very supportive ecosystem that helps a lot," she shares. "Especially when COVID-19 hit, our team had to get  a lot leaner, and we had some financial issues – sure, that made things tough. But these situations happen to give rise to other opportunities and I think we learn so much more from these challenging situations."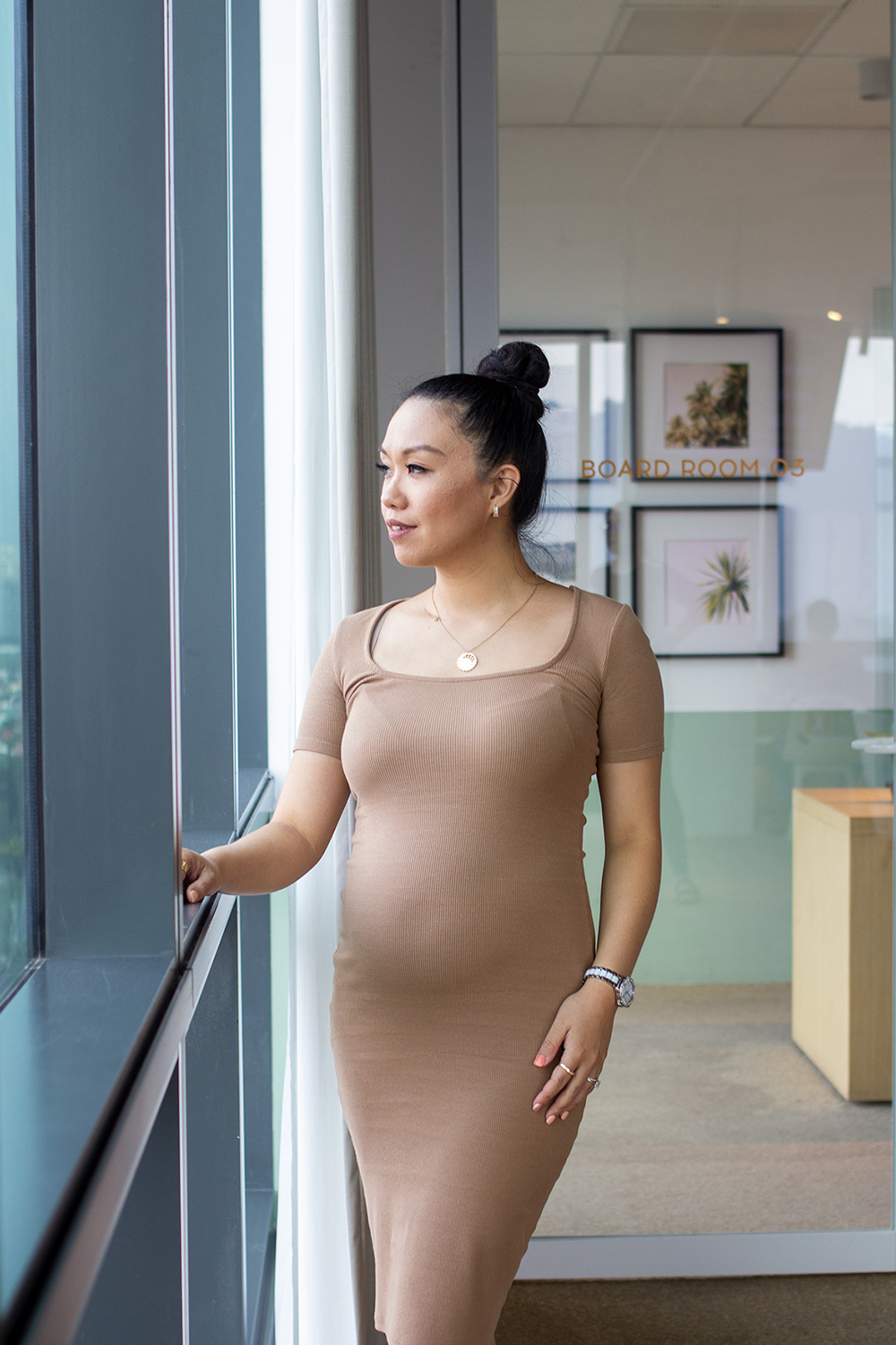 "It's also made me learn a lot more about myself as an entrepreneur," she elaborates. "My approach to business now is very different to how it was 5-10 years ago."
In 2020, self care is often illustrated as spa days, yoga retreats, sound baths, and plenty of cocooning. Malisse, however, takes on a different road.
"I don't do yoga, meditation, and all that – I'm not that good at it! I haven't made the time to read self care books and that kind of stuff," she laughs. "I know we see a lot of these stuff floating around but for me it's definitely my family. My daughter motivates me to be a role model for her, and now with the second one on the way, I'm definitely more motivated."
"I just focus on where the silver lining is, though it's not an everyday thing, it's something I do one day at a time."
Malisse also emphasises that mental strength is a person's biggest weapon when it comes to overcoming the challenges she has faced in life – both personally and in business. Even when your physical body and emotional state are getting battered around, it's the mind that pulls you through the tough times.
"I just focus on where the silver lining is, though it's not an everyday thing, it's something I do one day at a time," she tells. "And when it comes to your innermost sacred circle of loved ones, I truly believe that it's about the quality and not the quantity. Honestly just having my family there is the biggest thing that pulls me through."
"I do celebrate the small victories as much as possible with my husband/partner. When I look back and see whatever happens with Bobble, I'd be proud with what we've done – the lives that we've impacted both from a business perspective and with our community. And hey, if this doesn't work out – me and my daughter will have pads for life!"
To find out more about Bobble and their products, visit their official website or their Instagram page.
Photography: Anson Siau