With its prime location in downtown Yangon, Sule Shangri-La, Yangon offers a spot of comfort amidst a bustling city whilst mirroring the beauty of its cultural heritage.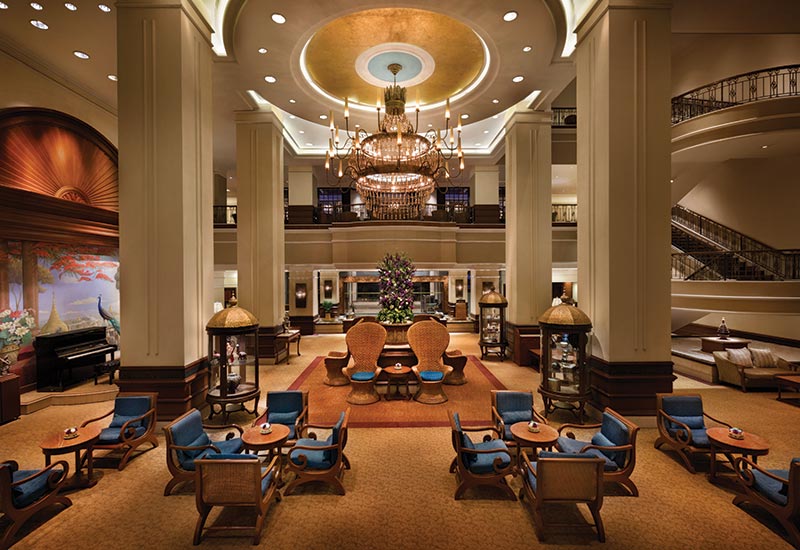 Though less travelled among the list of Southeast Asian countries, Myanmar has much to offer to those seeking to uncover rich traditions and cultural heritage.
Its capital of Yangon is particularly famed for bustling markets, stunning golden pagodas (including the nation's iconic Shwedagon Pagoda) and colonial buildings, all of which can be traced back centuries ago. But that's not to say that the city lacks contemporary institutions to indulge the modern traveller.
Sule Shangri-La, Yangon stands as proof, featuring facilities and amenities that live up to Shangri-La Group's esteem to indulge us during our recent visit to the city.
At the center of attraction(s)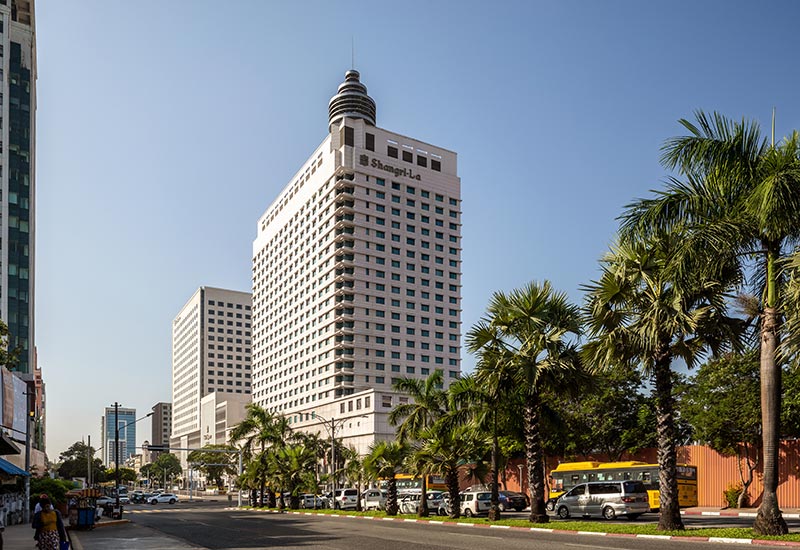 Located 45 minutes away from the airport (including traffic) in downtown Yangon, the hotel earns instant points for its prime location. Bogyoke Aung San Market, a popular shopping among tourists and locals alike, is only 5 minutes away on foot.
If that's not convenient enough, you'll find the city's first upscale mixed-use complex, Sule Square Mall, right next door to the hotel. Come rain or shine, you'll have sheltered, linked access to the mall and its range of shopping, dining and entertainment outlets.
The golden heart of Yangon, better known as Sule Pagoda, is also just a 10-minute walk away the hotel. Since the must-visit national landmark of Shwedagon Pagoda is slightly further from city hub, you'll need to hail a ride, but even that won't take you more than half an hour with usual traffic.
Watch: #FirstClasseGoesTo Yangon with Aiman Hakim and Zahirah Macwilson
A spot of comfort in a bustling city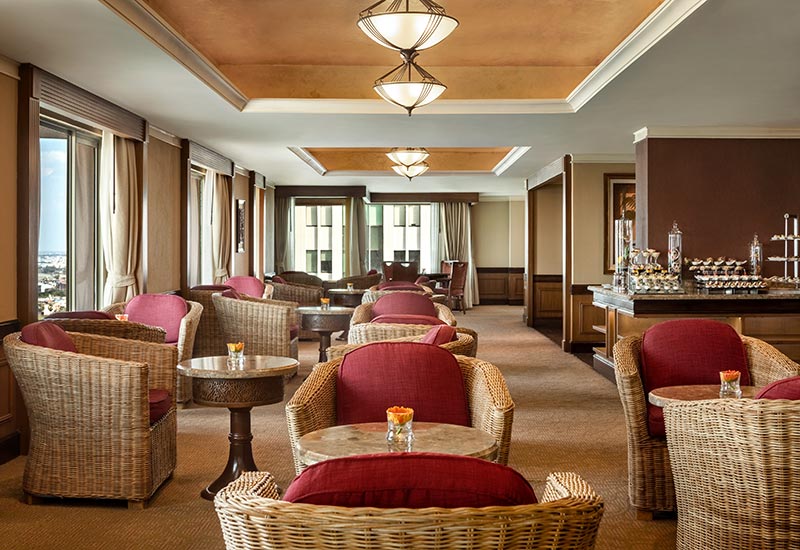 Upon arrival, we were amicably welcomed and escorted to the Horizon Lounge for check-in – a privilege only for guests staying at the Horizon Club Rooms. Complimentary breakfast, all-day refreshments, evening cocktails and access to lounge facilities make up the additional benefits of the Club package.
A welcome drink greeted us at the lounge reception, along with bird's eye views of the colourful city. Before long, we found ourselves in our 34-square meter room, complete with modern fixtures including a flat screen TV, high speed Wi-Fi, ample charging ports and a marble bathroom.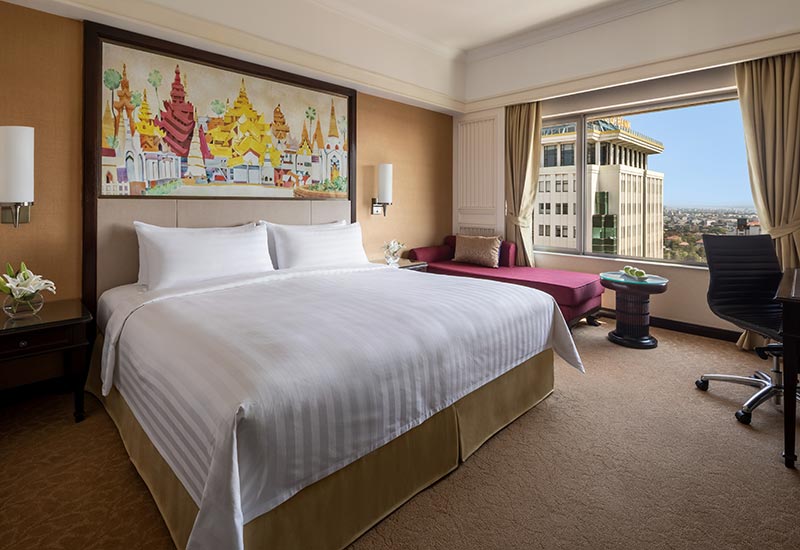 Warm elements and contemporary décor defined the interiors, spruced up with a vibrant illustration of the iconic Shwedagon Pagoda hanging above our bed. Apparently, the landmark is a common feature across all 484 rooms in the hotel.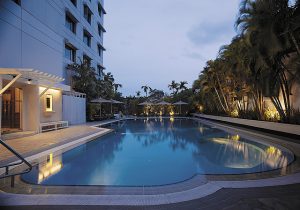 Although our tight itinerary didn't allow room for much, we managed to squeeze a quick tour around the 24-storey hotel. For those who have the luxury of time, there's a standard swimming pool, gym and spa at the Health Club to keep up with an active lifestyle.
A mirror of Yangon's cultural beauty
Aside from lifestyle facilities, there's a phletora of dining options available at the hotel. Strategically located on the ground floor right in front of the main entrance is the Peacock Lounge, an opulent space to unwind and have a cup of coffee. After half a day out and about, we decided to have a break over an afternoon tea here and were rewarded with generous servings of sweet and savoury delights.
While allowing ourselves a second helping of the scones, we marvelled at the interior architecture, featuring intricate carvings that referenced cultural symbols. A large mural of majestic peacocks on the wall hinted at the name of the place, lit by a grand chandelier that made the atmosphere even more posh.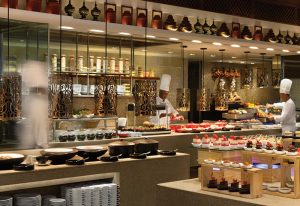 For dinner, we headed to Café Sule, the hotel's all-day dining venue. The buffet spread is commendable, offering a wide range of local dishes in addition to Asian and international flavours. We had breakfast here again the next day and were equally impressed by the offerings.
Alternatively, fans of Cantonese cuisine can enjoy lunch, dinner and banquet meals at Summer Palace. It is a popular spot for dim sum, but also offers a selection of live seafood and extensive a la carte menu, too.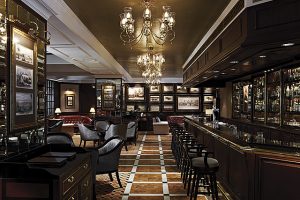 On the other hand, The Gallery Bar & Restaurant serves up a range of cocktails and comfort food in a room evoking traditional British pubs. It's worth a visit just for its nostalgic ambience highlighted by dark wooden furniture and memorabilia from the 1800s – a stark contrast from the Burmese design influences all around the hotel.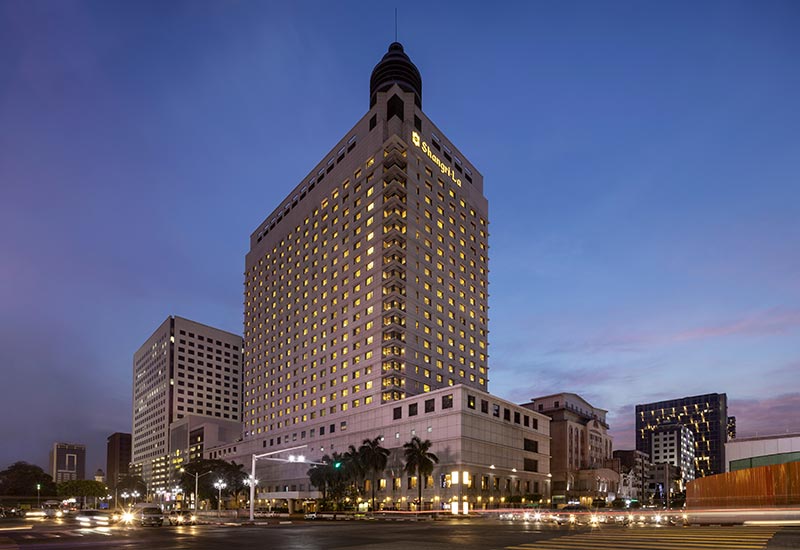 Whether you're looking to spend the day in the hotel or out exploring the city's sights, Sule Shangri-La, Yangon meets both needs with satisfaction, if not more.
For reservations and enquiries, log on to the hotel's official website here.
Photos: Sule Shangri-La Yangon