Over two decades on since her tragic passing in 1997, Princess Diana endures as a style icon not just for followers of the British monarchy, but also fashion enthusiasts the world over. Netflix's cult-favourite TV series, The Crown, offers a glimpse of why she came to be the well-loved person she was, and notably how her dressing reflected her life and personality.
In celebration of the recent release of the show's fourth season, we explore 9 style lessons we've picked up from the best fashion moments of the People's Princess.
A lady can never have too many hats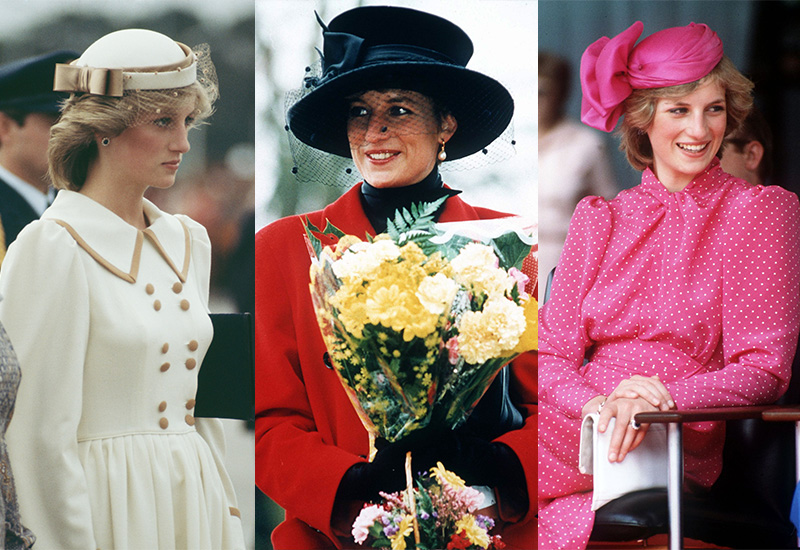 By this, we mean both literally and figuratively. Princess Diana had no shortage of hats in her accessories wardrobe to match her frocks and suits, from boaters and bowlers to cloches and pillbox types. She played just as many roles in her day as a mother to Prince William and Prince Harry, (former) wife to Prince Charles, the Princess of Wales and humanitarian for causes supporting HIV/AIDS and leprosy patients, the homeless and more.
Work that monochrome magic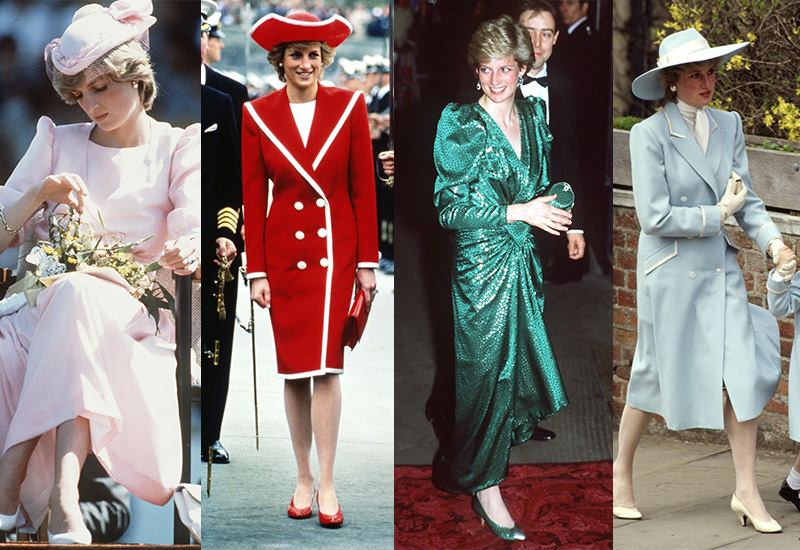 Like Queen Elizabeth II, Princess Diana was known for her monochrome ensembles of every shade. There were yellows and greens, blues and purples. Pink occurred particularly often, and understandably so, given that it was her favourite colour. She wore monochromes through the '80s and '90s – and we don't see the trend wearing off even until today.
Colour-blocking is cool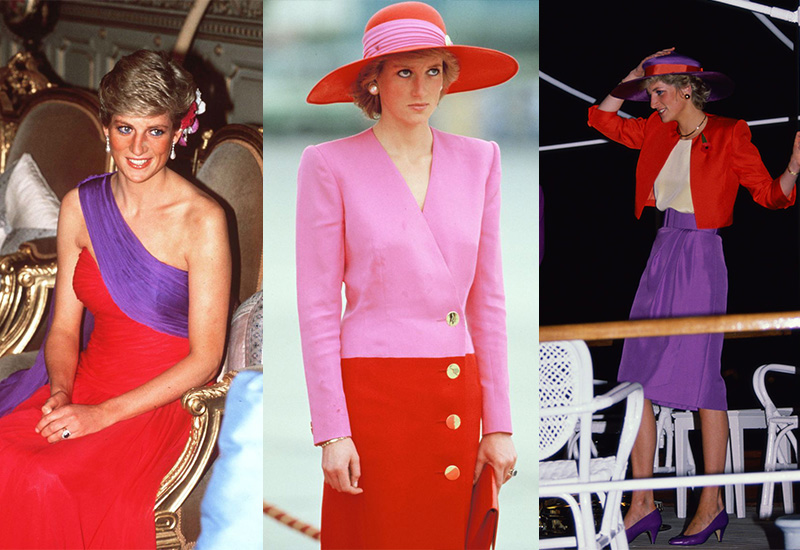 Every now and then though, the Princess swaps uniform colours for a colour-blocked outfit. Think rose against violet or brick orange against pink. (Queen Elizabeth II and Meghan Markle have also been spotted wearing similar colour-blocked outfits in recent years, following her lead.)
Know your worth and dress like it…
There was no mistaking her as the Princess of Wales; she looked the part in every way. Her wedding dress, designed by British designers David and Elizabeth Emanuel, still makes headlines and tops lists of best wedding dresses until today. Then there was the sequinned blue number worn to the Pink Diamond charity gala at the Royal Lancaster Hotel in 1990, which fetched a whopping £170,000 at an auction 23 years later.
…but don't forget to let loose sometimes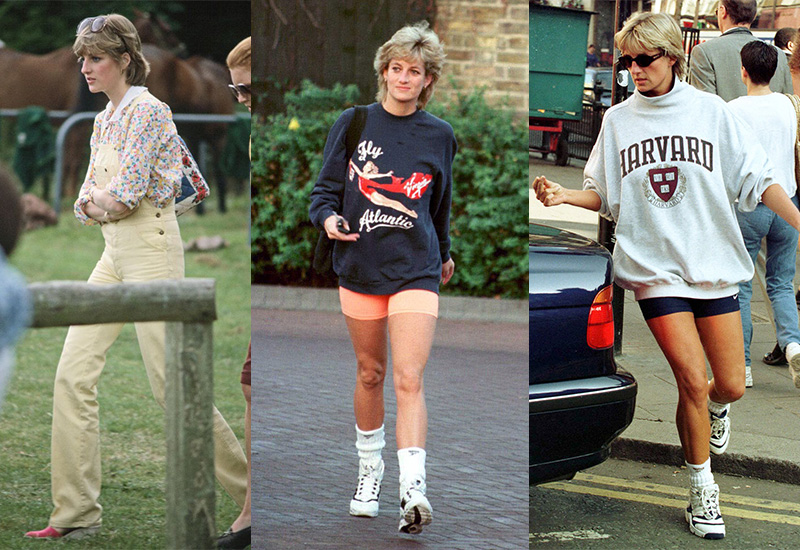 When not on princess duties, she toned it down with youthful getups that showed the down-to-earth side of the royalty. A photo of her wearing yellow dungarees to a polo match circa the summer of 1981 is a particular fan-favourite. Remember when biker shorts were a thing in the 1990s? Yeah, the princess was one to champion the trend, too. And she paired them with oversized sweaters for the cool mom look we can get behind.
When in doubt, wear pearls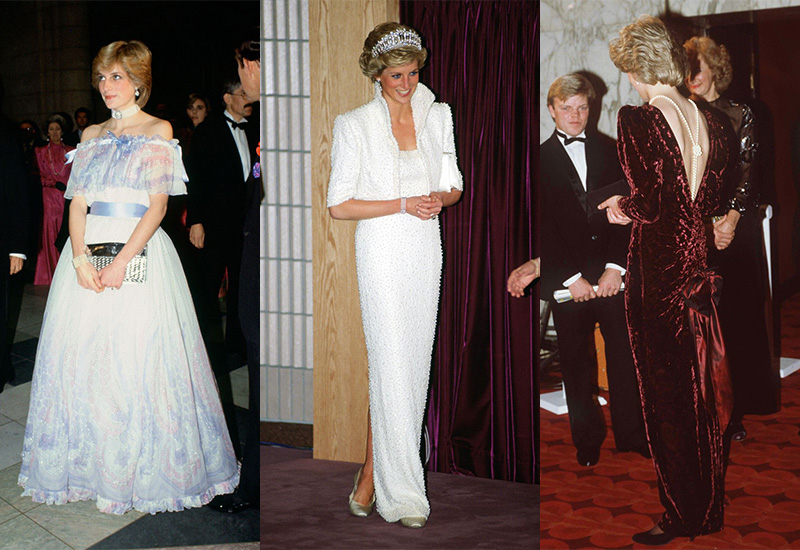 Everyone remembers the Princess' love of pearls. Whether she was in a blazer and skirt, an evening gown or a kimono in Japan, the Princess often complemented her outfits with a string of pearls around her neck and wrist and/or teardrop earrings. Once, in 1989, she donned a dress completely adorned with pearls, also dubbed the Elvis Dress, to the Victoria and Albert Museum – where the gown remains on display today.
Women can rock suits too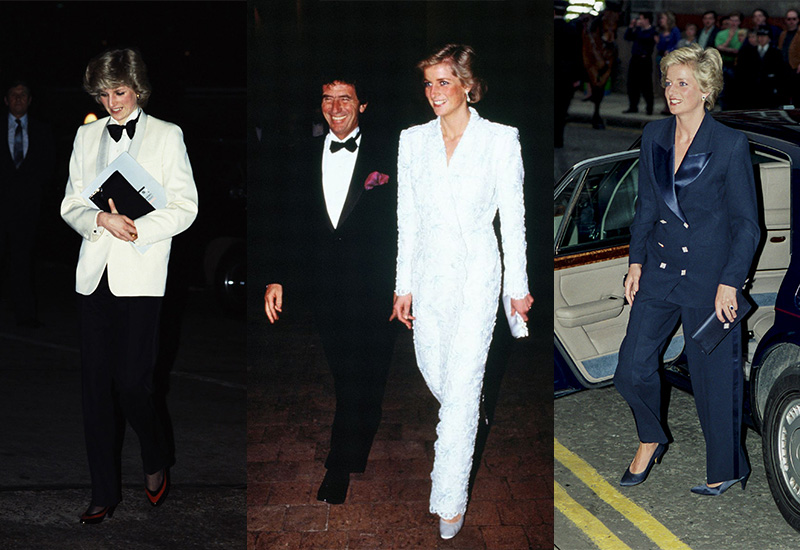 Princess Diana may have been known for her elegant dresses, but she also sported some memorable suits. There was the black-and-white tuxedo-style suit she opted for to a rock concert in 1984; the white suit by Catherine Walker at a dinner at Chateau de Chambord during an official visit to France circa 1988; and the navy blue suit she wore to a charity concert at the Royal Albert Hall in London in 1990. Her occasional androgynous fashion choices broke the royal mould, underscoring the fact that she doesn't "go by the rule book".
It can take time to refine your style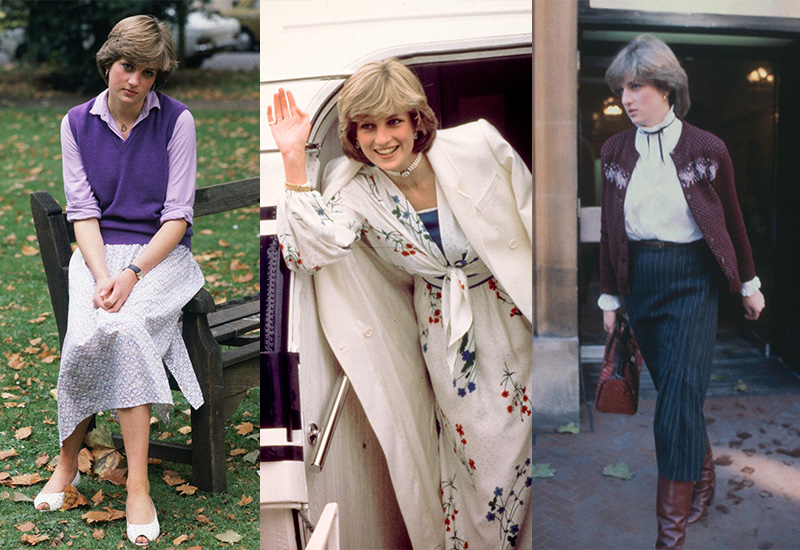 Before she came to be known as the Princess of Wales, she was Lady Diana Frances Spencer – the daughter of Viscount and Viscountess Althorp. Born into nobility, she had dressed modestly in her early years through her engagement to Prince Charles, favouring conservative shirts and blouses paired with demure skirts. Post-wedding bells, her taste grew notably more sophisticated and tailored, with the odd sartorial influence.
When you do, make a statement of it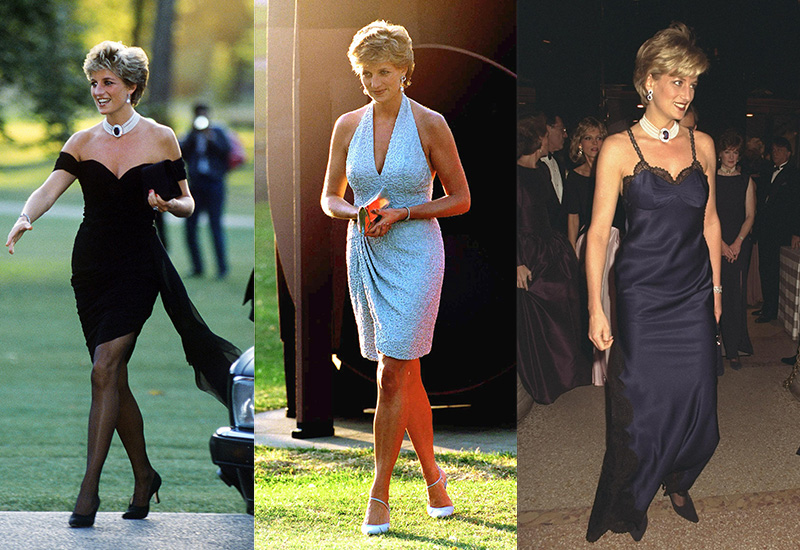 After her divorce with Prince Charles, she was markedly surer of herself – as reflected by her bolder, progressive style choices. The most memorable look to show for it: the LBD "revenge dress" by Christina Stambolian that she wore in 1994 to the Serpentine Gallery following the split. The next year, she wore an embroidered dress with a plunging neckline. For the 1996 Met Gala, she impressed in a Christian Dior navy number with a lace neckline. What a way to make a statement, if we may say so ourselves!
Photos: Getty Images