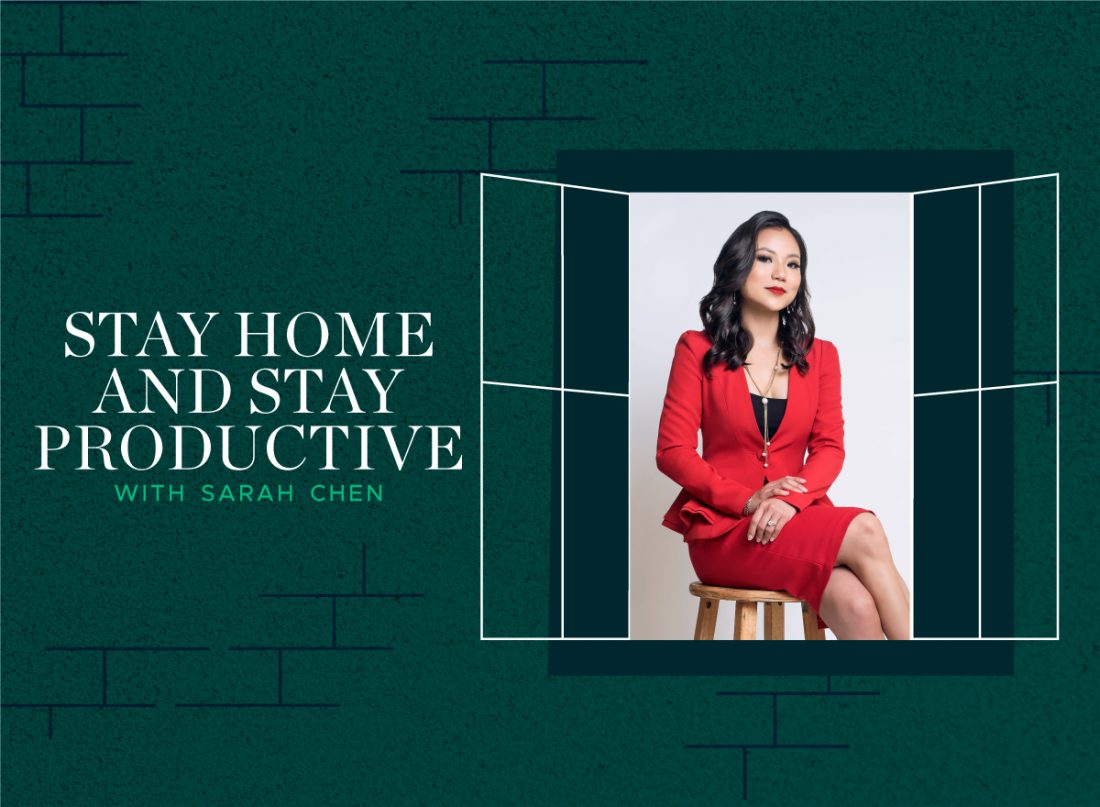 While working from home has its perks, merging personal and professional spaces also has its limitations. Inspiration may run dry and motivation may dip even if the many distractions of home don't get to you.
Sarah Chen, venture capitalist and strategist, co-founder and managing partner of The Billion Dollar Fund and Lean In Malaysia, felt it in the early weeks of lockdown. Based in Washington DC, USA, she subjected herself to home quarantine to ride through the pandemic, while still finding ways to stay on top of her A-game.
"The pandemic of course has challenged all our motivations," she shares. "For an extrovert like me who craves adventure, travel, being with people, added with the fact that a lot of my business did depend on in real life interactions, it certainly created ups and downs but I try my best to go back to my why and trust the process."
A lot of things that used to be her main motivation was suddenly out of reach, from the great outdoors to the people she meets. "I find motivation all around me, from tuning into affirmations every morning, to seeing and hearing the success of the women I've had/have the privilege to work with or be friends with- but of course these are external sources of motivation. What I think is equally, if not more important, is internal motivation – that comes from within. That will give you true satisfaction or fulfillment. So for me, this starts with my why, my purpose, my true North."
Thankfully, almost a year after it all started, she's found her compass to always guide her back to being her most motivated and productive self. "Self-motivation is a muscle," she reminds. "The more we use it, the stronger it becomes every day. And like strengthening our muscles, it requires commitment to build over time, consistently."
Here are her tips to finding our respective true Norths.
View this post on Instagram
Break it down
"Build small weekly goals and achieve them . This could be yoga three times a week, three hours of learning a new subject or the ticking of something off my list. It keeps me going and gives me the perception of progress!"
View this post on Instagram
Take stock of the bigger picture
"I view my progress by weeks/months instead of minutes and hours in the day, which I used to do and that made me feel terrible in the end. There will be days that I simply am not productive, days that I am on overdrive, and that's okay."
View this post on Instagram
Don't be afraid to lean on others
"I find I'm often better at not letting others down, than letting myself down. So what I do is I have others hold me accountable. I hate the thought of owing others anything and that keeps me disciplined with timelines! My co-founder and I, for example, have standing check-ins twice a week."
View this post on Instagram
Tune in to inspirational content
"Instead of scrolling through feeds of others who seem to be 'showing off', instead, take in inspiration from those you can actually learn from (In fact, cleaning up of your feeds when you have the moment is a good idea). These days I have become less tolerant of the superficial, and crave real substance, and I take inspiration only from those I actually look up to because of what they've done, and not who they are."
View this post on Instagram
Let nature heal
"Spend time outdoors, in nature, take a break from the routine and do something different every now and then! You'd be surprised what some fresh air and a different view will do for your mental health and productivity."