Five courses feature ingredients grown in The Gardens at the Palace of Versailles, the Orangerie, the nearby Potager du Roi and other fine delicacies that were introduced to France.
What does it mean when someone says it's a feast fit for a king?
The Brasserie at St Regis KL gives us an idea with its Feast of Versailles, a special once a month dinner inspired by 100 years of fine French gastronomy served at the world-renowned Palace of Versailles from the 1600s to the 1700s.
Cooked up by Chef de Cuisine Clement Torrente and Executive Pastry Chef Gael Moutet, both French locals who grew up familiar with the many tales of the grand dinners within the palace, the menu invites each guest to travel back in time to experience this culinary brilliance and splendour from the gilded age.
Five courses feature ingredients grown in The Gardens at the Palace of Versailles, the Orangerie, the nearby Potager du Roi and other fine delicacies that were introduced to France.
This is what it's like to feast like a king.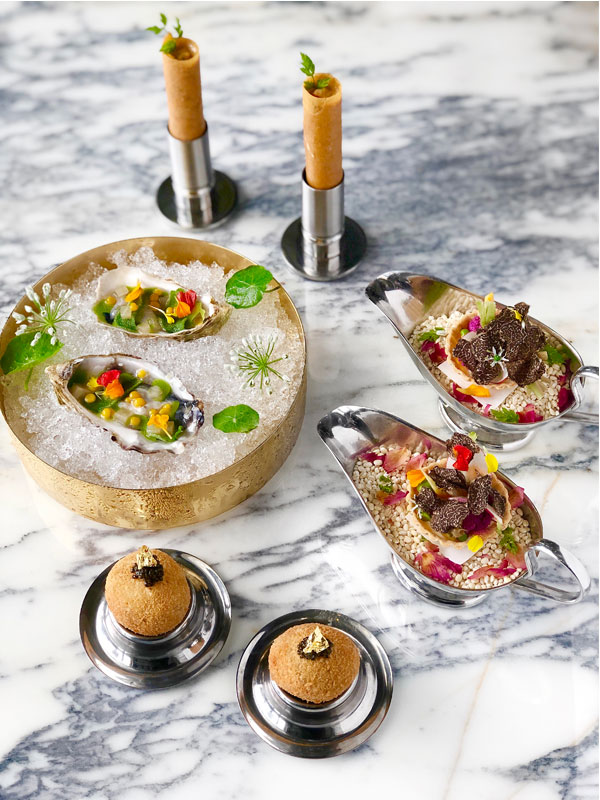 Amuse Bouche
It is a resplendent affair that's not short on want from the get go. The amuse bouche alone comes in four renditions, each spotlighting ingredients synonymous with indulgence and, more importantly, a favourite of King Louis XIV during his reign.
The Royal Oyster is plump and juicy, bursting in the mouth with the perfect brine and sweetness of the sea, flavours intensified with oyster leaves for bite, calamansi gel for acidity, dill oil for added silkiness and pickles for lift. Lobster is served minced, folded with mornay sauce and stuffed into a bouchée, for a decadent bite that coats the tongue with a creamy savouriness.
The vegetable tartlet is one to pay extra attention to. Peas, carrots, radish and pickled cauliflower – vegetables grown in the Garden of Versailles so they'll never run out even during famines back in the day – are served on a bed of celeriac puree. Each vegetable is distinguishable with bright crunch and sweetness, held together by the puree. The indulgence is intensified with generous shavings of truffle. Lastly, the famed French escargot is served minced and stuffed into a fritter ball, its earthiness intensified with garlic butter and a small dollop of caviar on top.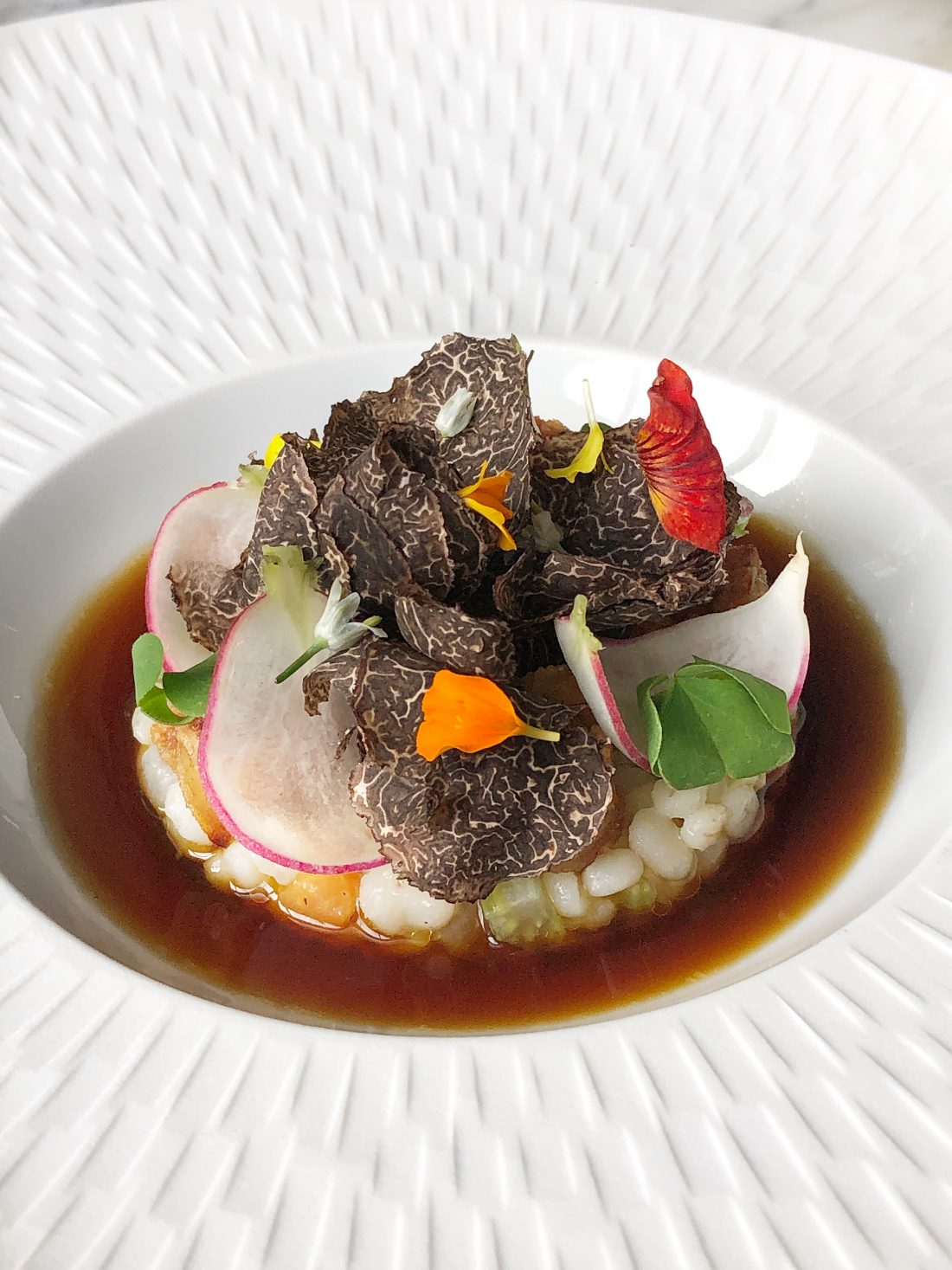 Soup: Le Buillon Du Roi
King Louis XIV loved his soup and started every meal with one. He apparently always had four types served to him, one meat-based, one fish-based, another vegetable-based and the last, poultry-based.
Chef Clement combines all the above in a le buillon du roi, a clear beef broth sweetened with slow-boiled sweetbread, barley, cress and black truffle. The result is an almost herbal soup layered with the sweetness of barley, full-bodiedness of veal sweetbread and herbaceousness of cress, all tied together with the muskiness of shaved black truffle.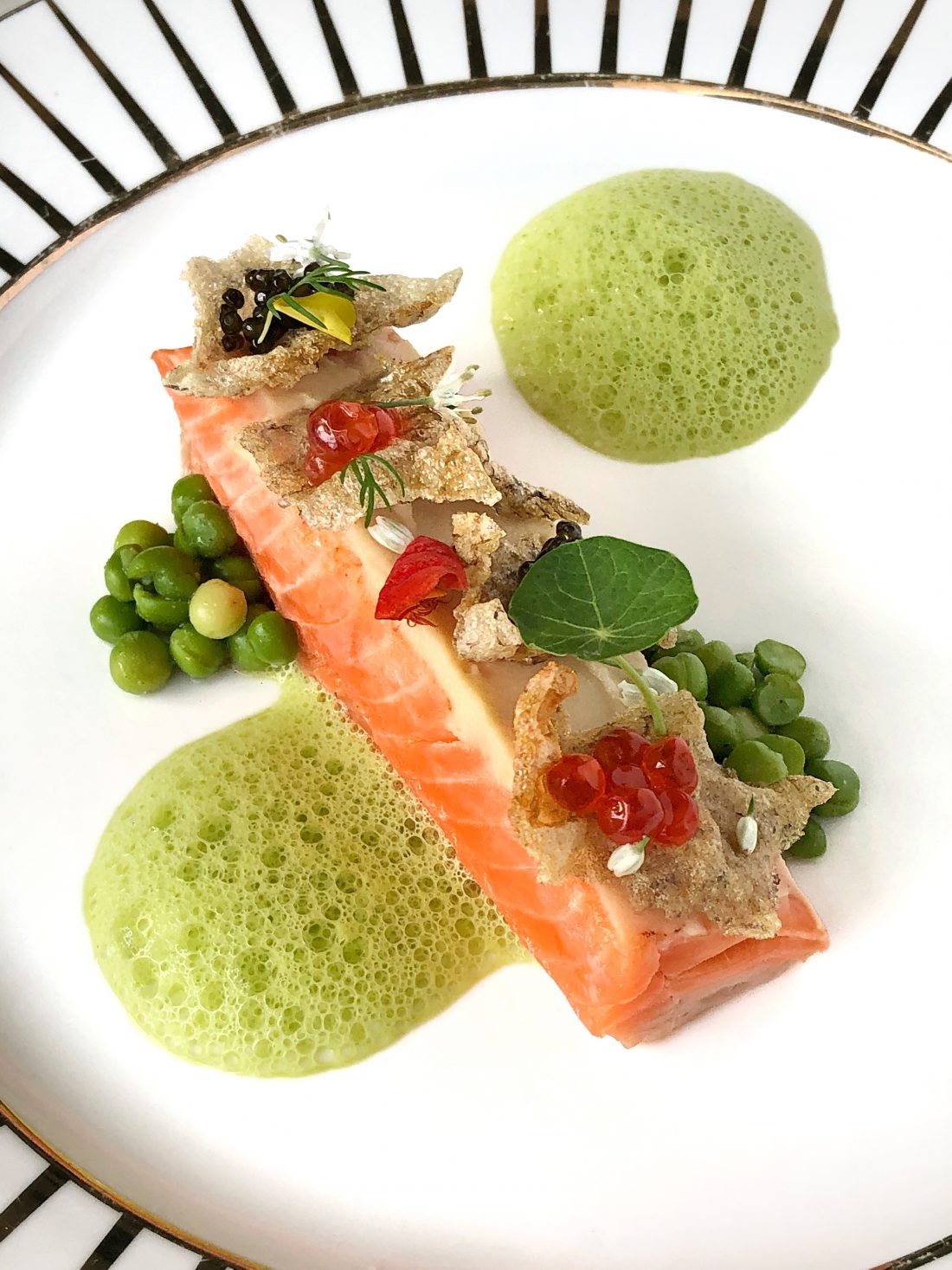 Appetiser: Balade Sur La Seine
Fishing in the River Seine was said to be a favourite pastime of many French noblemen, King Louis XIV included. The King was fond of eating his own catch too, resulting in salmon and trout often being on his menu.
Diners get a taste in the form of torched ocean trout , seared just on the surface so the inside remains tender, almost creamy. Trout roe lend an oiliness to lengthen the sweetness while crispy fish skin balances textures with just enough crunch. Scoop on some Jerusalem artichoke and green peas for more bite and top it off with parsley emulsion to cut through the oiliness of the fish.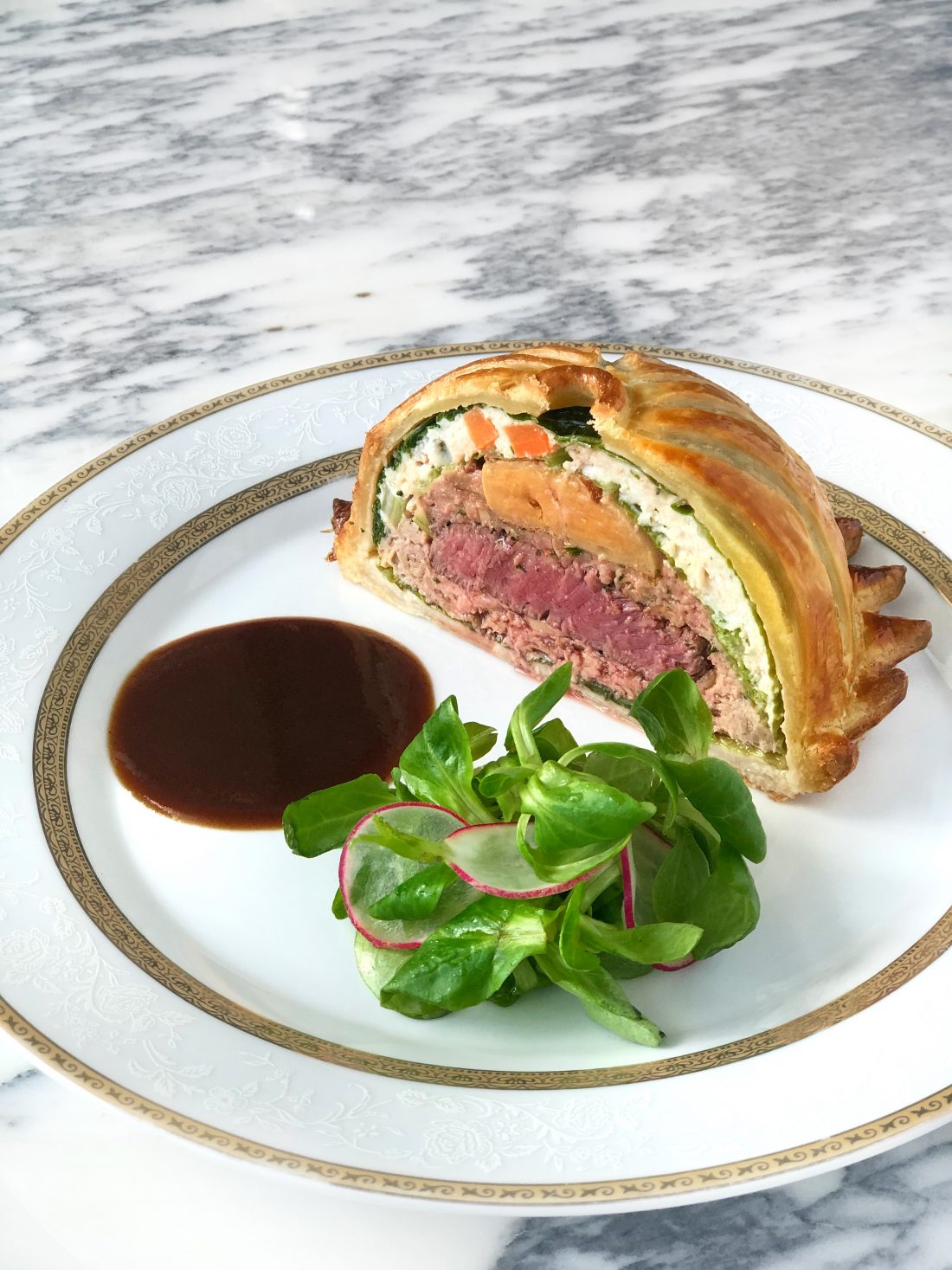 Main: Le Pithivier de Louis
The main is a sight to behold, from the moment it is brought into the room to the moment it is cut into half in front of you and served. A traditional pastry puff dish from the town of Pithivier in France, hence its name, pithiviers were originally made with sweet fillings but evolved to envelope savoury fillings that were served at royal dinners.
Ours is a multilayered delight, a golden dome of light and airy pastry holding within it four layers of meats. The base is made of chicken and beef with cèpe mushroom stuffing, followed by a whole tenderloin steak, then a generous slice of pan-seared foie gras, before it is all topped with chicken and vegetable stuffing.
It is meaty, without a doubt, but surprisingly not as cloying as one might imagine – the difference in lean and fat, tender and crispy, come together for a main that is varied in texture and taste. Waiting to cut through all the gameyness of the meats is a refreshing watercress salad tossed in light vinaigrette.
Dessert: Strawberry and Cheese
Strawberries were King Louis XIV's favourite summer fruit, so much so that he had them grown in The Gardens of The Palace of Versailles so he'll never run out of them. Our dessert is homage to his love for strawberries, with the ripe red fruit served two ways – as a refreshing sorbet and fresh in their true form, sliced and served on a bed of brie cheese cream cake.
The sorbet is crisp, tart and refreshing with a rounded sweet end as one would expect of strawberry sorbet. It's the perfect counter for the rich brie cheese cream cake. More cheese than cake, it is rich and savoury with the prized brine of brie, a veil that only lengthens the sweetness of the fresh strawberries served atop it. Whether you're a sweet or salty dessert person, this pretty plate will meet your satisfaction.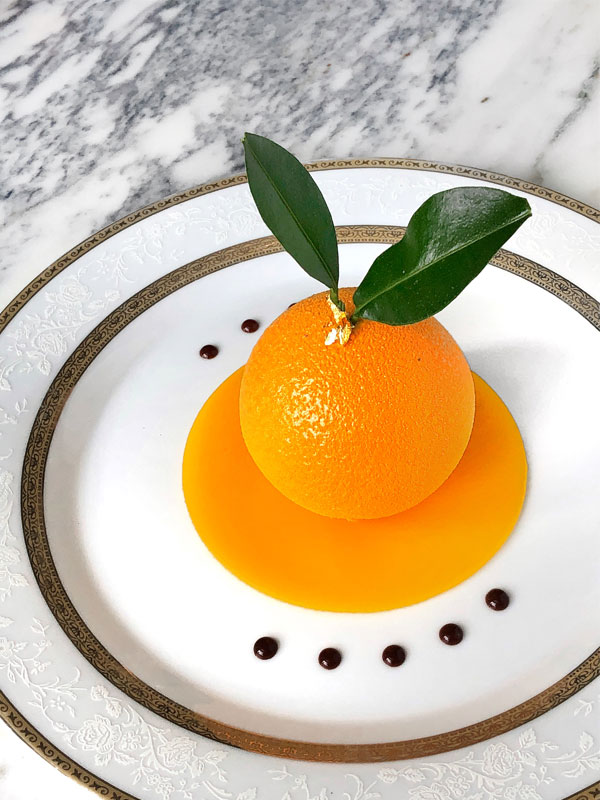 Dessert: Orange Chocolate Mousse
First introduced to France by Spanish conquistadors, chocolate quickly became a fond favourite of King Louis XV. Queen Marie-Antoinette was also a fan, so much so that she brought her own chocolate-maker with her, who came to be known as Chocolate Maker to the Queen.
White, milk and mousse chocolate take centrestage in this beautiful dessert, sculpted into the shape of a ripe orange in a white chocolate shell. Break it open and inside sits a fragrant chocolate mousse on top of a delicate orange custard. Despite the heavy sound of mousse and custard combined, it is light and airy, leaving only the sweetest taste of chocolate and none of the cloy.
The Feast of Versailles at The Brasserie in The St Regis KL is available once a month. Current dates are 25 September 2020, 23 October 2020 and 27 November 2020. It is priced at MYR400.00 for food only, MYR588.00 with wine pairing and MYR688.00 with cocktail pairing.
For reservation or enquiries, call +6012 2801 303 or email dining.kualalumpur@stregis.com.
(Photos: The St Regis Kuala Lumpur)