In light of upcoming Raya celebrations, here are Dyson's tips to spring clean your entire home. Read till the end to win a Dyson V11 Absolute vacuum worth RM3,399!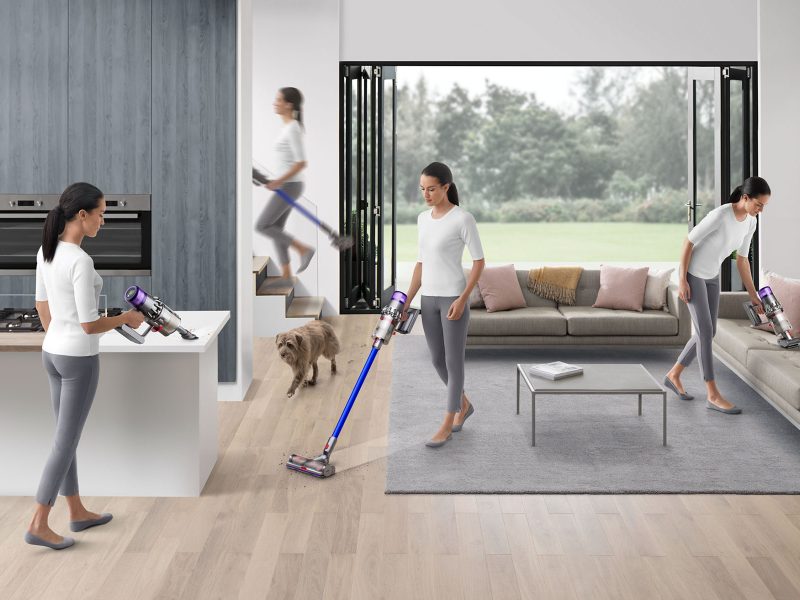 There are unseen allergens that may be lying around the home without our realisation, potentially causing allergies and a range of health concerns.
According to Dyson, these allergens consist of dust mites, dust mite faeces, bacteria, mould, small insects and spores that are microscopic in size, measuring between 0.5 to 5 microns. By comparison, the diameter of human hair is about 50 microns.
Thus, we may be oblivious to their presence between the threads of our textiles or across surfaces… until we plump our pillows or sweep the floor and send a heap of particles into the air, catching us by unpleasant surprise. This is why it's so important to regularly clean the home, more so during festive periods when we're expecting visitors over.
"All of our research has shown that the best way to deal with bacteria, pollen and dust mite
allergens is to remove them from your home completely," says Gem McLuckie, Advanced Research Scientist in Microbiology at Dyson.
"That's why we focus our efforts on designing vacuum cleaners that pick the dust up, have cyclones that are incredibly efficient to keep it in the machine, as well as filters and seals to make sure it doesn't get emitted back into your home."
In light of upcoming Raya celebrations, here are Dyson's tips to spring clean your entire home.
Beddings, sofas and chairs
Start where you spend the most time on: think beds, sofas, chairs and the like. These are prone to have debris, pollen and skin flakes which attract dust mites and their droppings, so they should be vacuumed regularly.
After removing beddings, duvets, pillows and cushion covers, place them in a hot wash of between 60°C to 90°C to help break down and destroy the allergens. Then, vacuum the mattress, cushions and chairs using a vacuum cleaner with advanced filtration to remove the allergens effectively and prevent them from circulating back into the room via exhaust air.
Protip for Dyson vacuum owners: The mini motorized tool is ideal to clean smaller surfaces including sofas and chairs.
Cupboards and storage systems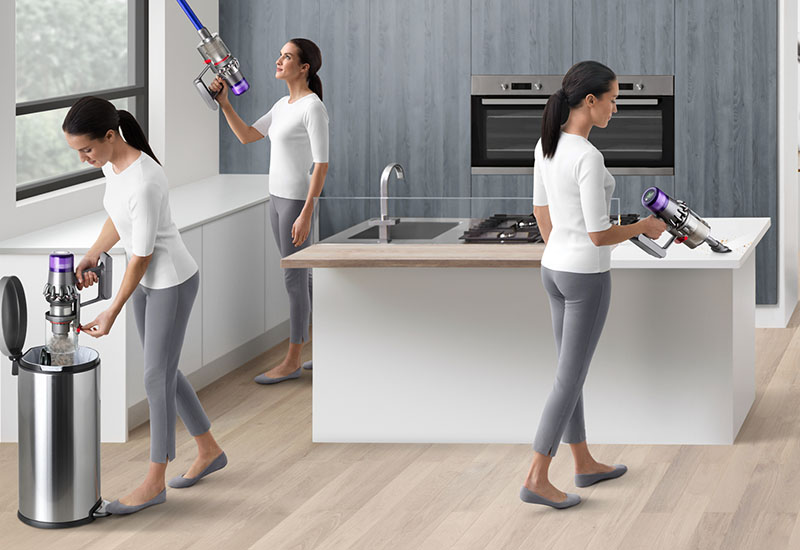 Storage systems are another breeding spot for dust, even if you keep them closed most of the time. Kitchen cupboards are especially vulnerable to bacteria, food particles and small insects, due to their location and contents.
To deep clean kitchen countertops, cupboards and wardrobes, use a vacuum with an advanced filtration and/or a clean damp cloth and detergent or cleaning wipes. You may also want to clear out your drawers and wipe or vacuum them to keep dust and fibres away from your clean belongings. Be sure to dry all surfaces after to avoid attracting new dust particles and moulds.
Walls, curtains and blinds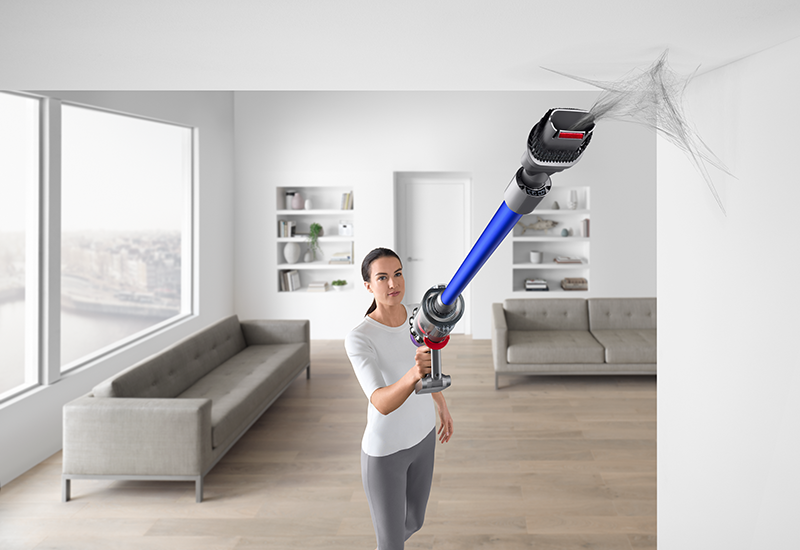 Like beddings and other textiles, curtains and blinds can also draw a lot of dust mites and pollens. It is best to send them to the laundry regularly if possible, though vacuuming can also help to reduce the amount of allergens clinging to the fabrics.
Meanwhile, clear your ceilings and walls of dust by using a HEPA-filtered vacuum for greater efficacy. Pay extra attention to rooms that may be more humid or receive less ventilation as the dust on these walls can contribute to the growth of moulds.
Protip for Dyson vacuum owners: You can easily swap between surfaces using the combination tool, which comes with a brush and wide nozzle.
Lights and fixtures
Don't forget to tackle the lights and lighting fixtures – dust that settles on these objects can burn on hot bulbs and produce harmful VOCs or move around the room due to hot air surrounding the bulbs. Simply use a cloth rinsed with warm water and detergent to wipe down the lights and fixtures, followed by a dry towel. Alternatively, use a soft dusting attachment with your vacuum to gently clean delicate bulbs and lights.
Protip for Dyson vacuum owners: Use the mini soft dusting brush, which features nylon bristles to effectively dust and clean delicate surfaces such as these.
Furniture and décor
Dust, dust mites and dirt gather easily beneath furniture, including sofas, pianos and large décor elements. Move mobile furniture around to ensure you clear these areas, so the dust will not later be redistributed to other parts of the home by the wind or natural household activities.
For heavier, harder-to-manage furnishings, use a crevice tool or smaller attachments on your vacuum cleaner to suck dust through any gaps or nooks. Dust or wipe smaller décor items like you would with the lights and cupboards.
Protip for Dyson vacuum owners: Attach the crevice tool to your vacuum head for precise cleaning around edges, corners and narrow gaps in the home.
Floors and corners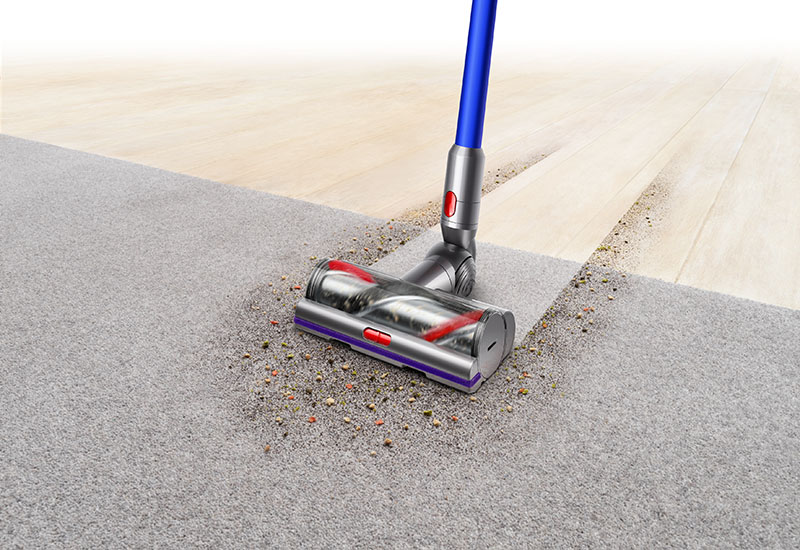 As a final step, vacuum the floors thoroughly to get rid of dust that may have been disturbed or settled from your daily activity or during the cleaning process. Be sure to keep corners and hard-to-reach areas in mind for a spotless home overall.
Protip for Dyson vacuum owners: The high torque cleaner head with Dynamic Load Sensor (DLS) technology is designed to adapt the suction to deep clean carpets. On the other hand, the soft roller cleaner head comes with soft woven nylon and anti-static carbon fibre that is ideal for cleaning hard floors.
---
In partnership with Dyson, we want to help you keep your home spick and span for this Hari Raya by giving away a Dyson V11 Absolute vacuum worth RM3,399!
To be in the running to win, just follow these simple steps:
Like FirstClasse Malaysia on Facebook.
Follow us on Instagram @firstclassemalaysia.
Share this post on Facebook (make sure you set your profile visibility to Public)
Fill in the form and answer a simple question below:
[This giveaway has ended]
Terms and conditions:
– This giveaway is open to readers residing in Malaysia except employees and the family members of FirstClasse Malaysia.
– Submissions close at 11.59pm on Sunday, May 31st, 2020. Any entries thereafter will not be entertained.
– By submitting an entry in this giveaway, you are giving your consent to FirstClasse Malaysia to collect and process your personal data.
– The winner of this giveaway will be selected at random.
– Please leave us with a working email at which we can reach you. The prize will go to the next participant should the selected winner fail to respond within 48 hours.
– FirstClasse Malaysia reserves the right to change the rules & regulations without prior notice.
For more information on Dyson cord-free vacuums, visit the official website here.
Images: Dyson