Featuring a circus, irreverent Instagram captions and the return of Naomi Campbell. 
Haute couture, or high fashion, can often go either way: impeccably dreamy or inexplicably perplexing. Sometimes it's both. Thankfully, Spring 2019 Couture Week saw more of the former with some traces of the latter leaning on a positive note, one that's relevant and forward instead of directionless – at least in our opinion.
However you interpret the pieces, here are the most talked about shows from Spring 2019 Couture Week.
Christian Dior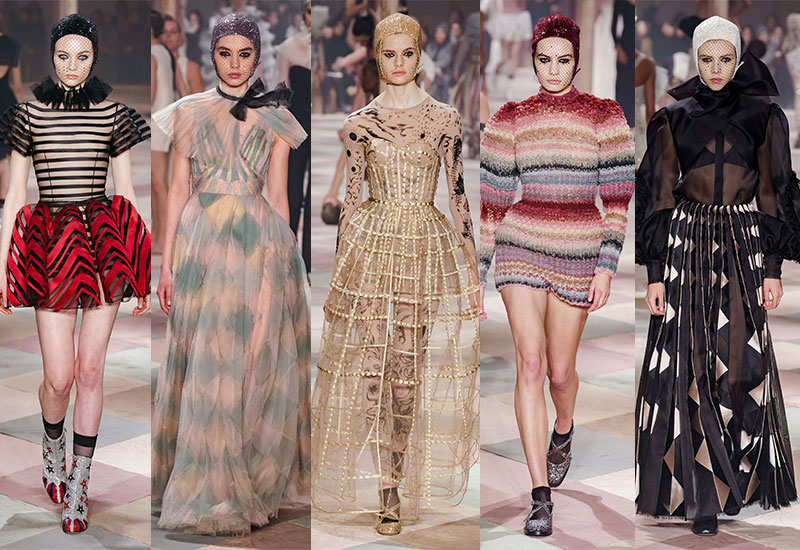 Maria Grazia Chiuri deserves an award for vocalising feminism on the runways. From evoking student demonstrations and rodeo shows, she graduated to transform Musee Rodin into a circus-themed set complete with acrobatic stunts by Mimbre, London's all-women troupe, while models simultaneously walked down the runways. The imagery of women supporting each other and breaking gender stereotypes plainly shone through both the set and the collection of structured tailcoats and illusory gowns. Bravo, once again.
Iris van Herpen
Iris van Herpen's show was as much an art exhibition as it was the epitome of couture. Titled "Shift Souls", her collection coloured the runway with a mix of warm and cool gradient-toned silk panels that combined to reveal "anamorphic faces" drawing from futuristic references. Though some of her past skeletal designs may look and feel downright out of this world, this collection was toned-down in a way that's still otherworldly, but much more feminine and wearable.
Giambattista Valli
Short at the front, long at the back – that's how Giambattista Valli is keeping most of his couture dresses this season. Everything else composed of the same balance: large bubble sleeves were paired with sensual silhouettes and architectural gowns were softened with feather and tulle. Despite his numerous years designing for couture clients, Giamba proves he has creative room for more still.
Viktor & Rolf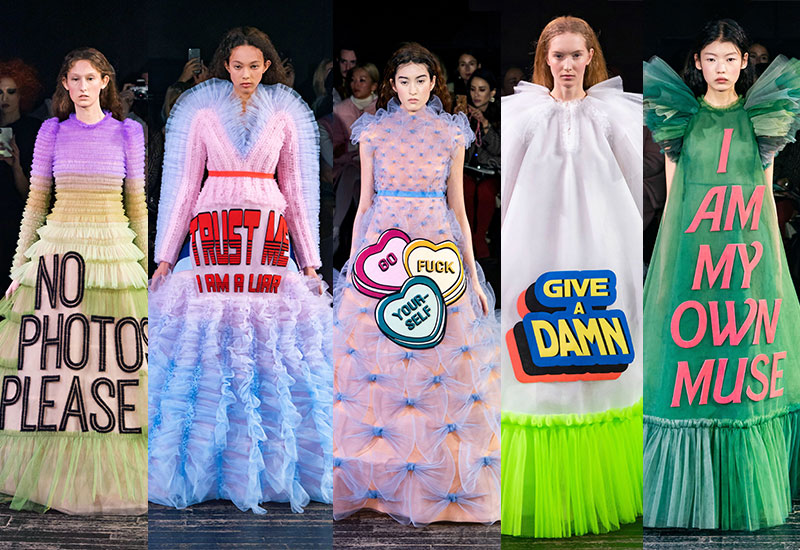 You've probably seen it everywhere by now, so it's no surprise that Viktor & Rolf's collection should make the list. Inspired by cliche captions on Instagram, such as 'I am my own muse' and 'No photos please' (among the less vulgar ones), the collection juxtaposes these irreverent slogans against a myriad of vibrant, tulle-tiered dresses. The result is ironically – or ingeniously – an Instagram hit in themselves.
Valentino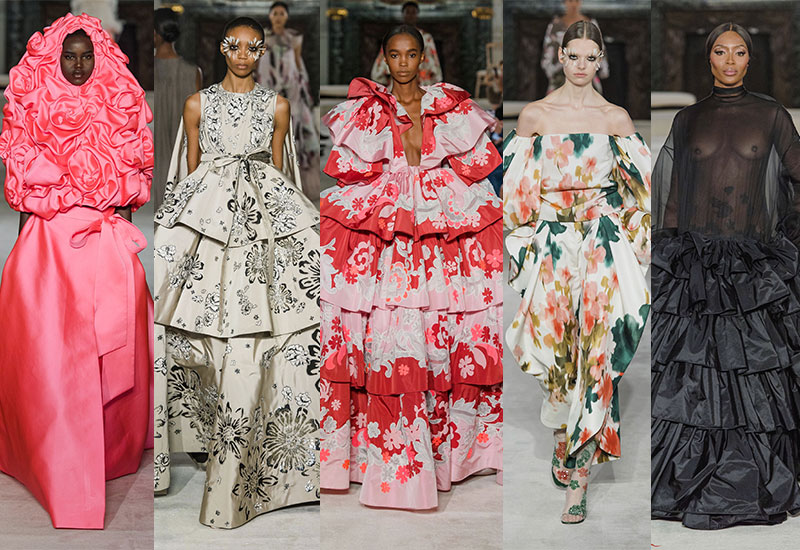 Naomi Campbell is almost hitting the big Five-O but she still owns the catwalk like she did in the '90s. The fact that she closed the Valentino show made it a highlight for many who have been following her career religiously; but that's not to say Pierpaolo Piccoli should be sidelined for his collection of intricately embroidered gowns, wallpaper florals and delicious candy hues were nothing short of magical, too.
You may also like: Versace's Tribute collection brings back top supermodels from the '90s 
Images: Courtesy of respective brands