After a month of fasting in Ramadan, Eid was meant to be the moment to indulge in a mouth-watering feast. However, if you are a vegan or know someone who is, you will have no choice but to whip up separate dishes—which can be a problem. So, our suggestions? Try something different by switching the major Raya dishes to plant-based diets.
Don't worry, it's still serunding and lodeh, but with a healthy twist this time. 
Speaking to Aisya Jabaruddin, local vegan content creator and owner of Mushroom.lah, she explained that switching to a vegan-based diet is easier than one might think. ''Vegan is not expensive if you go for local produce and products. And it's definitely possible to get your protein in with plants as well.'' 
Aisya also suggested that if you are new to vegan diets, start by choosing two of the most accessible ingredients, mushrooms and tofu. ''Both of them are very versatile if prepared properly and also very affordable.''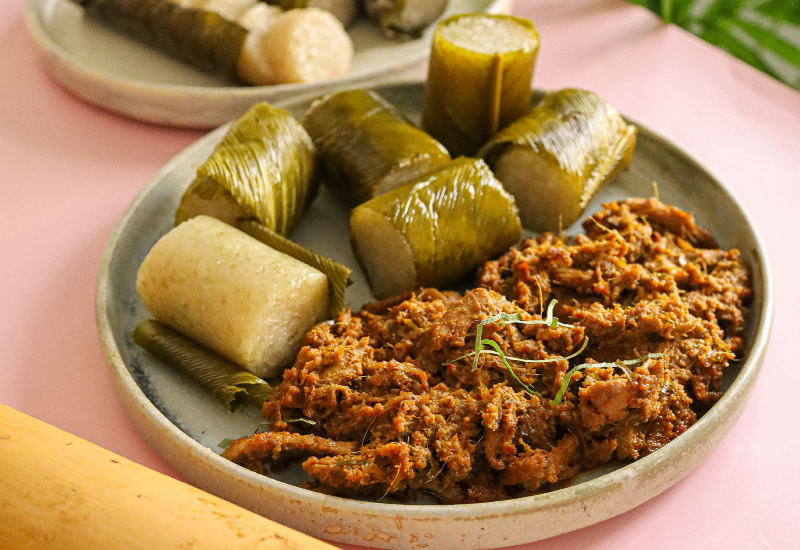 As for Elliz Azhar, founder of 'The Kampung Vegan' which immersed over 158k followers, ''Tofu, tempeh or mushrooms are popular substitutes for meat in Hari Raya dishes.'' Serunding fans should certainly try Elliz's mushroom serunding recipe. She served the dish to her father, who is not vegan, and he immediately assumed it was chicken. She said that she created the proper texture by combining oyster mushrooms and king oyster mushrooms.
She also highlights that we are not required to cook rendang with imported faux meat. It's extremely pricey, and it's loaded with preservatives and oil. Beans, tofu, and tempeh are the best alternatives, especially if purchased from a local market.
Aisya Jabaruddin Sayur Lodeh
TO BLEND
1 red onion
4 garlic
2 inch fresh turmeric
2 red chilli
3-5 bird's eye chilli
1 tomato
4 candlenuts 
1 tsp of vegan belacan (optional)
TO SOAK
20g glass noodle
2-3 beancurd skin
TO AIR FRIED/DEEP FRIED
200g of tofu
Tempeh
1 lemongrass
2 inch galangal
1 medium carrots 
1 cup of chopped long beans
1 medium sized eggplant
1 cup of chopped cabbage
Mushroom seasoning/salt to taste
Sugar to taste
SERVE WITH:
Lontong/Nasi Impit/Compressed steamed rice.
Eliz Azhar Mushroom Serunding 
TO TOAST 
1 tsp fennel seeds (or powder) 
1 tsp coriander seeds (or powder)
TO SHRED
500 g oyster mushroom
TO BLEND
2 stalks lemongrass
3 cloves garlic
1.5 inch ginger
1 large onion
1.5 inch ginger
1.5 inch galangal
10 dried chilies or fresh chilies for less heat
1 tsp fennel seeds (post-toasted)
1 tsp coriander seeds (post-toasted) 
TO COOK 
Transfer paste to an oiled pot and sauté until dry.

Add mushroom seasoning and salt. Next, add the mushrooms and mix well.

Add coconut cream, kerisik, brown sugar and asm jawa. Stir for a while.

Leave to simmer for 2 hours, stirring occasionally. After an hour, lower heat and continue stirring
SERVE WITH:
Nasi impit, rice or bread.