Located at the newly opened Japanese-based lifestyle shopping concept LaLaport Bukit Bintang, Shin'Labo by James Won is a dining destination that promises more than just an enjoyable meal. Here, the aim is to bring you on a transcendent journey of taste, sight, feeling, sensation and memory, leaving an indelible imprint on each.
At Shin'Labo, Chef James Won once again flexes his masterful flair for fusion with a fine dining experience that spotlights Japanese Yōshoku heritage through French modern techniques and indigenous Malaysian ingredients.
An ethos of culture-traversing experimentation and devotion to refined hospitality is reflected in Shin'Labo's distinctive name. The first part, 'Shin', in Japanese can be translated to 'true', 'extend', 'new' and 'heart', while the latter part, 'Labo', means 'laboratory' in both French and Japanese.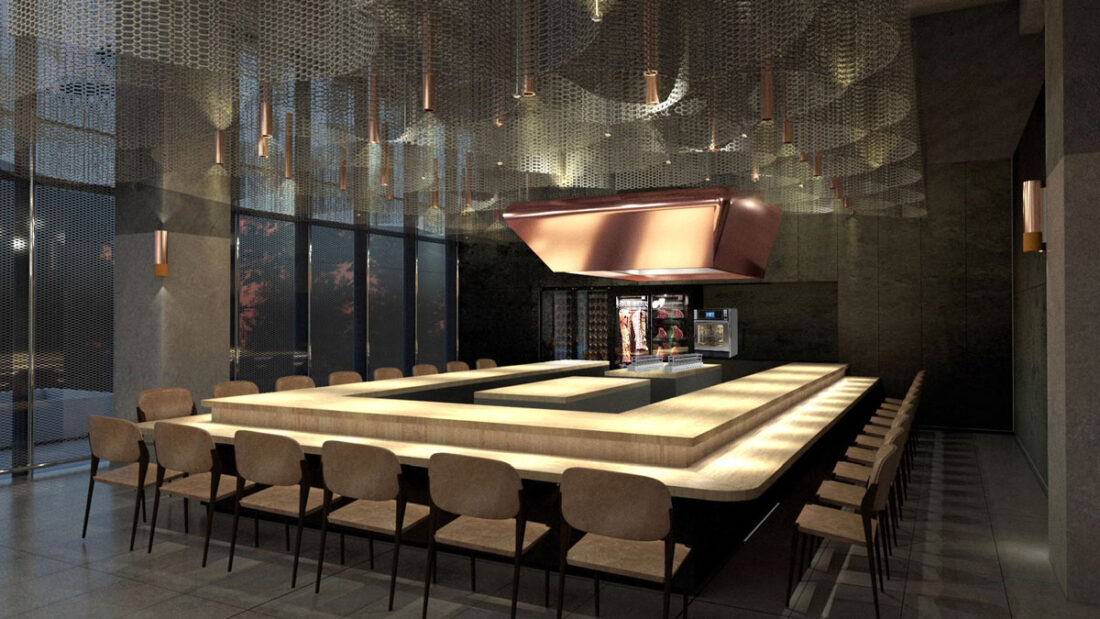 Within its luxurious 2700 square foot space, the reservations-only restaurant drips with an opulent yet understated elegance, its intimate, plush surroundings an invitation to fully indulge. Every corner is carved out to echo Chef James' unrelenting focus on balance, particularly that of the savoury Umami and the sweet Amami.
The Shin'Lounge offers a sophisticated rendezvous setting for pre-dinner or after work drinks, while the Maison du Caviar Caspienne caviar bar presents patrons with top tier pure breed sturgeon caviar, farmed and selected directly from heritage sites of the Caspian Sea.
For those seeking the height of exclusivity in their dining sessions, look no further than Asia's only Krug Chef's Table, which comes with a private list of limited-edition Krug Champagnes perfectly paired to the contemporary menu specially curated by Krug Ambassade Chef James.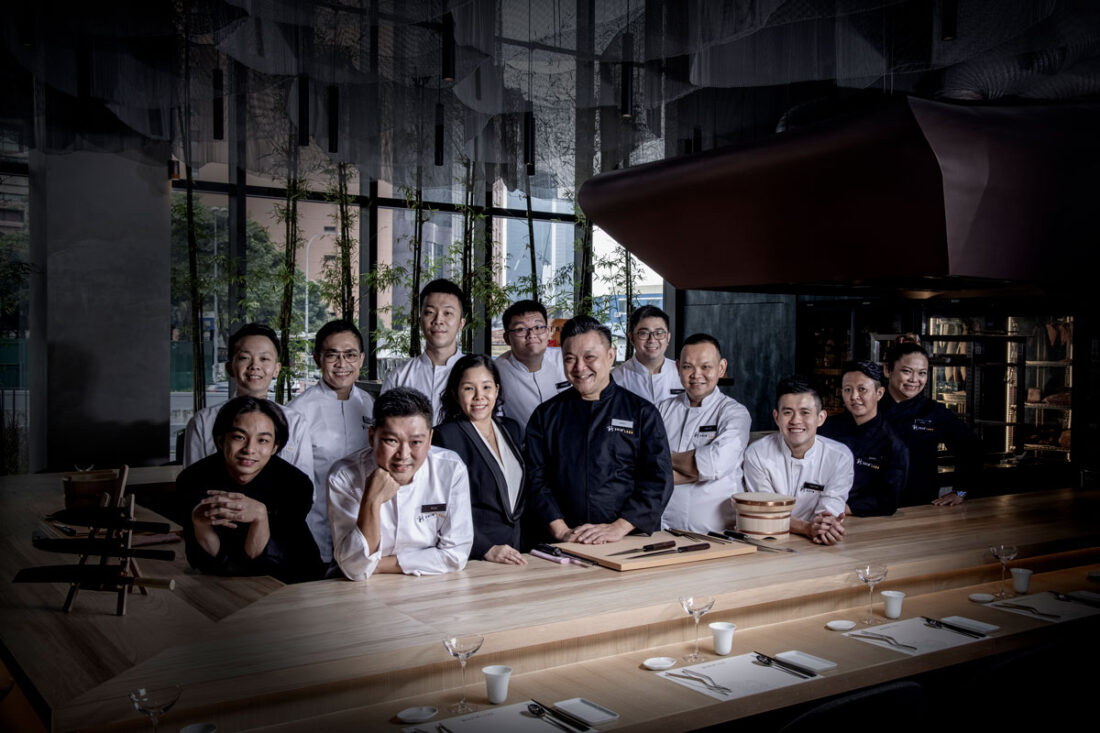 Hailing from Osaka, Kappou is a style of Japanese multi-course cuisine that emphasises a closeness between the diner and the chef, with dishes prepared in front of the guests to stimulate the five senses. The Shin'Kappou experience at Shin'Labo seeks to create that same intimacy in a premium dining experience, where diners are encouraged to savour and explore the seasonality of food and the quality of ingredients through impeccably crafted dishes.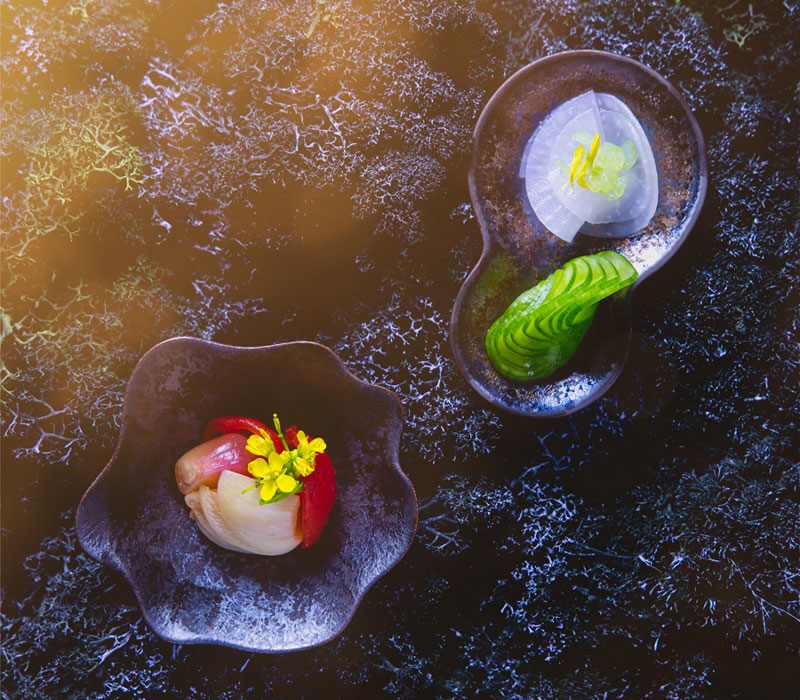 Although Tsukemono isn't traditionally served at the start of the meal, Chef James' delicate medley of cucumber, shallots, garlic and cherry tomatoes makes the perfect introduction to the balance of umami and amami that grounds the cuisine. Soft, yet with intense flavour and depth, the pickled ingredients serve to open up the palette for the gastronomic journey to come.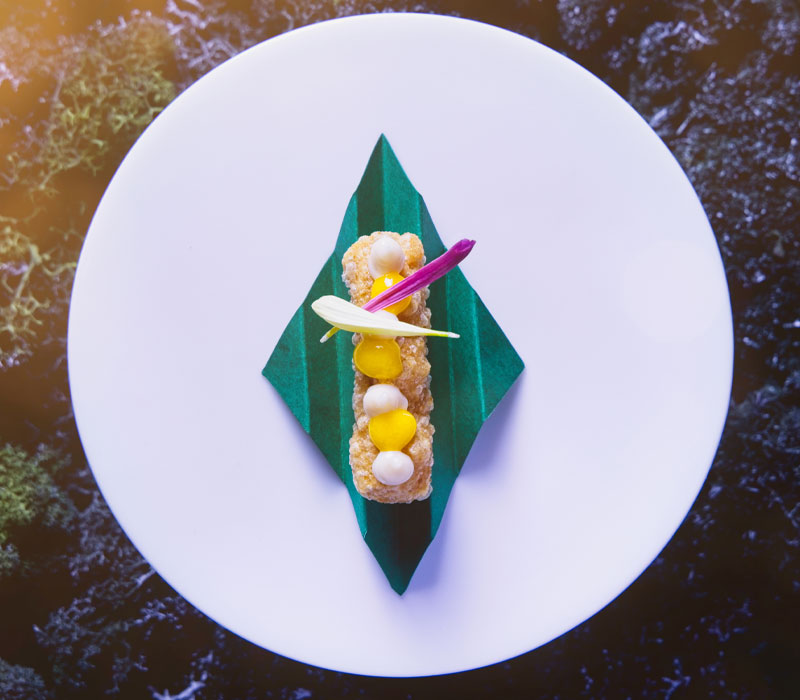 Next, an amuse-bouche trifecta is presented in the form of Omurice, Hambagu, and Korokke. At the sound of Omurice, one might anticipate a version of a dish featuring fried rice wrapped in an omelette. Instead, it is expressed as a macalong made with chicken skin and rice flour. Enhanced with demi glace, crème of egg yolk and crème of egg white, it's an indulgent mouthful of savoury, crunchy, nutty, and creamy.
In a similar way, the Hambagu presents an elevated version of the Japanese hamburger patty, one made with duck leg confit, potato tuiles, and sevruga caviar, while the Korokke is a charcoal-tinged reimagining of the French croquette that incorporates yam, seasonal white truffle, and a smooth demi glace.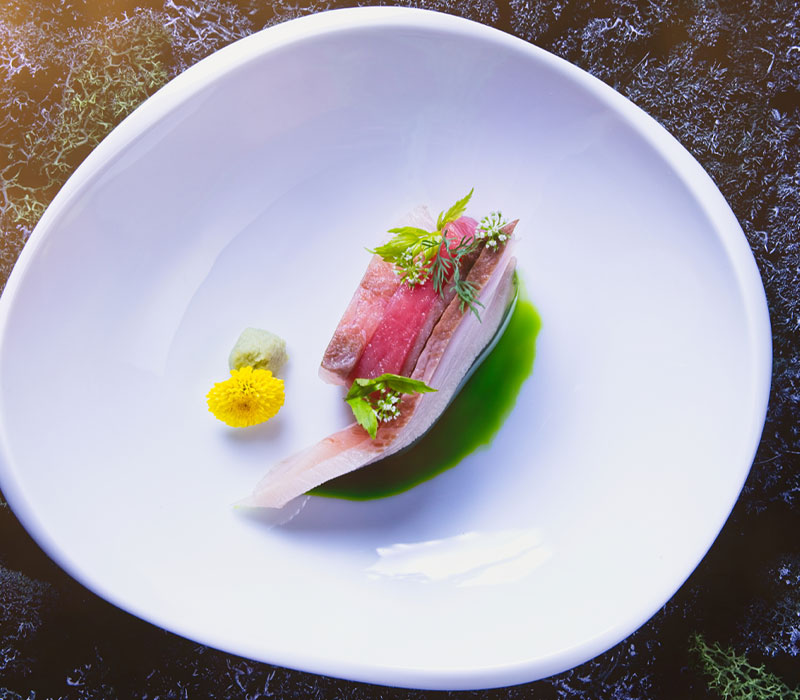 Sashimi Trio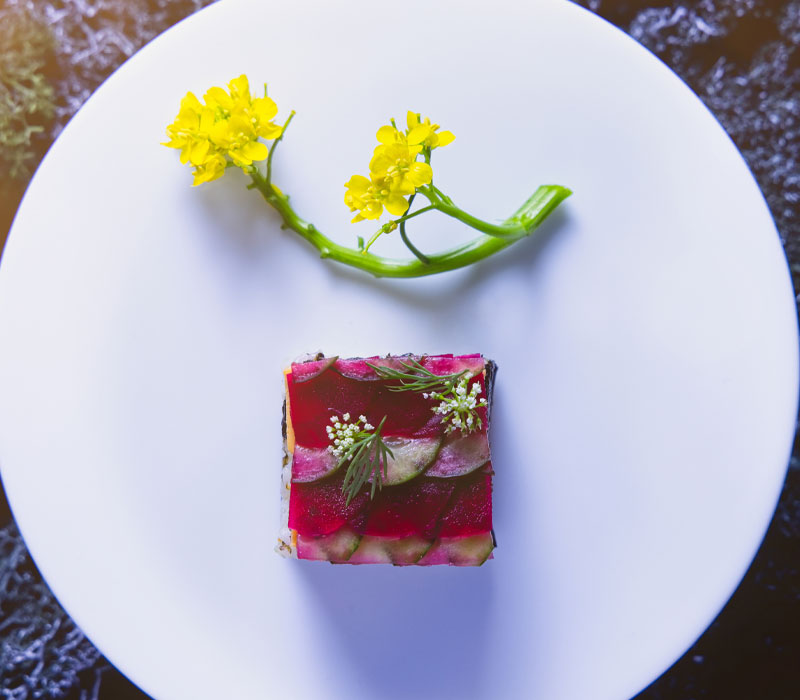 Oshizushi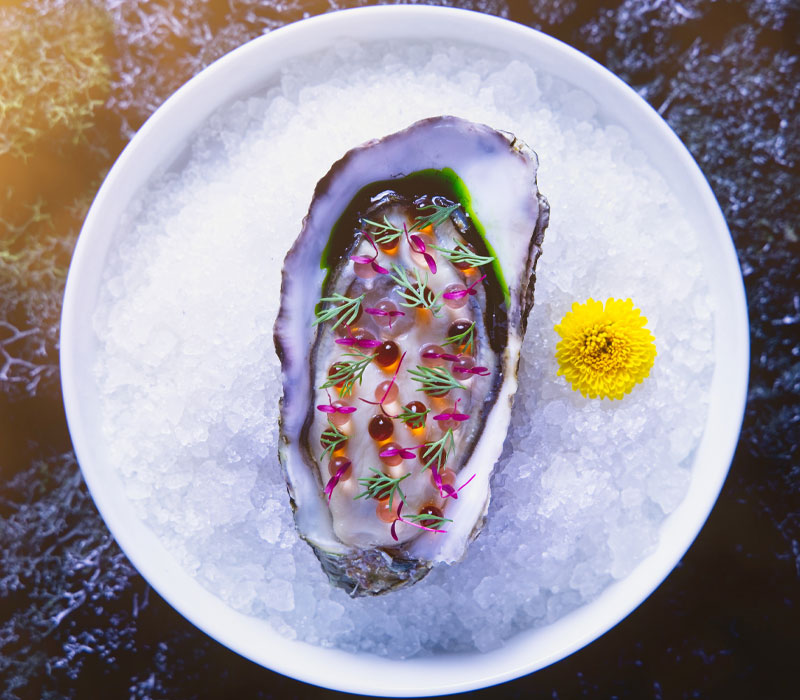 French/Japanese Oyster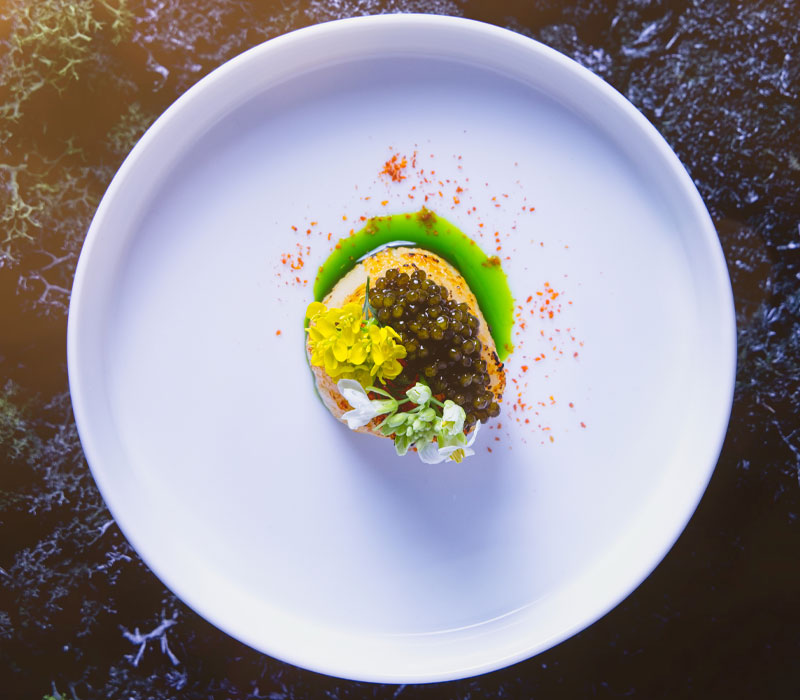 Hokkaido Scallop
(Swipe left for more)
For entrees, a Sashimi Trio of Hamachi loin, Hamachi belly, and fresh Tuna Otoro wows with a diversity of subtle complexity. Aged for seven days, the Hamachi offers an exquisite, unexpected intensity of flavour that renders it a highlight of the course. Oshizushi, a pressed sushi style originating from Osaka, manifests in a stunning iteration made from layers of sushi rice, smashed avocado, cod fish liver, cucumber, nori, and beetroot that's a compressed stack of pure decadence. 
Another standout is the Oyster, served with a smattering of balsamic and soy pearls in the shape of caviar. In a single slurp, invigorating bursts of umami mingle with the fresh ocean flavours in a taste sensation that is over far too quickly. Next up is the aburi Hokkaido Scallop with sea urchin butter, cacao nibs from Kelantan, and more Sevruga Caviar. The seared sweetness of the scallop and buttery unctuousness of the uni meld gracefully, leaving an especially satisfying aftertaste.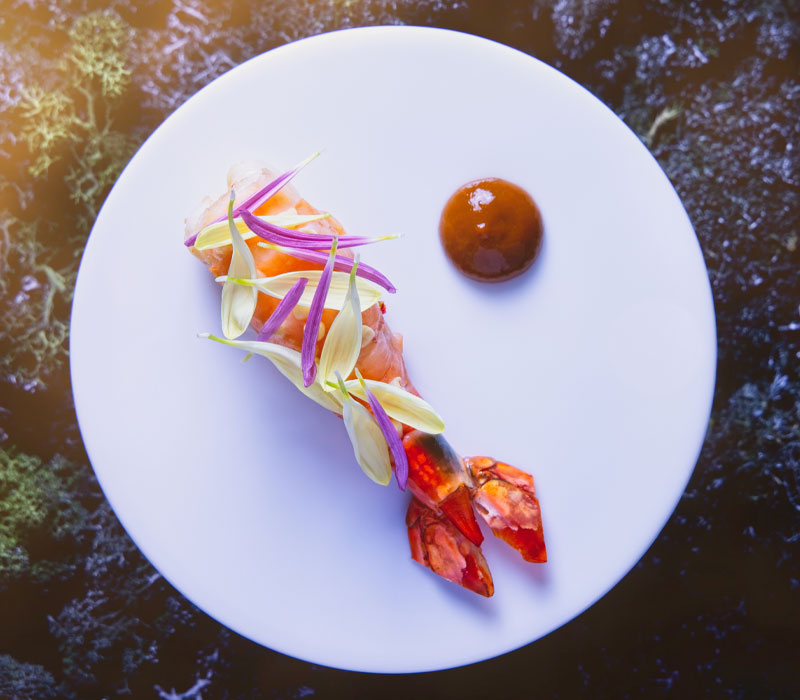 Blue Prawn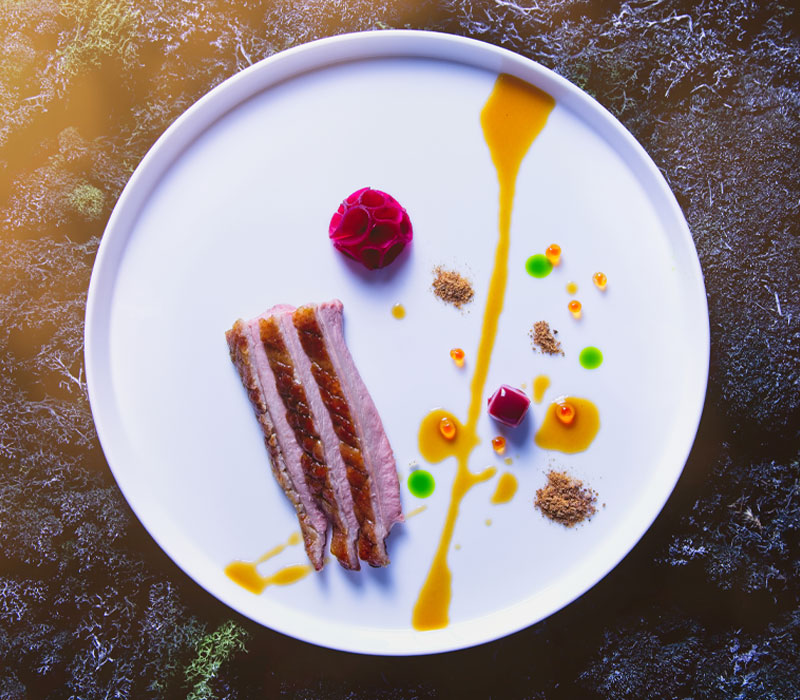 Duck a l'Orange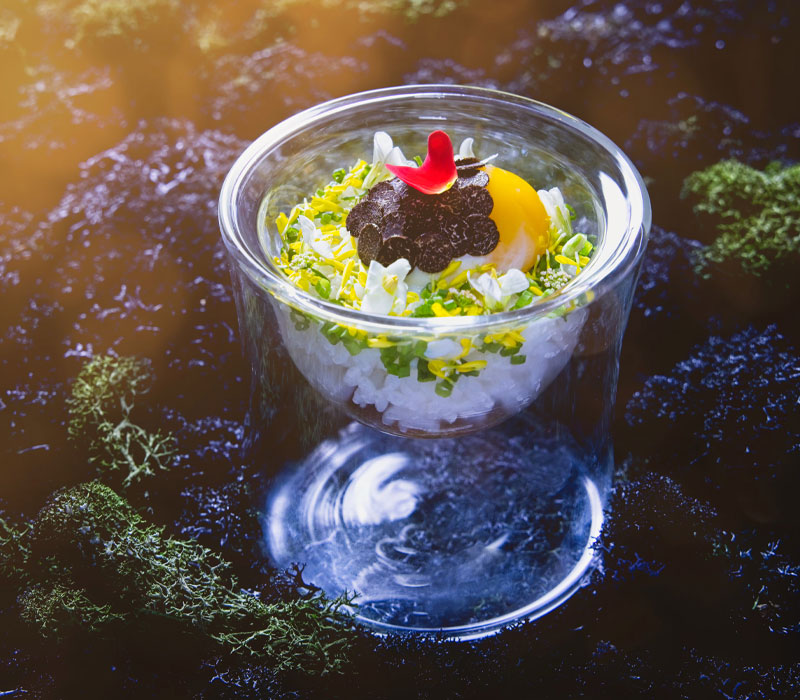 Donabe Truffle Hayashi Rice
(Swipe left for more)
On to the Bincho Grill portion of the meal, where the smokey Blue Prawn with uni butter, wild lemon butter, and a zingy Sambal Olek demonstrates Chef James' adept skill at seamlessly blending a menagerie of local and foreign cultural influences. Inspired by the Japanese art of Kintsugi, the Duck a l' Orange impresses with an impossibly tender aged smoked duck breast, served with pickled beets, ikura, foie gras cones with dark cherry glaze, and a sprinkling of duck breast powder. 
Next off the grill is the Lamb Saddle Pissaladiere, which reimagines a Mediterranean favourite with a refined Yōshoku twist. Lamb saddle loin is combined with sautéed shallots, olives, anchovies, wrapped and encased in its skin, steamed and then put on the Pincho grill, producing a sumptuous lamb dish that's livened with a kick of spice.
Finally, the house signature Donabe Truffle Hayashi Rice arrives to grace us with the elegant simplicity of rice with duck meat cooked in brown sauce, seasonal white truffle, and onsen egg, capping the meal off with a comforting classic. For dessert, diners are treated to a delectable selection of homemade ice-cream with keluak, seasonal Japanese fruit, gourmet petit four, and a frothy cup of top quality matcha.