Here's what to expect at Sheraton Imperial Kuala Lumpur following a multimillion-dollar facelift.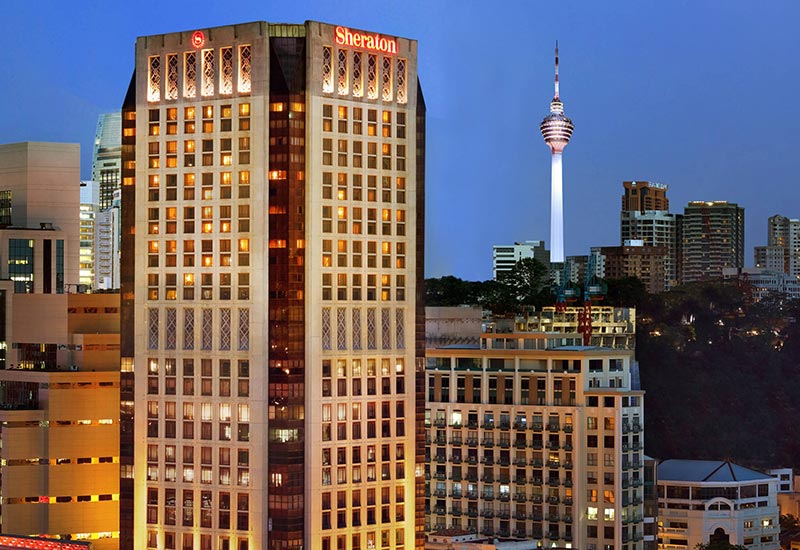 After 22 years of establishing its roots in Malaysia, Sheraton Imperial Kuala Lumpur Hotel relaunched in January, unveiling a multimillion-dollar facelift. Fondly referred to (especially by the wiser folks) as 'the Grand Dame' of hotels in the nation's most happening city, it now features a wider range of accommodation options and updated dining concepts in the same strategic location.
But with so many newer hotels like The RuMa or more glamourous cousins in the Marriott International family like W Kuala Lumpur, are those upgrades enough to entice local and foreign tourists alike?
We checked in for a night to find out first-hand. Here's what to expect.
Where past meets present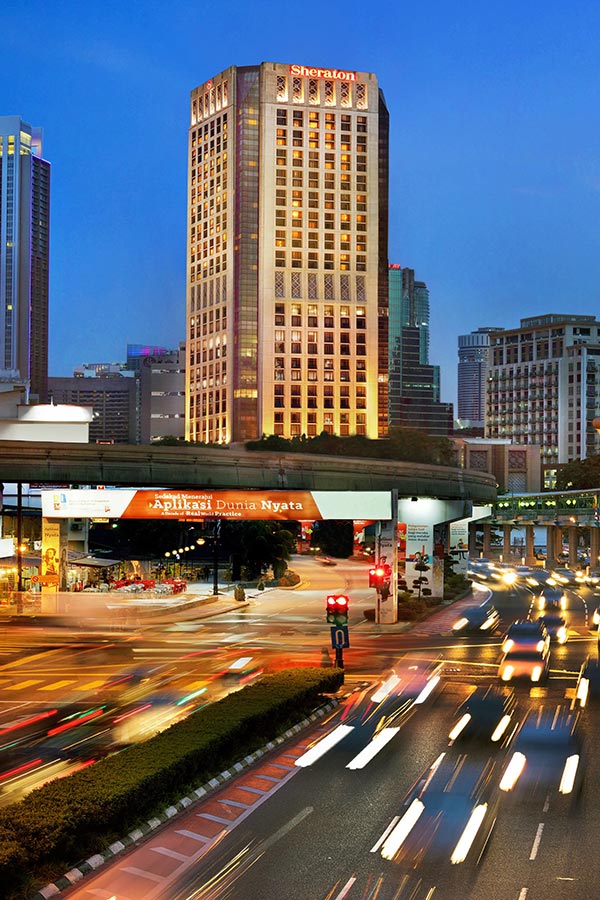 Before diving into what's new inside the hotel, consider what remains a major pull factor since its conception: the location.
A great deal has changed along the main artery of KL that is Jalan Sultan Ismail, where the hotel is erected, and its surrounding neighbourhood in the last two decades. Just opposite the main entrance of the hotel is Quill City Mall, where you can get some shopping done or explore seasonal showcases at the exhibition hall. Alternatively, a 5-minute walk will lead you the nearest monorail station or the KL Hop-On Hop-Off tour bus pick-up/drop off point for some sightseeing around the city.
Exiting from the side entrance near the back of the hotel will put you on Jalan Doraisamy. From there, you'll have easy access to The Row, home to 1940's shoplots of bars, cafes and restaurants such as 2OX and Limapulo. If you're feeling adventurous, you can walk down a few streets and spot famous local hawker stalls (the crowds should give it away) that have been around for years, too.
Modern look, technical touches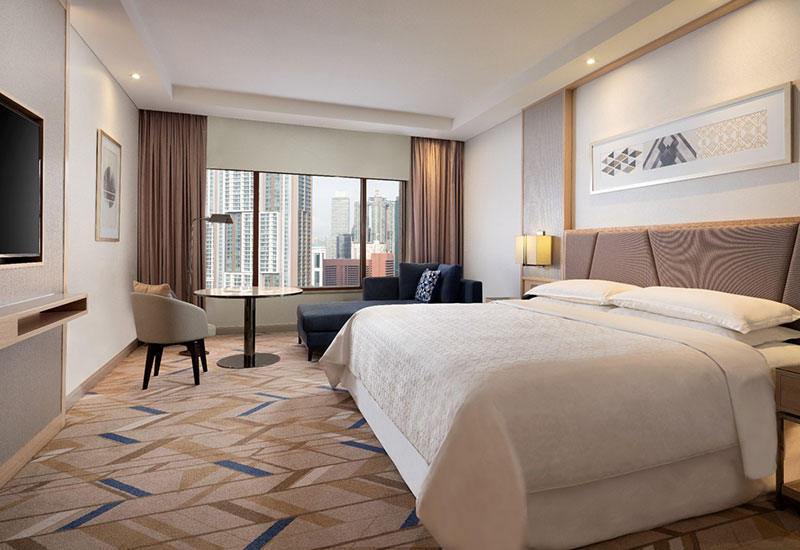 Inside, the hotel's revamped look encompasses 398 rooms, upped from before to offer more options ranging from the entry-level Deluxe Rooms to the commodious Club Suites. We were afforded a night in the Sheraton Club Room, which offers private check-in at the Club Lounge on the 38th floor – the highest deck of the hotel.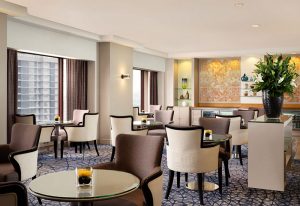 Like the hotel's younger sister, Sheraton Petaling Jaya, complimentary breakfast, all-day refreshments and high speed internet access complete the Club package. Did we mention there's also a selection of wine and cocktails served every evening? All this, topped with undisrupted vistas of Menara Kuala Lumpur and KL city.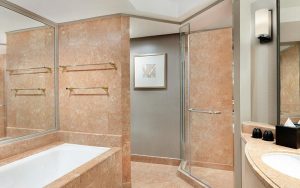 We also got lucky with a room facing the iconic telecommunication tower, though only visible from an acute angle. Almost everything from the carpet to the curtains and the furniture is new, save for the marbled floor that leads to the expansive bathroom. With 42-sqm of space, there's plenty of room to roam about even after discounting that taken up by the king-sized bed, tables and chairs and – remarkably, for a city hotel – a walk-in closet!
There's also a spanking Smart TV from which you can binge-watch Netflix (we are told the Wi-Fi bandwith has been increased for seamless streaming); plus added USB ports and universal plugs to charge your devices and stay connected.
Feast for the foodies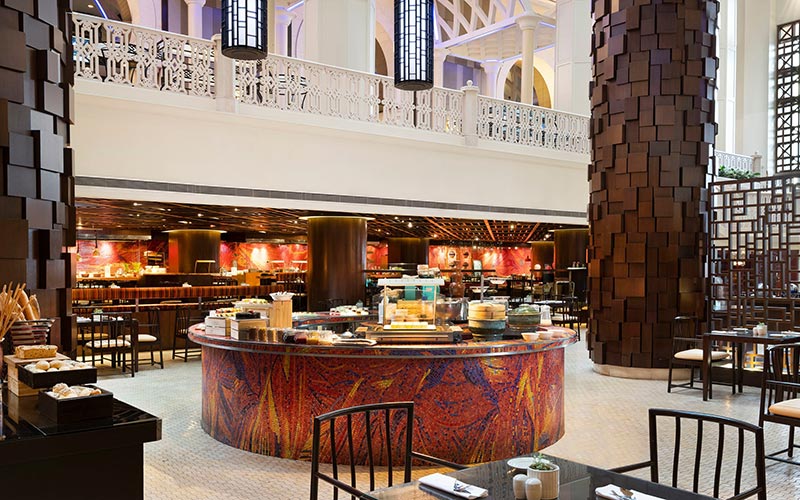 Dining is not overlooked either, with the hotel's various restaurants coming up with new gastronomic concepts to whet your appetite. At the signature Essence restaurant, guests can enjoy specially made 'pass-around dishes' like Kari Kepala Ikan (fish head curry) and fresh seafood delights on top of the international buffet spread. Asian favourites are the specialty here – especially the live noodle stations, where you can help yourself to a hot bowl of curry laksa or beef noodles.
Following renovations in June 2018, Celestial Court boasts a refined look in an earthy palette that breaks away from the striking red and yellow norm. We got to try the recently introduced 'Fabulous Big Feast' – an a la carte buffet dinner featuring more than 60 Cantonese dishes. Among our favourites from the menu include the Fried Soft Shell Crab with Salted Egg, Chilli & Curry Leaves, Signature Roasted Duck with Chinese Herbs and Fresh Water Seabass Steamed with Chef Special Homemade Sauce. For RM148 nett, it's definitely worth your bucks.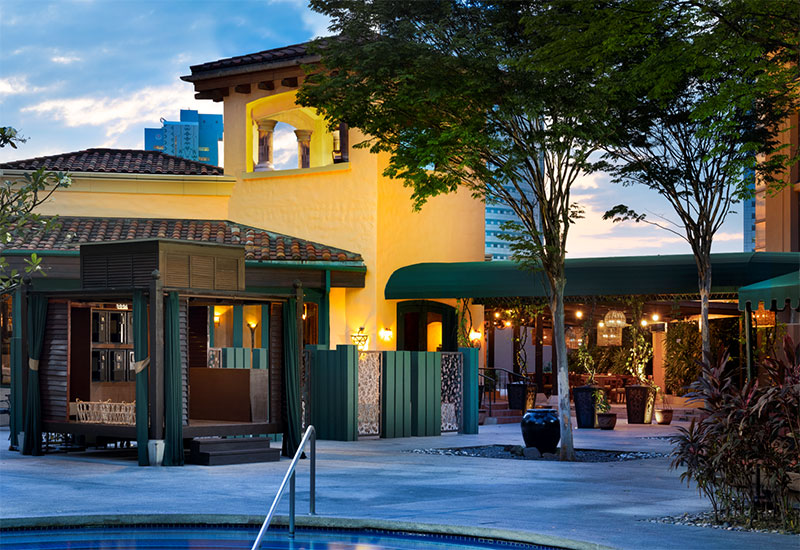 Authentic Italian fare can be experienced at the romantic Villa Danieli, inspired by a traditional Tuscan country home. Under the tutelage of Chef Federico Bozzo, we tried our hand at making wood-fired pizza before indulging in the 'Mamma Mia Italian Brunch'. The brunch includes a four-course meal comprising soup, appetiser, main and dessert in addition to unlimited helpings at the salad and antipasto bar. Trust us, you won't leave dissatisfied.
If you fancy an afternoon tea, head over to Pavilions Lounge to enjoy a curation of savoury and sweet treats complemented by soothing live music. There's also a library-styled bar with a built-in wine cellar and cigar humidor, should that be a greater temptation. Either way, you'll get to take in the mesmerising architecture all around the lounge area, combining modern fixtures and heritage elements.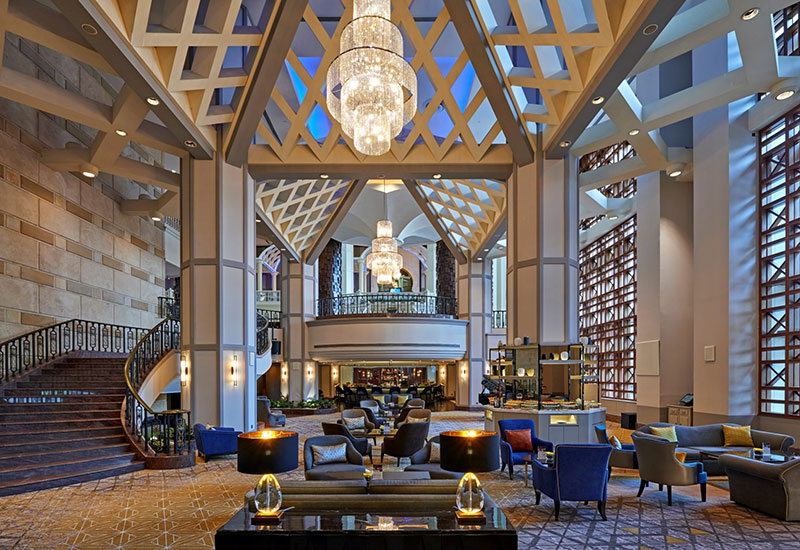 True to its identity
Beyond dining, you get the standard gym, pool and spa facilities to fill up the rest of your time. We personally found the pool area less attractive than other five-star hotels in the city, but you do get a good view of Menara Kuala Lumpur. The gym is fairly well-equipped, with all the basics covered for running, weight-lifting and yoga. All hotel guests also enjoy complimentary access to the jacuzzi and sauna within the spa.
All things considered, Sheraton Imperial Kuala Lumpur Hotel continues to make its mark by enriching experiences it is known best for – unassuming comfort and delectable dining, with its location being a bonus.
For reservations and enquiries, log on to the official website here.
Images: Courtesy of Sheraton Imperial KL