She has many loves, but the most important one is that of oneself, shares the newly-wedded model, artist and lover of life.
Sheena is in earrings, dress, belt and boots by Dior.
Sheena Liam is in a really good place right now.
She just wrapped her first solo exhibition for her Times New Romance series of embroidery art in Paris, posted the last of the photos from her KL wedding to long-time artist boyfriend Ernest Zacharevic and, as she sits in hair and makeup with us, secured a month's lease on a room in an apartment in New York where she is headed for her next gig.
Even before finding all that out, there's a glow to her that preludes to this crossroads of contentment without us so much as having to ask. One might even chalk it off to the glow of a girl in love.
"It's been so positive so far," she tells of life lately in her typical shy manner. "I don't feel like I'm at the top of my game, but it's good when you can say you're ready to close a chapter. I'm at peace with what I set out to do and I want to keep doing different and bigger things."
She's on the right path when it comes to "different" and without a doubt even closer with the "bigger" since winning that title of Asia's Next Top Model. In hindsight, it's almost easy to forget that was her breakout moment given all that she's gone on to achieve, at least in our books.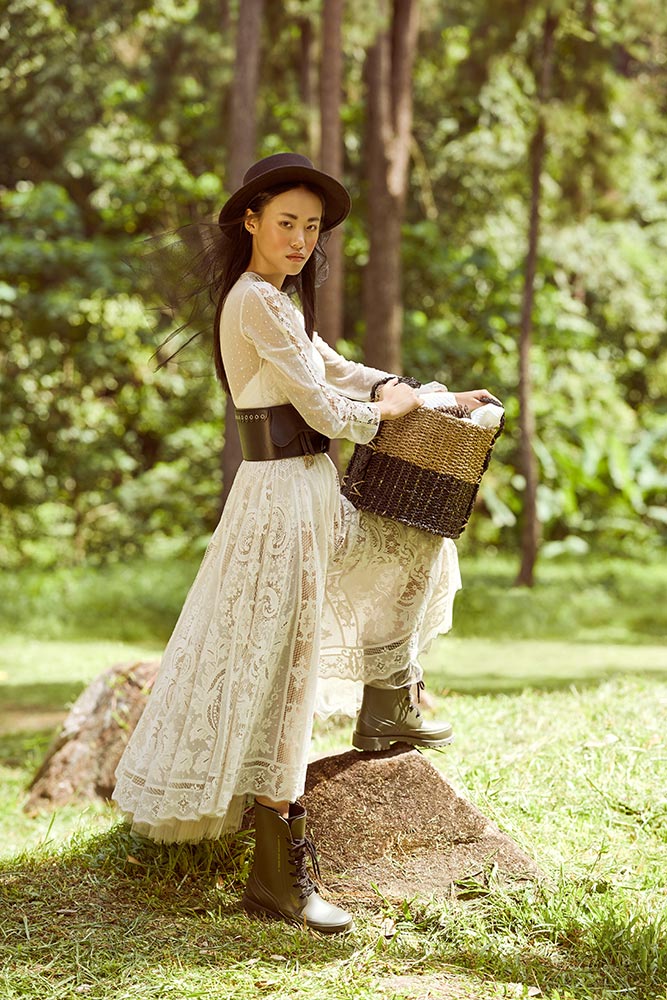 Her First Love
Don't get us wrong, modelling is and always will be her first love.
Sheena remembers vividly the first time she felt drawn to it– as a 5-year-old watching Naomi Campbell own the catwalk at the height of her fame on TV.
"Her dark skin was being touted as beautiful, here was this strong woman with a lot of attitude, these things really attracted me," she recalls. " The unconventional was being celebrated– you can have gap teeth, or crossed eyes, you can look different, and that's still beautiful. This celebration of unconventional beauty is what attracted me to high fashion."
It was from a place of relatability more than vanity that she came from. "I was super skinny and considered dark-skinned in Chinese culture," she regales. "I was told I was not beautiful."
In high fashion, she found faces and body types that looked like hers. In high fashion, she found role models. "Every girl wants to feel beautiful," she opens up. "It was hard for me to find a role model back then that made me feel like what I look like was acceptable. Fashion was what I turned to."
She wanted it so much that it became her defining role. One can say she dreamed and breathed it into her reality, through a lot of unseen hardwork.
"We're both at the right times in our lives and we met each other at the right crossroad to grow parallelly together."
Having won AsNTM Cycle 2, been on more than a handful of magazine covers, owned a few billboards, walked Fashion Week and been represented in the US and Europe, she considers her hardwork paid off.
"I do feel like modelling is kind of emptying out for me," she divulges. "It's not as fulfilling as before. I guess it's a lot to do with growing older and not needing the validation. Modelling for me was, for a long time, a seeking of validation to know that I was good enough and capable of all these things. All these things that I wanted to do, I have managed."
"It's not over yet," she quickly adds. "There's still a lot that I want to do, but I'm at a good place with it. I feel like I can walk away and not feel like I've not done everything I could. I don't want to just keep doing the things I'm already doing."
Her Second Love
Enter her art, which is also another love she's nurtured since she was a child.
"I just like making things," she says. "I'm always doing something, and trying new things. I explore fully everything at all I have at hand which led me to where I am."
Arts and craft cards turned into sketches and illustrations before she found a brand of embroidery that spoke ot her better than the cross-stitch sets her mum got her as a girl.
"I've done embroidery for a bit when I was a kid, but it was boring and limiting. With the internet you start to see so many more artists emerge who explore it in such new and creative ways. From that I realised that it doesn't have to be houses and flowers," she expounds. "I melded it with my love for sketching and figurative art, and anyone who knows me will tell you that all I ever sketched was women form."
"Art gives me some power back in terms of letting me have my own say."
Her then-boyfriend, now-husband may have got her started on it by getting her to help with one of his projects, but Sheena's stitched a completely new life into the artform. Her minimalist embroidery of women engaged in a variety of daily activities has grown, reached and impacted more people than she dares dream of.
"I've received letters from women who told me how they related to the one of the girl cutting their hair because that's what they did when they got out of abusive relationships," she shares. "These anecdotes make me realise how powerful it is, without me even having to push an agenda on anyone. People take what they want from it."
More importantly, it was an outlet for her to take some control back over her creativity, balancing out her day job as a model on top of a hobby to keep her self-admitted fidgety hands busy.
"In modelling, the end product is not your creative direction," she tells. "Art gives me some power back in terms of letting me have my own say."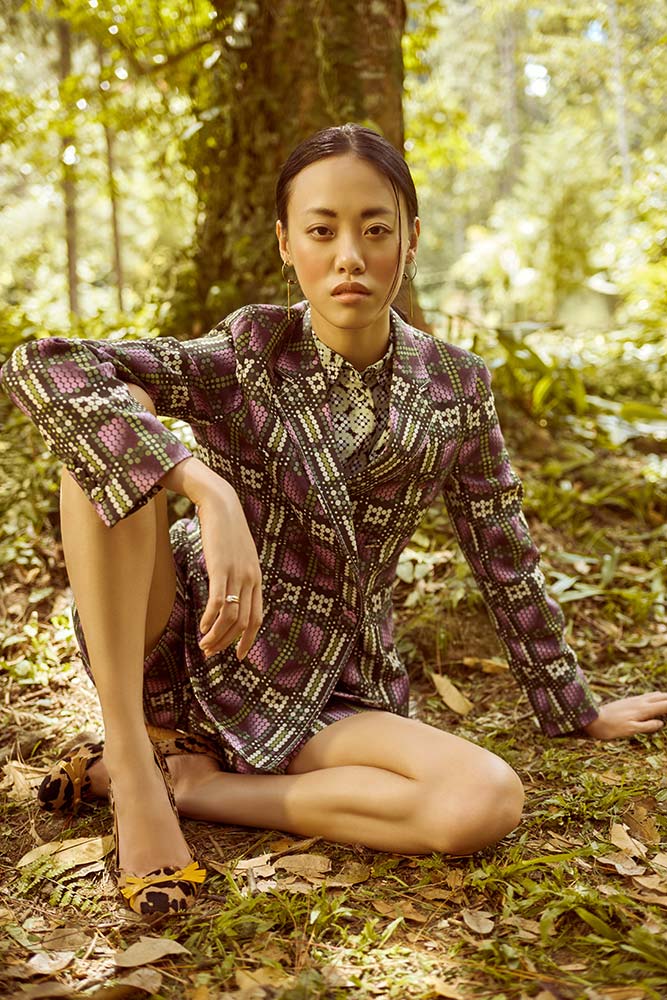 Her Biggest Love
Her first love – modelling – gave her a strong sense of identity and her second love – art – gave her a fulfilling sense of meaning. But the magnitudes of change they've brought into her life compare not to what is perhaps her greatest adventure with Lithuanian artist Ernest Zacharevic.
A chance encounter at the Urbanscapes Music and Arts Festival of 2012 changed the lives for the both of them.
"Loving yourself first is the most important of all."
"It's all very natural, it never felt like I was giving up something to be with him," she says of their courtship that spanned continents and 6 years before the wedding in December 2018. "It was always felt like something to look forward to."
Due to both their busy schedules, she had even initally thought nothing would become of it.
"But then he started tuning his schedule to fit mine; I started tuning mine to fit his. We would meet up in different countries," she regales. "It's always very exciting to meet up and explore new places together. Our friendship just grew really strong and we were just best friends for the longest time."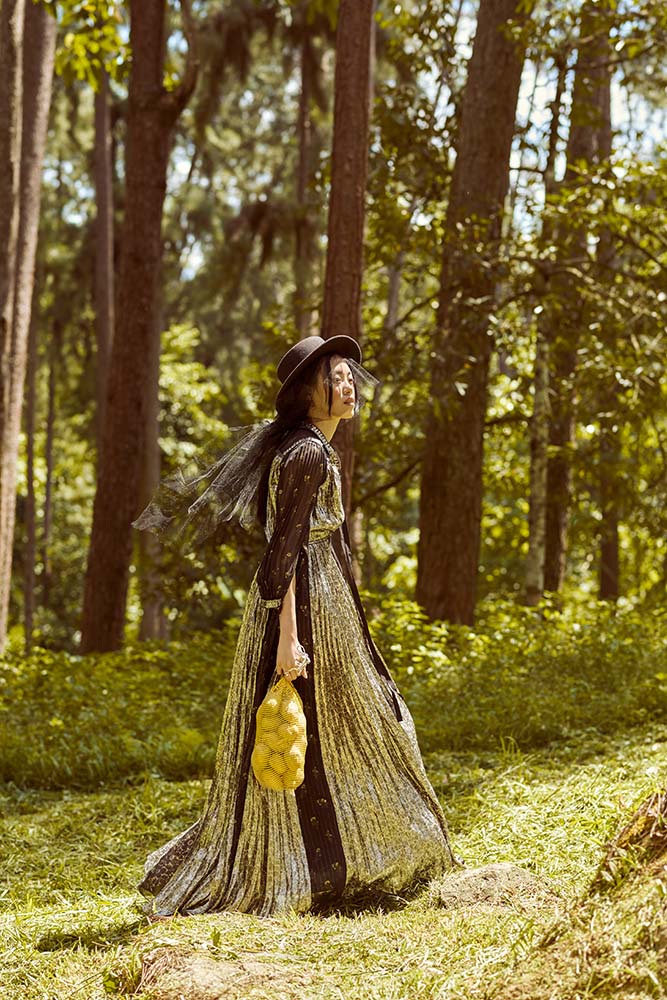 She knew he was the one when she asked him what his life goal was – a question her mother said would reveal all you needed to know about a person's values.
His reply was to be like her late grandfather, who, despite old age and illness, was constantly surrounded by his children and grandchildren, who would take him out for food. It resounded with her, who also took family as a very important part of one's life.
"There needs to be a lot of common ground especially in life values," she says. "What you want in life needs to be the same."
Other things like his determination and selflessness also played a part.
"He's the kind of guy who gives and gives and never expects anything in return, that's why he has so many friends who will travel the world for him," she exemplifies. "It's also always so inspiring to be around him. He's someone who does everything properly to his vision and does not compromise, like shipping that bus from Penang, cutting it up and putting it up against the wall," she adds, in reference to one of the many mural art he's done in Malaysia.
The courtship ended with a giant billboard Ernest painted with the words "MARRY ME SHEENA" (to which she said "can") and culminated with three wedding ceremonies – a church ceremony in Vilnius and lakeside reception in Uthena, followed by a Chinese tea ceremony and reception in Kuala Lumpur.
"We're both at the right times in our lives and we met each other at the right crossroad to grow parallelly together," she deduces. "It took someone to show me that I can lay all my cards and talk the relationship through instead of being scared."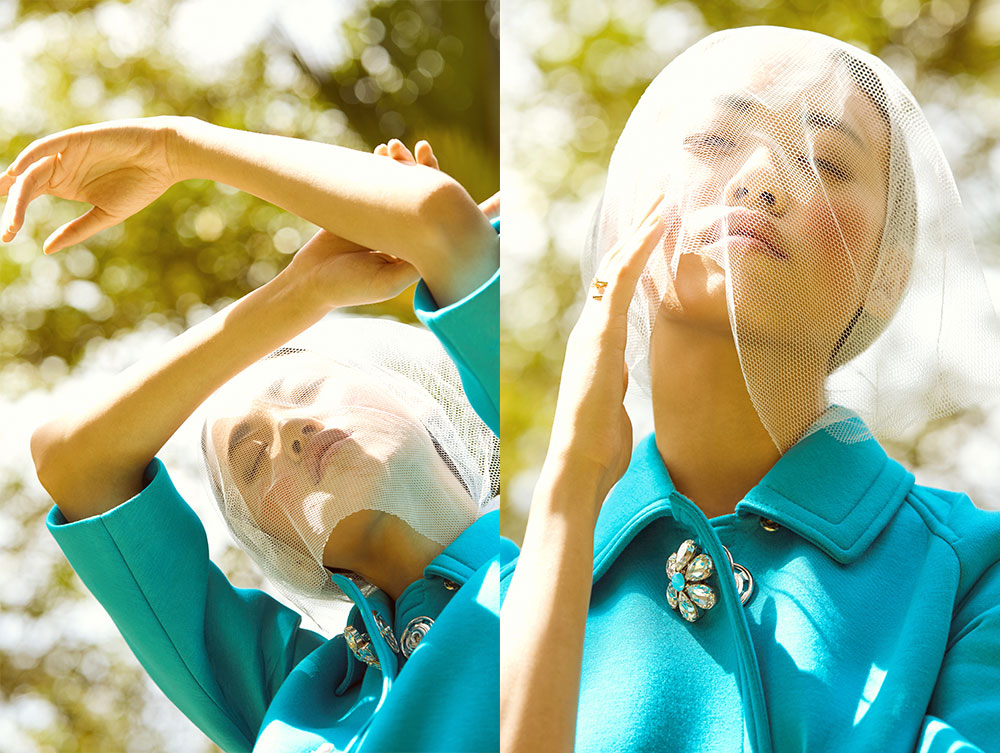 The Most Important Love of All
As one half of two very high profile names, Sheena wants everyone to know that not everything on social media is as romantic and ideal as it seems.
"I know it looks like we have a lot of money because we're travelling so much, but most times we're just living on friends' couches or co-habits and artist residencies," she reveals. "We're scraping by, but we're very fulfilled."
She also cautions against expectations when it comes to love, as much as hers seems like the dream fairytale.
"I know Ernest makes grand gestures and I'm the last person to talk down on romance, but when the right person comes, it'll be natural," she believes.
Meanwhile, she rather we all focus on the most important love of all – self-love. "Loving yourself first is the most important of all. Who you are inside will always be true to you and it'll be hard for other people to accept that if you can accept that yourself."
Sheena Liam is in a very good place right now. She's got a job she loves, a hobby that gives her meaning, and a best friend to take on life together. And it all stems from loving and investing in herself first, always.
Photography: Ian Wong from The Home Studio
Art direction and styling: Gan Yew Chin
Videography: Zac Lam
Hair and makeup: Gavin Soh
Special mention: Sheena wears dress by Diane von Furstenberg and earrings by Dior  in the featured image