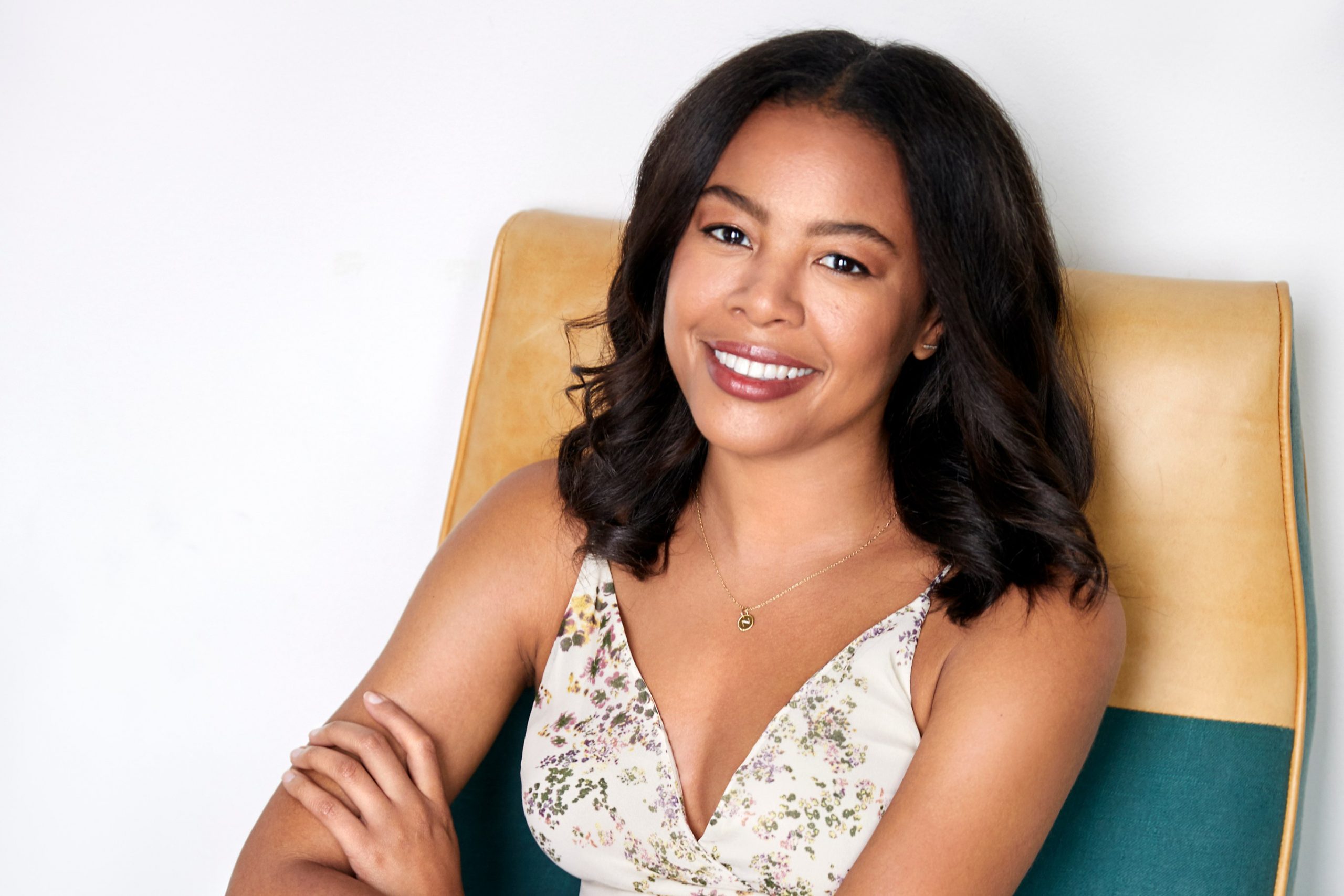 Growing up, Nancy Twine often found herself struggling with her hair due to the fact that the products on the market weren't nourishing enough for her natural texture. Her passion for beauty and clean haircare stems from these moments in childhood, when she would whip up natural beauty products in her home kitchen with her mother – which ultimately made her realise the possibility of simple, clean, and effective formulas.
However, she didn't necessarily jump straight into this dream. Just a little over a decade ago, she was the Vice President of Commodities Sales and Trading at Goldman Sachs in New York City. Halfway through her career in finance, she met with an epiphany on how short life truly is when her mother passed away. And through her experience with loss, her passion in beauty was reignited and she created clean haircare brand Briogeo – a brand that would not only make a large impact on today's natural beauty world, but on the many hair types, needs, and textures all over the globe.
In this edition of Sephora Secrets, we speak to Twine on the definition of Clean Beauty and what it's been like as a woman of colour in the beauty industry.
How did your previous occupation in finance help your transition into the beauty and haircare industry?
When I was working in finance, I quickly learned the importance of multi-tasking, as well as how to think strategically, thoughtfully, and outside of the box when making decisions. When you're running your own company – whether it be a clean beauty brand, or  anything else – problem-solving becomes a big part of your everyday routine. While I eventually realised working in finance wasn't where my passion was, it really groomed me in how I approach challenges and come up with solutions.
What made you decide to come up with a hair care line?
View this post on Instagram
The idea to ultimately launch my own brand and focus on hair care came about because of my own personal struggle with what was available on the market; I wanted to create better products and offer clients a wide range of product options that spoke to their personal needs. However, I knew from day one that I wanted Briogeo to be a clean, natural brand that offered solutions for every hair type, texture, need, and person. Briogeo was always about more than just me – Briogeo is about everyone.
What were some of the most challenging parts of building your brand?
When I first started Briogeo, I didn't have a network in the beauty industry since I had just come from the finance world. As I began the process of growing my team, I didn't have instant access to a pool of well-qualified candidates to tap into, so I made some hiring mistakes early on. It was tough to hire top talent when my business was so small and I hadn't yet proven myself – this led me to take on so much as the CEO (while also acting as the CMO, CFO, and COO) because I didn't have the right team, which was a huge challenge.
Once I scaled my business and Briogeo gained traction in the industry, we started attracting better talent, instead of having to seek it other way around. I also brought on a private equity partner who came in to work alongside me and help build a best-in-class management team.
How is formulating a product like when approaching hair types borne by women of colour?
When we formulate Briogeo products, we formulate based on hair needs and concerns, not ethnicity. Whether you are experiencing dryness, damage, or have curls that need extra nourishment, we create products for all people of different backgrounds that address your specific hair needs.
Has being a woman of colour presented its own set of challenges as an entrepreneur?
As a woman of colour, I'm so grateful to have been so supported by my key retailers like Sephora throughout my journey of leading Briogeo. I've experienced such great mentorship and access to resources that have allowed me to grow and scale my brand, regardless of my color or identity. Despite being a Black female entrepreneur, I always wanted to create a brand for all hair types, textures, and needs that everyone could identify with. I'm proud to be the creator of a brand that celebrates inclusivity and that all people can connect and resonate with.
I'm fortunate in that I don't feel like I've faced challenges in business specifically because of my skin colour. However, as an entrepreneur, a big challenge I have experienced has been quickly scaling a business while also growing a team to support Briogeo's tremendous growth and momentum. Like many entrepreneurs, I've faced obstacles and setbacks but I never let the disappointments get in the way of me ultimately chasing my goals. The success that I've achieved over the years is a constant reminder that the sky's the limit and any dream is possible with hard work, discipline, and the right mindset.
While the Clean Beauty movement is something that's well-received among many, some don't feel the same way about it. They feel excluding certain ingredients such as parabens and silicones (which are on Briogeo's no-no list) aren't actually harmful to the skin or hair. How does Briogeo respond to this while ensuring the safety and efficacy of its products?
We don't typically label ingredients "good" or "bad;" we do however choose to formulate our products without controversial ingredients that may have side effects we aren't comfortable with and instead, seek out cleaner alternatives. For instance, silicones are found in many hair care formulas because they effectively increase hair's smoothness and shine – but they create buildup on the hair shaft, prevent nutrient absorption, and pose a threat to aquatic life when they wash down our drains. Instead, we formulate some of our products with macadamia nut oil, a natural shine enhancer that won't cause buildup and will nourish hair from root to tip.
What does Clean Beauty mean to you?
Many people have the misconception that "clean" can't go hand-in-hand with "effective," but that's not true at all. When I set out to create Briogeo, I knew I wanted to continuously make beneficial ingredient choices that still gave all hair types healthy and vibrant results.
Our 6-free™ methodology means we always say "no" to unnecessary ingredients like harsh sulfates, silicones, parabens, phthalates, DEA, artificial dyes, and other questionable ingredients. Research and studies have shown that these controversial ingredients can have potentially detrimental effects on both our health and environment. Instead of  formulating with potentially harmful ingredients, all Briogeo products are naturally derived with our NOVA Complex®: our signature healthy hair blend of natural oils, vitamins, and antioxidants that fortify, nourish, and effectively support long-term hair health.
We're also thrilled to be ramping up our sustainability efforts. Caring for our planet has always been an integral part of our brand DNA; now, we're committing to even more resources, which will allow us to better educate our community on our earth-friendly initiatives, as well as what they can do to contribute with us!