Singapore's Mount Faber Leisure Group (MFLG) has announced that Central Beach Bazaar, a new day-to-night carnival beach experience in Sentosa, is set to open this September.
With goals to become the premier beachside destination on the island, the location will feature a vibrant food and beverage concept, interactive simulation ride experiences, carnival games, and the tallest fountain in Southeast Asia.
Named the Sentosa SkyJet, the new fountain represents a revamped and improved version of Sentosa Musical Fountain from the 1980s, a local favourite that was removed in 2007 to make way for Resorts World Sentosa.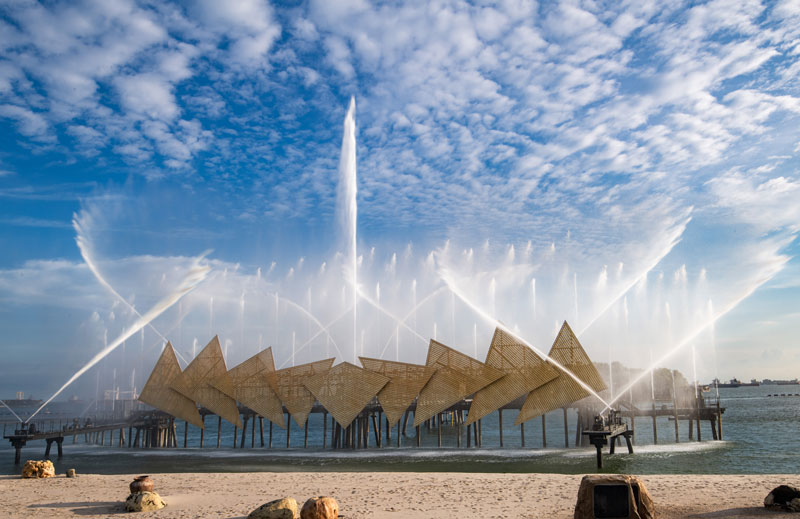 The new iteration will be able to achieve an impressive height of 80 metres (the equivalent of a 24-storey building) as it floats on an open sea platform. Unlike traditional water fountains of its type, the Sentosa SkyJet is anchored by marine-grade chains and seabed weights, eliminating the need for concrete groundwork and minimising impact on the marine environment. 
Designed to work in tandem with the existing Wings of Time light water and pyrotechnics show, the new fountain is powered by underwater hydraulic pumps that can launch seawater at high speeds, creating a stunning plume that can be seen from kilometres away. The water stream will also be illuminated with LED lights to offer an even more enchanting evening spectacle.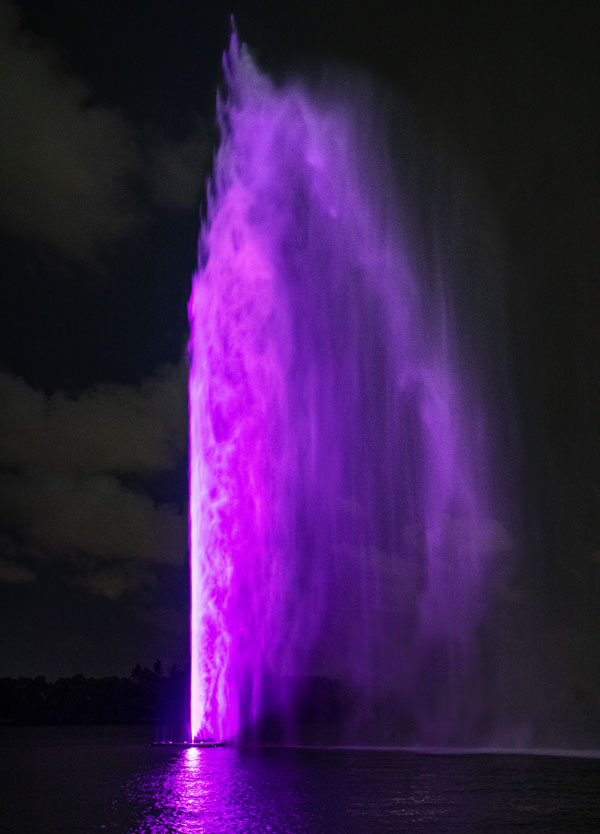 Locals with fond memories of the fountain attraction will also be hit with an extra dose of nostalgia, as the curated 5-minute performances will also include scores from musical numbers previously played in the 90s such as Don't Let the Sun Go Down on Me and Walking on Sunshine, as well as National Day songs like Home and Count on Me Singapore.
"In many ways, Sentosa SkyJet is a powerful symbol to celebrate the recovery of Singapore's tourism as the nation welcomes back international visitors as a world-class tourist destination," said Buhdy Bok, Managing Director of MFLG.
Meanwhile, the International Food Street dining space will boast eight casual grab-and-go F&B concepts uniquely housed in a set of bright coloured upcycled shipping containers, kombi vans, and food trucks. A diverse set of street food cuisines will be represented, from the Chipper Roll, a kiosk serving classic English fare such as lobster rolls, bangers and mash and sausage platters, to Taco Pau, a food truck offering Mexican-influenced creations like Tandoori Chicken tortillas and Chicken Chilli Con Carne quesadillas.
Additionally, a set of interactive simulation ride experiences and carnival games are planned for the Central Beach Bazaar, with more details to be announced later. The existing Good Old Days Food Court & Western Grill and FUN Shop @ Beach Plaza, as well as the Wings of Time, will continue to operate on the site as part of the new carnival beach experience.
For more information on the Central Beach Bazaar, visit mountfaberleisure.com
Source: Mount Faber Leisure Group